It is not that hard to fall for the charm and beauty of autumn. And as it symbolizes adulthood and maturity, it might just be the perfect theme for your wedding.
While planning for your special day, you would surely come across tons of wedding ideas such as floral wedding invitations. If you have already chosen a theme like a fall floral theme or whatever it may be, it is time to start planning for the matching themed wedding invitations. Although their initial purpose is to inform your guest about the celebration, sending wedding invites is also an excellent way to show the extravagance of your marriage ceremony.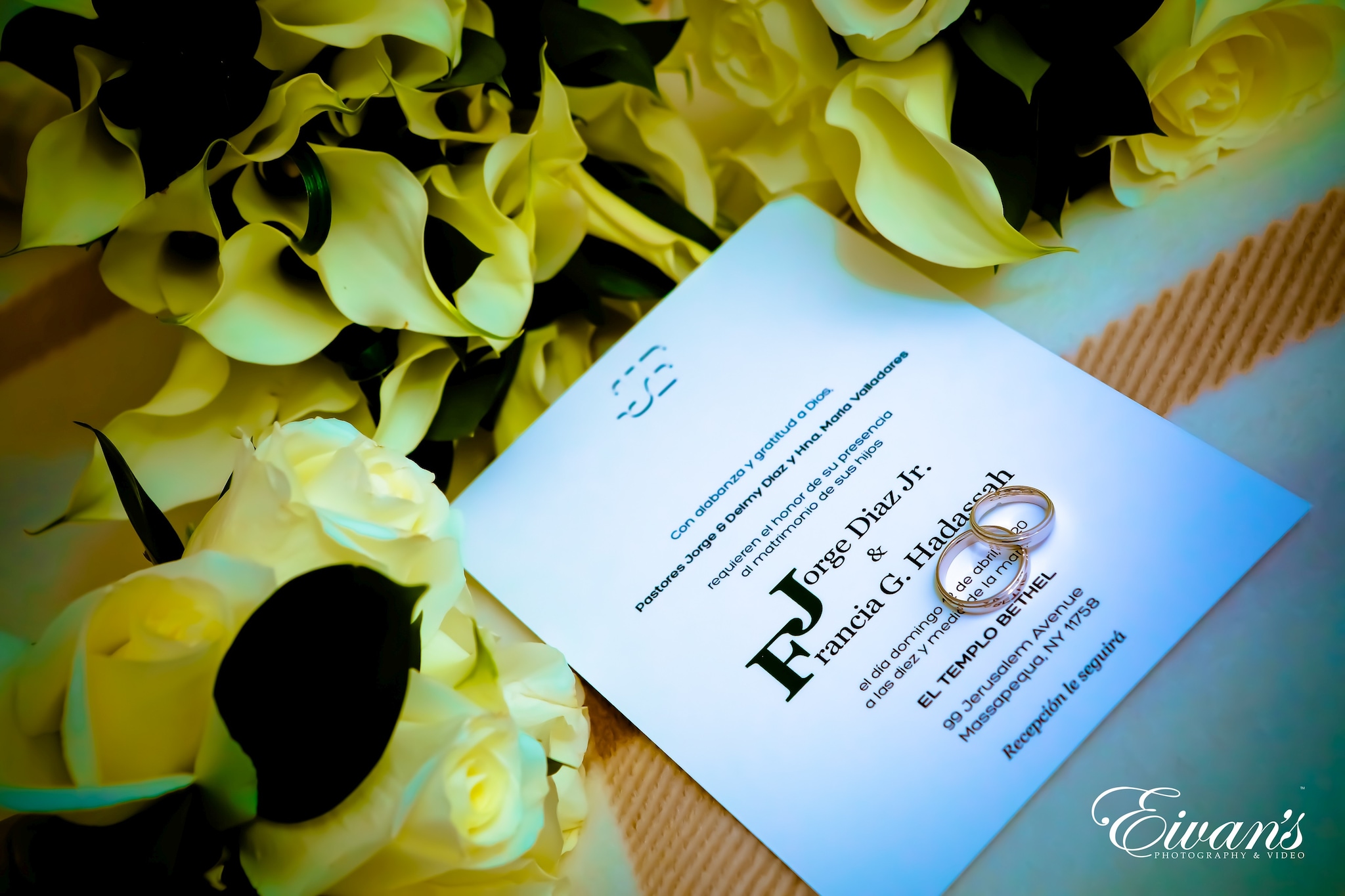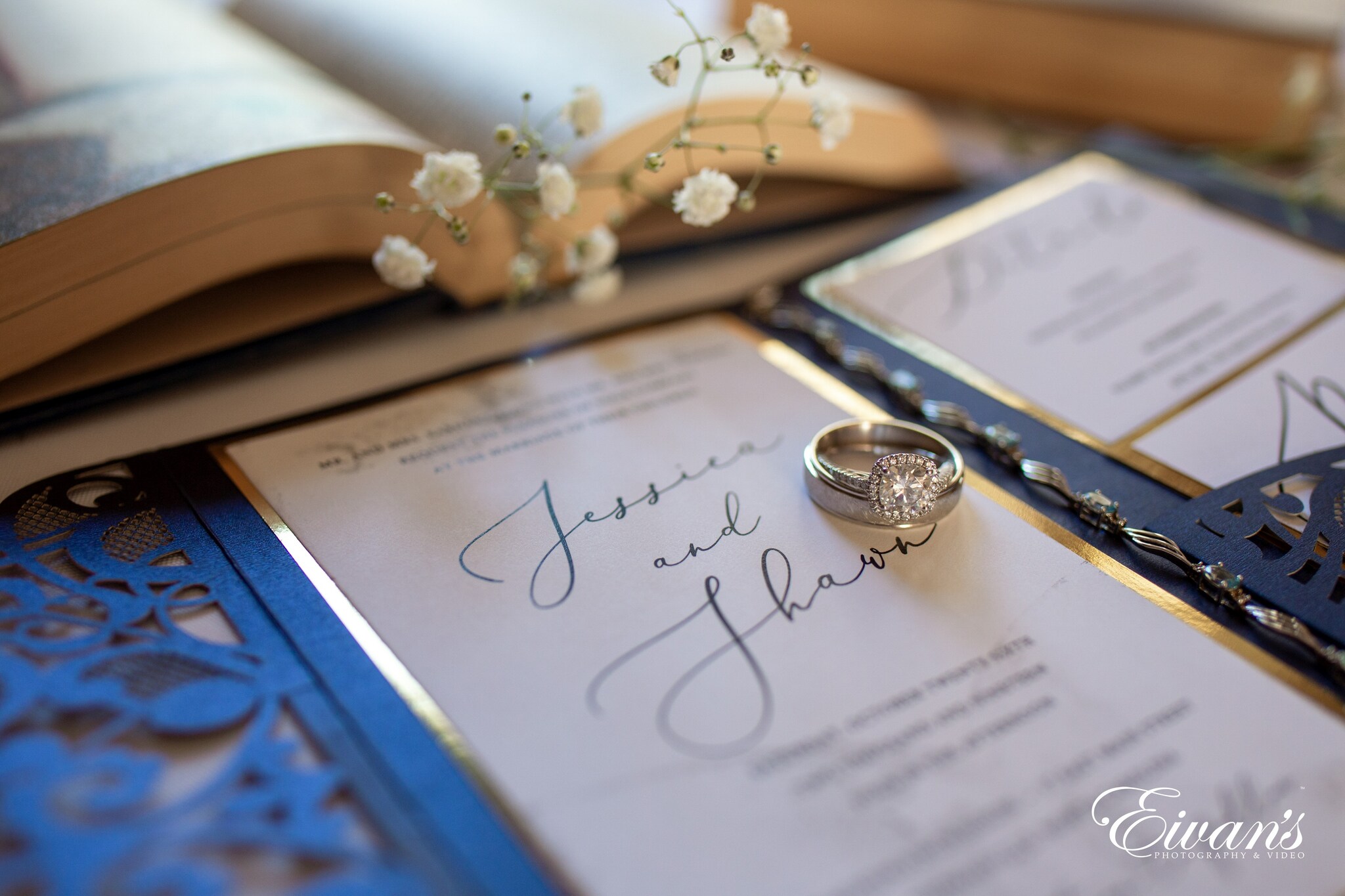 Set Your Visual Style
If you want to distribute wedding invitations that are pleasing to the eyes, any old card would not be enough. After all, it reflects how much you have planned for the wedding and the effort you are willing to exert to make your day unforgettable. Aside from the overall theme and wedding colors, there is also the visual style, which further specifies the mood you want to create. For fall-themed weddings, for instance, the most famous ones are Halloween, floral, rustic, and modern, among many.
Why are visual themes important?
The visual theme is crucial for the design of the wedding card as it affects the overall appearance of the invitation. That includes the color scheme, illustrations, and typography. And just as not all hues match with fall, some elements would stick out like a sore thumb if added to an autumn-themed mix as well.
Without a visual theme, your invitation project will not have a strong sense of focus. As a result, you will lack consistency, which is always a must in designing. The colors would clash against each other, the typefaces would not match, and your output will be a mess. While finding the right visual style for your card might be overwhelming considering the infinite options, it is not as hard as you might have initially thought.
How can you choose the perfect visual theme?
You can start by doing some extensive research to narrow down which styles fit you and your fiancé the most. There are limitless directions you can go in when selecting the color scheme and the details. The most important thing to consider, however, is if you have fallen in love with the theme and would want to see your wedding designed like such.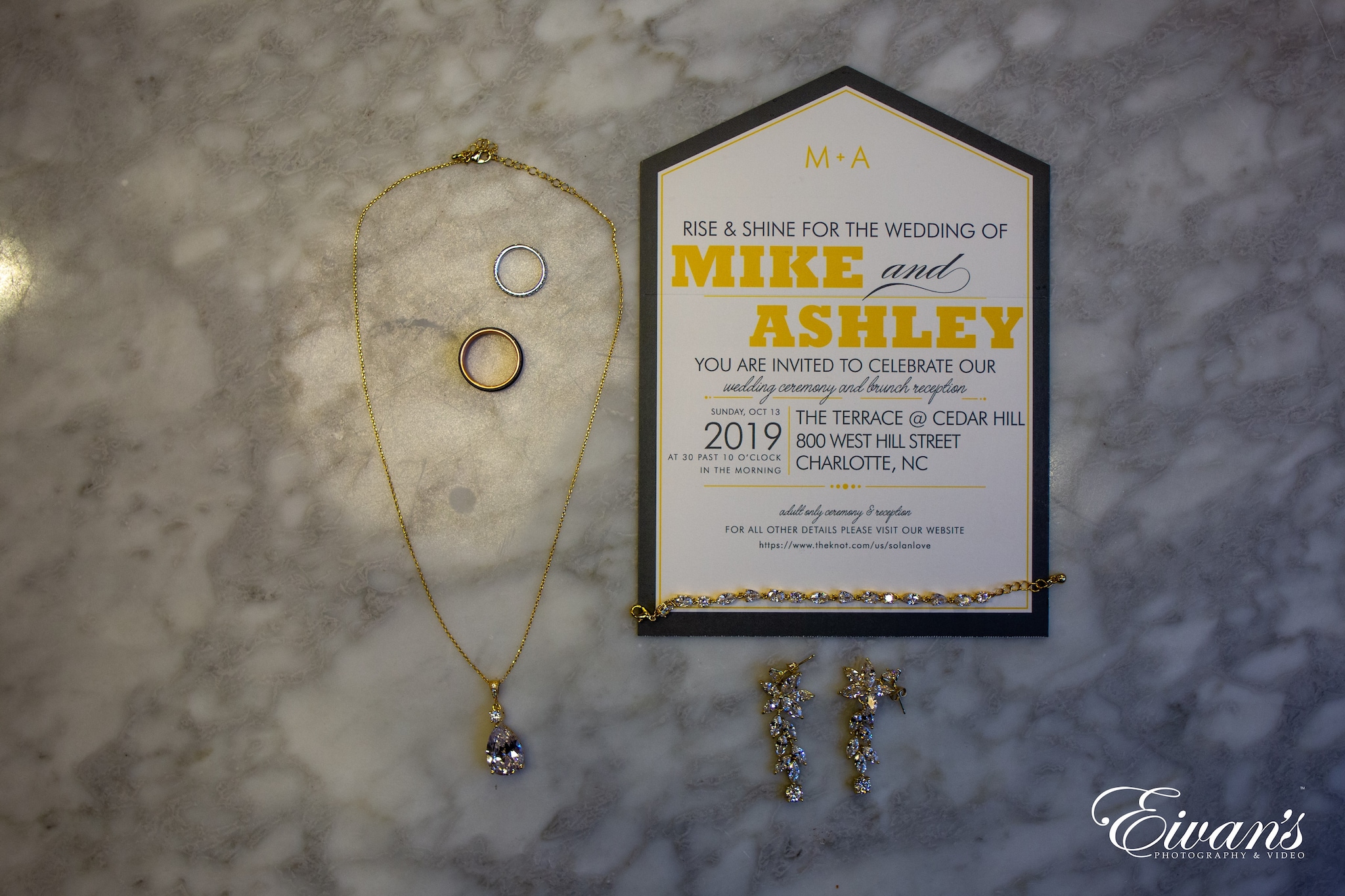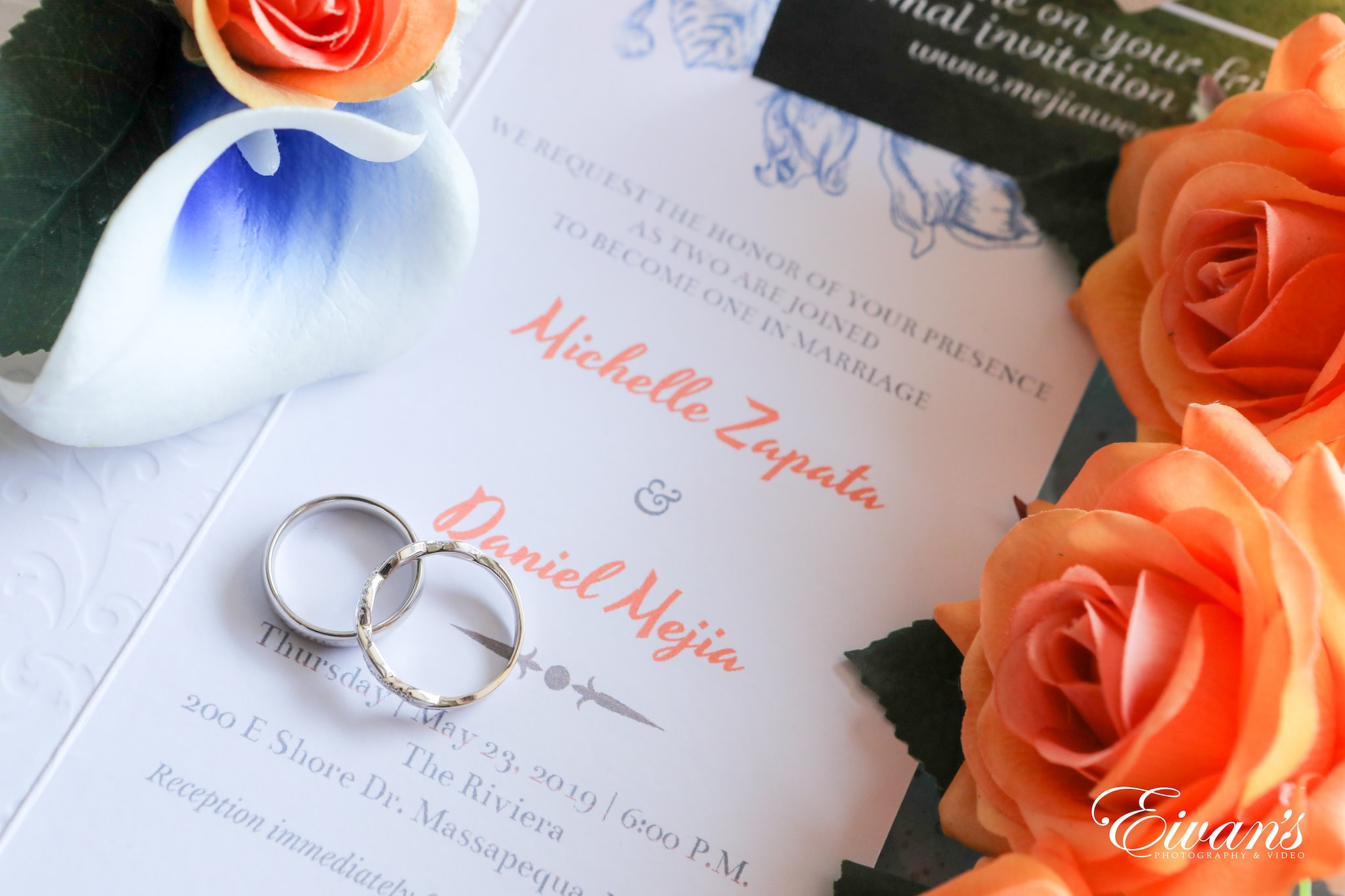 Check Out Fall-Themed Invitation Templates
Now that you have an idea in mind of what you want your visual style to be, it is time to search for some design inspirations. Looking for a pre-made wedding invitation template is a great way to start the design process. It can give you the idea of what you want your card to look like, specifically in terms of layout and get the design process moving.
What are templates for?
If you want to do a do-it-yourself or DIY wedding invitation yet you are not accustomed to creative designing, then templates should be your go-to. They come in standard sizes or aspect ratios, making it perfect for beginners. It can also be helpful if you do not have enough time to dawdle with your wedding invitation suite and RSVP cards.
You can browse for customizable templates at sites such as Shutterstock and Canva. Both have built-in editors, allowing you to personalize the content and details. The options are not only limited to wedding cards but even to a bridal shower invitation and other events.
How can I personalize the templates?
In a template, you are provided with the layout and illustrations. What you have to do to customize it is to change the colors and texts, along with its font. Those are the most complicated elements, so most templates have choices for the appropriate typeface and color combinations. When it comes to typography, some fonts that are mostly seen in wedding invitations are scripts, watercolor brushes, calligraphy, and handwritten.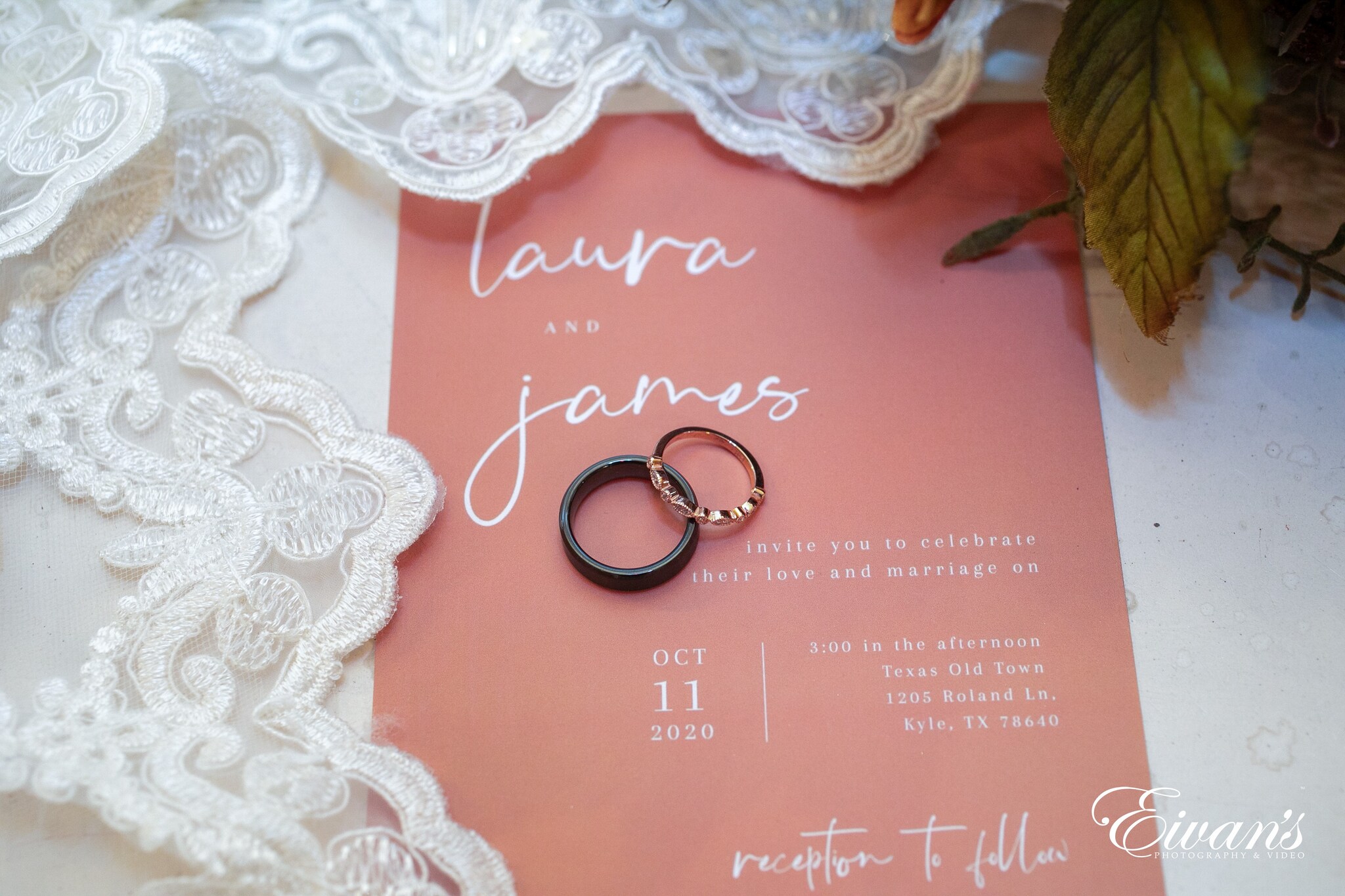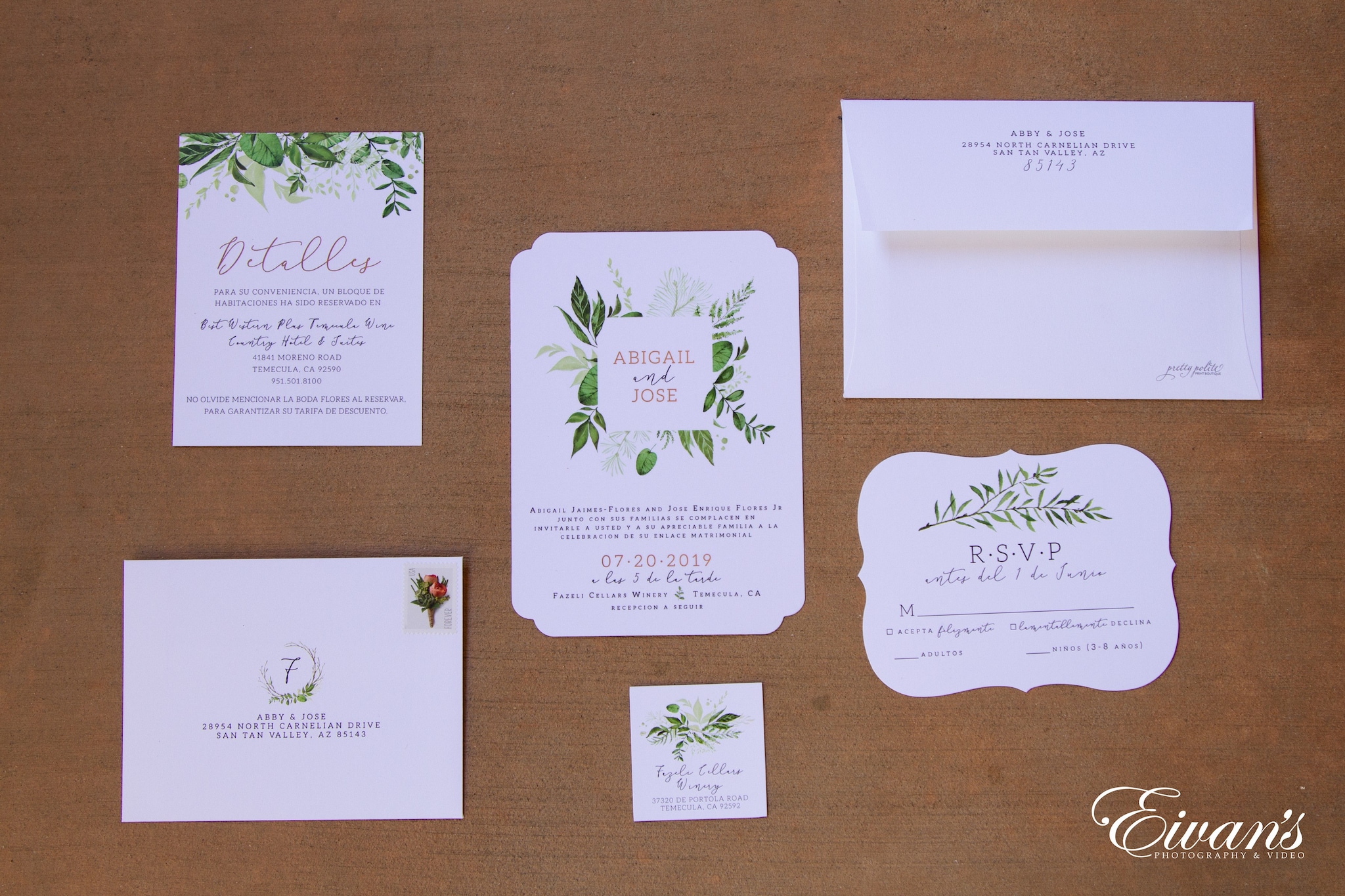 Choose Your Color Scheme
Either in pre-made templates or blank canvases, the colors determine the personality of a project. The combination of colors can make or break your invitations. You cannot simply pick your favorite colors and expect them to complement each other. It is not just about the color itself either but the hue, saturation, and value as well. If you search for color palettes online, you will see that you can use code to name a specific shade of a color. Different color codes can have similar hues but different saturation and value, making each of them unique to one another.
Autumnal foliage
If you have chosen an autumn-themed wedding, you would have selected fall flowers as well. You may have used them in your bouquet, all over your wedding venue, and even put them inside mason jars and use them as centerpieces. You can have your wedding invitation follow the color scheme of your flower arrangements as well. The fall colors for floras mostly revolve around vibrant yet dark colors such as marsala, which sits between red and violet and burnt yellow.
If you have lilac, garden roses, or dahlias in the setting, you can make use of the lilac and violet combination. If your flowers have soft hues, choose a color scheme with silver frost, pink blush, and boysenberry. Another set of colors that match well with blooms and greeneries are rose gold, maroon, and Aegean blue. If you want to highlight the changing leaves, there is no better combination than dusty yellow and maroon.
This style usually makes use of orange, purple, green, and black. Other combinations are cherry red and orange, with a hint of peach for a soft contrast. Cardinal red and pineapple, on the other hand, are best in creating a cheerful and bright vibe.
For a rustic fall wedding invitation set, try brown, orange, or hunter green as bases. The best way to do this is to make use of kraft paper, which gives the impression of rustic wood pulps and choose gold for your details. You can combine this style with nature as well by using rustic burgundy floral colors, such as grape and walnut.
If you prefer simple autumn statements, there are color combinations for you as well. Soft dove gray and silver or gray and navy are perfect for candlelit dinners, while yellow and royal blue or navy and burnt orange are ideal for casual outdoor celebrations.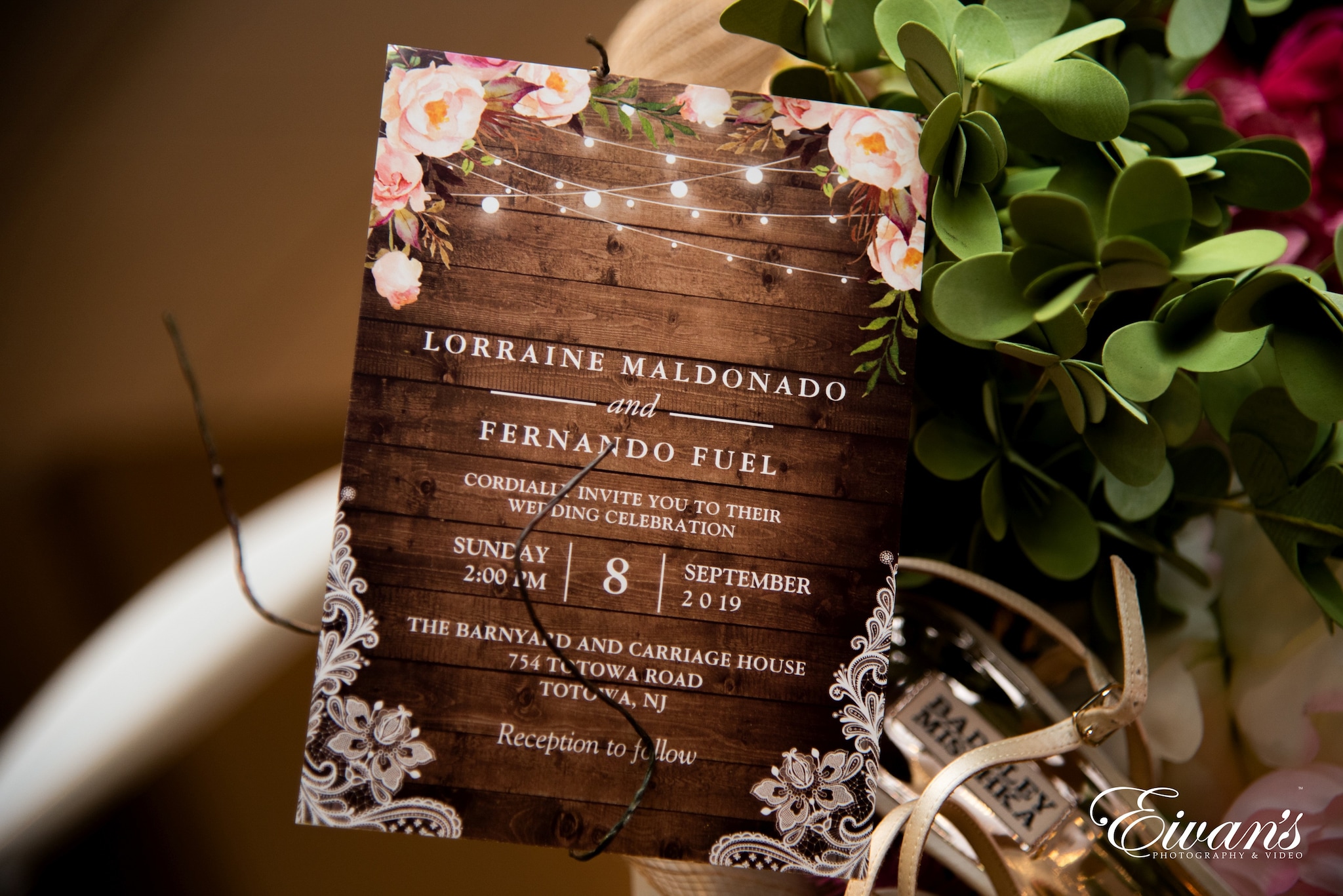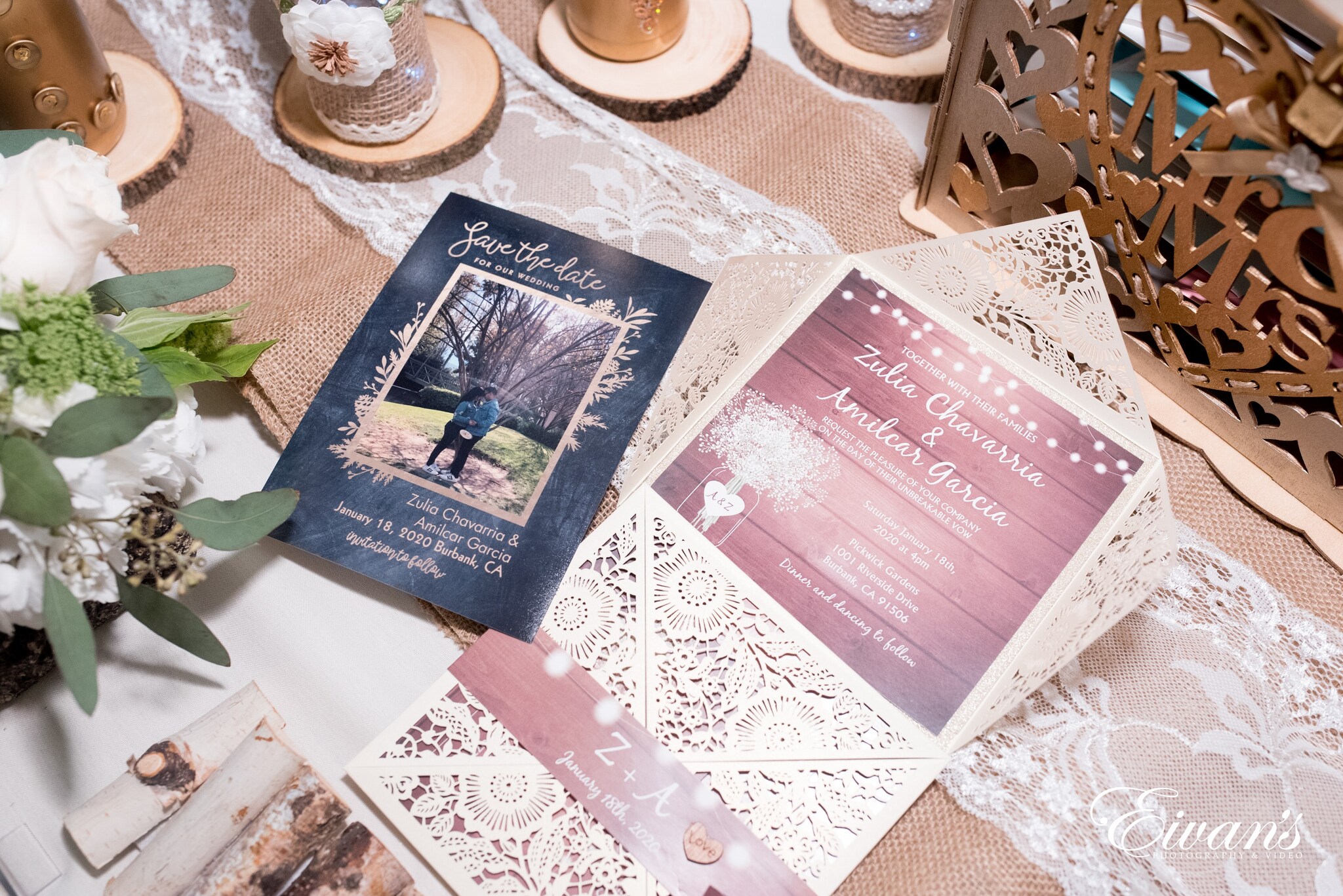 Make Use of Fall Elements
When it comes to fall weddings, the possibilities are endless. For some, it is the prettiest season as the usual greenery in nature bursts into vibrant colors. If you want to consider it as your theme, here are some elements to add that autumn feel to your celebration.
Autumnal foliage
There is no easier way to make a wedding invitation fall-themed other than using leaf motifs. One way to incorporate those is to surround your wedding details in a wreath of colorful fall leaves. And as it is the season of harvest as well, adding autumn trees and fruits as illustrations would also look good. Examples of such are pomegranates, cranberries, pears, apples, and grapes. While you are at it, you can even add those fruits to the reception as decorations or centerpieces.
Do not forget about flowers and falling leaves as the season is full of beautiful blooms, after all. For instance, you can make sunflower wedding invitations to give that hint of freshness to your celebration. The bright hue of autumn leaves is not only lovely, but it also gives off a warm and cozy feel. Therefore, if that is what you are going for, choose floral elements.
Another theme that screams fall is the day of the candy-hunting ghosts, Halloween. It is usually accompanied by a traditional dark and moody color scheme. For illustrations, you can make use of the white pumpkin or just the more common variety of it. Pumpkin wedding invitations are bright and seasonal and are ideal when you are getting married around the end of October or early November.
Aside from the two, which are standard fall elements, you can go for rustic autumn wedding invitations as well. It is perfect for a country wedding and if your reception venue has boho elements such as dreamcatchers, laces, and string lights. The soft, warm tones perfectly capture the essence of the season. If you want to add a hint of flora, add photos with rustic settings like farms and vineyards, or go for oak tree wedding invitations.
If you want to take the elegant fall invitations route, select the modern style. It is recommended if you would rather keep the design simple yet stylish. It also gives off a timeless vibe while still embodying the splendor of the season.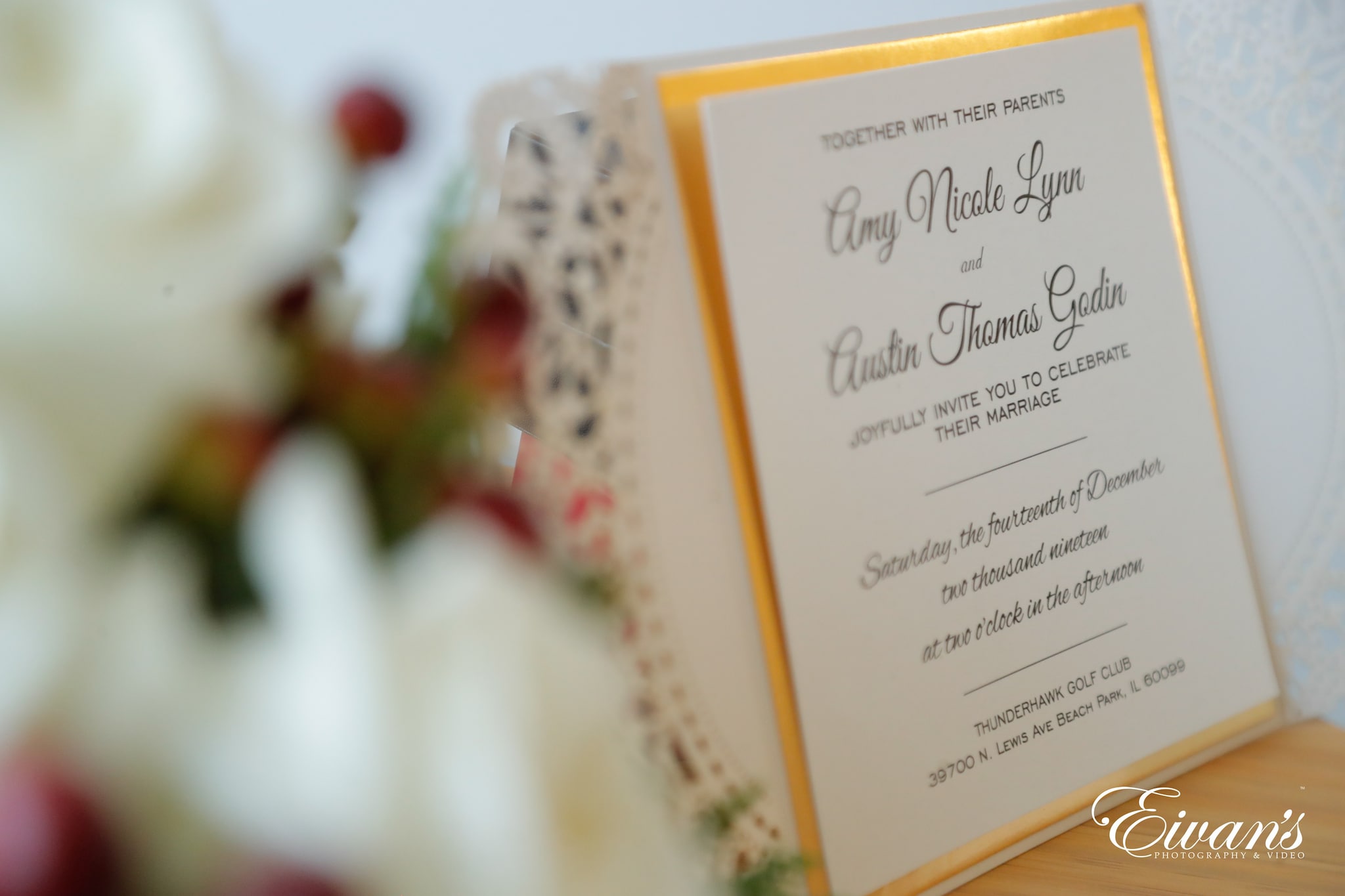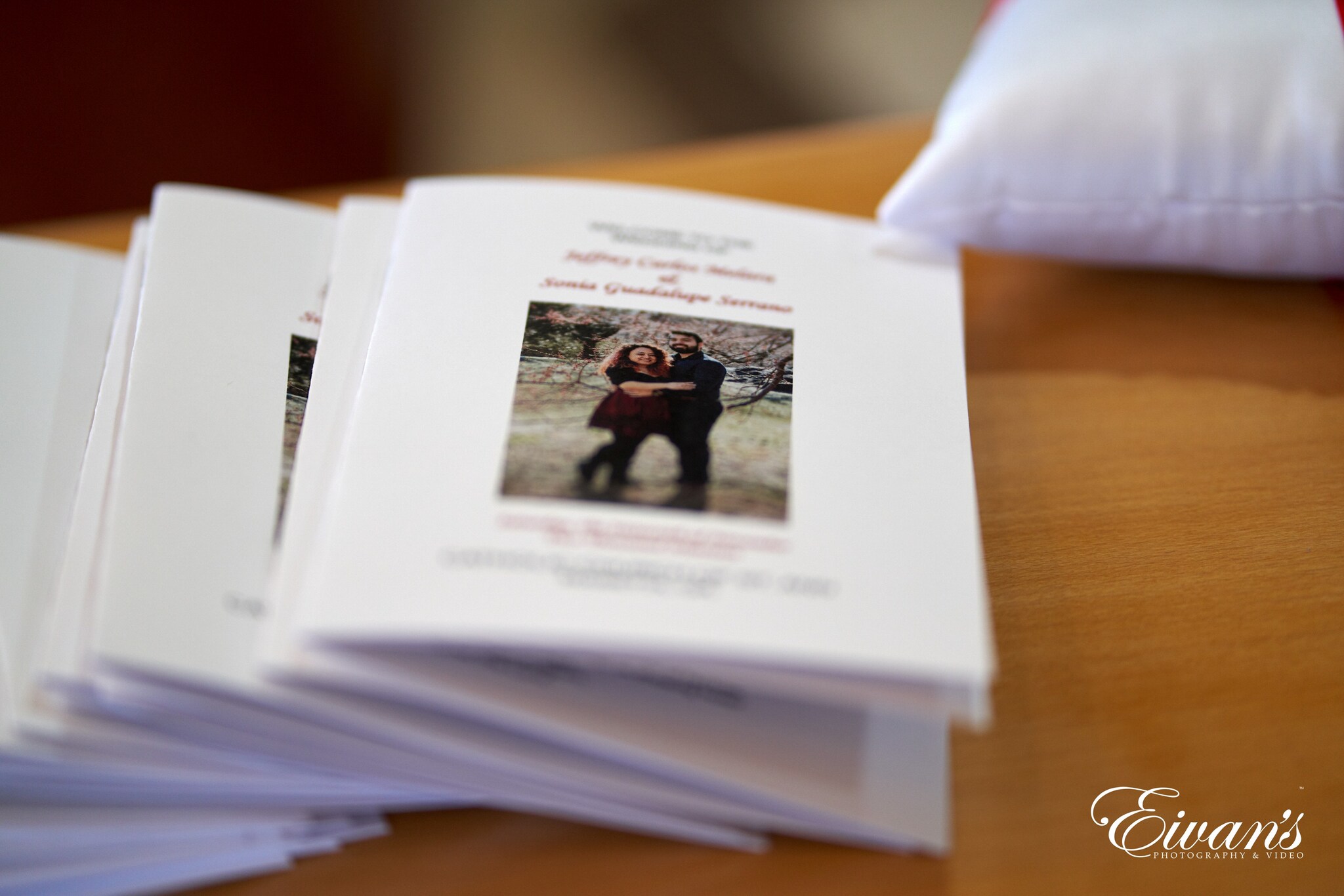 Conclusion
Whatever idea you might have for your wedding invitation, what matters is that it evokes an emotional connection between you and your fiancé. It should reflect the personality and interests of the two of you as it is your big day after all. Whatever design, color palette, or elements you end up with, it must at least be a design you both fall in love with.