5 Must haves for a Classic yet Modern Wedding [Traditionally Beautiful Wedding]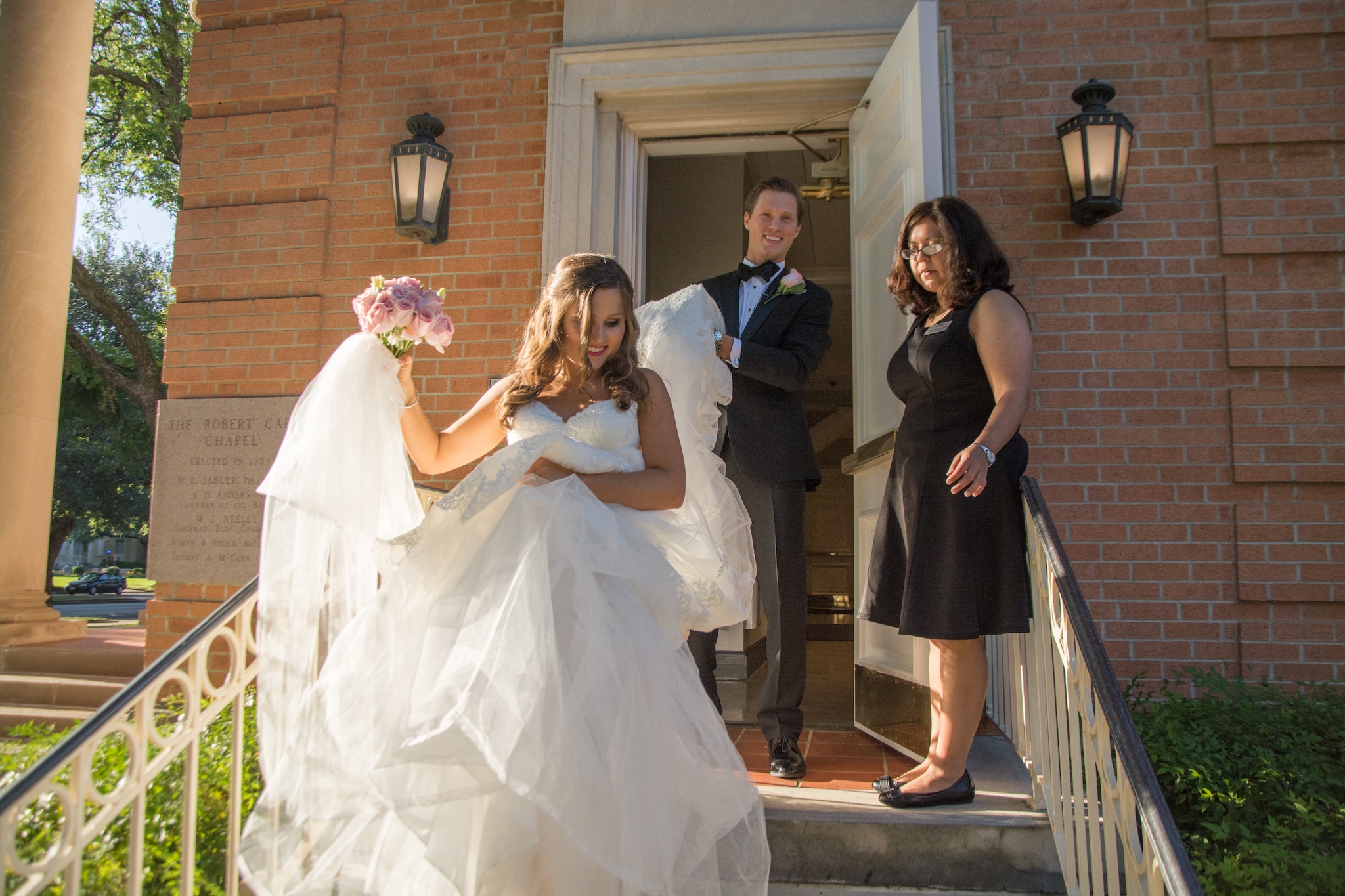 In need of inspiration for a Classic Wedding with a twist? 
    Within the snow-white walls of this chapel in Dallas, Alexandra and Andrew share their vows and seal their undying love. This romantic affair is fit for the perfect inspiration for anyone with the desire for a traditional and classic styled wedding with a slight twist.
Timeless Location:
   First of all, within the halls of Robert Carr Chapel, Alexandra's smile illuminated the entire room as Andrew tears up as he can finally see his bride for the very first time. Due to the location's pearly white walls made the loving couple pop in their photographs taken by their extremely talented Dallas Photographer.
The Day's Elegant Wedding Attire:
    The bride wore a stunning gift ballgown styled gown entirely covered in delicate lace which gave Alexandra a sensational look that would turn anyone's head. In addition, the exquisite gown had a sweetheart neckline and sparkling beaded belt complemented with a long lace trim veil, a light pink rose bouquet, ravishing half-up-half-down hairstyle, vibrant pink lipstick, and dazzling silver and rhinestone earrings.
    Adding to the beautiful bride, Andrew wore a black tuxedo with a black bowtie with a pastel pink rose boutonniere. Therefore, His counterparts wore a classic look of a black tuxedo with a black bowtie, yet they had white rose boutonnieres, unlike the groom.
     Alexandra's bridesmaids wore strapless pink long dresses that had a sweetheart neckline and a wrapped top. Unlike the bride, though they had white flowered bouquets with small light pink accents.
Vivish Color Theme:
The couple's hot pink color themes transitioned into the reception, the couple's warm pink color theme elevated the thriving love between Alexandra and Andrew. With every decoration tying back to the color of pink, is that the walls were lit with hot pink light.
But Here's the Kicker:
     In her astonishing look, Alexandra wore a bracelet that had just been given as a gift to her by her soon-to-be husband moments before the wedding. This new trend has become extremely popular in the summer of 2017; it is sending a gift to your beloved with a letter for them to open before the ceremony. The gift received by the groom was a black BOSS watch, and the bride received a sterling silver bracelet.
Lastly, Do you want to know the best part?
     The bride and groom added a new trend to their wedding, and that was that they set up a section to their marriage just for their guests to be able to take pictures for Instagram and to post their wedding with their specific hashtag. As a result, this idea was one that helped entirely capture their wedding through the eyes of their friends and family.
    If you are looking for inspiration for a wedding that has a classic style but with a pink twist than Alexandra and Andrew's affair is the one for you!