3 Necessities for a Captivating Modern Wedding [Romantic and Modern City Wedding]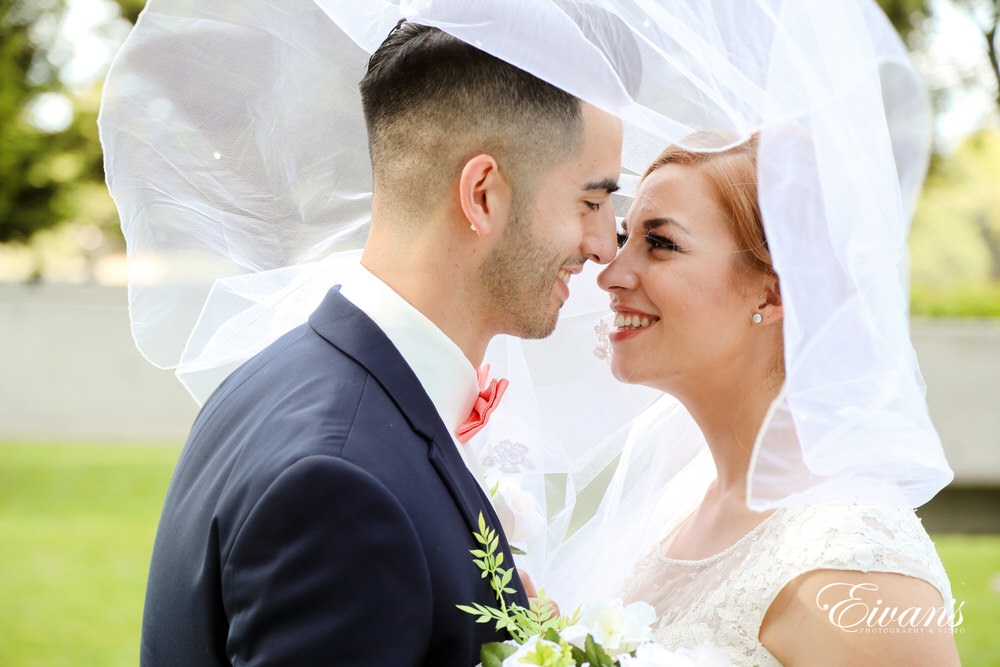 Would you like to spend your wedding day in the city that you love and surrounded by architecture and nature?
Then this wedding between Stephanie and Alexander is the perfect inspiration for your exceptional day. The couple spent their day adventuring through San Francisco's sensational architecture while also celebrating their love.
1) Extravagant Wedding Day Look:
Stephanie looked ravishing within the halls of architectural marvels while wearing a short-sleeved rhinestoned top adorned in lace, but the bottom was more ball gown style with sheer ruffles. Combined with her gorgeous dress the bride mixed a pair of small sparkling studded earrings, an intricately beaded waistline, mid-length veil encrusted with lace imprints, a loosely braided low bun hairstyle, and lastly cream colored lace open-toed shoes.
2) Exquisite Bridal Party Outfits:
The essence of her look was more than an exquisite look and precisely fit the theme of her wedding. Not only did the bride keep with a clean and crisp outfit, yet the groom continued with a polished ensemble. Alexander wore a navy blue tuxedo, corral bowtie, dark brown dress shoes, and two white roses for a boutonniere. Although the groom wore different color tones, yet the groomsmen and bridesmaids wore ensembles with a battleship grey and mint green color theme. The bridesmaids wore long flowing dresses that had a v-neckline, and the groomsmen wore grey tuxedos, brown dress shoes, green ties, and a white rose boutonniere.
This San Francisco Wedding Photographer was able to exaggerate the undying love of this couple and understated yet spectacular architectural achievements. One can see that as the veil flew over the couple's genuine smiles that they are deniably for one another. Also, Stephanie and Alexander's unique and blossoming wedding day only gives hope and inspiration to any and all modern wedding ideas and endless ideas his love and hope.