20 Unique Fall Wedding Color Palettes to Choose for your Big Day
Fall is the perfect wedding season! The crisp warm weather, the seasonal flavors, the beautiful colors that come with changing seasons make an ideal backdrop for your wedding photos. No wonder everyone wants a fall wedding!
If you are planning an autumn wedding, you have a variety of fall wedding colors to choose from. You can incorporate the natural colors with beautiful jewel tones, deep and dramatic hues, or stunning neutrals to get that striking theme you want.
We have suggested some of our favorite fall wedding colors combo to inspire your wedding ideas.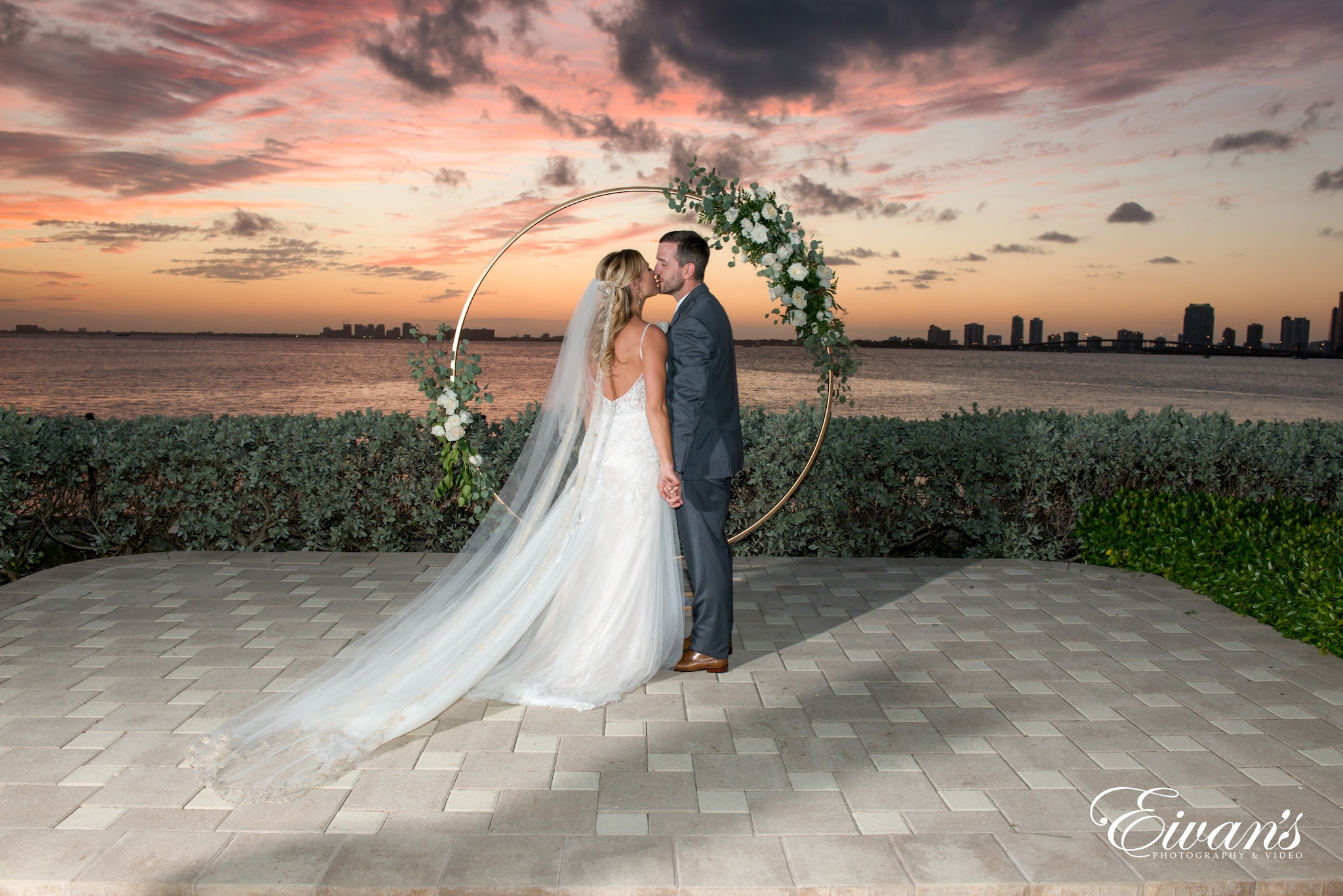 Unique Fall Wedding Color Schemes
Pumpkin and Sage
What better way to celebrate a fall wedding than using actual pumpkins at your wedding venue or reception. Pumpkin orange is perfect whether you use it as your primary color for your bridesmaids' dresses or as an accent.
Pumpkin and sage green are perfect together and make an idyllic autumn wedding décor.
Dark Green and Pale Pink
Fall is a perfect season for an outdoor wedding, making it easy to embrace the greenery all around.
Dark emerald green is an excellent fall color that goes well with pale pink accents. If pink is among your favorite colors, you could use dark, emerald green as the accents or natural foliage as part of the décor.
Wine Reds
You don't have to wait until the holiday season to break out wine reds. Deep reds are striking colors for the fall season all through the winter! Even with the warm weather, a deep red looks beautiful in the fall. Pair it with ivory and gold, or add other colors in the mix.
Cranberry and Peach
This fruity color combo is elegant for the fall. Cranberry is excellent in the fall and winter weddings, and combined with peach; it perfectly fits fall wedding trends.
The darker cranberry and the lighter peach combined perfectly complement each other. You can use these colors on floral displays, dresses and décor. You can also use actual fruits to decorate your tables as centerpieces.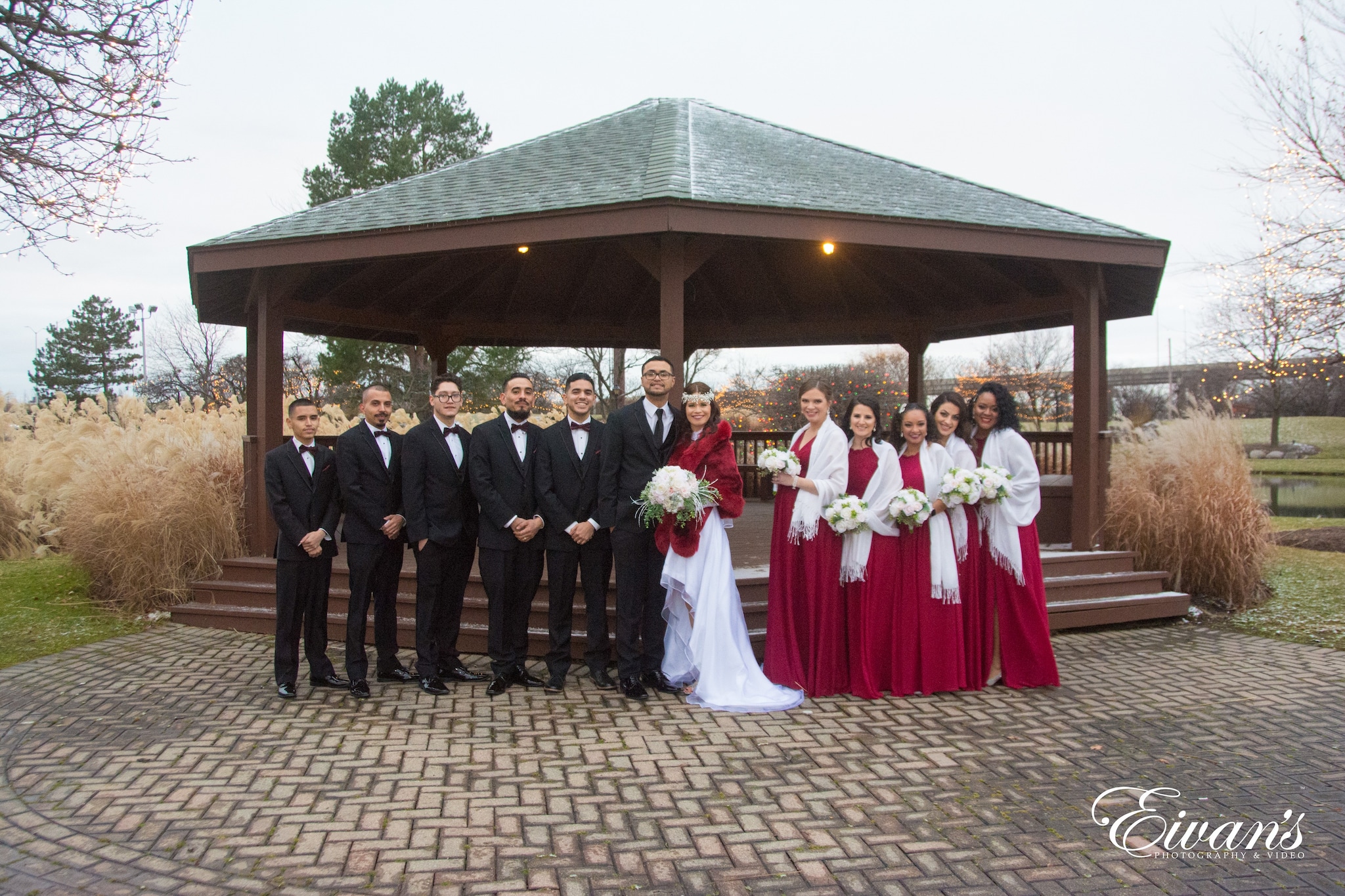 Burgundy and Blush
These two romantic fall colors are a perfect color combination. Dark burgundy and a light pink blush are outstandingly gorgeous, creating contrast and warmth. They give you plenty of wedding flowers options like garden roses. Your bridesmaids will look magnificent whether they go for a light blush pink or darker red. You cannot go wrong with a burgundy wedding.
Deep Purples and Lavender
If purple is your favorite color, do not shy away from decorating your wedding with different shades. A dark purple, just like deep violet, looks perfect with a light lavender or lilac purple. Whether your bridesmaids choose to wear the dark or light shade, rest assured they will look great! The different shades of purple will make gorgeous floral arrangements.
Plum and Beige
A plum purple is a lovely fall color that will indeed look outstanding on your bridesmaids. Plum looks fantastic mixed with beige, wooden accents, white or natural greenery. Consider a plum and beige combo, complete with plum purple and white flowers wrapped in a thread for a rustic theme fall wedding bouquet.
Dusty Rose and Champagne
Do you prefer a lighter color palette? Consider combining champagne and dusty rose pink? They compliment each other well and look excellent at a rustic barn wedding, plus wood accents or a formal, elegant wedding theme. Adding some dried florals and grass brings out the natural theme for a rustic feel.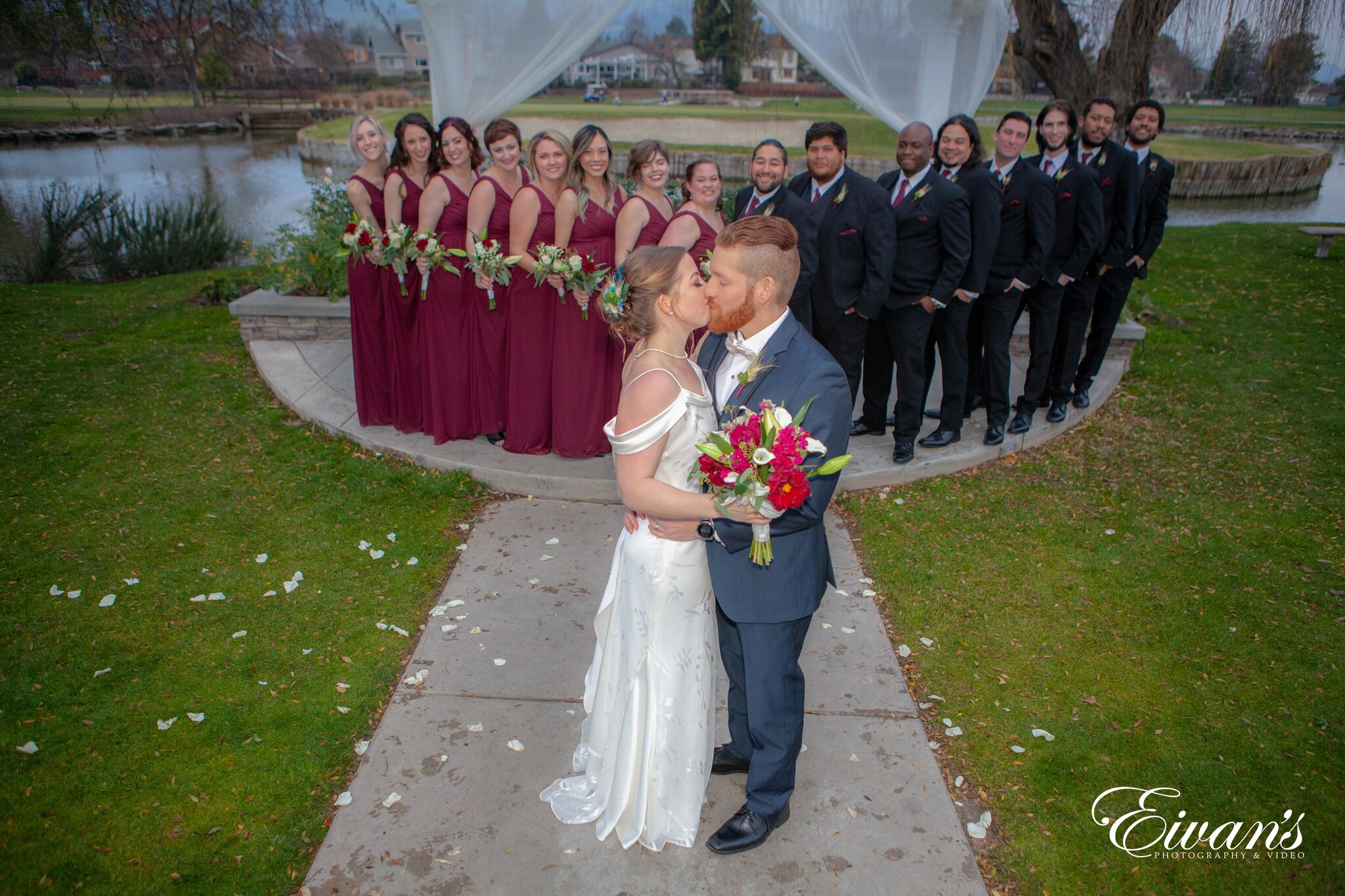 Mustard Yellow with Natural Greens
Mustard yellow is a timeless autumn wedding color. Darker yellows are perfect when combined with natural greens in a backyard wedding setting, or you could also add in pops of olive green.
Navy and Gold
Navy is a universal color that looks good on everyone. Gold accents are for a formal-themed wedding. A dark navy blue accommodates various themes, from farmhouse rustic weddings with florals to modern, sleek metallic touches. Navy and gold are classic wedding color combos. Navy also looks spectacular combined with grey, silver, white, or even beige natural accents.
Burnt Orange and Blues
Burnt orange is an autumn color and makes a great color choice for your fall wedding color ideas. You can choose either a blue or a rusty orange as the primary color and then feature the other in accents for a lovely contrast! Burnt Orange and Blues is an excellent color combination that is rarely used.
Slate Grey and Marigold
Slate grey is a spectacular wedding color and compliments many other colors so that you can make your combo. Make the marigold the focus and add cool grey undertones and accents if you want a brighter color palette.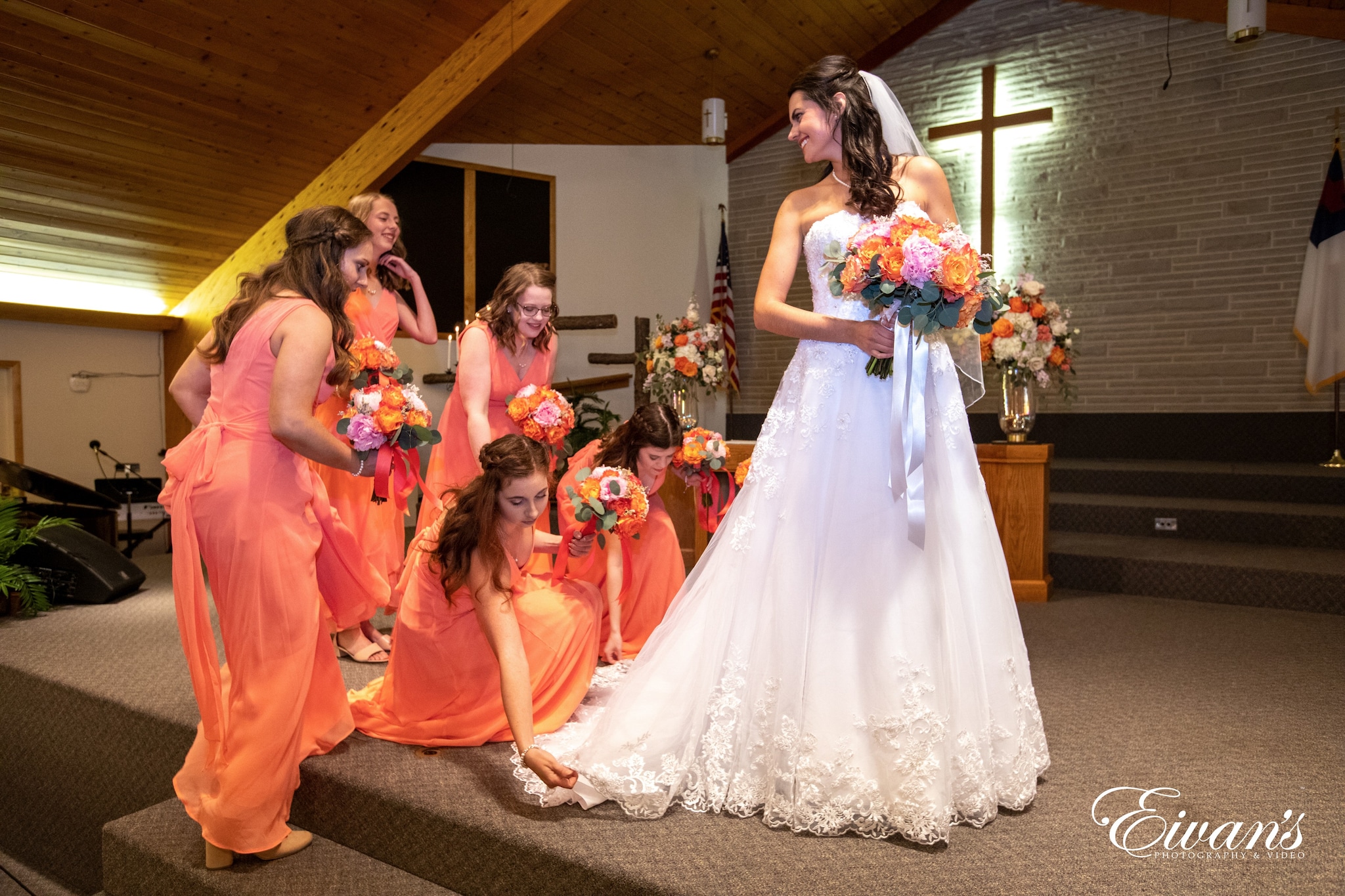 Black with Pops of Color
A fall wedding allows you to get away with black as your primary color. Whether you choose to go all black or mix black and white, it is a wedding style fit even for a spring wedding.
Black can match almost any other color. Black and purple look romantic and moody, Black and red are dramatic, Black and green are sophisticated. Whatever color you add to black, it makes a great fall color combo.
Terra Cotta and Emerald
Terra Cotta is a lovely orangey color fit for the autumn season. Paired with emerald, it stands out as a beautiful wedding. This natural look is great for outdoor fall nuptials but will also look great when used in an indoor setting. If you are a plant lover, include plenty of greenery in terracotta to fit your color palette! These colors make for beautiful dresses, foliage, and other fall decors.
Copper and Greens
Whether you stick to metallic or opt for a softer copper look, it looks terrific. Pair copper with natural greenery, and your wedding is sure going to look picture perfect! Copper vases can be used to hold green plants and white flowers and decorate tables and other spaces. You can also add the colors through different mediums like table linens, wedding invitations, picture display stands, etc.
Shades of Grey
Grey is an everywhere color! Grey bridesmaids' dresses look spectacular, creating an excellent effect. Set tables with different shades of grey mixed with silver. Choose lighter white, grey, and darker charcoal together, and add in other colors where you see fit! Grey is the new black and can pretty match up with different bright colors. Grey also makes such a perfect color for groomsmen's suits.