Enchanting
Winter Wedding Bouquets
Ideas That Will Warm Your Heart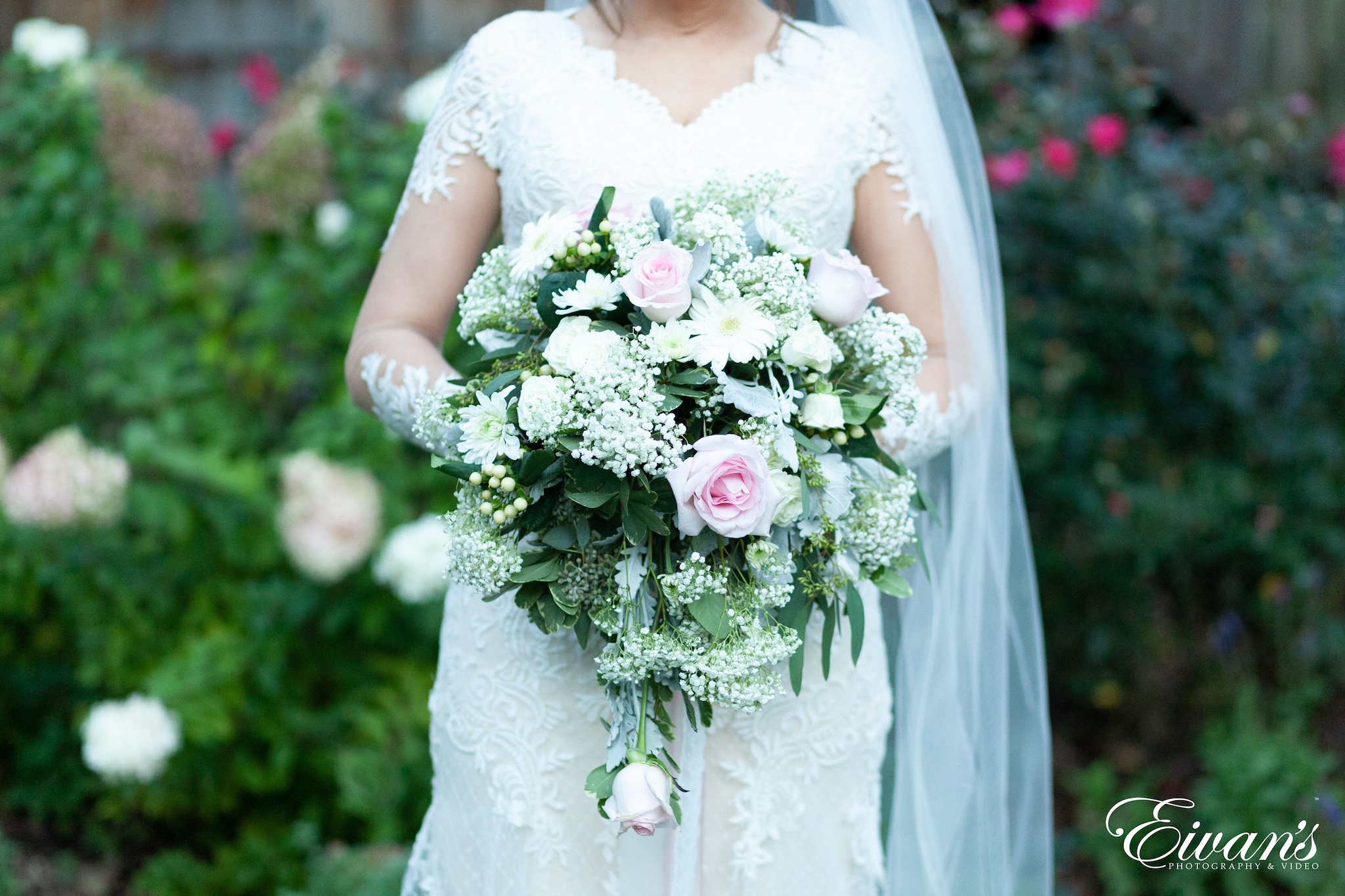 Are you planning a winter wedding?  Are you concerned about your bridal bouquet looking boring because there is no flower bloom in this season?
Relax; it is possible to get you that beautiful colored bridal bouquet you always dreamed of!   You can actually choose from a wide spread of varieties that are available in this season.  Consider something out of the norm while embracing the cold and stillness of the winter. Use what is available in this season and work with your florist to incorporate lots of color.  No, you are not only limited to winter white roses, you can get the arrangement that will merge with your wedding ideas.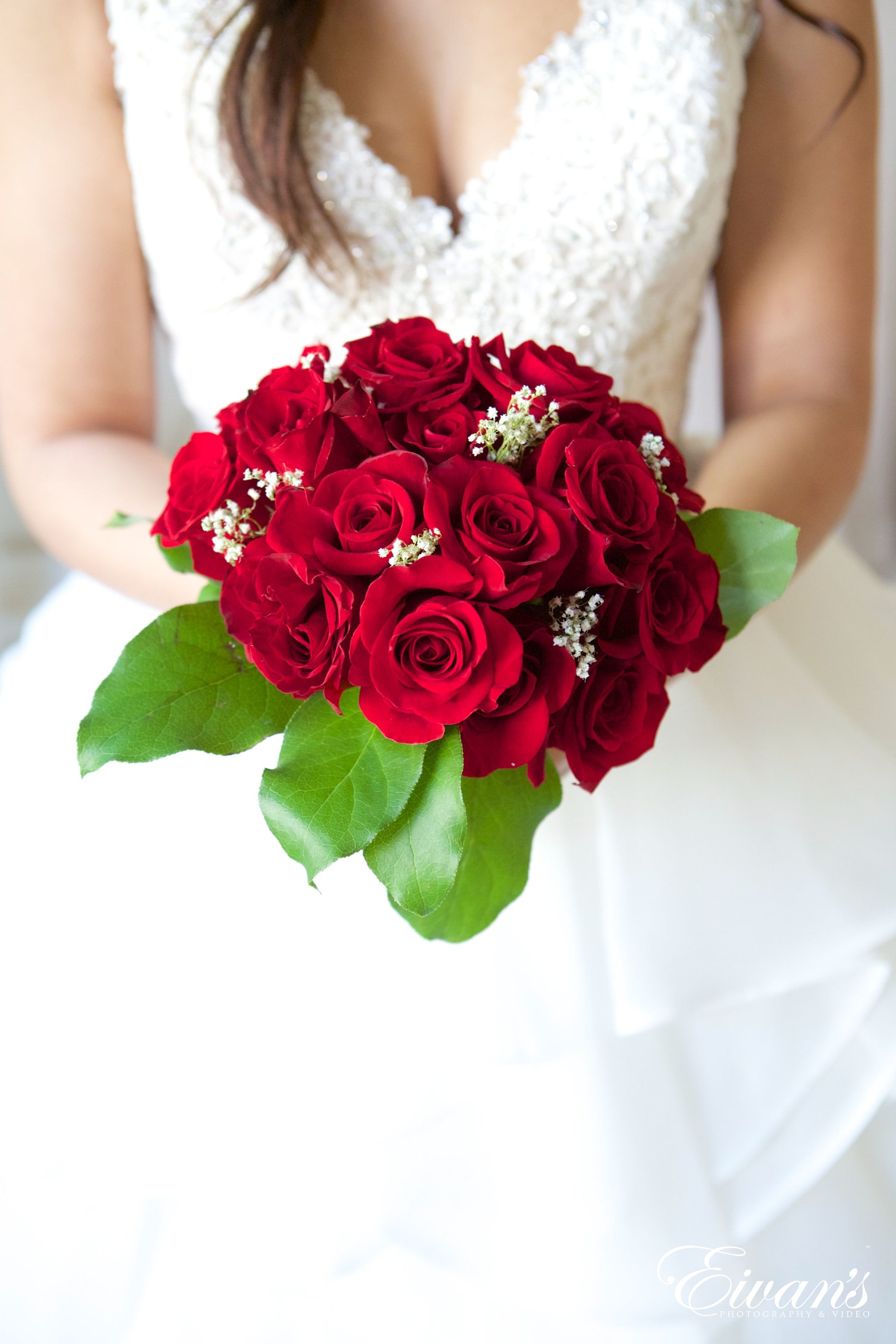 Available winter wedding flowers to incorporate in your arrangement
Amaryllis – Commonly considered as holiday flowers, they come in a variety of colors.  Besides their common red and white shades, they come in bright colors that can be mixed with greenery and colorful ribbons.
Tulips – They are associated with the spring season.  Most people do not know that their season begins in winter.  They are magical and will transform to fit diverse wedding styles in whatever season.
Roses – They are available all year round and can add flair to your winter wedding bouquet.  You can opt to an all white bouquet or mix it with shades of pink and red.
Ranunculus – They are in season during winter. They are loved by most couples who are fans of soft petal flowers.   They are not only great for a wedding bouquet but also as a boutonniere.  They are simple but elegant!
Anemones – They are a great winter bloom!  The white color and dark blue centers make them perfect for a modern wedding.  Paired with deep hued calla lilies, anemones make a sophisticated bouquet.
Carnations – Though they are the most underappreciated flowers, they come in handy.  They thrive during winter's coldest months and are available in a variety of colors.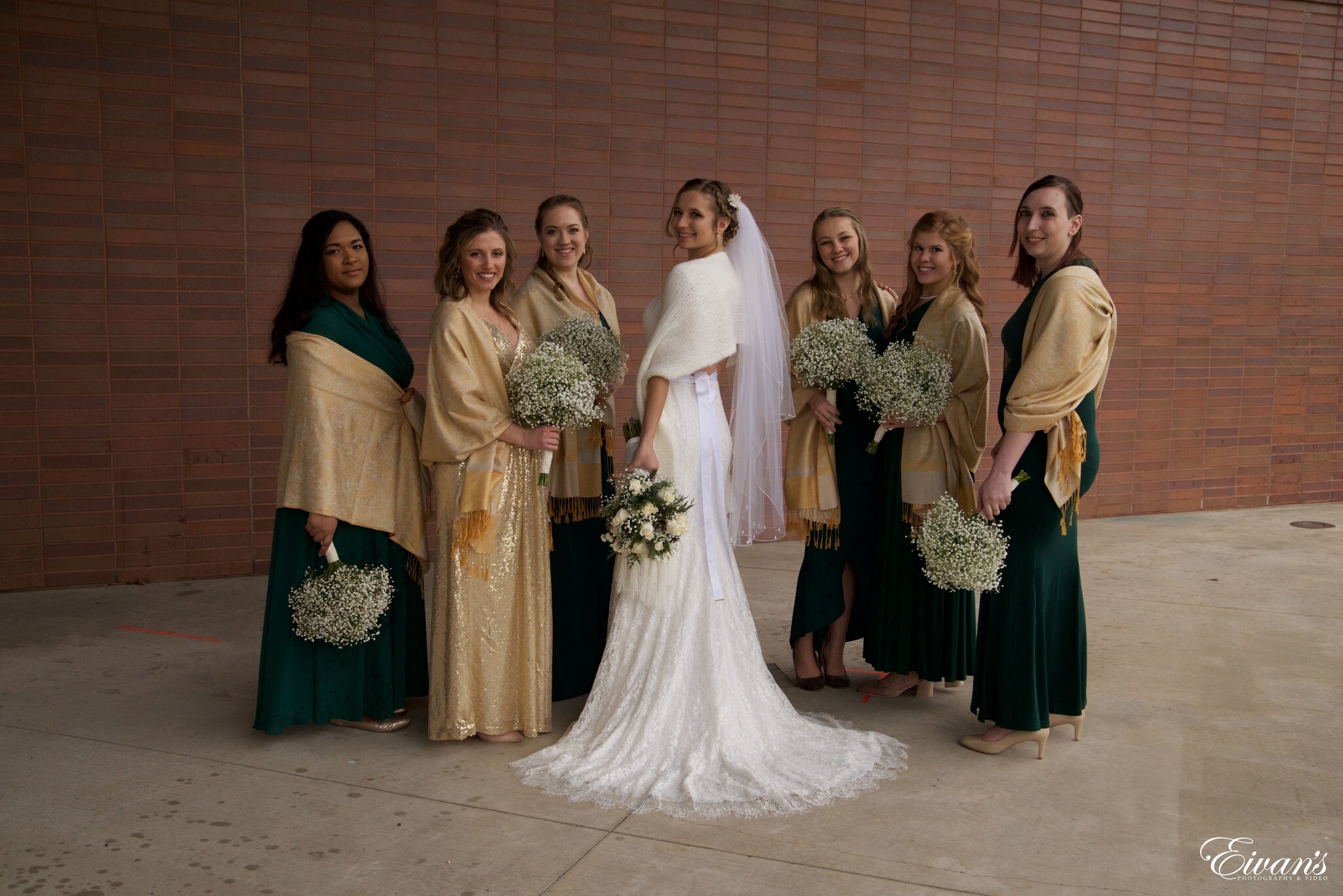 Hypericum berries – They are commonly known as the winter staple and used as filler in the bridal bouquet.   They work well on the bouquet as well as the boutonniere.  They are easy to incorporate with most designs, providing an outstanding texture to bouquets and wedding centerpieces
Sweet peas – They are some of the most romantic flowers ever known.  They have delicate petals and stems and can be easily mixed with other flowers to create a stunning bouquet.
Camellias – They are known as winter gems.  Their layered petals add plenty of texture to their appearance.  Camellias are in season throughout the late fall season into December.   Christmas weddings are full of camellias because they are readily available.  
Orchids –   They offer an elegant touch and a great choice for classic and formal winter weddings.  
Calla lilies – They are similar to orchids offering a touch of timeless elegance. They are commonly used in boutonnieres as a single bloom with a touch of greenery.  Calla lilies are used alone or mixed with other combinations without taking away their classic charm.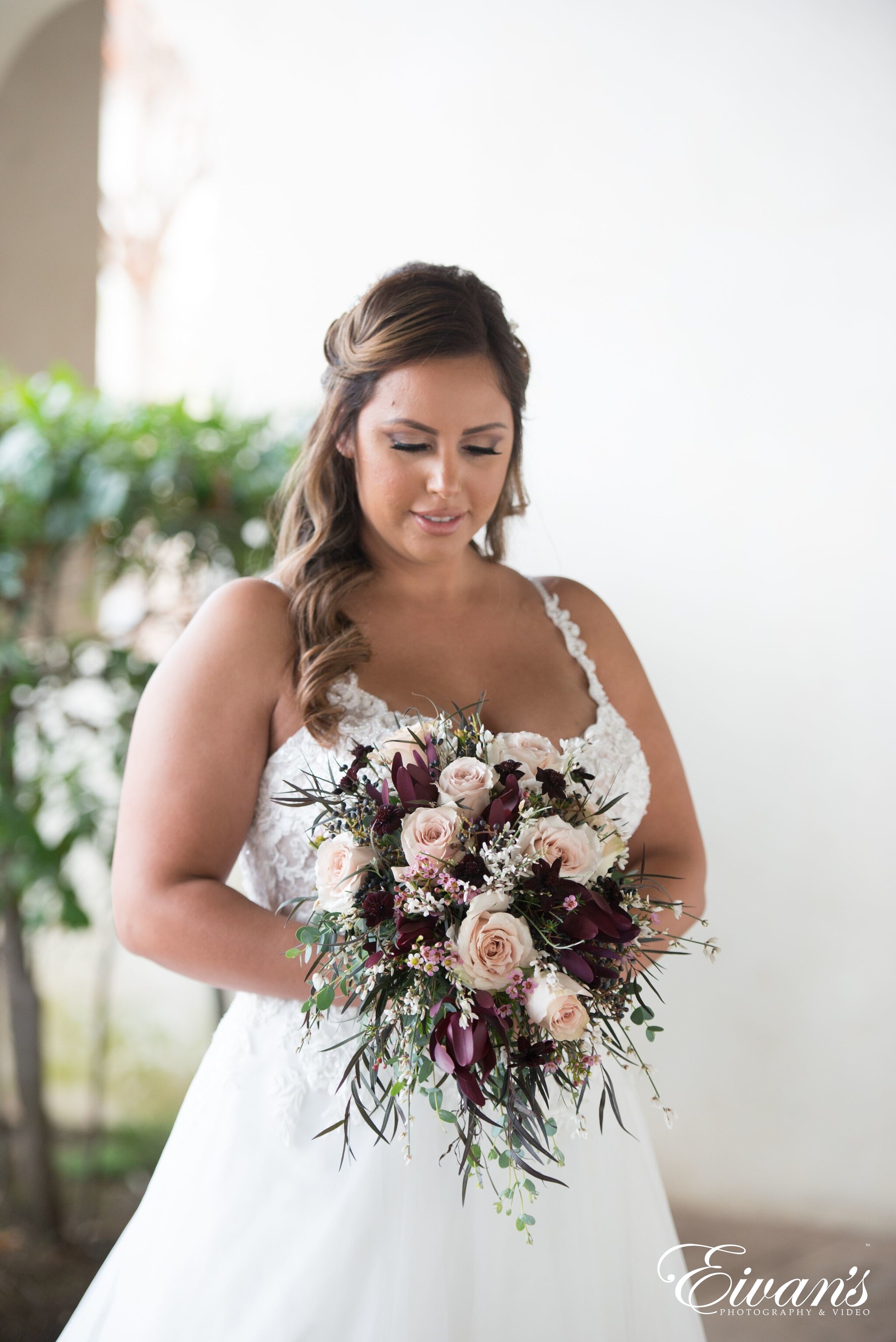 Gerbera daisies – These flowers can be too busy on a bridal bouquet that's why they are avoided by most brides. If you can be able to combine them with other blooms or pinecones, you get an elegant bouquet.  
Gardenias – These fragrant winter flowers are great for bouquets and boutonnieres.  They are commonly used in forma weddings for a more classic feel.
Hellebores – Available in shades of ivory, purple, red and pink they are an excellent option.  Hellebores are romantic just like sweet peas and a great representation of the winter bloom.
Poinsettias – These are Christmastime flowers that are particularly used for Christmas weddings. Paired with simple greenery, they are transformed into a simple but elegant look.  
From ranunculus to tulips, eucalyptus, citrus fruits and dried floral accents, your list is endless.   Here are our top ten of our favorite winter wedding bouquet ideas from our top florist to help brighten up your big day.   Choose the floral arrangements that you are drawn to, review with your florist and come up with something wonderful for your wedding day.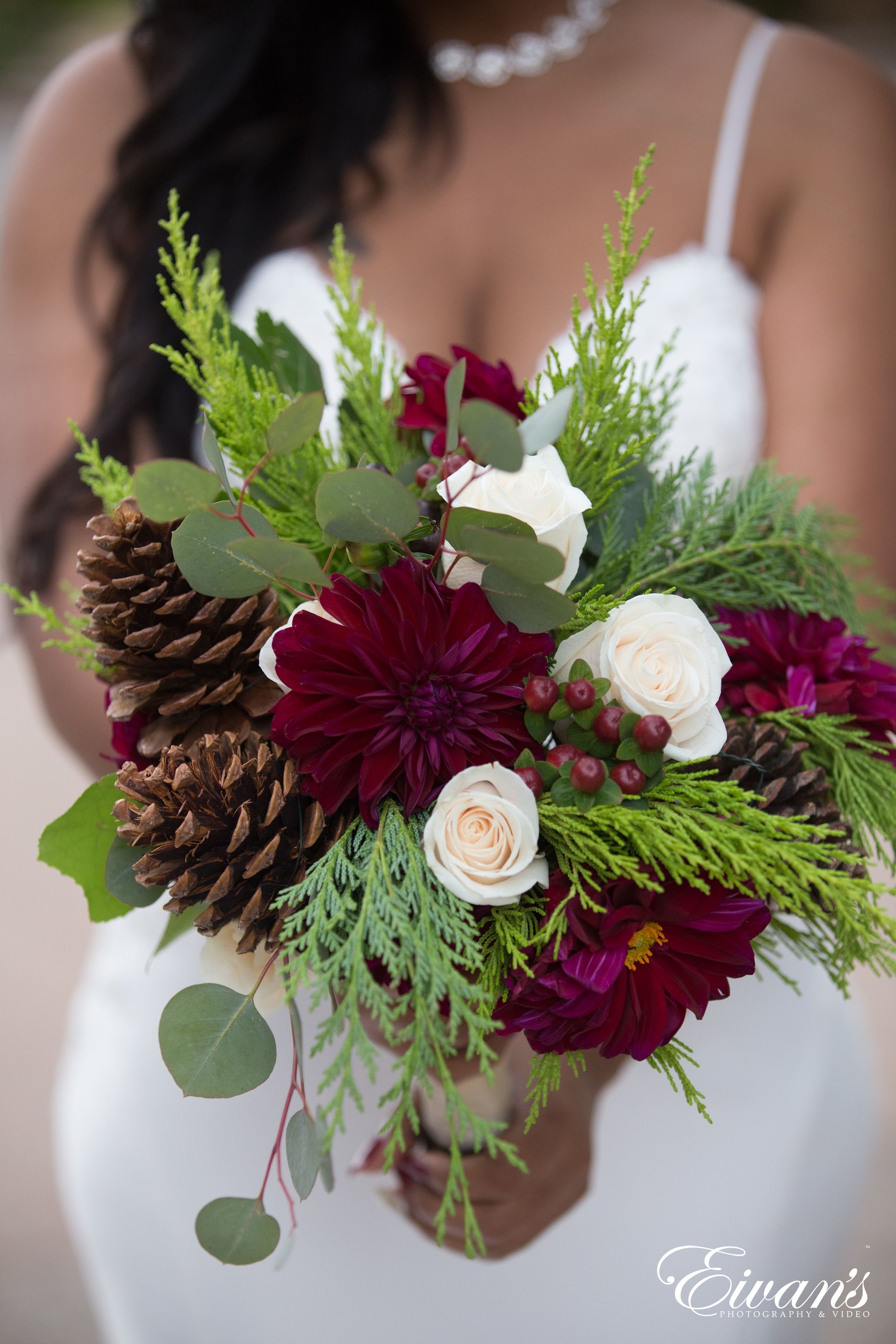 Winter snowy whites – White blooms are common during the winter season. A winter white bouquet is outstanding and looks amazing.  It can be made up of white roses only or a combination of many white flowers.
Red, gold and Green – These three colors mixed together adds a little shimmer making an elegant floral design for winter or holiday weddings.
Soft color and texture – Combining soft colors and a little lace or delicate feathers makes a perfect winter wedding flower bouquet.
Pinecone and wheat bouquet – Rustic weddings are crazy about pinecones.  Pinecone bouquet combines wheat to bring out a fresh country look as a winter bouquet.   
Pinecones only bouquet – These are not for everyone, they are for those who want both a rustic and chic look.   Pinecones bouquet can be customized to fit your own diy personalized style.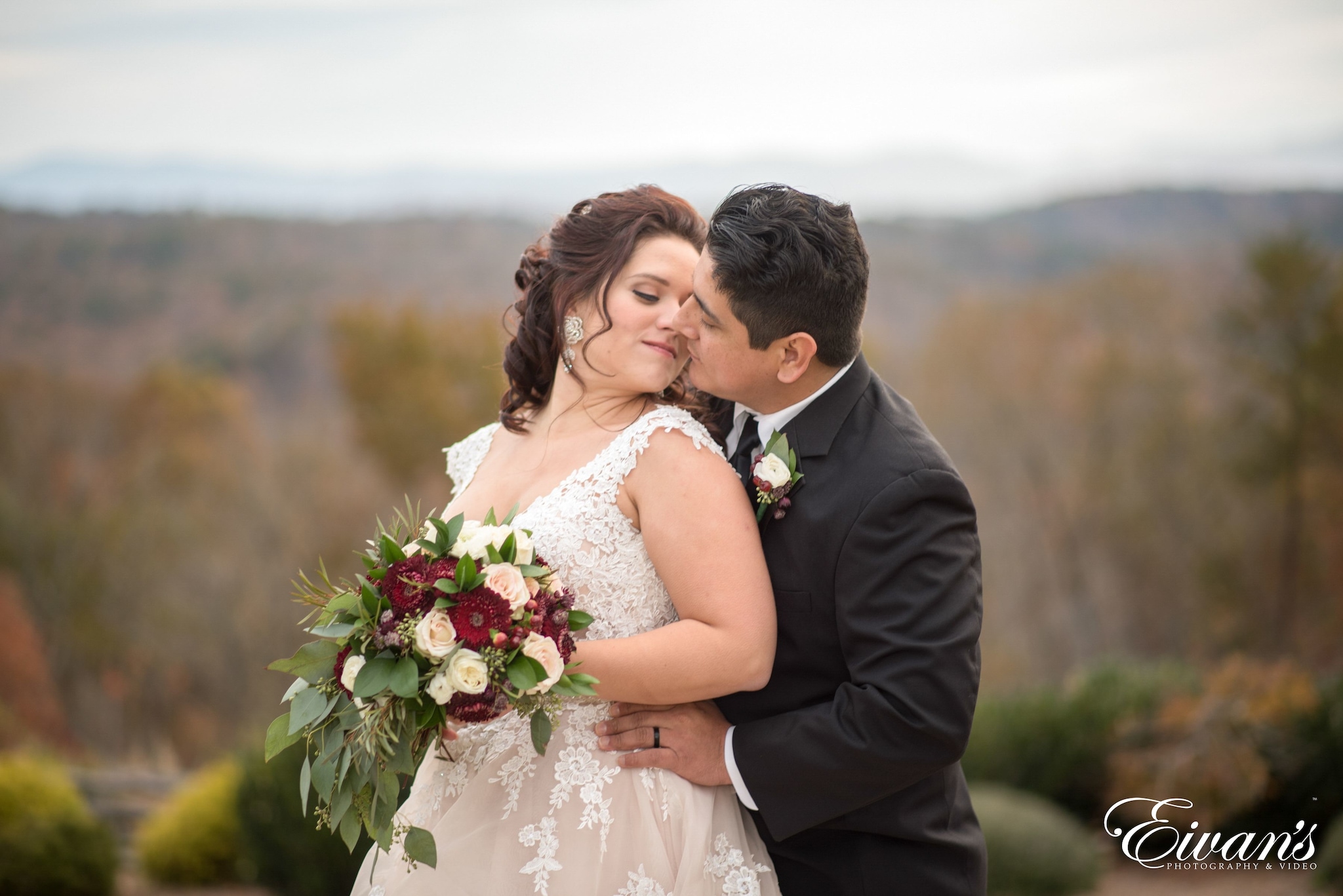 Thistle bouquet – Purple color makes an elegant bouquet with its fresh and natural look!  This type of bouquet works best for both bridesmaid bouquet and the bridal bouquet.    
Burlap bouquet – This bouquet features a combination of flowers, burlap roses and pinecones.  It is one of a kind wedding bouquet that is truly amazing.
Winter hydrangea bouquet – This is not only for spring weddings but for summer and winter as well. Hydrangea bouquet matched with dark bridesmaid's dresses makes a stunning winter wedding theme.
Vintage winter bouquet – It comes in dark colors mixed with light ones making it one of the best bouquets for winter and fall weddings.
Succulent bouquet – If you want a dramatic and beautiful bouquet, talk to your florist about a succulent bouquet.  
Twig bouquet – This bouquet is unique forming a part of rustic and winter color scheme. It is perfect for a country or vintage feel.
Wild flower bouquet – The best DIY wedding bouquet you will come across is from the wildflowers. The wildflowers create an impressive winter look that both the bride and bridesmaids can carry.
Amaranth bloom bouquet – Consider accenting your bouquet with amaranth blooms.  It comes in late winter months harvest color shades – burgundy, brown and adds a wintry touch to any ivory bouquet.