Best Engagement Photo Locations in Long Island
With 62 counties spread over 140,000 square kilometers, the State of New York has a wonderfully diverse geography that makes for picturesque backdrops. So, it comes as no surprise that it is among the most popular places for engagement photo sessions.
New York City alone has thousands of beautiful locations for wedding, engagement, and lifestyle photoshoots. Manhattan has The Highline, Times Square, Grand Central Station, the Empire State Building, and dozens of gardens and bridges at the Central Park. The Bronx is home to the historic Fordham University Rose Hill Campus, New York Botanical Garden, Bronx Zoo, Bartow-Pell Mansion Museum, and several scenic parks. Indeed, there is an endless list of NYC engagement photo locations.
But if you want to veer away from the usual NYC locations, head a little eastward and find hidden gems in Long Island the largest and longest island in the entire state and in the contiguous United States. Here you'll find castles, beaches, parks, fields of flowers, lighthouses, and countless Instagrammable places. So, where are the best places to take engagement pictures on Long Island? We've narrowed down the list for you so you can easily find the best engagement photo locations that match your theme.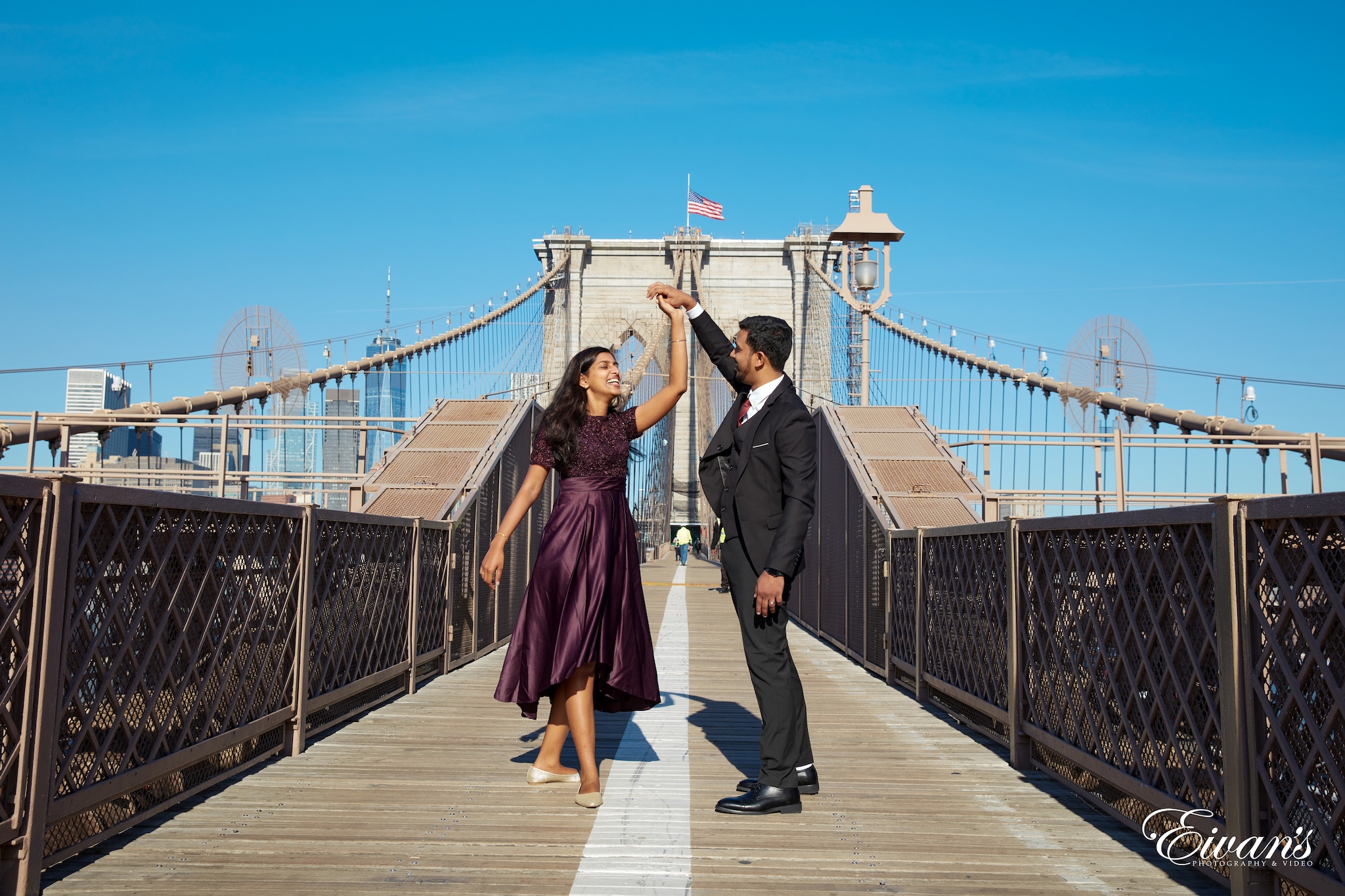 The Best Engagement Photo Locations in Long Island
Flower fields
Have your engagement photos taken amidst a sea of purple at Lavender by the Bay. Visit either the Calverton or East Marion fields from mid-summer to early fall to capture the intense purple hues of the lavender blooms.
Long Island is also popular for its sunflower farms. There are over a dozen such farms including the Manor Farm Sunflower Maze, Rottkamp's Fox Hollow Farm, and North Fork Sunflower Maze. Of course, there's the uber-popular Waterdrinker Farm. Aside from sunflowers during summer, they also have elegant tulip fields in spring, fun pumpkin picking events in fall, and Christmas tree displays in winter.
Vineyards and wineries
With over 60 vineyards and wineries, Long Island presents endless choices for those going for this theme in their engagement photos. For one, there's Pindar Vineyard that offers tasting and vineyards tours. It also has wonderful sunflower fields abloom during summer. Macari Vineyards in Mattituck allows visitors to walk freely along rows of grapevines. Other great vineyards for engagement photoshoots include Jamesport Vineyards, Pellegrini Vineyards, and Mattebella Vineyards.
Sands Point Preserve
A former Guggenheim Estate, the 216-acre property in Nassau has dozens of spots perfect for photo backdrops. There's an Irish-inspired castle, the century-old Hempstead House, a woodland playground, vast gardens, and dozens of forest trails. Sands Point Preserve also has wedding venues making it a perfect location for engagements and weddings in Nassau county.
Prospect Park
Located in downtown Brooklyn, this sprawling city park has Brooklyn's only lake and almost a mile of sweeping meadow. It also has a zoo, museum, picnic grounds, and botanical gardens giving you plenty of photo options for your engagement shoot. Try to capture the beautiful birds that abound the park in your frame to add some character to your pics.
Old Westbury Gardens
A nicely preserved mansion and well-maintained gardens are the highlights of this former gold coast estate. It has 200 acres of beautiful natural scenery with ponds and lakes dotting the gardens. The large iron gates and mansion façade make for interesting backgrounds. The walled garden, rose garden, and cottage garden has pretty nooks and crannies for perfectly elegant engagement photos.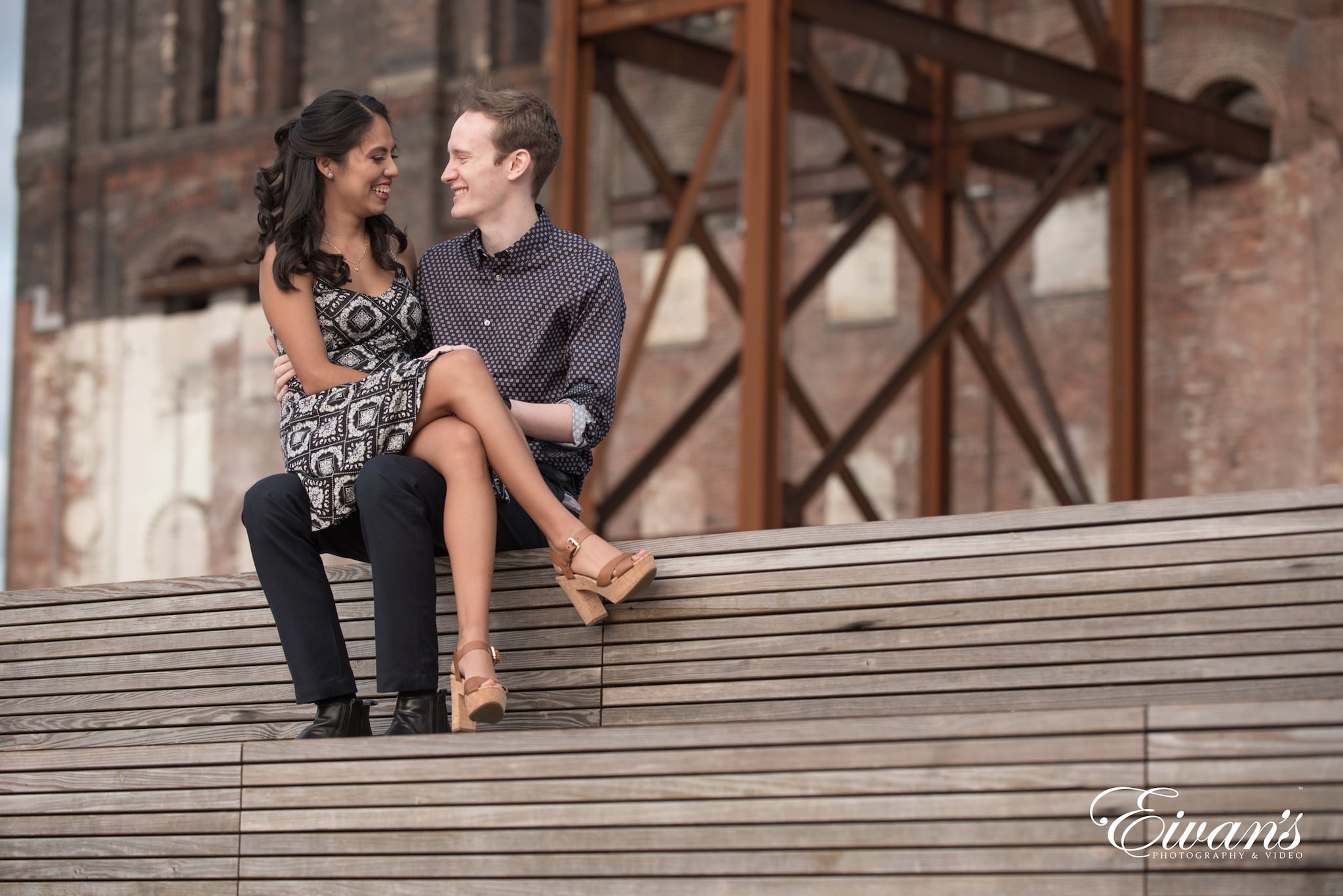 Planting Fields Arboretum
One of the most beautiful gardens in Long Island, this 409-acre estate has beautiful foliage almost all year round. Its gardens and greenhouses are abloom with color in spring, summer, and fall. You can also take photos inside the Camellia House or in front of the original Tudor Revival mansion.
Brooklyn Bridge Park
An iconic landmark in New York, the Brooklyn Bridge is a popular background for photos. One of the best places to capture it in photos along with the NYC skyline is from this urban oasis. The Brooklyn Bridge Park's grassy meadows along the river are just perfect for panoramic shots.
Fire Island
Located in Suffolk County, this island is a treasure trove of engagement photo locations. The Robert Moses State Park at its western tip is popular for wildlife photography. Aside from various species of birds and butterflies, encounters with deer are not rare in this area. The 19th century Fire Island Lighthouse is also a favorite among engagement photographers. The boardwalk that cuts through the seagrass towards the lighthouse helps create idyllic shots.
Dumbo, Brooklyn
Capture the distinctive art and culture of NYC's Brooklyn area. Go around Dumbo and find unique backdrops along its cobblestone streets. Let your engagement photographer take you to spots with the best views of Brooklyn Bridge and Manhattan Bridge. Get iconic shots at the archway under the Manhattan Bridge and with the Manhattan skyline at Jane's Carousel.
Brooklyn Botanic Garden
One of Brooklyn's hidden gems is the Japanese garden at the Brooklyn Botanic Garden. Aside from dozens of bonsai, you'll find tortoises and fish in the pond and colorful flowers throughout this green oasis. Have your engagement photos taken mid-March to April and be surrounded by vibrant shades of pink from cherry blossom trees.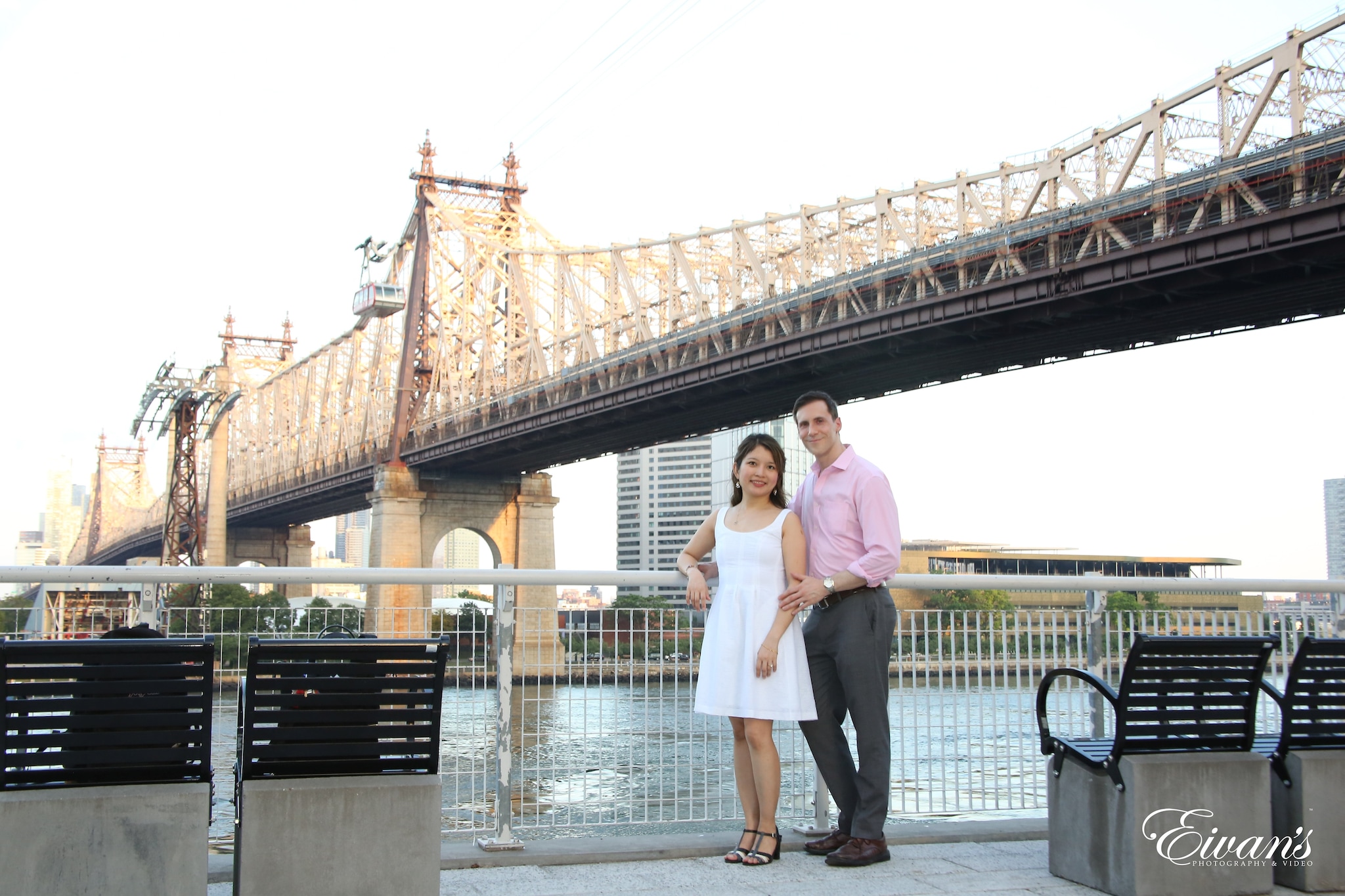 Coney Island
Highlight your fun and spontaneous side with engagement photos taken at one of the most exciting places in NYC – Coney Island. Bring out your spunky personality with shots at retro fairground rides in Luna Park, the Cyclone Roller Coaster, and Deno's Wonder Wheel. Do some creative poses in front of Coney Art Walls. Try to grab cute or hilarious shots with sea creatures at the New York Aquarium. Then head over to Coney Island Beach for seaside panoramic shots.
Islip Grange Park
Looking for a rustic background to match your engagement theme? Islip Grange Park in Sayville helps you recreate the bygone era for a laidback photoshoot. You'll find historic buildings here including a small church, a barn, and a windmill – all surrounded by grassy fields.
Port Jefferson
For great photos at sunset, one of the best places to be at is Port Jefferson. The Pirates Coves has a beautiful beach and giant sand dunes that add a unique visual component to sunset pictures. Aside from this, Downtown Port Jeff also has the Mather House Museum for classic wedding photos and the Rocketship Park for fun creative shots. More romantic shots can be taken at the Harborfront Park which offers splendid views of Long Island Sound.
Belmont Lake State Park
Take your engagement photos in a bucolic setting. Schedule your engagement photo shoot in the fall and capture the changing colors of the leaves in Belmont Lake State Park at West Babylon. Let the beautiful lake reflect and magnify the picturesque views for a magical background. Walk along the trails or cozy up on benches by the lakeside.
Montauk Village
This Suffolk village at the east end of the Long Island peninsula gives you multiple options for your engagement photo themes. You can go for classic romantic shots at the centuries' old Montauk Point Lighthouse, be playful at the bunkers and radar tower in Camp Hero State Park or have a laidback vibe at the sand dunes of Kirk Park Beach. You can also get some nice pictures of the strong Atlantic surf at the Ditch Plains.
Aside from all these, the Bayard Cutting Arboretum, Jones Beach, Oyster Bay, and a handful of county parks provide the perfect backdrops for engagement and wedding photography in Long Island. Most of these also cater to events so you may want to consider them as your wedding day venue too.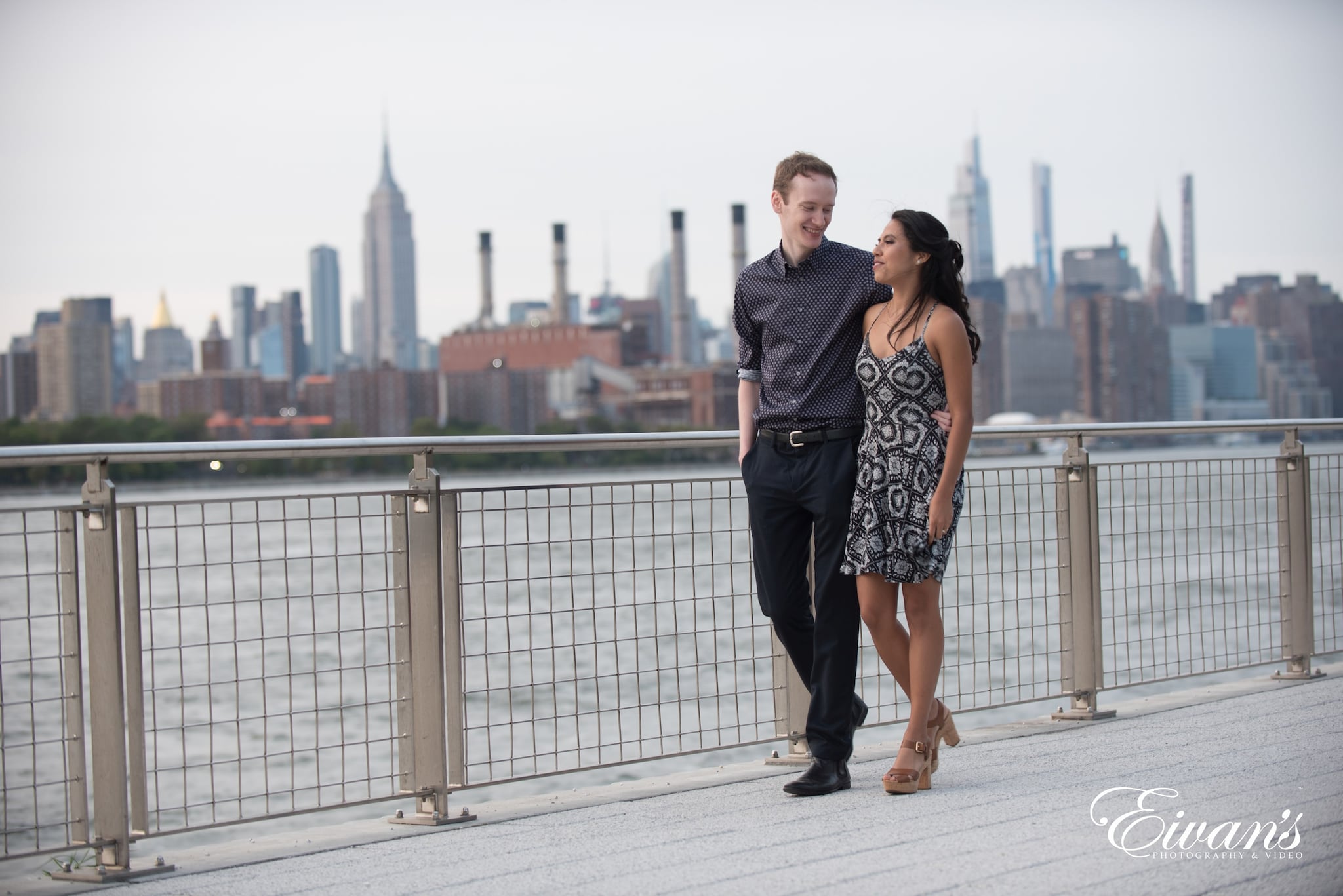 What is the best time of day for engagement photos?
At Long Island, the most beautiful locations for engagement photos are outdoors. So, the lighting varies by location and changes over the course of the day. But, like most outdoor shots, the golden hour would be around sunset or sunrise when the sky casts different colors. You may want to take your city photos in the afternoon and head to a great spot for sunset shots.
Work with a Long Island Wedding Photographer
To get the most out of your engagement photoshoot, it's best to enlist the services of a professional Long Island wedding photographer. Those who have been working in engagement photography for a long time know the best locations and the most ideal time to shoot your engagement pictures. Look for one who you can be comfortable with and who can deliver the best services that match your budget.