What to Wear for Summer Engagement Photos
By Eivan's Photo & Video Editors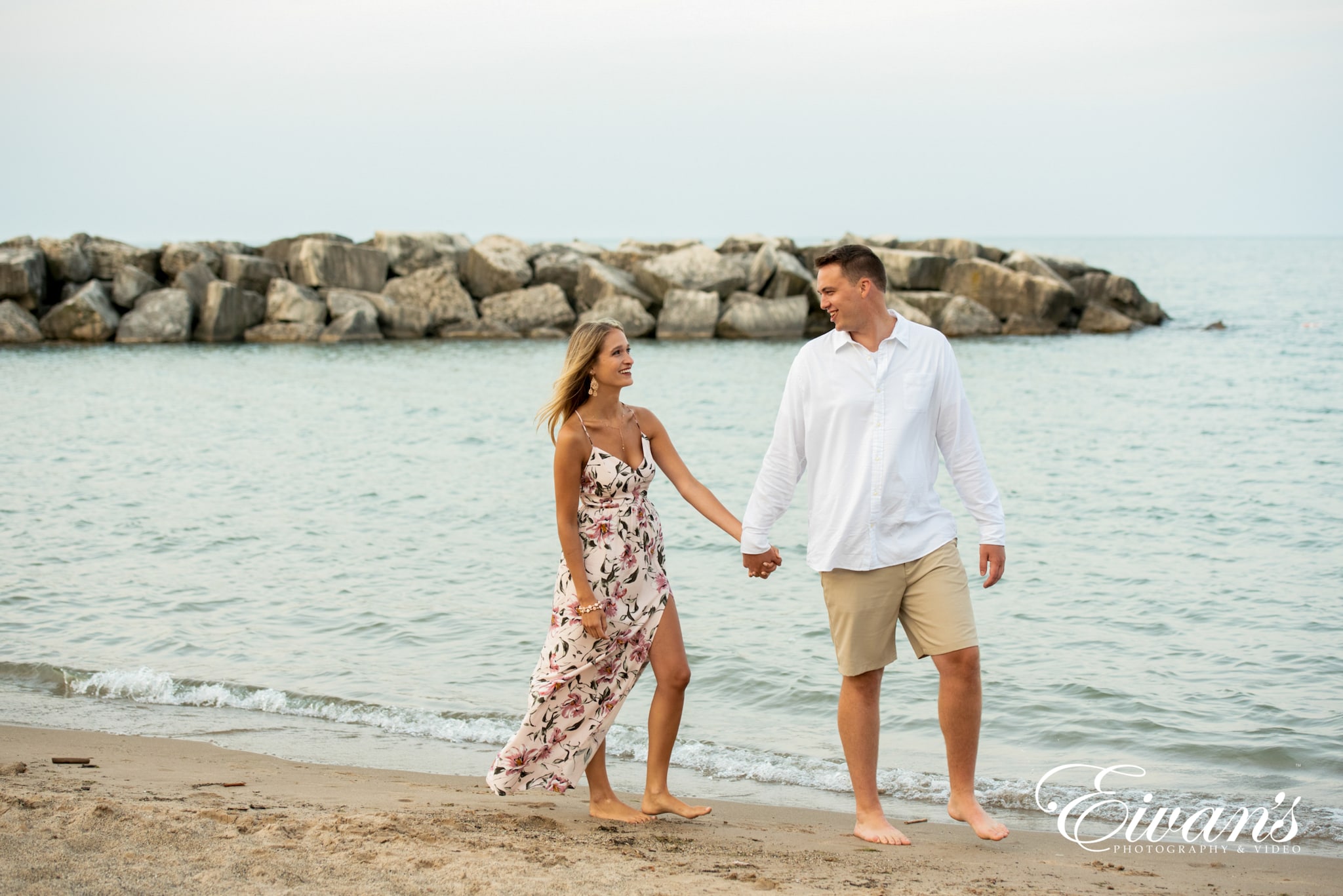 The summer season is one of the best seasons to have an engagement photoshoot. Mostly thanks to the warm temperature and sunny weather it brings.
If you're considering having yours in the summertime, that's a great choice. With that thought, here are some ideas on what to wear for summer engagement photos.
These ideas will hopefully spark some inspiration on what to wear for your summer engagement photos. 
The Two Influencing Factors of What to Wear
First, let's talk about two factors that influence what you should wear. One of them is the place you want to do your shoot at. Generally, when people think of summer, they naturally think of the heat and the sunshine. They also think of the beach and if not the ocean or the swimming pool, then something outdoors. But, the great thing about photography (or videography) is that you can shoot practically anywhere.
So, you can also have your shoot indoors! You might think that this is wasting the great weather of the season. However, for some couples, the idea of an indoor shoot during the summer season is their ideal summer engagement pictures. This leads us to our second influencing factor, which is the photo pose or backdrop idea.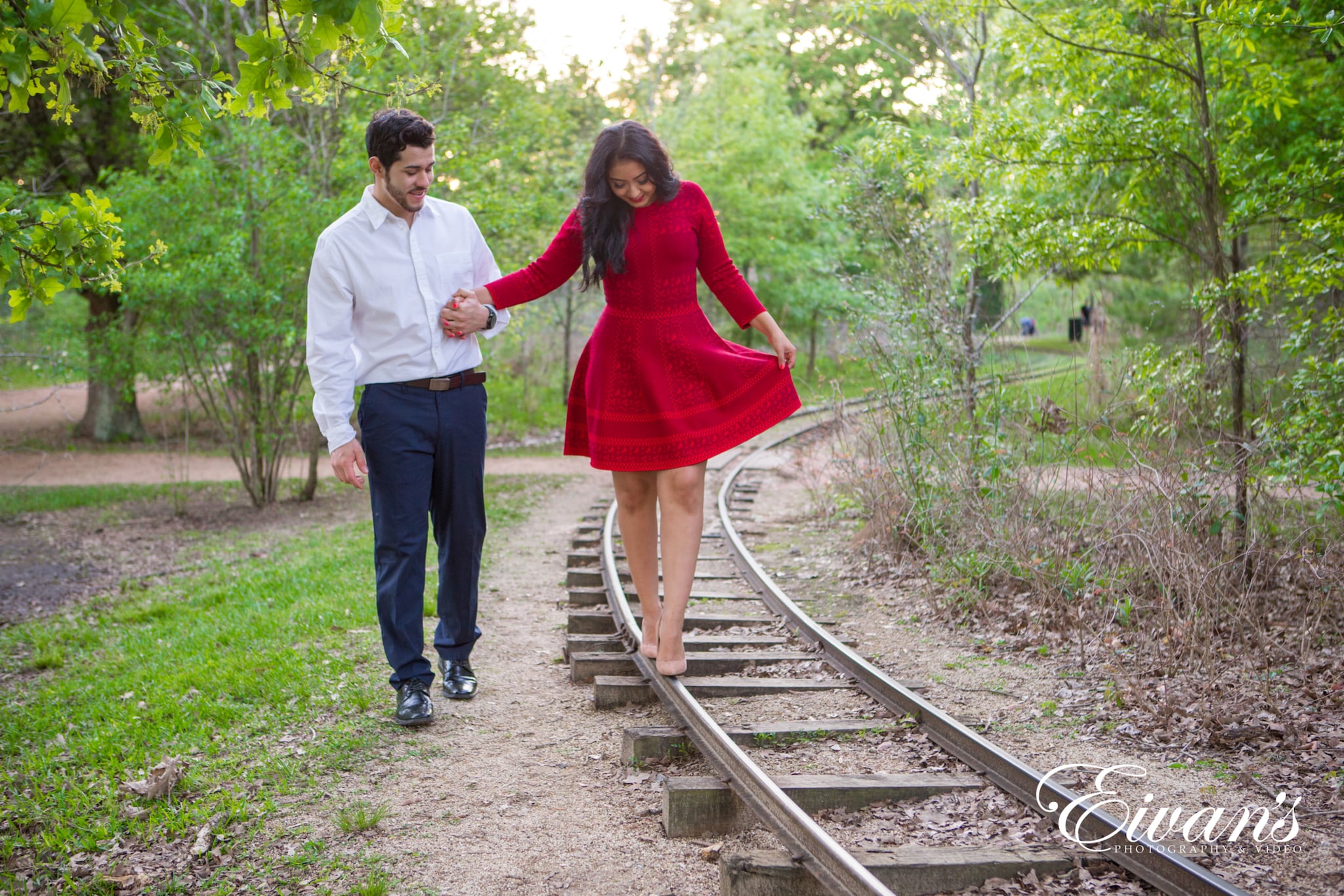 Indoor Summer Ideas
Obviously, what you wear indoors can be different from what you wear outdoors. Therefore, here are some ideas that might pique your indoor photoshoot interest:
One of the best features of summer is the beautiful orange sunsets. Photographers love this period that they call the "golden hour". The time between the sun goes completely down gives off a great lighting opportunity for photos and while looking stunning at the same time, thanks to the orange or reddish glow on the horizon.
One way to make the most of this beauty is by taking a picture with your partner by a window or curtain to show off that sunset beam. Whether the light is shining on your face or the sunset is seen through the window, the pictures will surely look amazing.
Even on perfect weather days, everyone still has hobbies they do inside. As a couple, you should already have some hobbies you do with your partner indoors. It can be cooking together whenever the sun is out or reading a book next to each other on the porch with a clear blue sky.
Showing off your couple hobbies at home during the summer season can certainly give off a homey vibe. Moreover, one of the sweetest moments you can have is when you look back on your engagement photos and reminiscence on the everyday things that you once did as a couple.
Summer is certainly not complete without water. If you have a veranda in the backyard, then you could set up your inflatable pool there. If you have a spa, then you can get that going instead. This idea is especially great for couples with children so that they too can be included in the photos.
If it's a slightly more romance or saucy moment you want, then how about an actual bath in the bathtub? Most bathrooms will have windows by the bathtub, so you could daringly open them wide to show off both your passion as a couple and the bright summer light.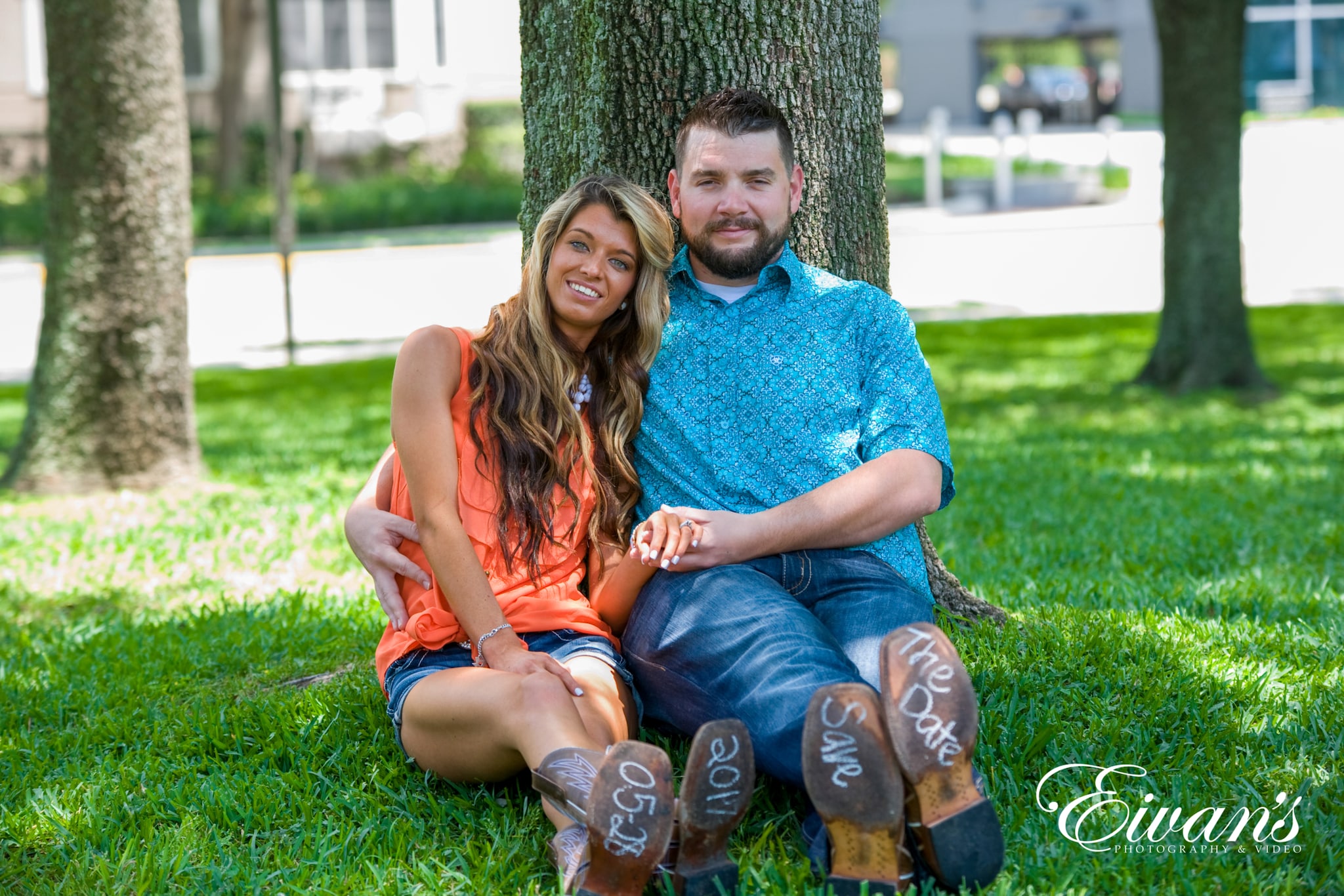 Outdoor Summer Ideas
If you do decide to take your photoshoot outdoors, then you will have countless options to choose from. Here are just a few of some of the very common and popular choices:
Of course, you cannot go through summer without some sort of pictures with the sea. There is just something about water that makes you feel cool and comfortable. Even if you don't swim or have any swimming hobbies, having a picture on the jetty or by the cliffside can make for a perfect backdrop.
You can have the setting almost anywhere where an ocean is involved. You can take pictures on a boat, fishing by the lake, or even in the water itself if you're a fan. Whatever your choice, summer is the season for this kind of styled engagement photos.
Another common option for couples to do during summer is physical activities. A bright sunny day can sometimes bring out the physical side of us and we just can't help but want to do something outside. Depending on your likes or interests, you can have your photoshoot while hiking, going for a walk, or bike riding, even. Wherever you choose, our team can handle any kind of scene.
The best places to choose outdoors are your favorite or meaningful spots as a couple. These areas will not only express your feelings for each other, but with our expertise in editing and capturing, we can add a wonderful summer spark to the photos. Just tell us what you want and we'll get the props ready!
When summer is fast approaching, romance is also just around the corner. One of the most romantic things that you can do as a couple is to have a picnic. Nothing beats the cool breeze under the shade of a tree during a summer's day with a glass of wine in hand. This romantic scene, often portrayed in movies, make very cute and sweet engagement photos.
But a picnic isn't limited to just sitting on a large blanket under the sun. You can also have a night-time picnic. The warmth of the summer is extended in the night, which makes it easier to stay longer outdoors. You will definitely enjoy the glittering starry night as you lay on the cool picnic blanket with your fiancé.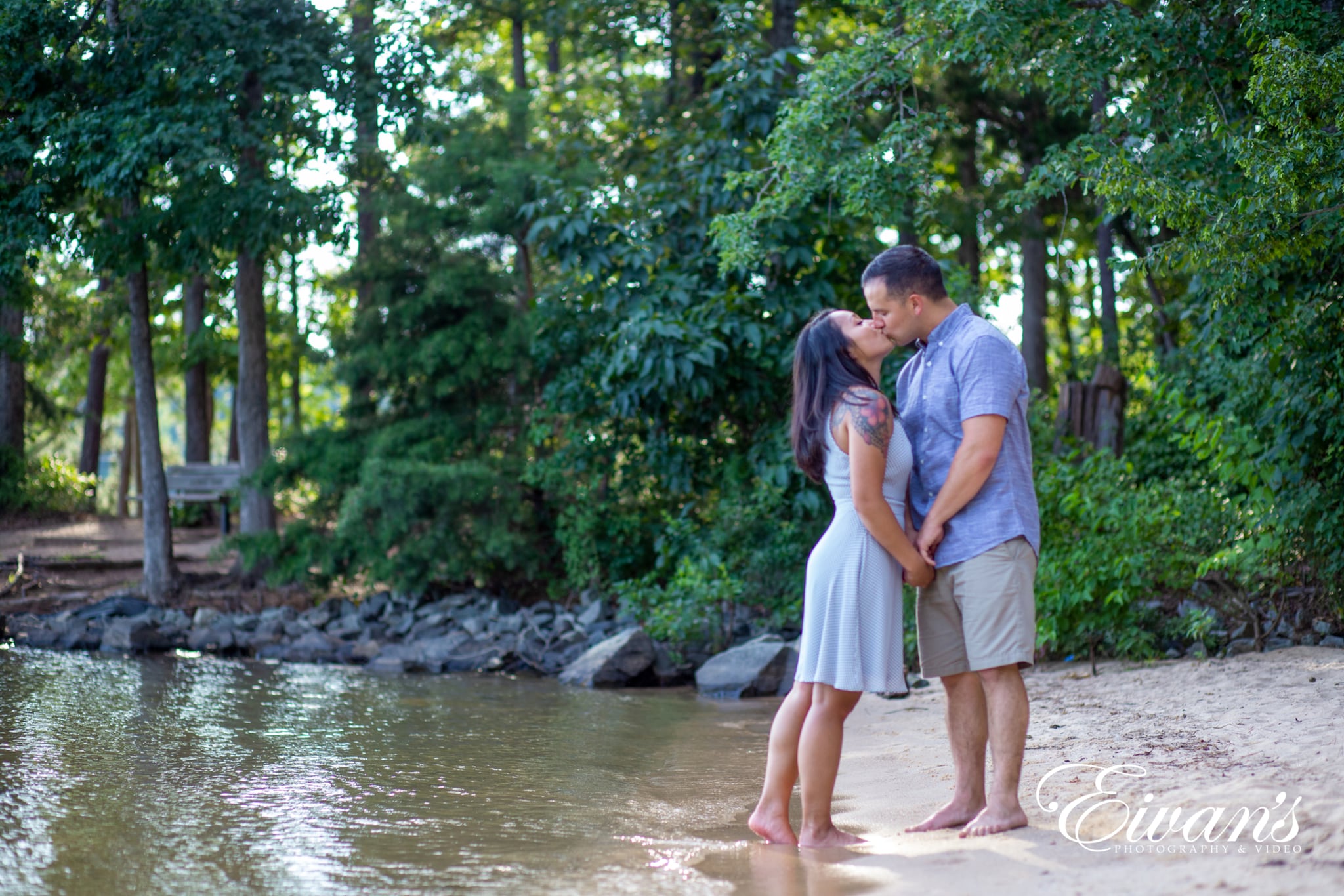 Clothing for Summer Engagement Photos
The typical clothing for summer engagement photo outfits is a little more revealing than other season's clothing. Because the temperatures are starting to become hot, it's fitting to wear something that is light and open. Here are is a short list of summer clothing that you can consider in your photoshoot.
Dresses
Dresses can come in all sorts of sizes and shapes. They can contain a wide variety of designs and patterns, so finding one to wear to match your personality, for example, can be quite easy. Summer engagement photo dresses are just perfect because they're open underneath and are definitely light to wear. Lastly, they look good on just about anything and can give off either a cute or sophisticated aura.
Skirts
As an alternative to dresses, skirts are just as good as dresses in the heat. If you enjoy mixing and matching and want to liven up your engagement photoshoot, then having a combination of skirts and t-shirts can be exciting and fun. You can wear short skirts or long skirts, each can offer different feels and vibes.
Short Shorts
Short shorts are leaning more toward the less formal wear, but they are also perfect for summer. They go well with small or tight shirts such as tube tops or sports bras. In addition, they also look very sexy, so if you want to show some sex appeal in your engagement photos, then this is one clothing that'll do the trick.
Jeans
As for the guys, you cannot go wrong with wearing jeans. They look good on just about any guy and to wear them with a styled button-up shirt can make the outfit look even better and more stylish. Jeans can come in slightly different types, such as skinny jeans and straight jeans, so you can have a nice range to pick from depending on your build.
Shorts
Another excellent summer choice for guys is shorts. Cargo shorts, for example, are good for both a casual and formal look. If you want a bit more of a laidback feel, then you can consider wearing a tank top with your shorts. If you're at the beach, this combo will be ideal.
Swimwear
The last piece of clothing that's perfect for summer is without a doubt, swimwear. This is the season that you surely want to show off that two-piece you bought last summer or the nice trunks you purchased at a discount sale. Whatever your choice of swimwear, we can find those angles that will make you look so good on camera.
This list of summer engagement photo outfit ideas will help you get on your way to deciding what to wear for summer engagement photos. As you prepare for your exciting engagement, make sure you also enjoy the season that you and your partner have chosen. Summer can bring many benefits that may not be available in other seasons, so plan well and work with your hired professional photographer.