You typically only get married once, so make sure to make your wedding day the most memorable. This can be accomplished through your wedding planning process.
Choosing your wedding date or month is a great way of making your wedding day more special and personal. Along with your chosen wedding month, things starting from the day you met each other, the first time you kiss and exchanged "I love you", and more will create a big impact in making your future anniversaries more romantic and meaningful.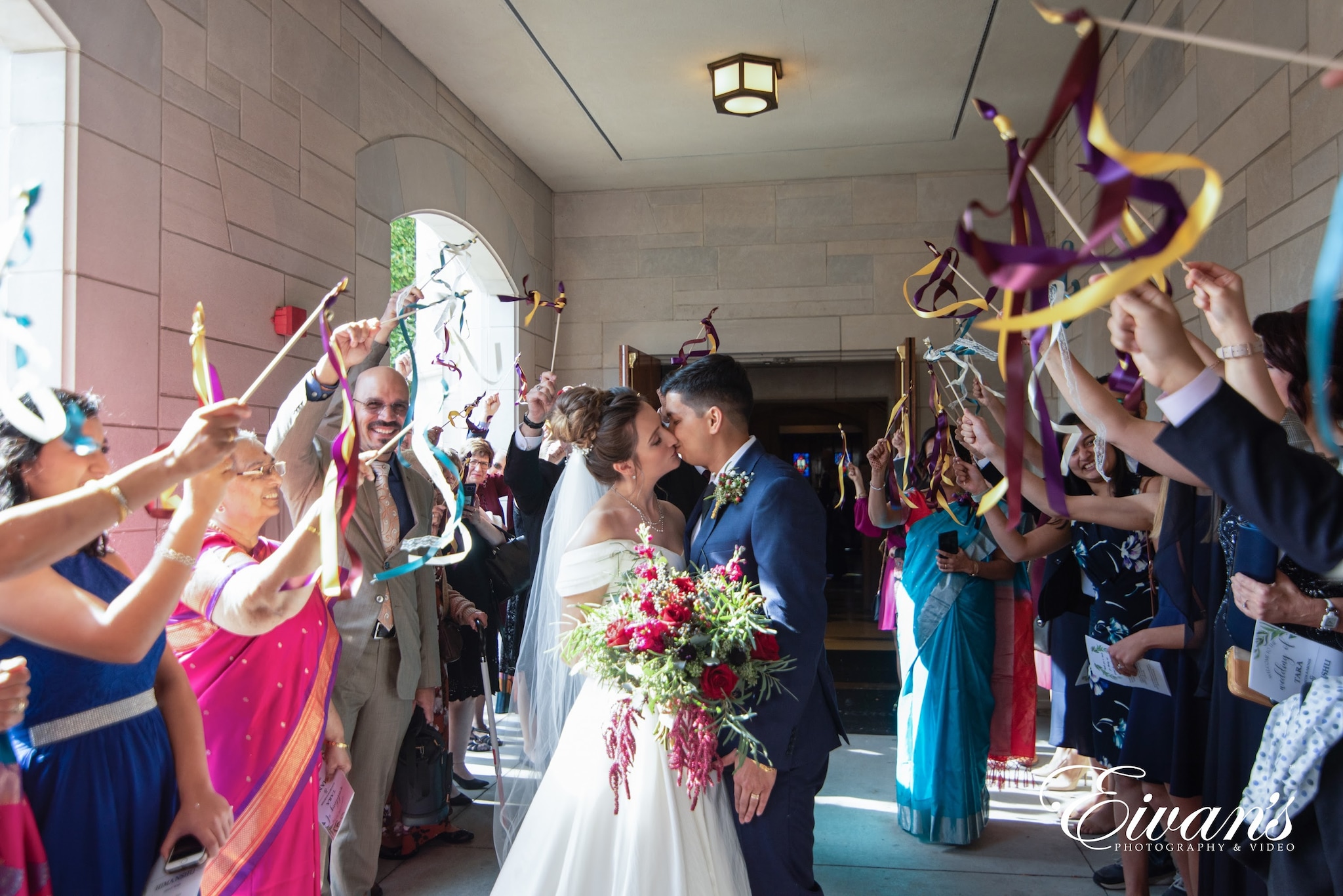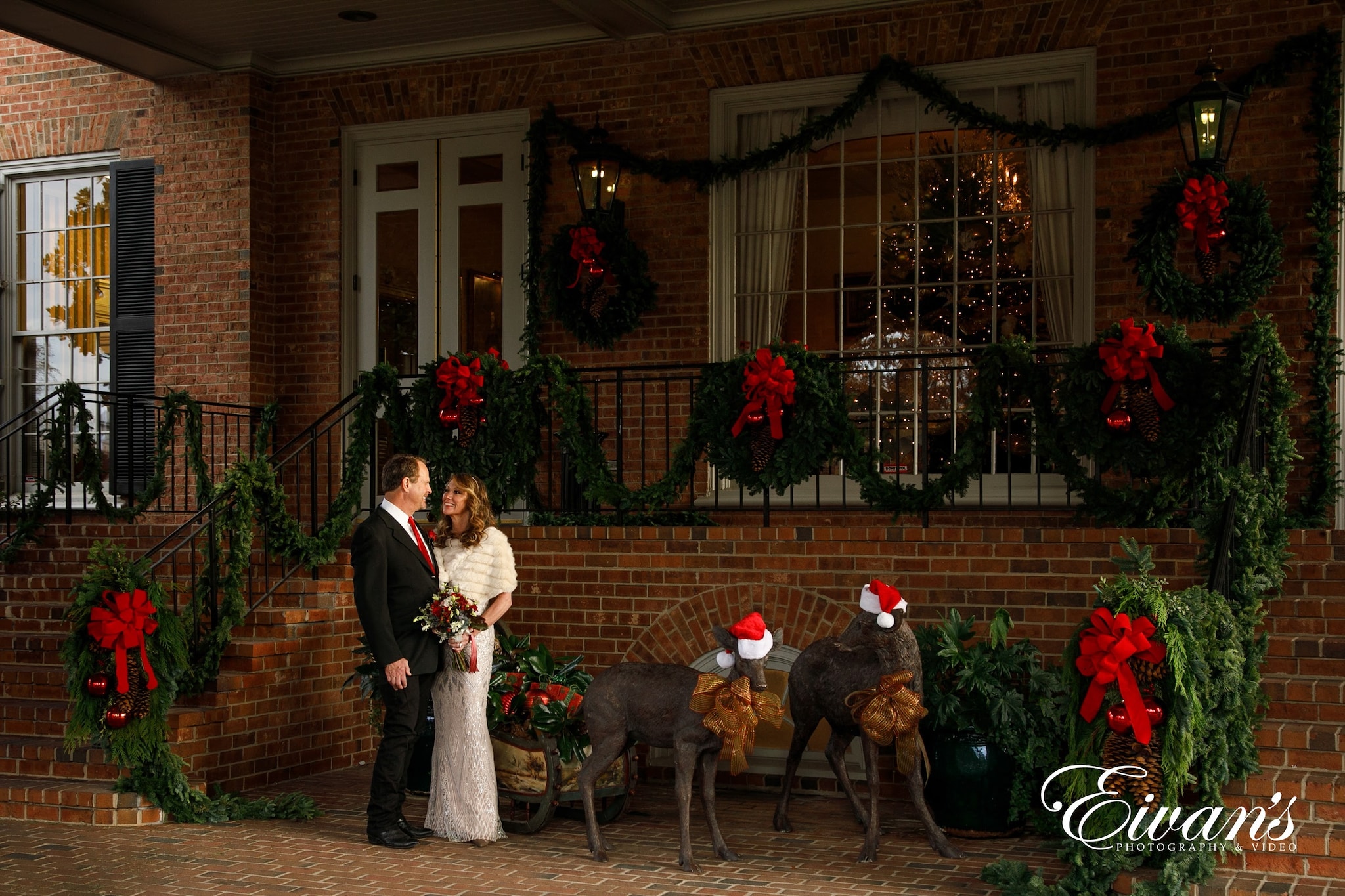 Essentials You Need to Know About November Weddings
If you finally decided to tie the knot, then a November wedding is the perfect time to celebrate the big day with friends and loved ones. If you choose a November wedding, expect to have a beautiful and one of a kind fall wedding.
Summer wedding by this time is completely dethroned by fall as the longstanding season for weddings. You might agree with this the moment you notice the sudden influx of November weddings. Fall is one of the popular times to carefully plan a wedding for good reasons. Everything ranging from the fall wedding flowers, color palette, invitations, wedding dresses, and fall wedding ideas seems to look and feel perfect.
November weddings are indeed a beautiful time of the year. Aside from its seasonal beauty, you will also love the casual yet cozy vibe which comes with the fall wedding season. There are lots of magical and special things about couples choosing to settle down in November.
Before you decide on and fully embrace a November wedding, make sure that you know all the essential details about this seasonal event. Though it can be the perfect time to exchange vows, note that there are still pros and cons linked to it.
Since November is the fall season in America, there are lots of advantages and disadvantages to getting married at this time of year. The following are the pros and cons of a November wedding that you should know about.
Pros
• Gorgeous foliage
• Temperate weather
• Plenty of seasonally-inspired wedding decors
• Lots of holidays
• Potential off-season discounts that you can take full advantage of
Peak season at weddings is also waning in many parts of the country, so it might be a lot easier for you to choose and book your wedding venue on a specific date or get to choose your suppliers.
Cons
• Weather is said to be variable at times
• Though there are many holidays in November, these could also mean more potential schedule and date conflicts
But, despite some of these minor issues, it is still worth planning your November wedding ceremony in advance. By doing so, you can prepare for any unexpected things.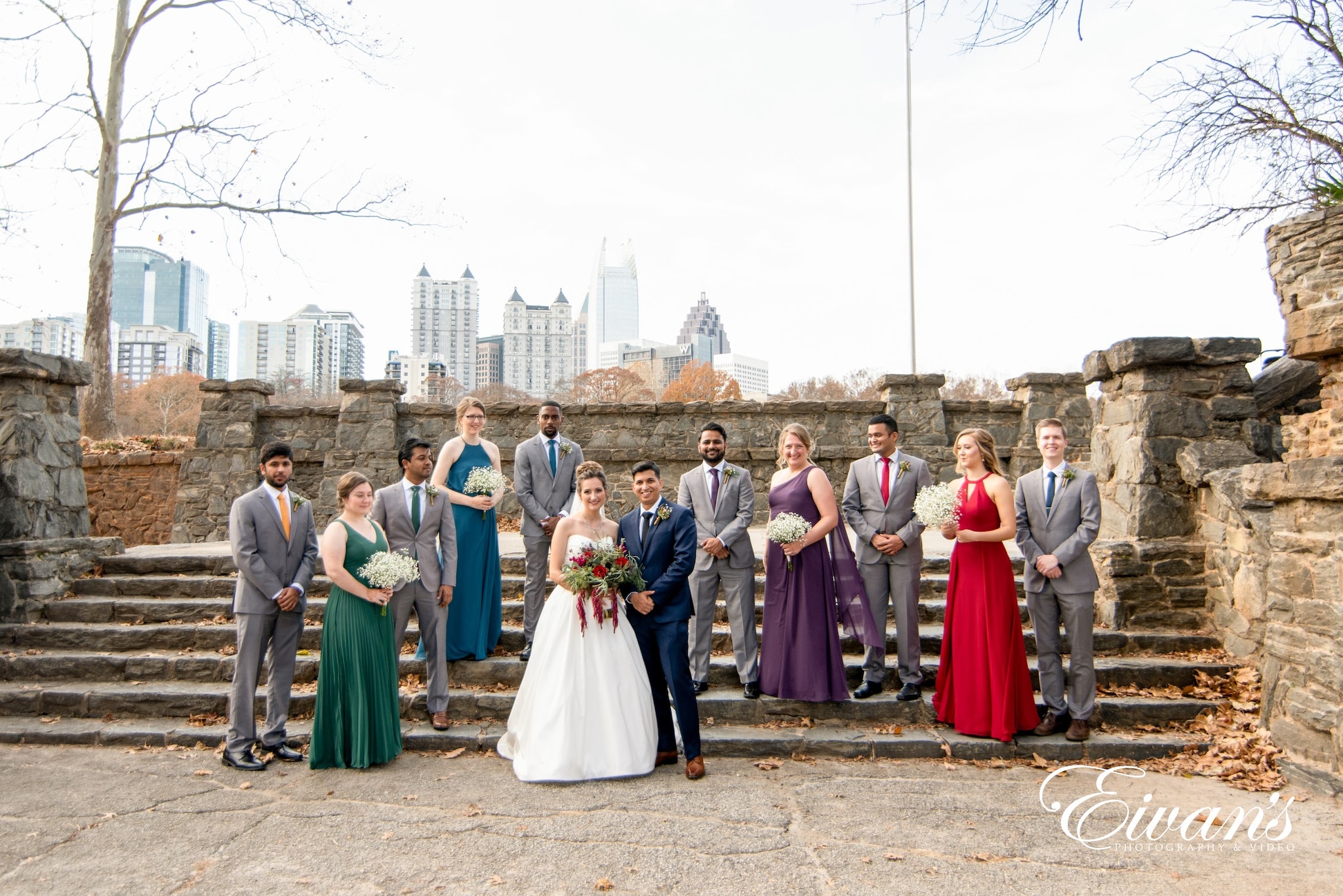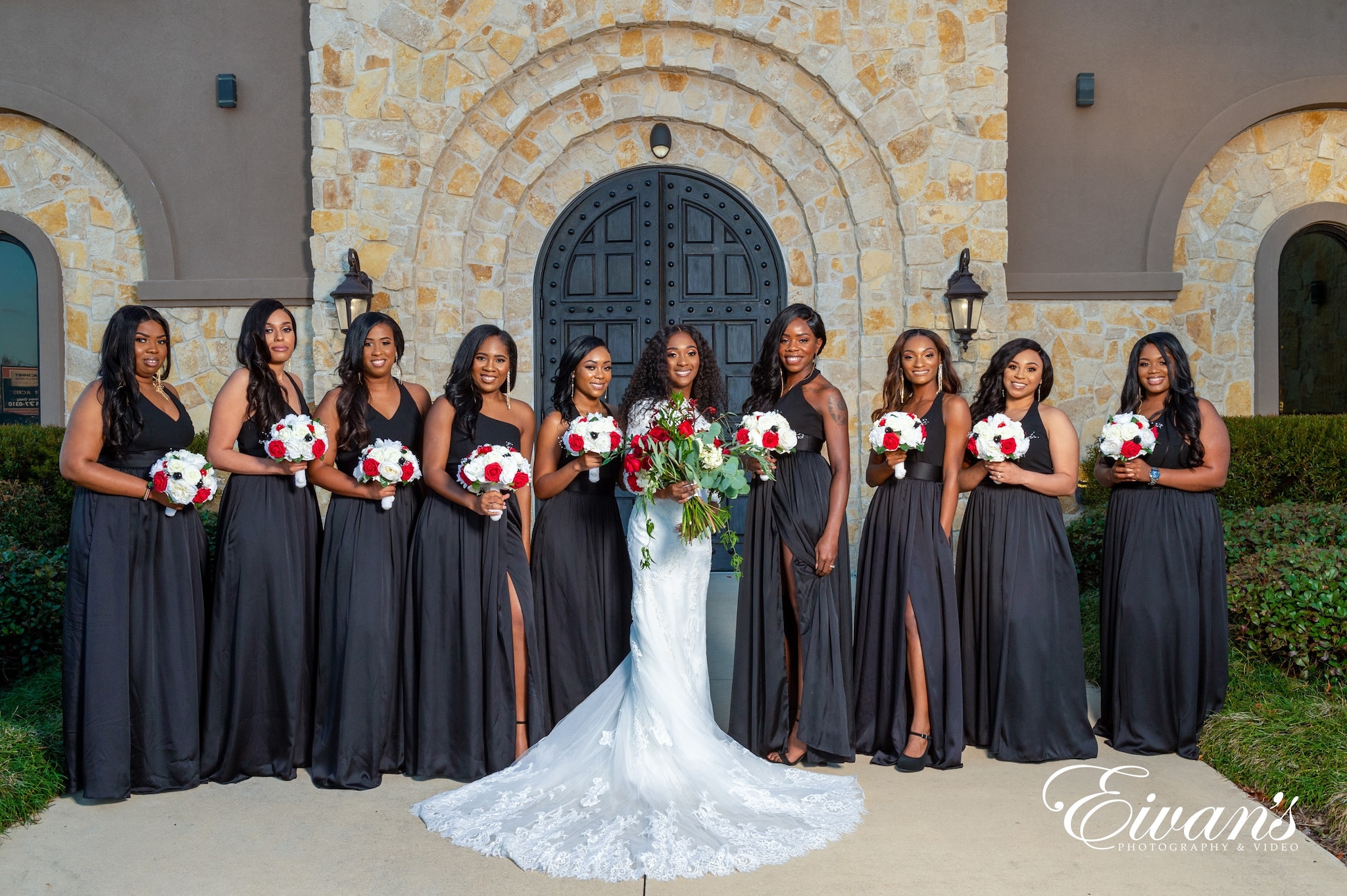 Awesome Ideas for Your November Wedding
Natural and gorgeous foliage as well as the temperate weather are just a few of the many notable things that make a great fall wedding in November. But for the positive attributes, you need to keep in mind that there are still potential problems that may arise while planning for your November wedding. The following are awesome ideas that can help you get started in your wedding plans.
Guest List
First, make sure that those on your guest list will be comfortable at your wedding. For example, if you choose an afternoon wedding ceremony, then it is necessary to think about the temperature drop when the evening comes. That way, your guest can come prepared.
One good idea is to set up and arrange bins of reasonably-priced wraps at the wedding venue entrance or just have some heat lamps positioned outdoors where guests can relax. You can also embrace this season with some fire pits.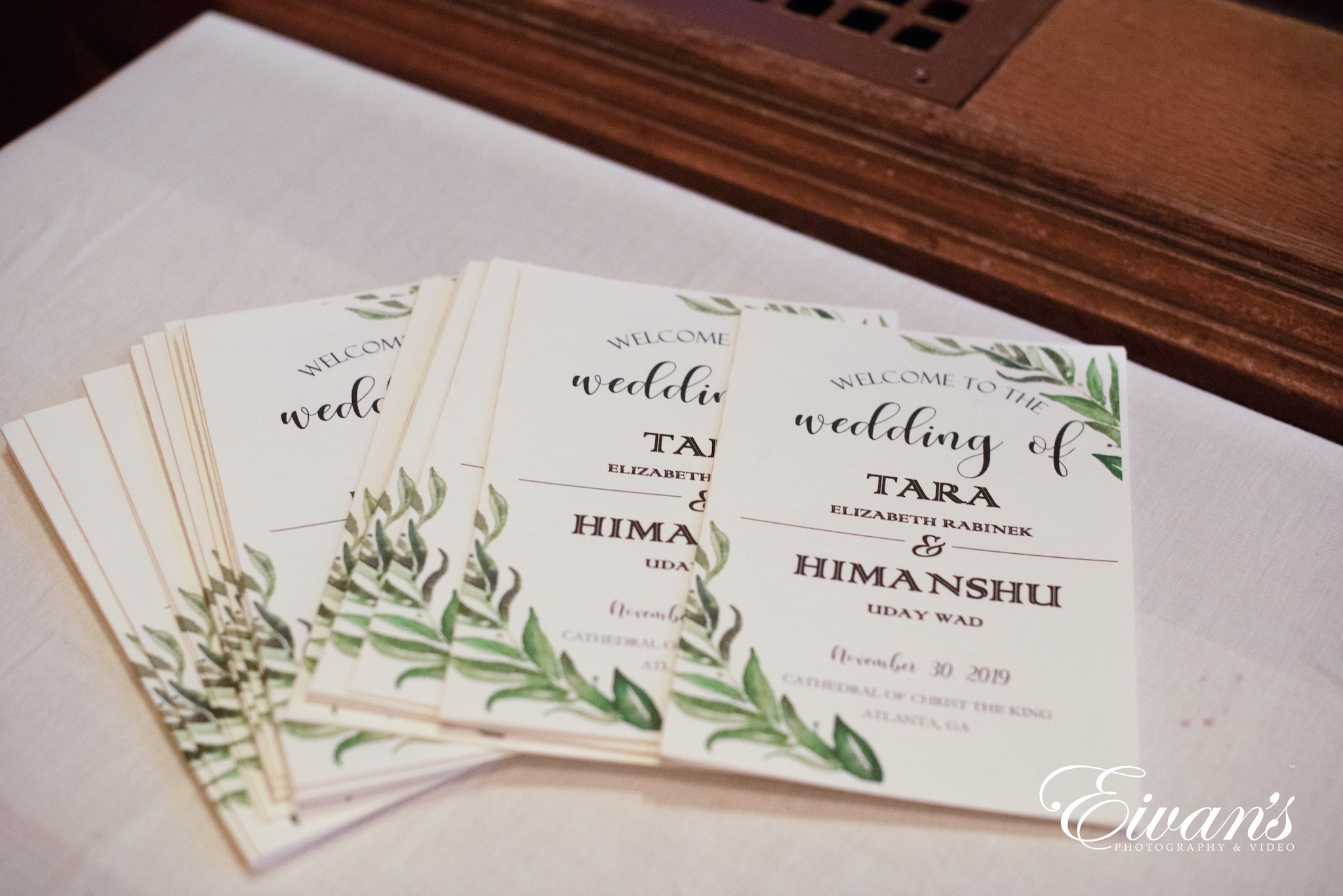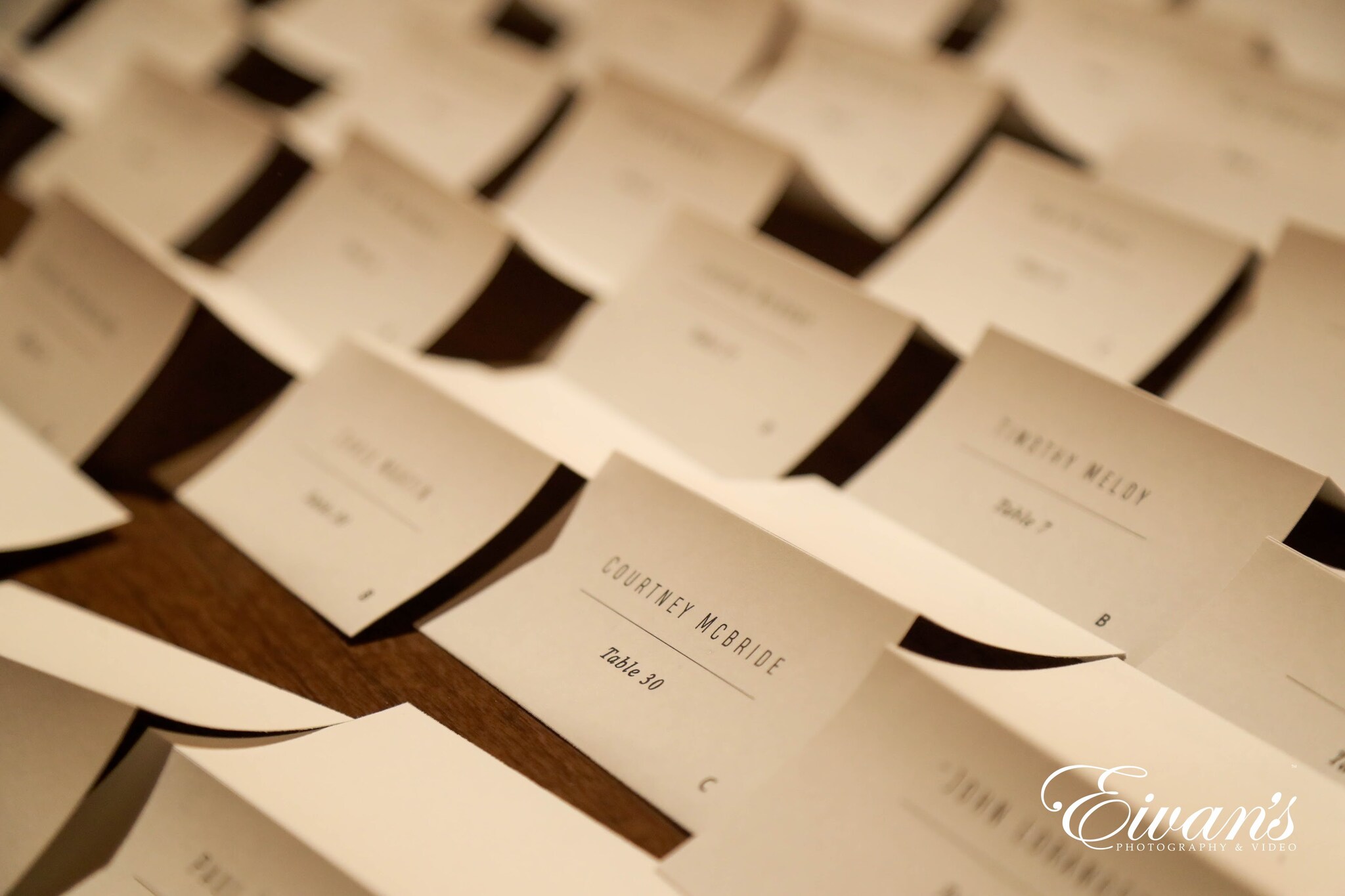 Floral Arrangements
You need to also pay close attention to the wedding flowers and floral arrangements available for your wedding event. Although flowers are not in full bloom during November, you still have plenty of chances to be creative with your flower arrangements and bouquets. You can incorporate flowers like dahlia, garden rose, anemones, marigolds, and more for wedding flower perfection.
As for the wedding bouquet, you can seek help from a professional florist and ask her to incorporate fall foliage into your bouquet and allow the leaves' color to add inspiration and stunning beauty to the entire bloom.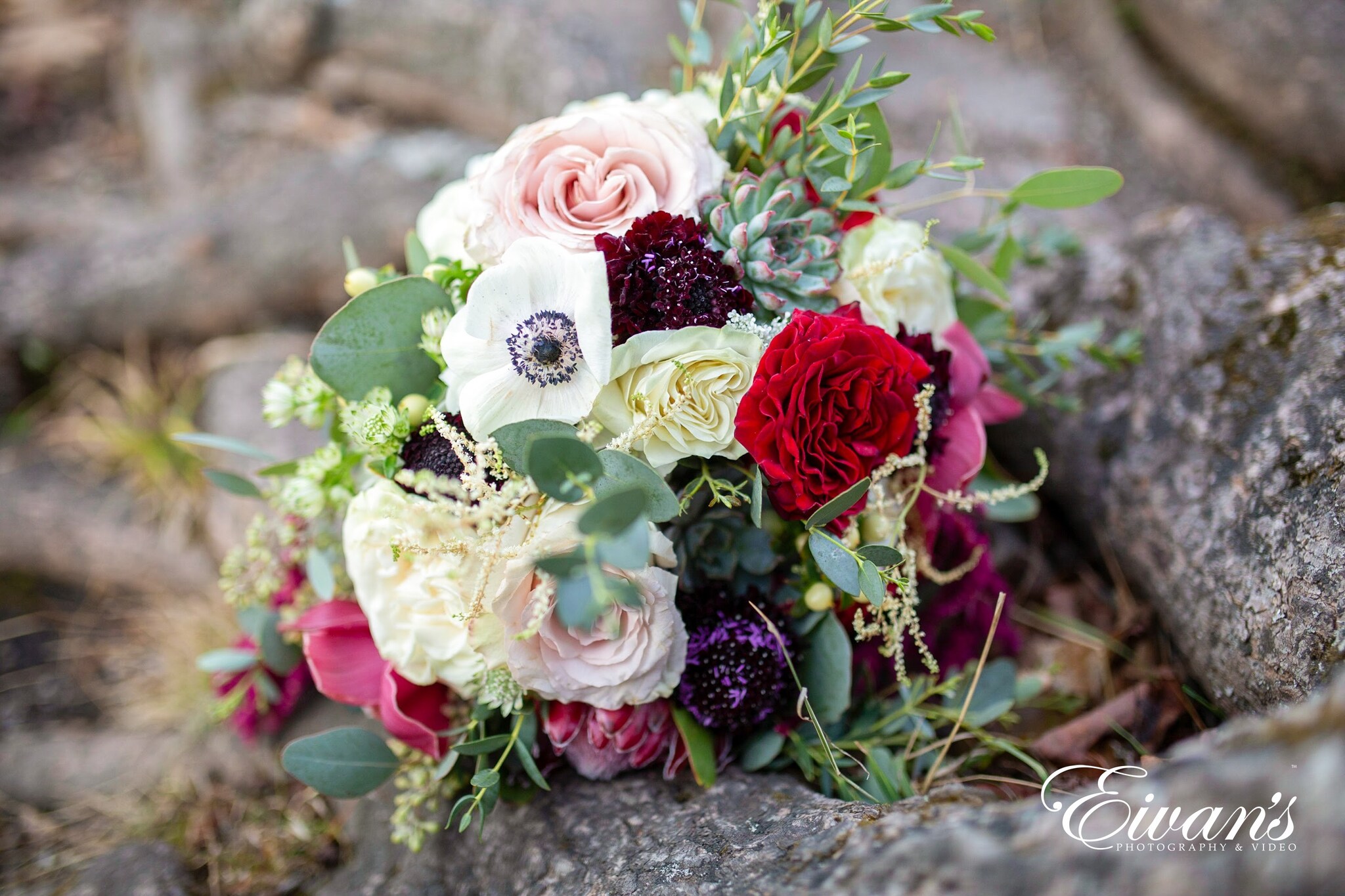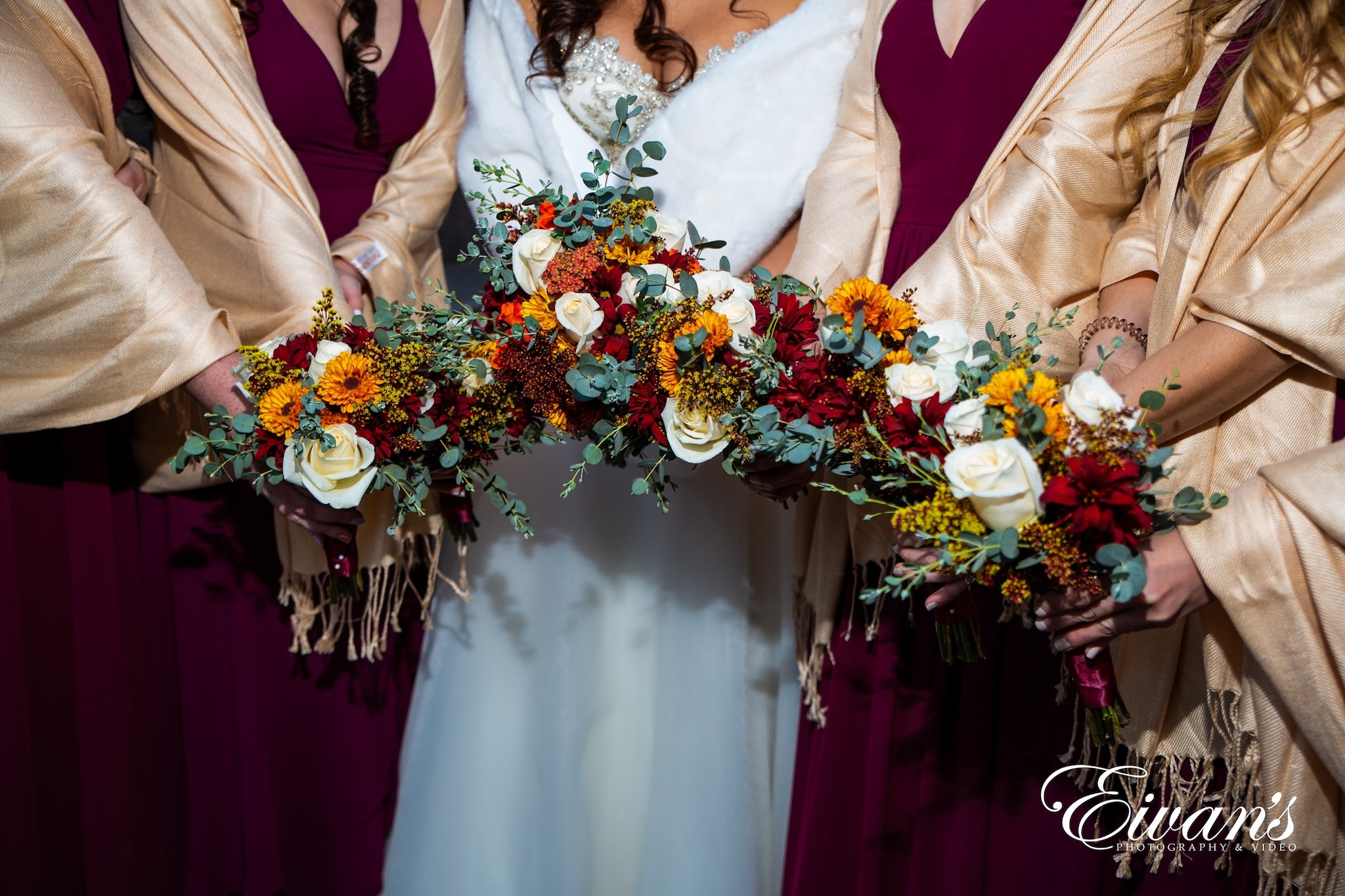 Groomsmen & Bridesmaids
Your November wedding will perhaps be held in a location with cooler temperatures, so you might want to pick quality heavy fabric for your groomsmen and bridesmaids' dresses. You can ask your entourage to wear pashminas or boleros to keep the chill. Glimmering metallic, deeper jewel tones, long-sleeved dresses for bridesmaids are lovely choices for fall wedding attires. Groomsmen can also be creative with their wardrobe for the fall wedding. Smart navy or gray suits are highly sophisticated and fashionable choices along with bold accessories.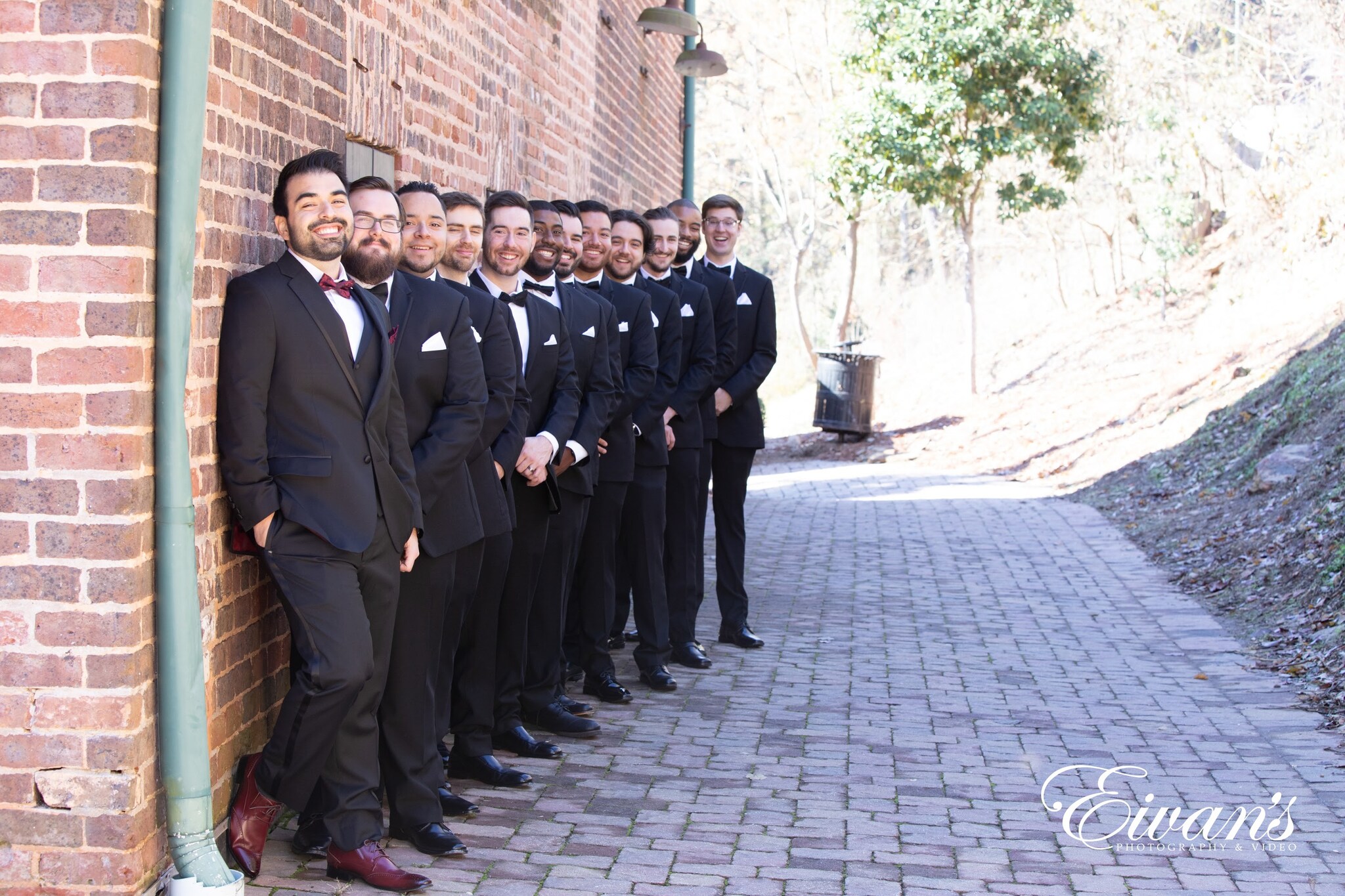 November Weddings Foods
Fall harvests are very comforting to eat. There are in-season veggies and root vegetables like rutabagas, turnips, squash, and sweet potatoes. Colorful and delicious fruits like pomegranates, pears, cranberries, and apple are also abundant. You can incorporate these foods in your wedding menu or in your fall wedding cakes decorations or provide these as unique and edible beauties as wedding favors.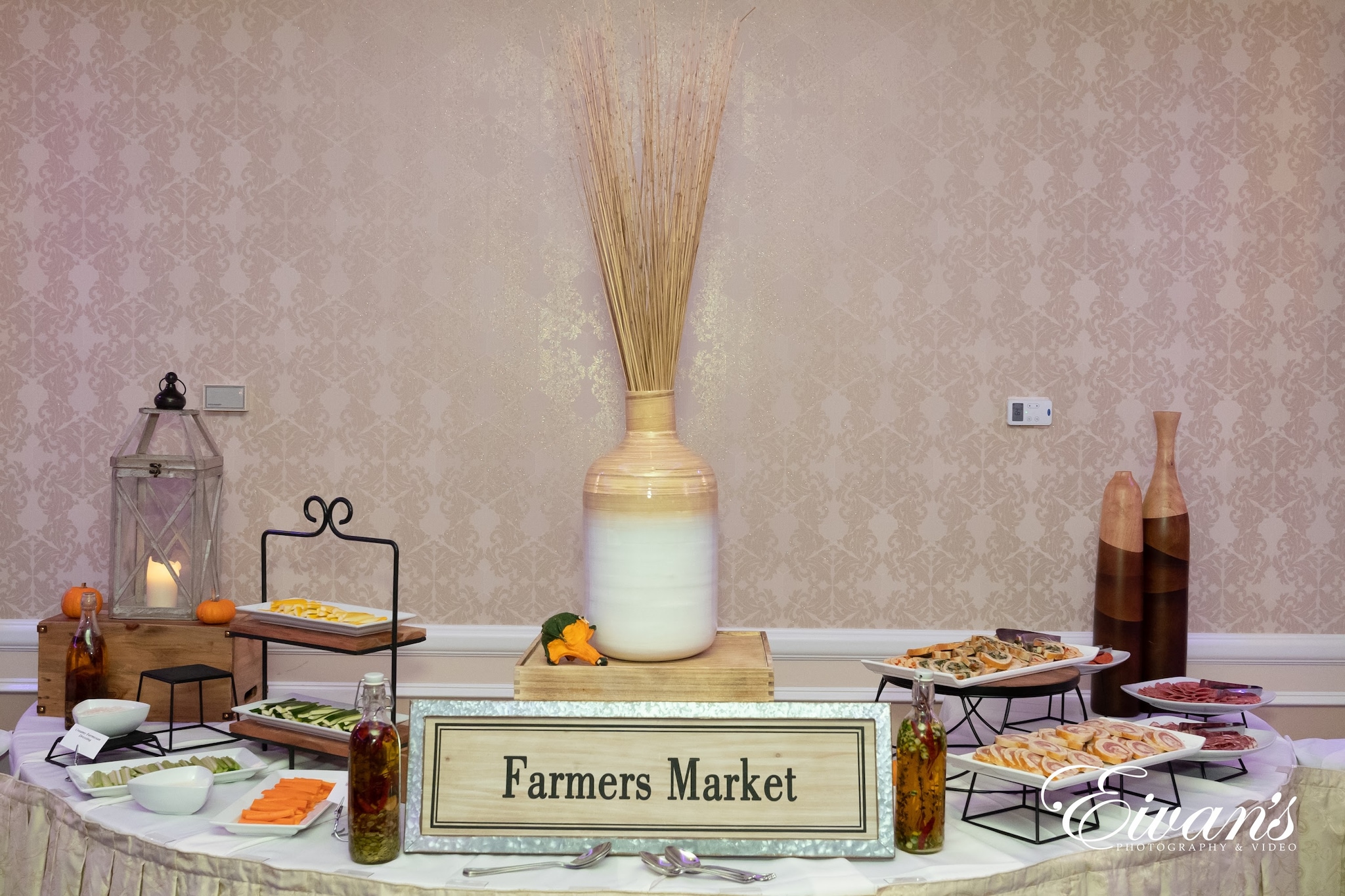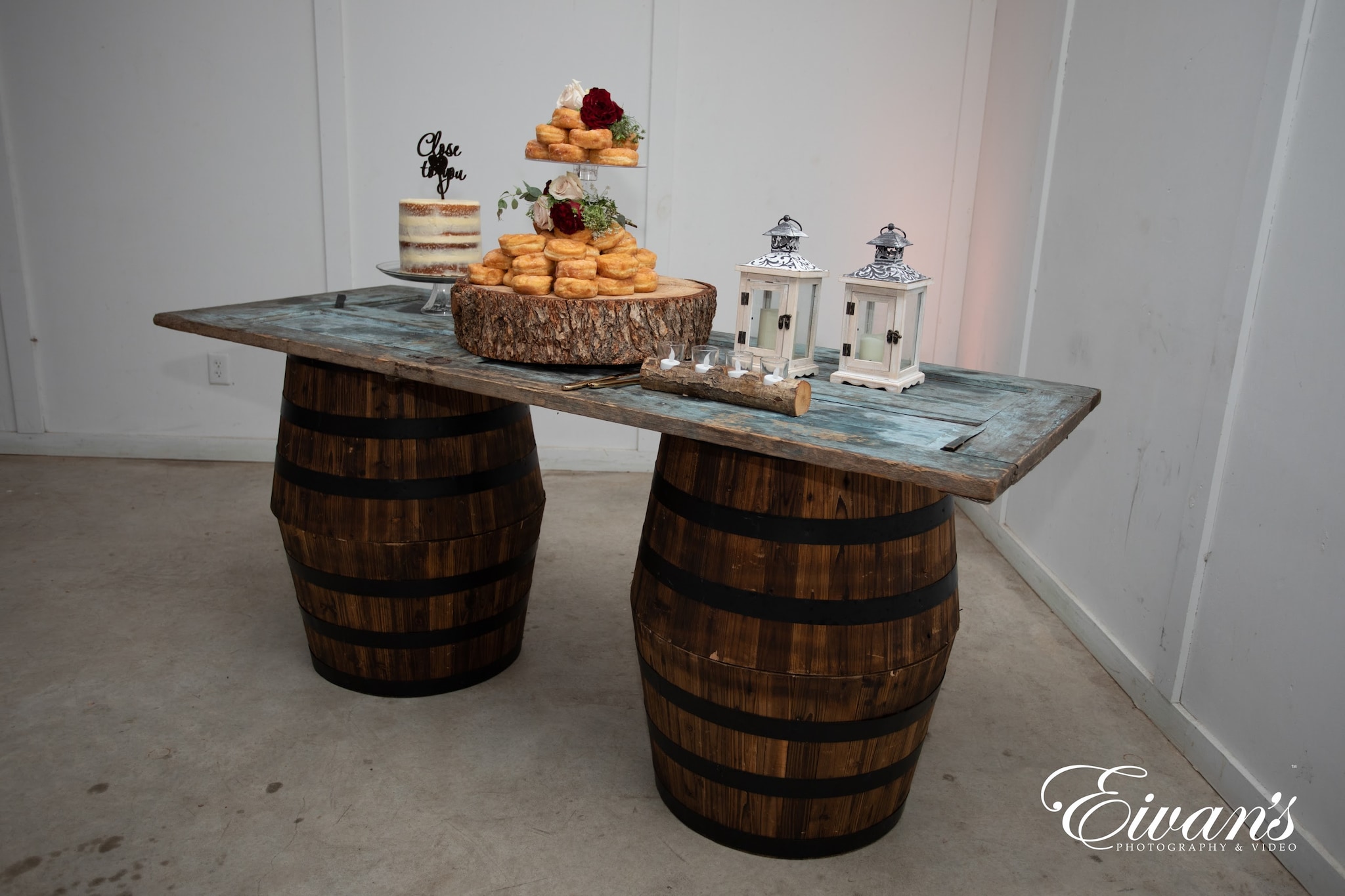 Holiday Considerations
Holidays are one of the reasons to love fall weddings in November. This is the beginning of the holiday season and there is no shortage of great reasons to join and celebrate this time of the year. When choosing a November wedding date, consider special holidays. There are actually many holidays during the fall season such as Jewish High Holidays, Labor Day, and Thanksgiving. Make sure to do your research to avoid conflicts with the schedule of your guests, though.. That way, you will help them get rid of the worries and burden of coming to your wedding and joining you in this special celebration.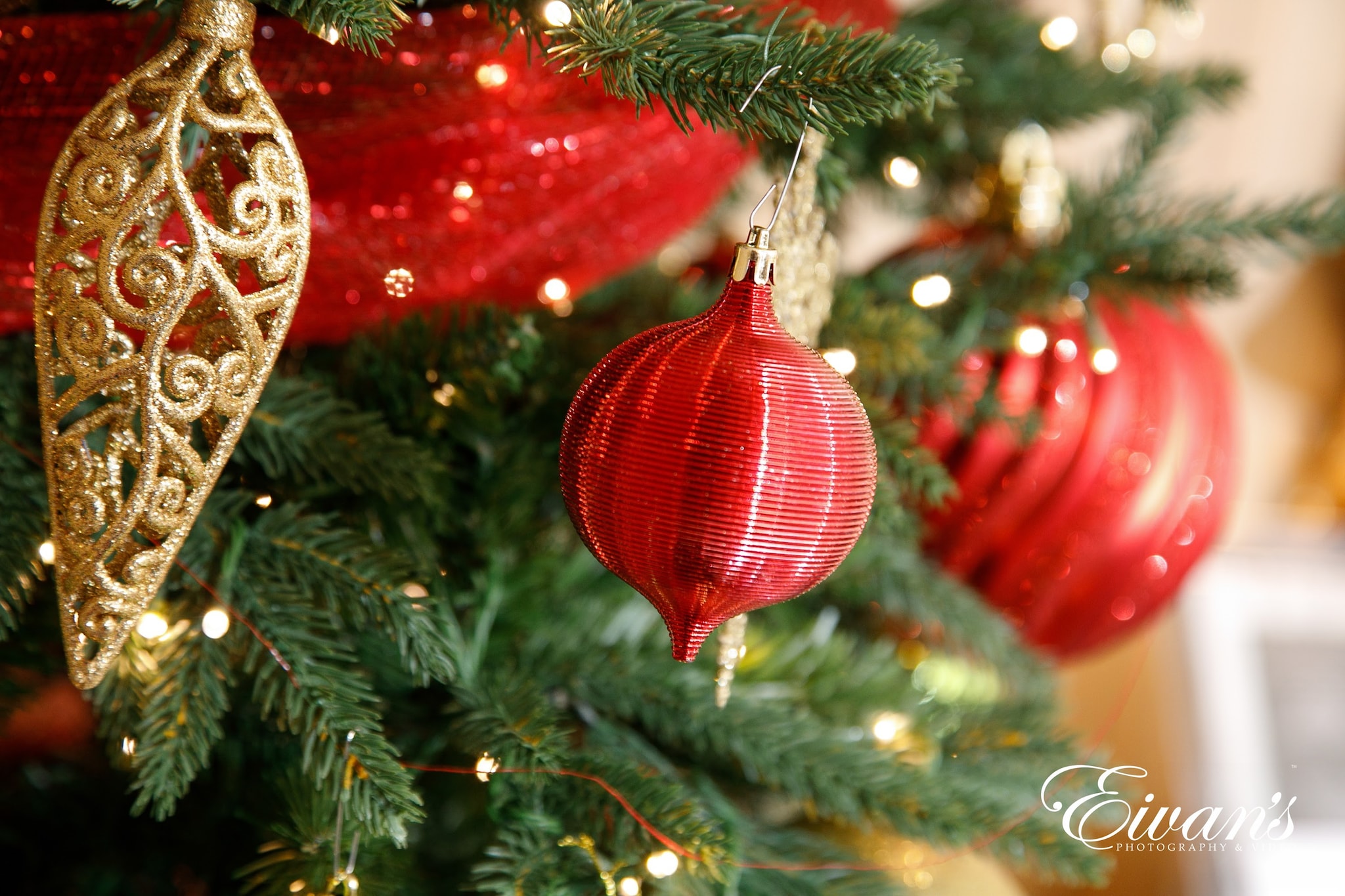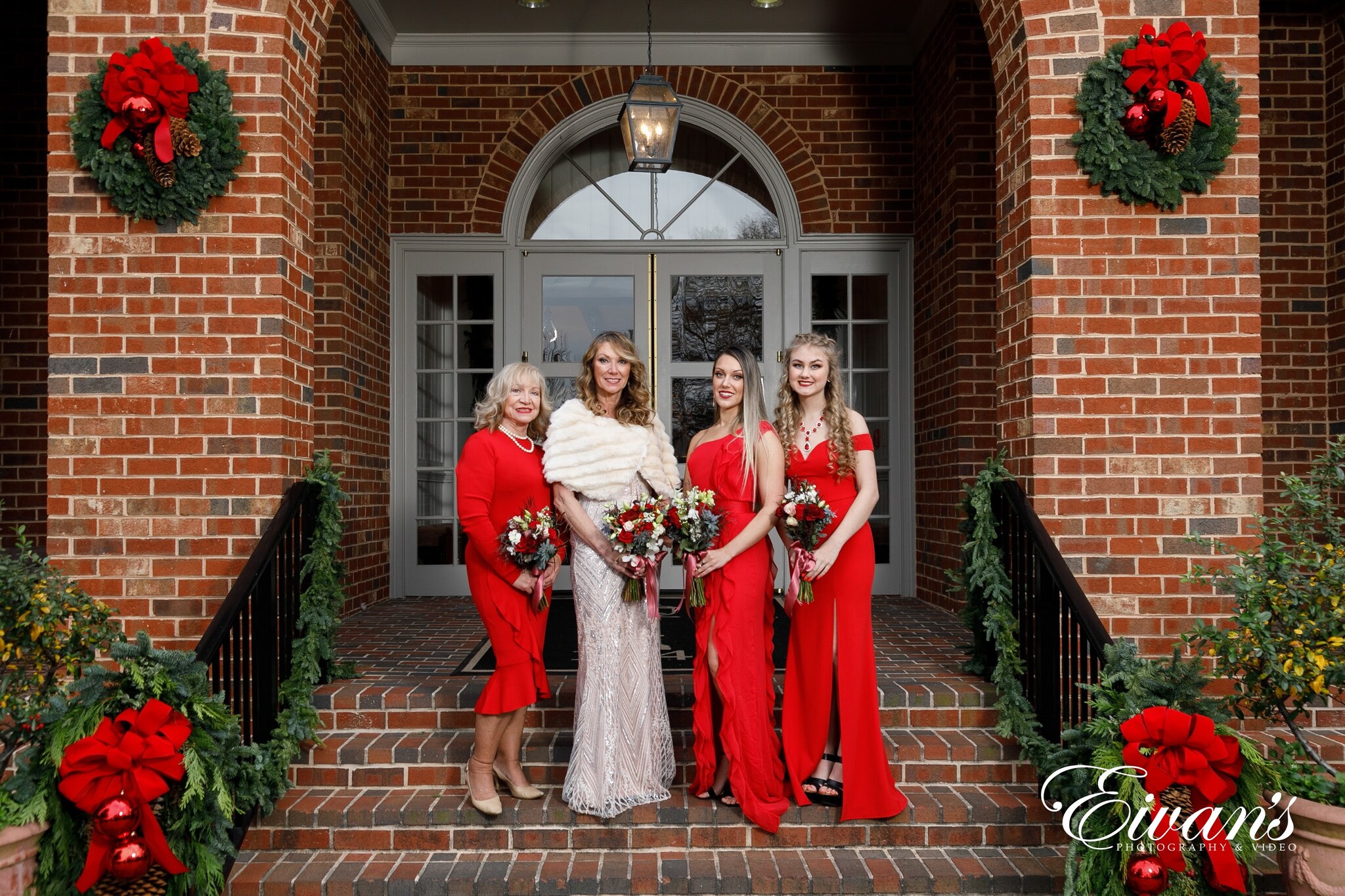 Photographs are memories you can keep and treasure for a lifetime. It is therefore crucial to ensure that your wedding day is perfectly documented. The big day ends but the memories of it live on in your wedding album. It would be best to add color-changing and stunning fall foliage into your November wedding special photoshoots. However, you also need to think outside the box too if you want to further personalized your wedding theme. Hire professional photographers that can be more creative in capturing seasonal shots and your ideal wedding vision.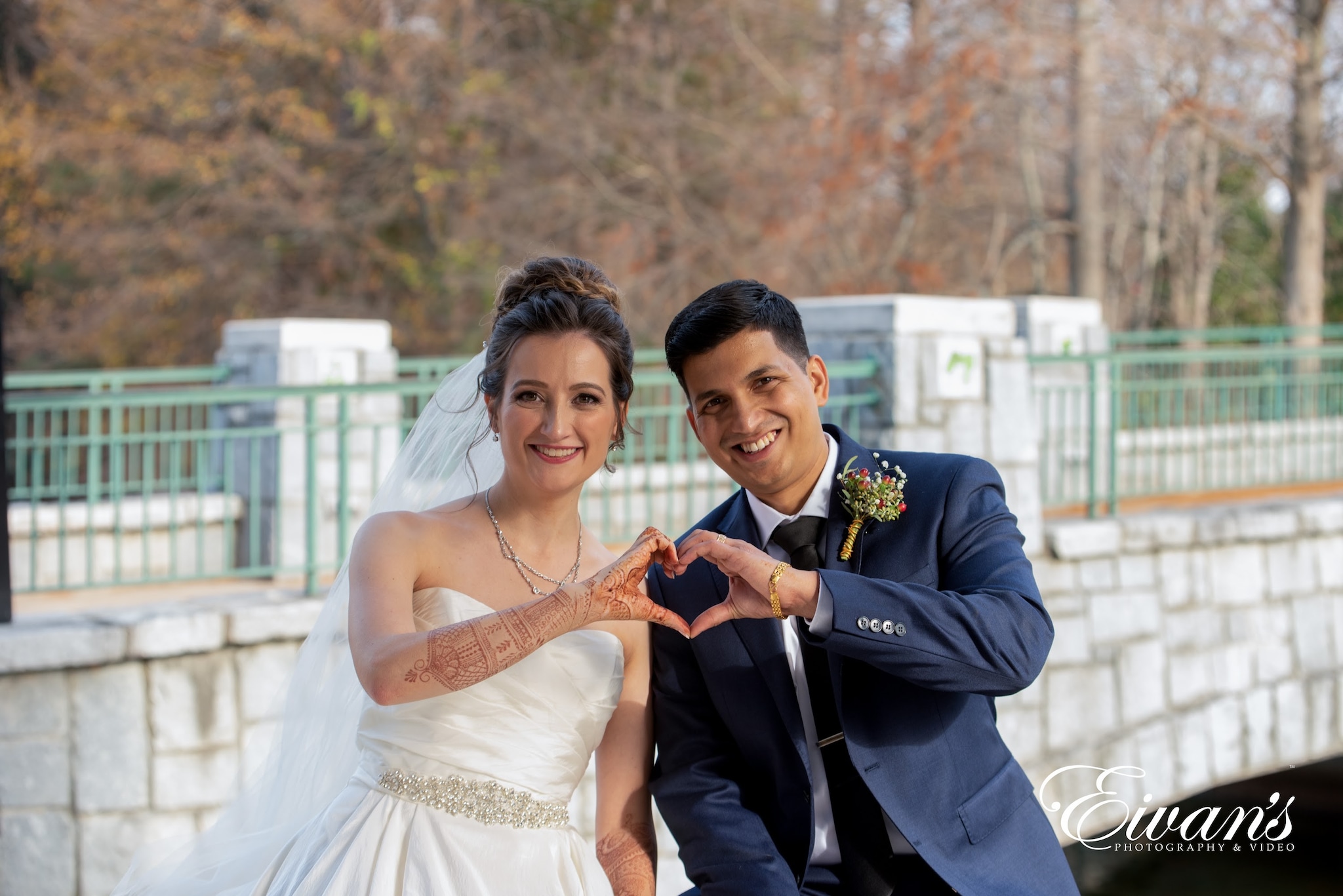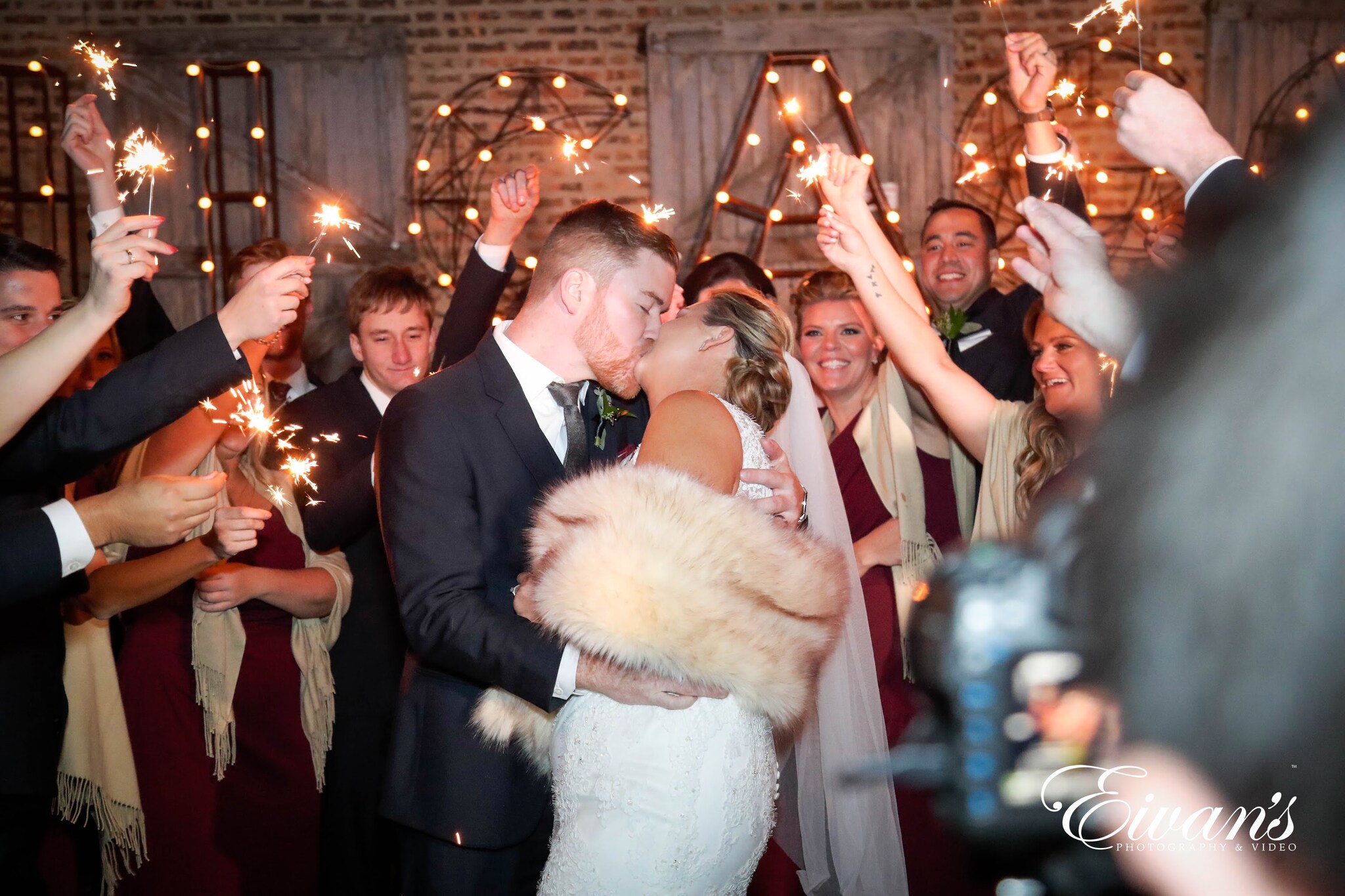 Tips to Ensure a Successful and Memorable November Wedding
Aside from the awesome ideas mentioned above, there are more tips that can make your November wedding that is filled with success and fun.
Think about your wedding music
Look for a DJ or band that can deliver the type and style of music that you want and that can also complement the season. You can talk to some artists or singers and ask their help in managing your preferred playlist. If your wedding venue already has its own sound system in place, then make sure to run things by them first. As you choose your wedding party music, consider the tone and the mood that you want. And, make sure to choose music that your guests would love to hear and dance to as well.
Create exciting surprises for your guests
Be it a summer wedding or fall wedding, guests definitely love surprises. But, anticipation is said to be half the reward. Therefore, keep your guests guessing by creating fun surprises for them to enjoy on the day or night. It may be a surprise performance, fireworks display, or anything that will leave good memories of your wedding celebration.
Lighting is the key
Lighting matters a lot, especially for your photography sessions. Never underestimate the importance of proper lighting in your event. Centerpieces and table displays will shine even more with ambient lighting and pin spots. Remember that the right lighting can set a good mood and atmosphere of your venue. Moving lights and patterns on the dance floor can also promise you a fabulous wedding party or cocktail hour.
Remember the decorative details
For most themed weddings, whether it be a fall wedding or an outdoor wedding, decorations play a big role in not only setting the tone of the event but also the venue. When it comes to decorating, don't let the stresses of it put you off. Make sure to talk about what you want to display on the day with your designated designer. With November having many holidays, you might even want to incorporate these holiday colors into your wedding theme.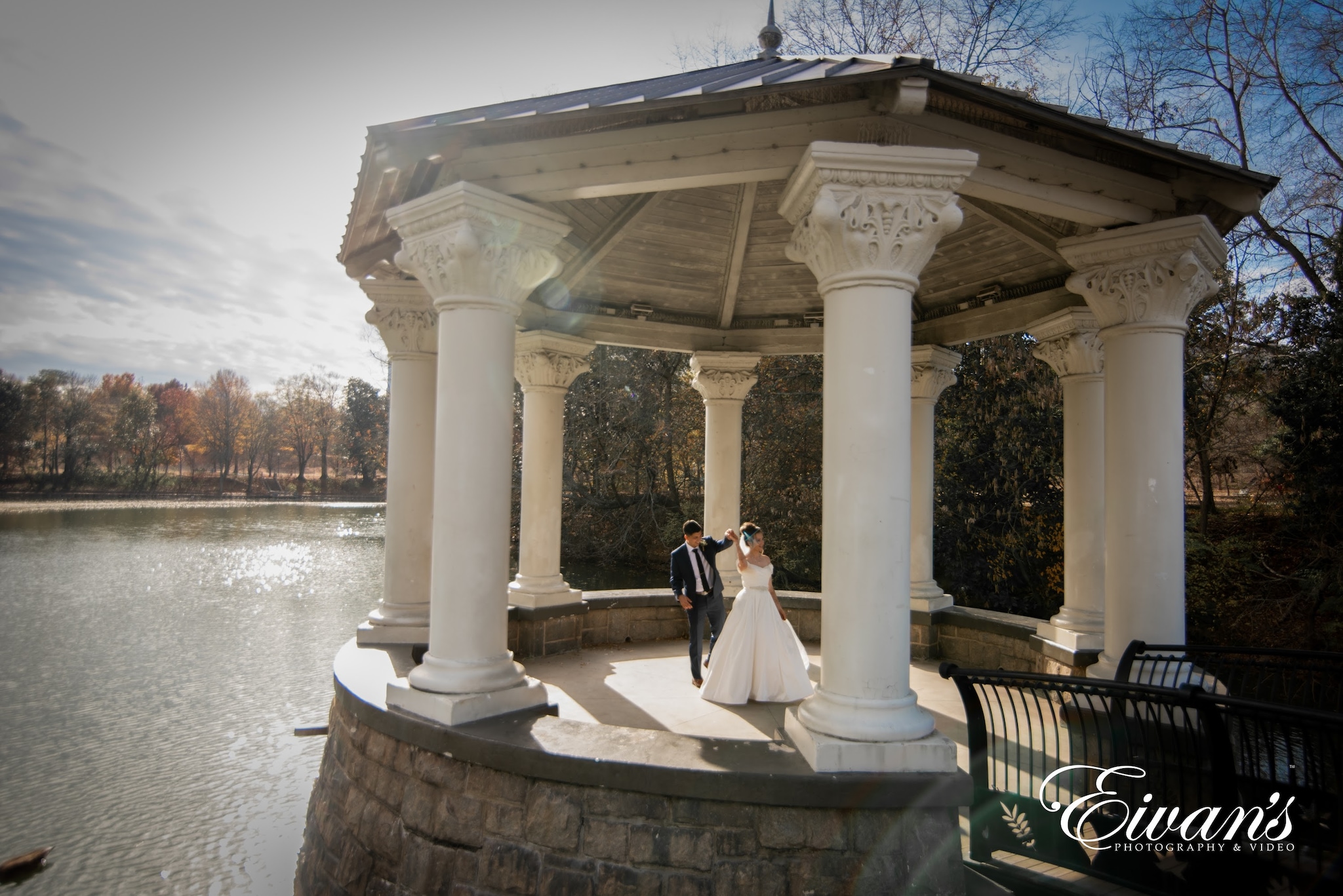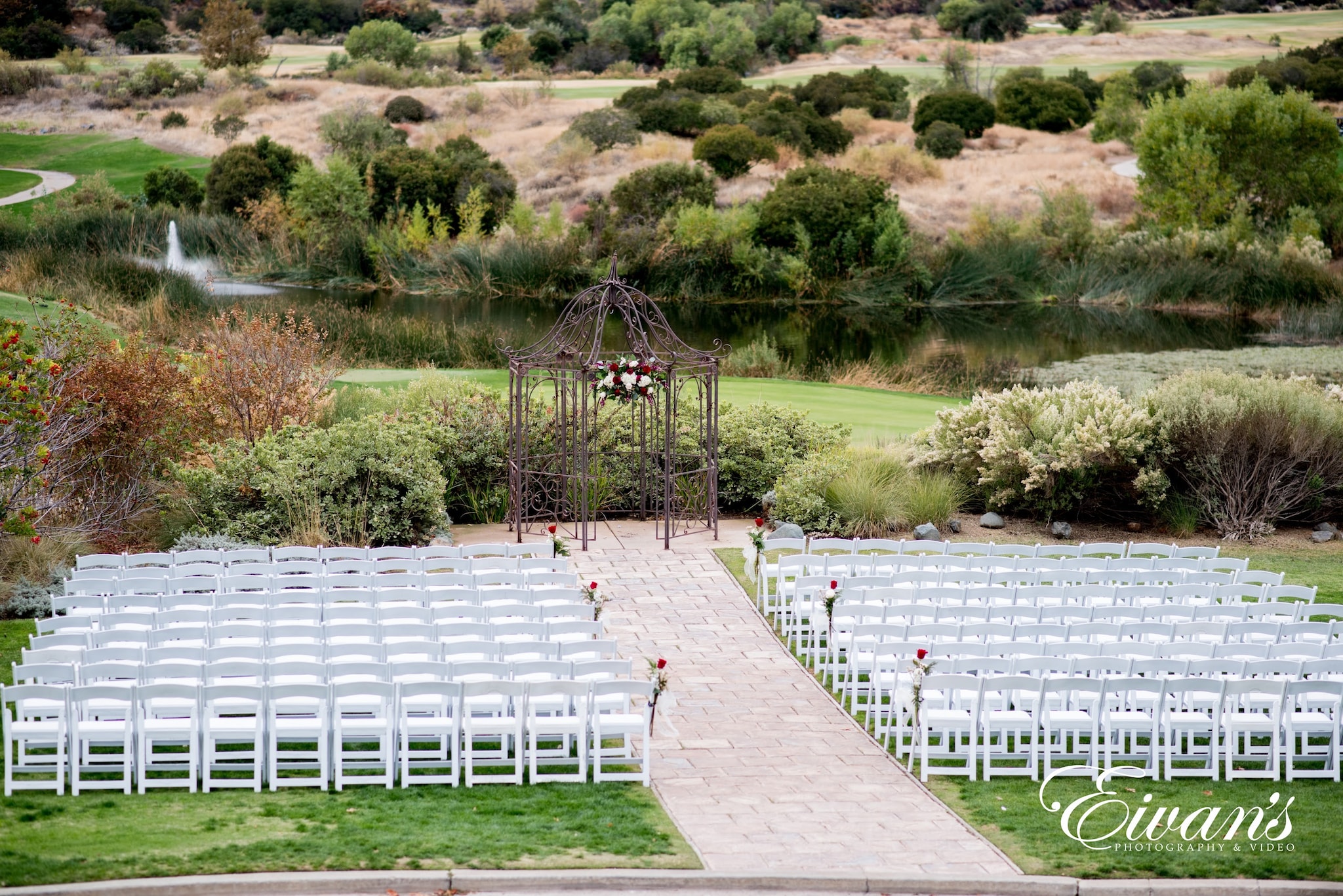 Conclusion
Everyone has their own dream wedding. Every couple want their wedding to be perfect and run smoothly as much as possible. Naturally, there will be inevitable instances that problems may arise along the way. This is why, in the end, your wedding planning sessions are critical, so that you can prepare well in advance. Plus, with a wedding planner in mind and taking into account all of these November wedding ideas, you will already be on your way to having your own very real wedding celebration.