Your Guide to Professional Indoor Engagement Photos
A dream moment for every engaged couple is engagement photography. It's the right time to celebrate this memorable occasion with a fantastic photo shoot. Therefore, don't ruin these moments by worrying about the selection of great wedding photographers. Plan ahead of time, take the time to review engagement sessions that you like and choose the best engagement photo locations.
Clicking the same predictable engagement pictures on overdone locations can spoil the excitement of your precious moment. There is a variety of couple photos that can look extravagant or super cheesy. It's impossible to find the spark of happiness from these photos.
However, working with Eivan's can give you thousands of reasons to look at your engagement photos again and again. We provide high-defined indoor engagement photo ideas and planning tools for your engagement that shows the perfectness of you and your fiances affection. We know that it's your day, and we make every effort to make it memorable for you. Here, we are providing you with some fantastic ideas for an indoor engagement photoshoot. Have a look at different indoor engagement photo locations for a memorable photo shoot.
Locations for Indoor Engagement Photos
We all love to have an outdoor photo shoot, but one should not forget how indoor photo shoot can create moments that can be cherished for a lifetime. Some people might not get comfortable with their partners in outdoor shoots. How do you take pictures inside? If an indoor shoot is very much needed, these are the indoor locations which couples can consider for their photo shoot:
Home:
Many couples do not even consider their own homes for the photoshoot or even the elopement. According to various renowned photographers, home is among the perfect places where many memories can be captured. Home is a place where people are in their comfort zone. Photographers recommend their clients to set a photoshoot at their home where their pictures can be captured, while having tea, cooking or watching TV. It turns out to be amazing, as the photos that are captured are full of honesty and affection.
College or University Engagement Sessions: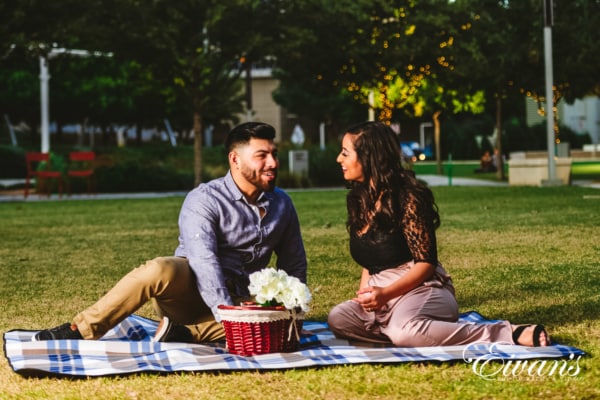 For University sweethearts, it is highly recommended to have a photoshoot at their school's campus. It will allow them to create a memory that will recall their past most effectively. In this regard, classrooms, libraries, and the sports complex of the university can be the best places. You can create many poses in different locations at the university, it also is a great location for your wedding venue.
Engagement sessions at the lobby of an upscale hotel: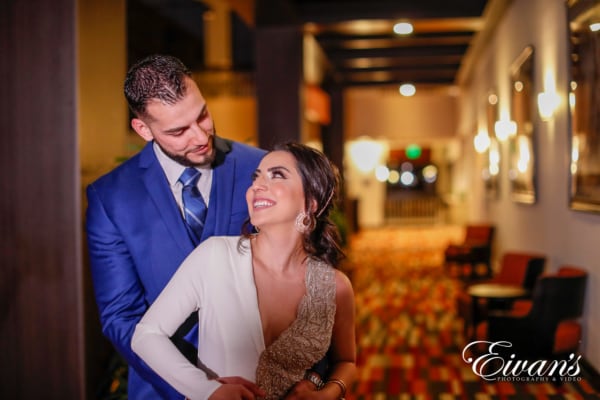 If your wedding venue is a hotel, the hotel lobby is amongst the best places where the couple is likely to arrange their engagement photoshoot. As most of the upscale hotel lobbies bottle up a unique indoor location, like a coffee shop for example, which gives the photographers an opportunity to capture moments that can meet the needs of the couple photo ideas.
Art gallery or Museum Engagement Sessions: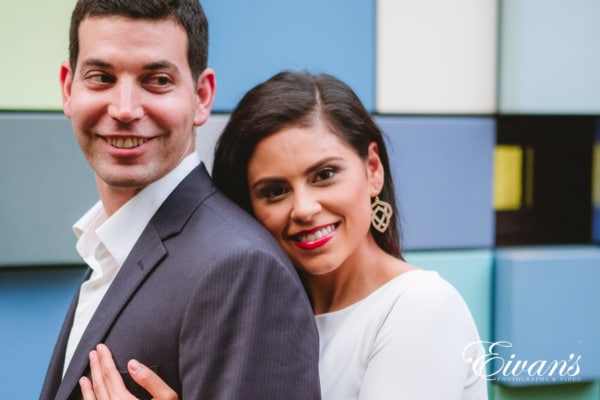 Art galleries and museums can be your wedding venue and a new and exciting spot for taking engagement photos. You must be thinking that museums and art gallery authorities will never allow one to conduct a photo session for an engagement ceremony. However, there are many museums and art gallery that permits people to do a photo shoot. It can allow couples to capture moments with many creative things, for instance, photos with Dinosaur skeleton or images with paintings done by famous painters.
Indoor engagement photos can allow couples to create memories to remember for a lifetime. To do so, it is suggested to adhere to all of the above things. At Eivan's, we believe in providing you with services that can meet your expectations and allow us to attain your loyalty for a lifetime. Our growth is equivalent to your satisfaction.
Looking for indoor engagement photo ideas shows that you want to make your pictures to be the best and memorable, and they will for sure be getting the attention of the people as well. Our professional photographers are experts in depicting your happiness through their pictures. There is a wide range of poses, from traditional to playful, embrace to reflect. However, we are discussing some ideas below:
Classic Engagement Sessions: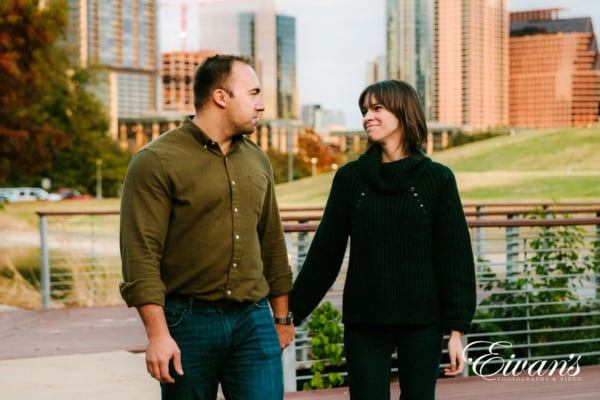 The traditional engagement photo session includes pictures of the bride and groom walking side by side, happily sitting together or on the dance floor. Such shoots consist of a series of images from head to shoulders, quarter body shots, and full body shots while you and your partner are gazing into the camera. These beautifully shot images reflect the shine that you two share. If a couple prefers taking traditional shoots, it is highly recommended to go to a place they worship. It will add an element that will reflect the culture and tradition of which they follow. Placing your engagement photos as centerpieces at your wedding venue can be a perfect idea for wedding decor.
Emotional reflection Engagement Sessions: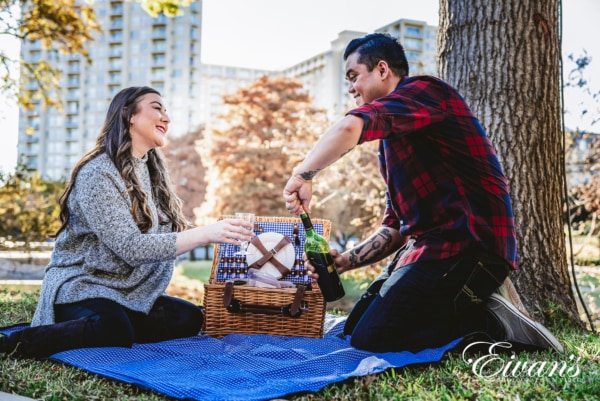 These types of images are not taken but express the emotion and sentiments linked to your love story. These images are not planned but prompt as it totally depends on you that how you show your story by creating memorable images. If each posture is forced and pre-planned, the final shoot can end up looking fake, so it is nice to make an image collection of candid mix poses from romantic to playful. The most important thing is to feel and live the moment at any one of your indoor engagement photo locations.
Embracing shot: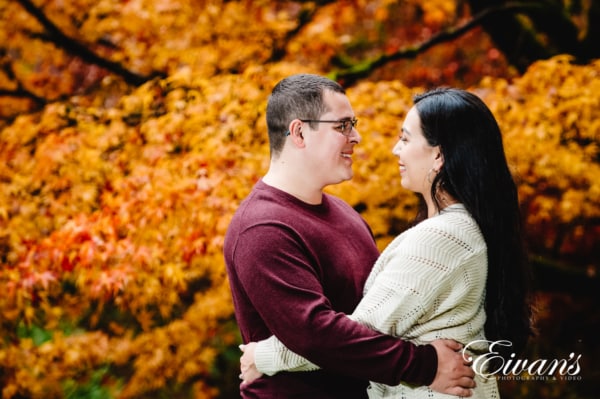 This shot is showing admiration and warmth with your partner by hugging each other. Something as simple as a strong embrace is a lovely expression of love that creates beautiful photos. Wrapping your arms around while facing each other is a great engagement photo pose and makes a perfect shot for your wedding invitation or wedding website background.
Detailed photo shoot: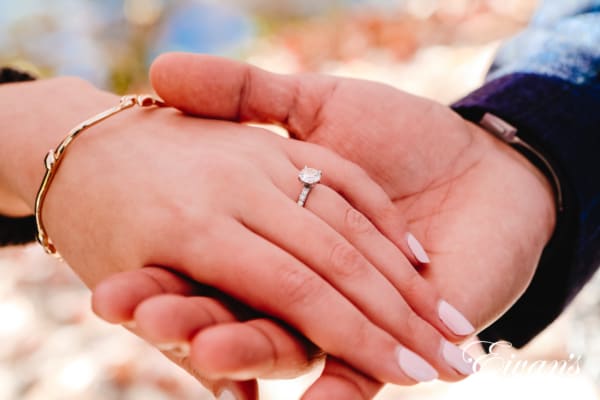 Showing details of the engagement day in pictures is fun and aesthetically pleasing. For a complete view that starts from a shiny engagement ring to the images of your hands and fingers, these pictures show a rare combination of purity and the bond that you and your partner share. These most straight-forward engagement shoot images are a symbol of a real connection between you guys.
Things to keep in mind
Couples who are excited to announce their proposal to their family and friends are super enthusiastic about their engagement photos more than anything else. It showcases not only the chemistry of the couple but displays their distinctive style. But, before hoping in front of the lens and demanding for filters, there are certain things to be kept in mind:
What to wear?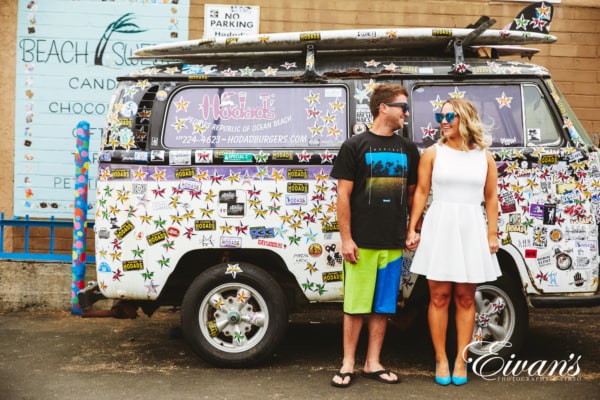 What to wear is a never-ending question for when couples are browsing wedding dresses, and this question becomes anxiety when it's their engagement too. There are so many designs and colors to choose from, but the perception to look stylish and elegant makes this decision difficult as the designs and colors of the dress express your personality, that's why we prefer wearing a comfortable dress, either a simple gown or floral skirt, that can boost your confidence and reflect your happiness. Running after fancy dresses can ruin your perfect look. The classy yet trendy sort of dresses depicts your style stigma on photos.
Complementary colored attire: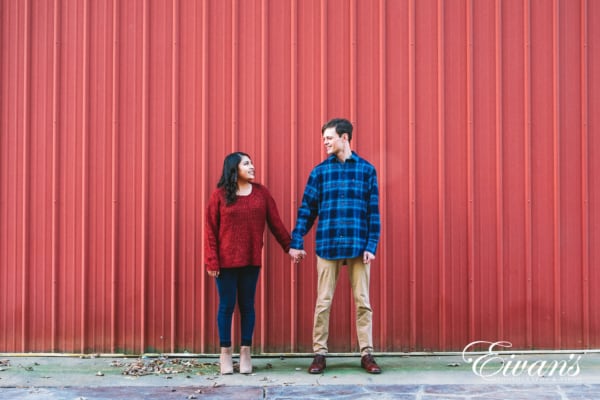 We don't suggest matching attires and patterned designs for photo sessions like this. Still, a great color combination with your better half can showcase love and affection. Search for colors that complement each other well. For example, greens and yellows, pale pink and blues, reds and blues, etc. Our guide to looking natural yet elegant in pictures is to look for simple, lighter-colored attire because very dark colors can be a distraction in photos. The goal is to stand out in your photographs, wearing identical colors or clothes can prevent that. So, the couple needs to plan and research their outfits before the event to ensure the best-looking engagement photos.
Color scheming:
If you have decided what colors to wear on your engagement day, visualize how those shades will be depicted in the entire photo album. Wearing light colors such as light blue, pink, green, or even yellow not only light up your persona but showcases the true emotions between you and your partner. Color scheming is one of the crucial things you need to take into consideration before your engagement. For the same purpose, you need to think about the venue and the time. It is crucial to set the theme by observing the subject of the venue. For instance, wearing dark clothes in a venue where the interior itself is dark, can ruin the look of photos.
Think about season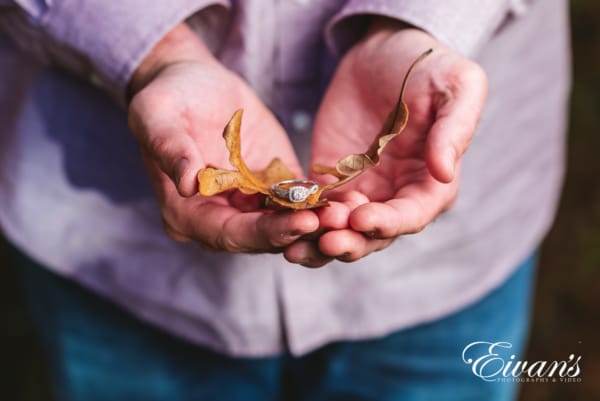 The season always affects your dress code. After all, you can't wear a scarf in summer or long boots in spring! Therefore, choose your engagement dress according to the season. Take benefit from the season by creating a look that all syncs up with the weather and location. In summers, wearing a scarf or wearing a 3-piece suit can be awkward, it is highly recommended to let your designer know about the weather and venue. It will enable the designer to customize a costume for you by considering all the necessary aspects.
So how much do engagement photos cost?
With so many different options to choose from, try to find wedding photographer or talk to a wedding consultant that include an engagement session with a wedding day package. Doing so will help also help you save on your wedding photography budget. Not to mention your wedding planner will love the idea of working with the same company when it comes to your wedding.
Simply stated:
Eivan's provides real wedding and engagement photos to help you find the style for your wedding day. The engagement is a big event that needs proper planning. From dress design to its color, decoration of the location, and food, everything needs to be perfect. However, this event gets unforgettable by capturing attractive engagement photos. Taking beautiful pictures of this lovely day is an increasing trend nowadays. You'll use them for save the dates, your wedding website and even wedding invitations. In the end, it is all about wedding photographers will be capture moments that will be cherished by the couple for the rest of their life.