Beach Engagement Photo ideas For You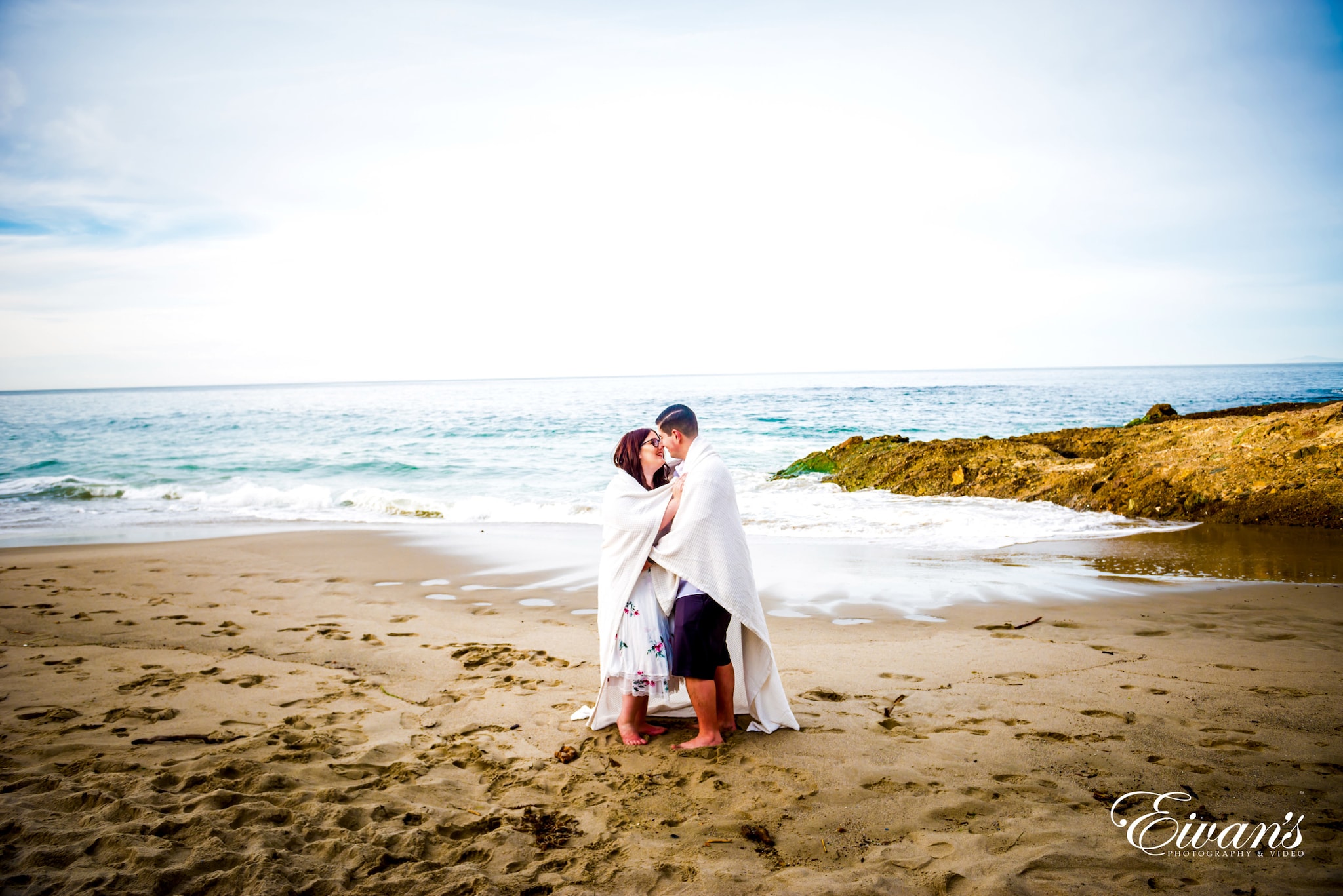 Love is a beautiful thing!  When two people meet and find their missing part in each other, the rest is a fairly tale.  Engagement sessions are simply beautiful moments to cherish the virgin love shared between two lovers and what a better way than to enjoy a beach engagement session.  A proposal marks the beginning of a love story that's why we would love to help you document your story through the engagement pictures.  Before the busy wedding planning kicks off its best to savor some time and enjoy each other.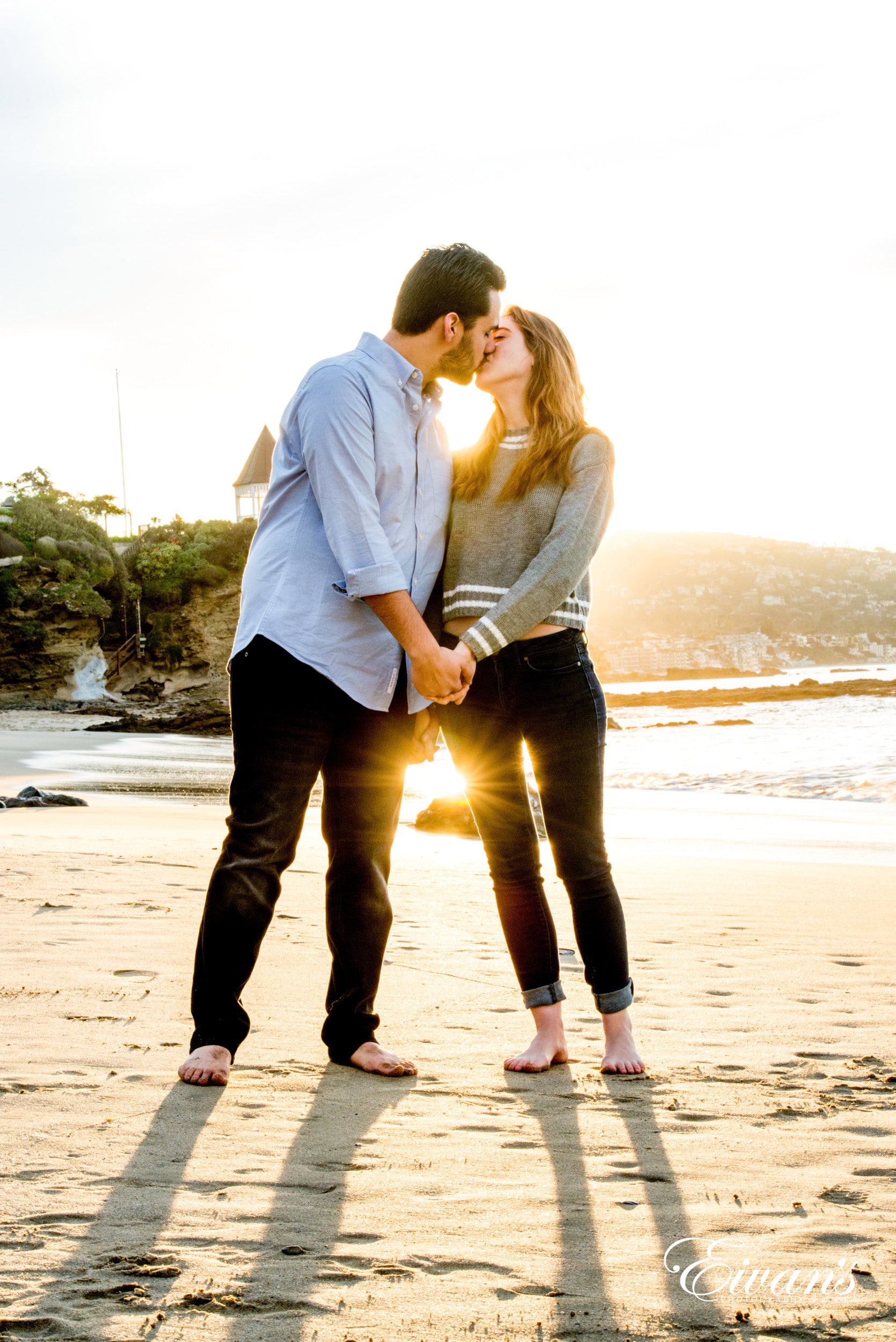 As you plan your proposal, it is best to also consider where you will be taking your engagement shoot and maybe add a getaway to enjoy with your loved one afterwards. For starters research on the following:
Your choice of a prime location – Location is everything when it comes to your engagement session. This might not be your everyday joint to hang out, but can be a replica of what you both love. We advise our clients to also explore new locations that could bring out their love story better. For example if you love beaches that are connected a rocky desert life, the romantic Oregon Coast is for you. You can tag your engagement photographer along as you revisit the location of your first date and your favorite joint that you loved hanging out to create memories that you will carry with you to your marriage. If you have a lake, a dam or a river that runs near your home, you can dub it your own beach and get some beach photos taken there. Nature has never disappointed!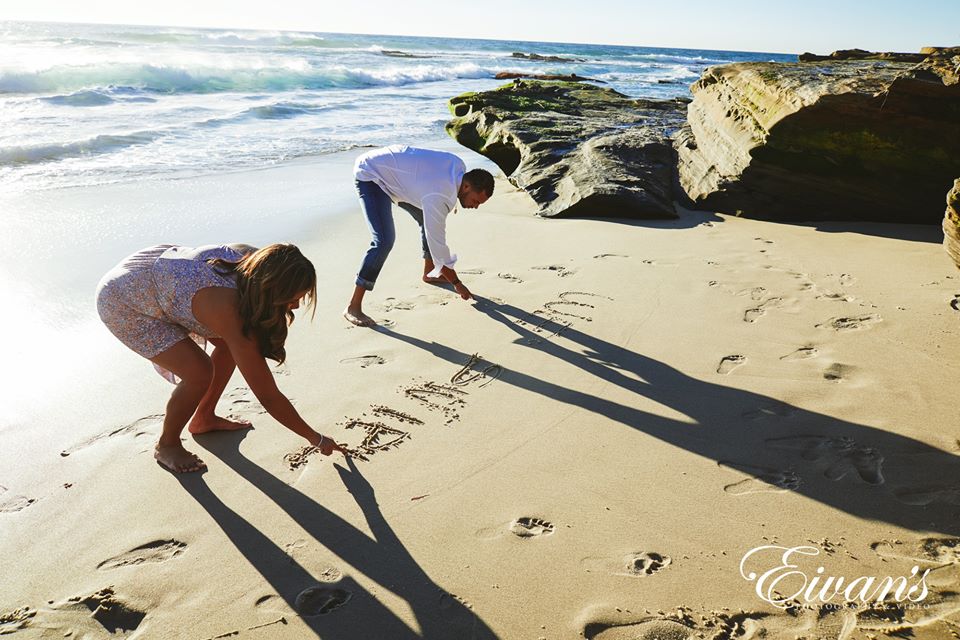 Creative poses – It is important to note there are people who are not a fan of the camera at all and your fiancé could be one of them.  Having worked with many couples for their engagement photo shoot, we have noted love causes people to naturally relax and enjoy the moment.  When the engagement ring pops out, every pose during this moment is magical and we strive to capture raw intimate moments for the couple to treasure.  With good vibes happening between you and your fiancé it is possible to get perfect shots.  You can also get as creative as you want and google things you can use as props to make it funny, silly or whatever theme you choose.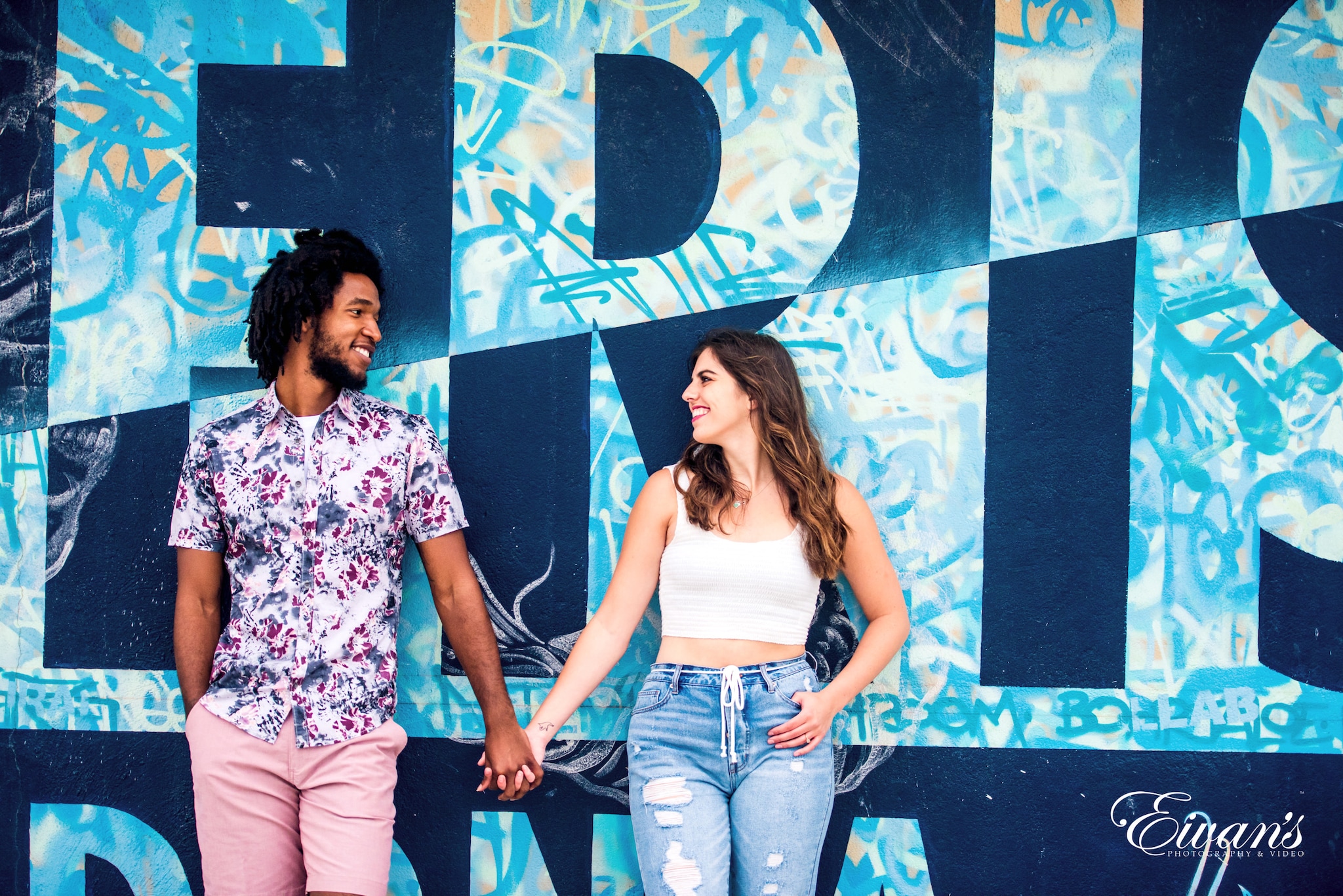 The timing of the shoot – Just as the venue is important, timing is also very key in getting the kind of photos you want.  The Golden hour as is commonly known is one of the best hour that every wedding photographer and engagement photographer always want to capture.  This hour comes with red color soft hues that renders the moment very intimate.  Whether you are in New York, Los Angeles or Southern California we can capture the best hour you want in your engagement pictures.  Unexpected weather changes have also worked to the benefit of many love birds.  Torrential rain and snow falls have turned out great both in engagement and wedding photography.  Take advantage of every hour or weather pattern you may find yourself in.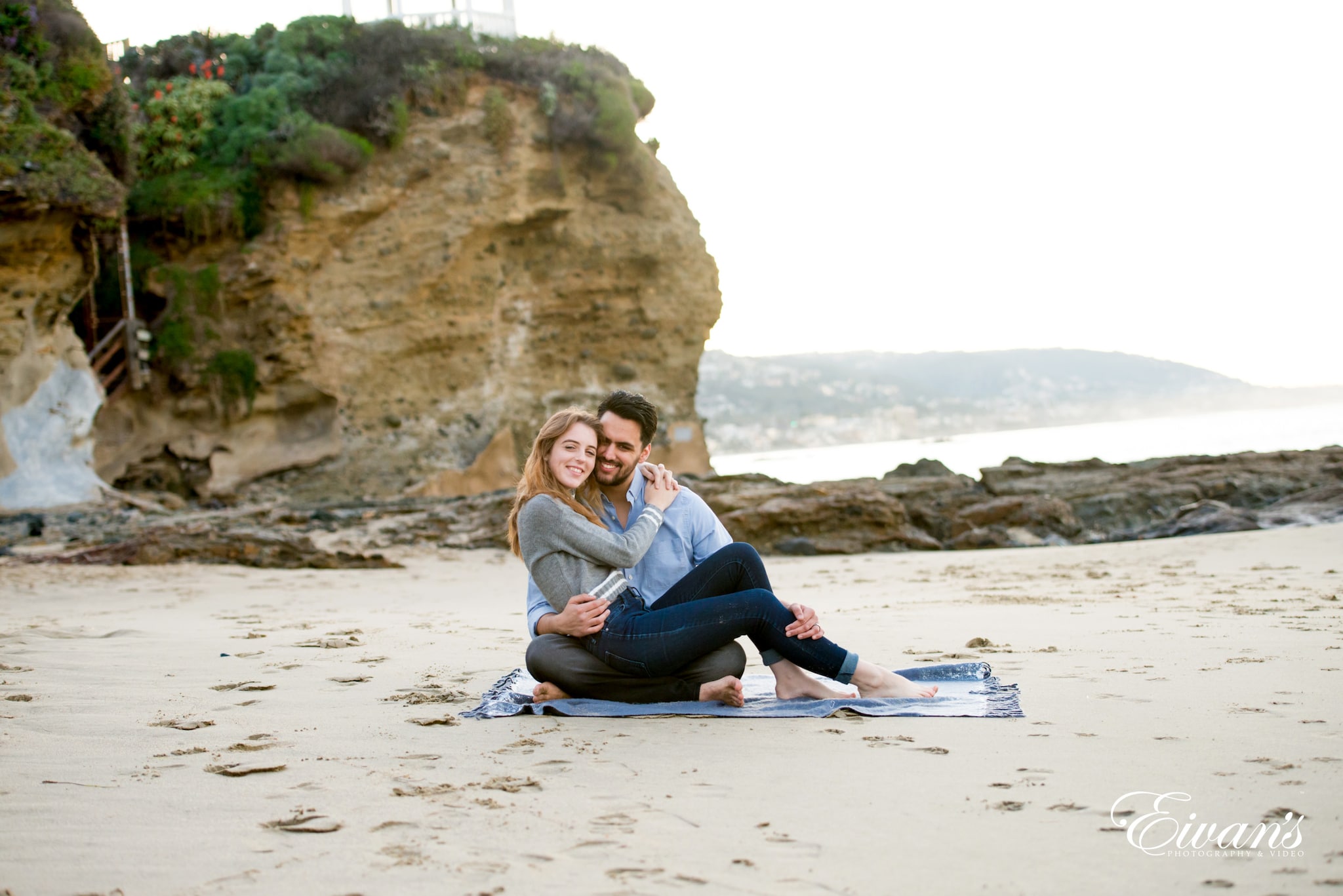 Why the beach?
Beaches are not all about sand but they naturally infuse love. A beach engagement shoot or a beach wedding is equivalent to a romantic getaway with lots of free space to enjoy.
Summer marks the season of love, the sun has something to do with warming the hearts of the loved ones! Its also the best season to walk bare foot along sandy beaches. Together, hand in hand, as you commit your love to one another.
Whether the engagement ends in a white wedding day or elopement we savor every engagement photo shoot because it carries a different love story and we are always thrilled to be part of it. All around the US beaches -Laguna beach, San Diego, Oregon Coast, Southern California (famed for its sunny weather and dramatic pacific coastline, San Francisco or any other beach of your choice we make it happen for you.
To capture some of the finest shots of this beautiful beach, we advise you to plan your engagement photo shoot or wedding venue during the fall season. The summer is quite full with crowds of people enjoying the sun but as fall begins to set in, the crowds clear giving room for that perfect beach engagement photo session or wedding photography.
Every couple is unique in their own way, just as their love story, that's why we take time to understand what kind of an engagement photography you want before we can start. Beach engagement shoot has always been the most romantic with beaches like Laguna Beach being one of the most beautiful stretch of beaches in the West Coast.
These rocky beaches comes with such perfect weather and a variety of beaches that you can explore for your engagement photo ideas or wedding photography. The table rock beach, Treasure Island beach, crescent bay beach, Victoria beach, and Shaws Cove are the finest places sought after for engagement photo session during the fall season.
You simply can't get enough of the beach!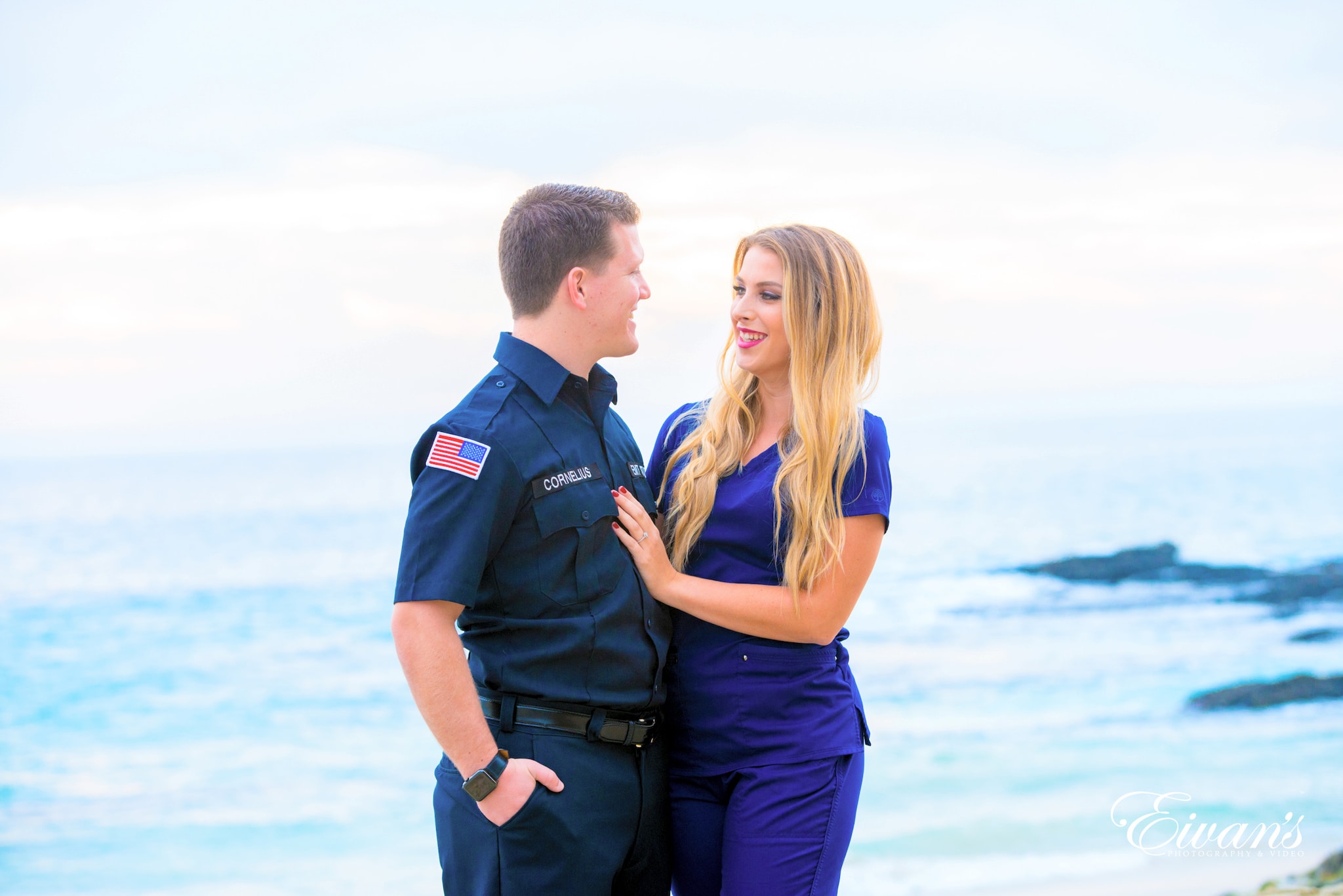 What to bring for your beach engagement session
Your sexy swimsuit – This is a must for all the water lovers. Since you can't bring your wedding dress because you are yet to get it, you are allowed to adorn your sexiest swimsuit.  
Your sun screen – Whether its your engagement session or destination wedding bring your sun screen to protect your skin.  The sun is beautiful but can get tough on your skin after a couple of hours.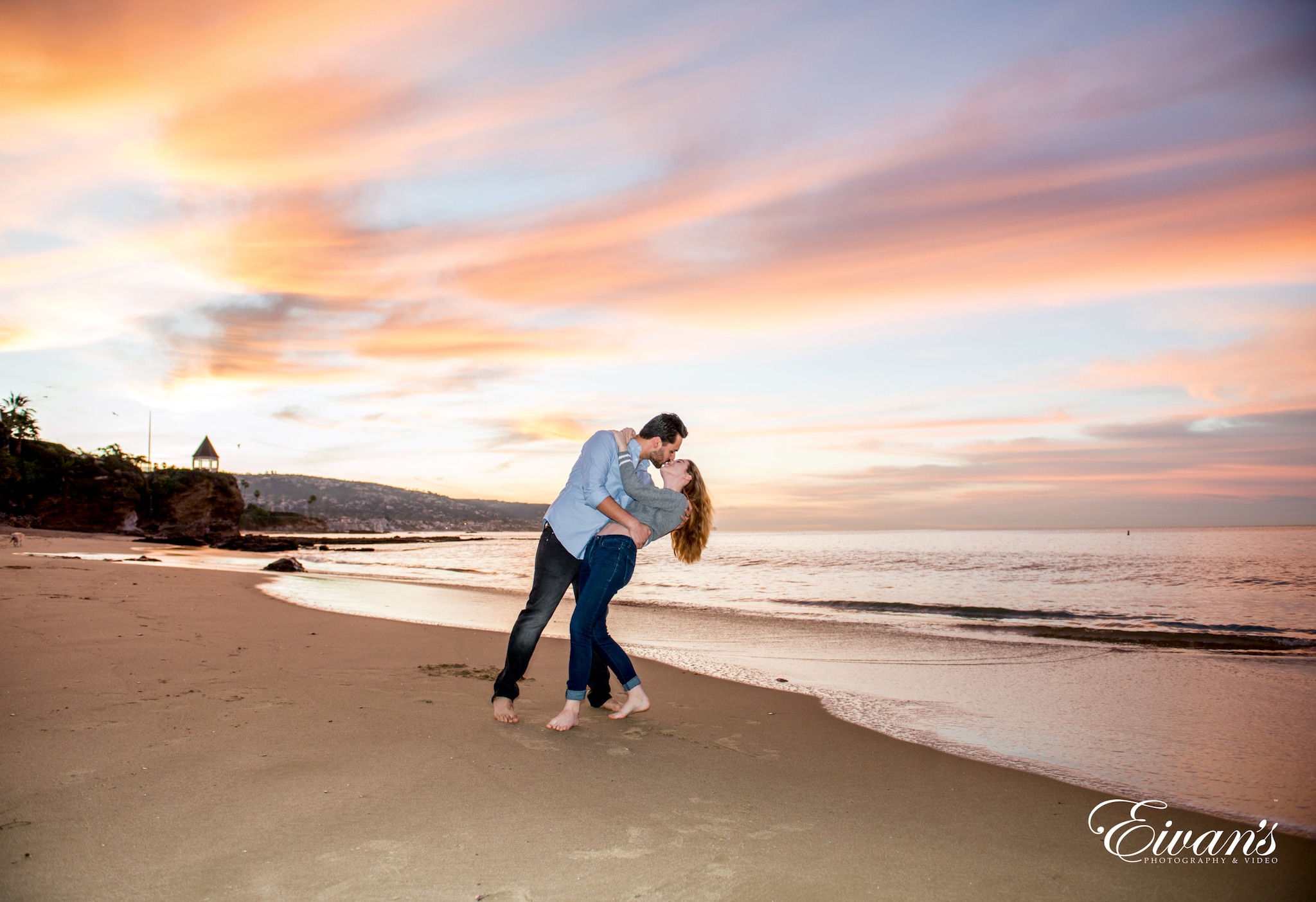 Your colorful change of clothes – Just because its a beach engagement photo session, it doesn't mean you will only be dressed in your swimsuit.  Get creative with colors that embrace the weather and the nature around you.  Color is beautiful especially in the reflection of beautiful beaches.  Dress up not just for your mate but for the camera too.   
Your confidence – Planning for a beach engagement photo shoot or a wedding venue at the beach you can't help it but get into the water.  Brace yourself for huge waves, deep sea swimming, surfing or any other water romantic activity.   
Your playful self – Engagement shoots are not meant to be serious, they are fun silly times that couples enjoy before they settle down to the seriousness of planning for the wedding day.  Your playful self will help you enjoy the fun or silly water games and crashing on waves with your mate.  Such priceless moments that you get to make memories of.  
Your unreserved romantic self – This is not time to talk about current stocks market or business ideas, its time to unwind and get cozy with your loved one forgetting your engagement photographer is watching you and immersing yourself in full romance.  
Your makeup – If you can't do without your makeup, then by all means bring it because we want you looking all beautiful and handsome just like the beautiful beach around you. Remember you will get into the water a lot, so bring your waterproof makeup!
Your engagement photographer – Don't pack everything and forget the photographer!