Romantic Ideas for Fall Engagement Photos
By Eivan's Photo & Video Editors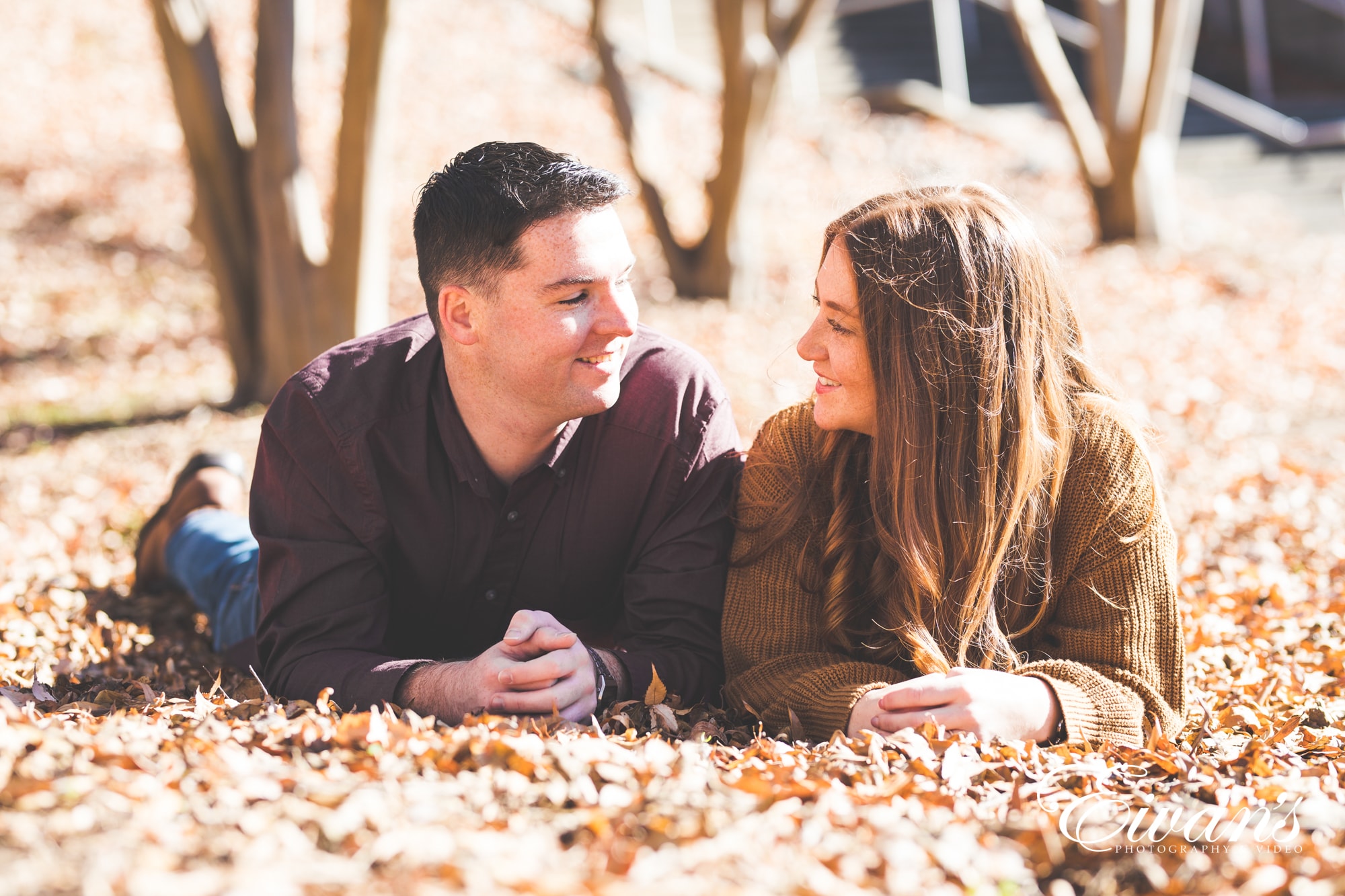 When it comes to romantic sunsets or beautiful weather, fall engagement photos is one of the most popular ideas!
Even though romance might come easy to you on your date nights, it might be a bit different planning a romantic engagement shoot. The engagement day is a very big deal, so you might get a little too nervous to think clearly about what romantic ideas for fall engagement photos you should have.
Ideas to Get You Started for Your Engagement Shoot
Before you begin to think about what kind of photos you should have for your shoot, let's first start with something simple, something that can get your momentum going. It can be easy to overthink or to stress about what you should do on your special day, so the last thing you want is to be discouraged or be put off.
Start with who you are
If you're fresh out of ideas or looking to find something unique to do for your engagement shoot, for many couples, it helps them to get their thinking going by figuring out who they are or what their personality is like.
Thinking about what both of your interests or likes are can also give you more ideas to work with. After all, when you look back on your engagement day, you want it to perfectly represent you and your partner.
The When
Obviously, you and your partner will need to decide when you will have your engagement shoot. The fall is a common choice for many couples as this is the time of year when trees show their luscious red or brown leaves before they fall off for the winter season, which can look mesmerizing in photos.
In addition, the fall is the season that transitions summer to winter, so it can get both cool and warm during this time. Some couples like this idea as it can leave them with opportunities to show off their warm and cool clothing that'll look good for their engagement photos.
Despite the beautiful benefits of what the season of fall offers, however, you still shouldn't disregard consulting or brainstorming with your hired professional photographer. You'll find that they will have valuable insights and ideas from their many experiences of working with other couples too.
The Where
The next topic on the agenda is, where do you want to do the photoshoot? This is often where most couples get stumped because there are just so many amazing places that you can have your photoshoot at. The good thing about fall is that everywhere you go, all the trees will have beautiful colored leaves. So, to help you get started, this is where you should start pondering on what type of person you and your partner are like to make it easier on you guys.
Generally, the majority of couples choose a place that's meaningful to them or a place where they, for example, met for the first time. Choosing a place of meaning can fill you and your partner with a special bond on that day, thus making you feel more comfortable to have your photos taken (a good piece of advice if you're the camera-shy type).
Here are more examples of where you can have your engagement shoot:
First date

First kiss

Favorite spot

Favorite activity

Next holiday vacation
The Who or What
After you and your partner (as well as your hired professional photographer) have decided when and where you will have your engagement shoot, you can now talk about the details. These finer details can include:
People – Will you have musicians in the background or do you prefer to be alone with your partner in the photos? This is important to mention because you certainly don't want anyone to photobomb your engagement photos. Some couples also have certain animals that they absolutely adore, so you could consider having a fall engagement photo with dogs to show your shared interests in your shoot.
Props – Props are inexpensive items you can have in your engagement shoot. If you're into themed photos, then fall engagement outfit ideas might be a good start. Another good example is surfboards. Couples who have surfing as their favorite activity will definitely love to have the ocean as their background photo to represent their passion together.
Clothes – This goes hand-in-hand with props or the type of scenery you want. They say that a picture can speak a thousand words and it starts with the clothes you wear. So, make sure to think deeply about what clothing you and your partner should wear, such as fall engagement photo outfits, for example.
Poses – The final thing to think about is the poses for your photoshoot. The people with you might have an influence on how you feel in front of the camera. Because taking the perfect shot may require certain awkward or embarrassing poses, you will need to learn to be comfortable in front of the photographer. A good preparation method could be to practice some poses with your partner before the day of the shoot, poses such as PDAs (public display of affection), for example.
Romantic Photos That Can Nail Your Engagement Shoot This Fall
There are literally countless of fall engagement ideas that you can create to have the best photo collection. Unfortunately, there aren't so many photos to take or to at least to fit in your engagement photo album. Therefore, we've created a small list of some of the best romantic photo ideas that have worked for couples during the fall season.
Amusement Park Galore
Amusement parks or theme parks are fantastic places to go on a date. But, due to them being crowded places, couples tend to not think about having some of their engagement photos taken there.
However, with a skilled photographer, you can get some very quality and rare shots of certain rides or theme park backgrounds if you get the right angle and with the right pose. It might be a bit daring, but you can guarantee, not only a good time with your partner if you love rides, but also great turnouts of unique photos.
The Heightened Experience
Most people are afraid of heights. But if you're the type who loves to go hiking or climbing mountains, then having your engagement shoot on a high ground can give breathtaking photo results.
You can even go as far as to hire a small plane to fly you over a beautiful forest or mountainous field. These moments will sure to give you amazing and memorable engagement photos. With the effects of the fall leaves, you will not regret flying over or having a view of these beautiful trees from a lookout point.
A Romantic Evening
This idea may sound a little boring or plain, but nothing beats romance than chilling at home with your loved one, right? An engagement shoot setting at home can be very unique as each family home is different.
Being at home or in your natural habitat can give you complete comfort if you're camera shy and can definitely provide your album with the "home sweet home" feeling – the perfect album to have for a starting family.
In addition, you can set up your rooms exactly the way you want without any outside disturbances. You can also design or prep your backyard if you want to enjoy the perfect fall weather. This romantic evening at home truly does offer convenience and budget-friendly planning.
Beauty in Sexiness
Not every couple is comfortable with being shot in their bikini or lingerie, especially when there's a stranger photographer taking them. Of course, if you're comfortable feeling sensual with your partner and want to have a remembrance of your steamy relationship together, then this idea is one to add to your engagement album.
This is a common shoot to have for couples who love the beach or who love to keep their bodies looking fit and toned. After all, you won't always look thin or muscly, so it might be a good idea to have a copy of your sexy days for something to be proud of or to show off to your future kids.
These fall engagement photo ideas are just samples to help you to think outside the box of what romantic ideas for fall engagement photos to plan. The best ideas for fall engagement pictures are ones that are out of the ordinary or what is unique to that relationship. So, gather your partner and make sure you don your thinking hats because fall only comes once a year.