Nerdy Wedding Ideas for Geeky Couples
With the immense success of superhero movies coupled with the rising pop-culture of comics and video games, being a nerd is now actually really cool. And, with the easy and wide availability of geek wedding inspirations and accessories from Etsy and Amazon, it's now super easy to create a successful nerd themed wedding.
From comic superheroes to video games like Pokemon and Warcraft, and sci-fi movies like Firefly and Star Trek, nerdy wedding themes have influenced the wedding industry in recent times are expected to be a big trend in the coming years.
Incorporating geeky wedding ideas to personalize your wedding ceremony can be as simple as having comic character cake toppers to substituting your bridal bouquets with lightsabers. Check out some of the great ways you can include your favorite superheroes, video games, and books into your nerdy wedding theme.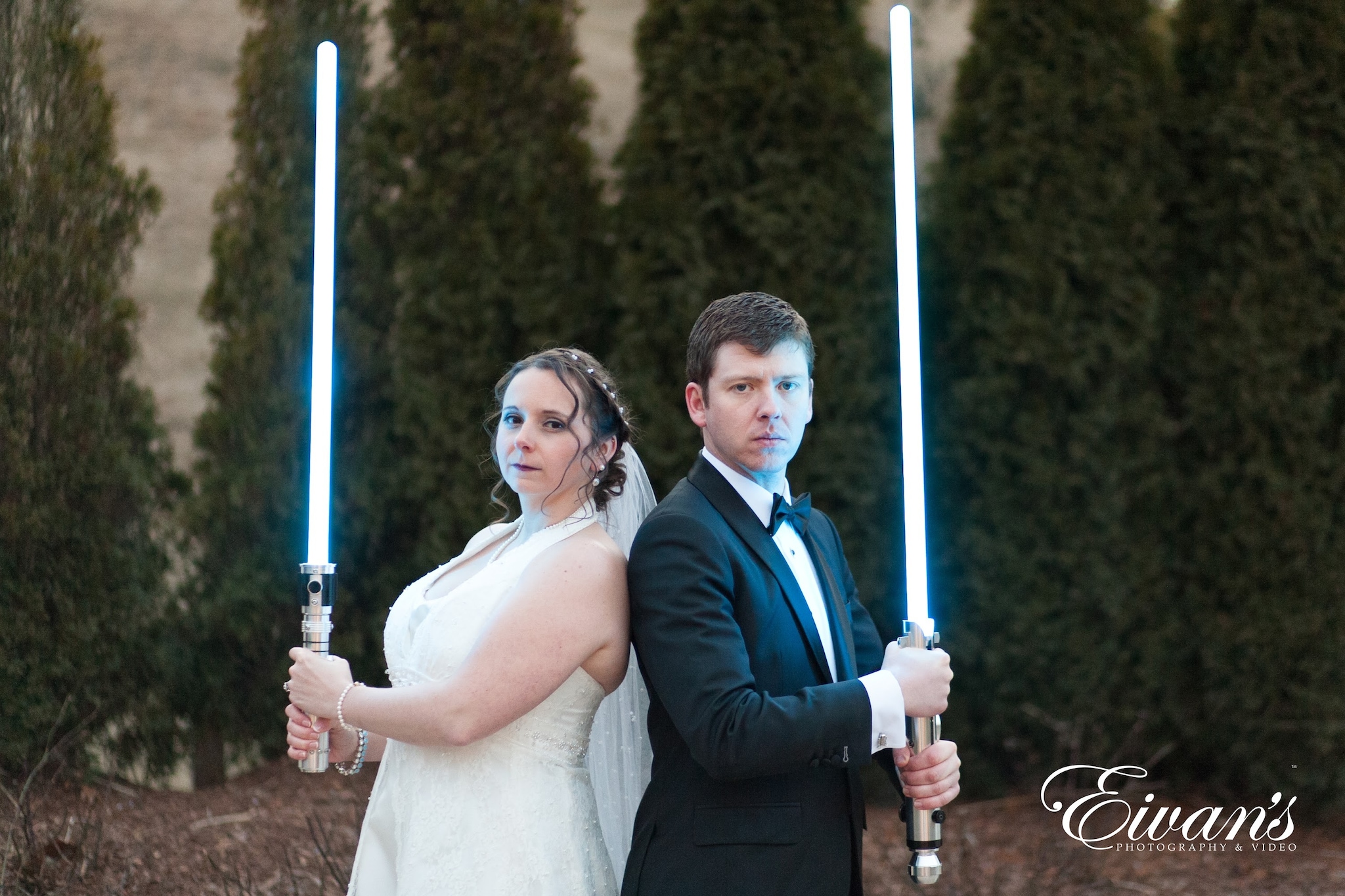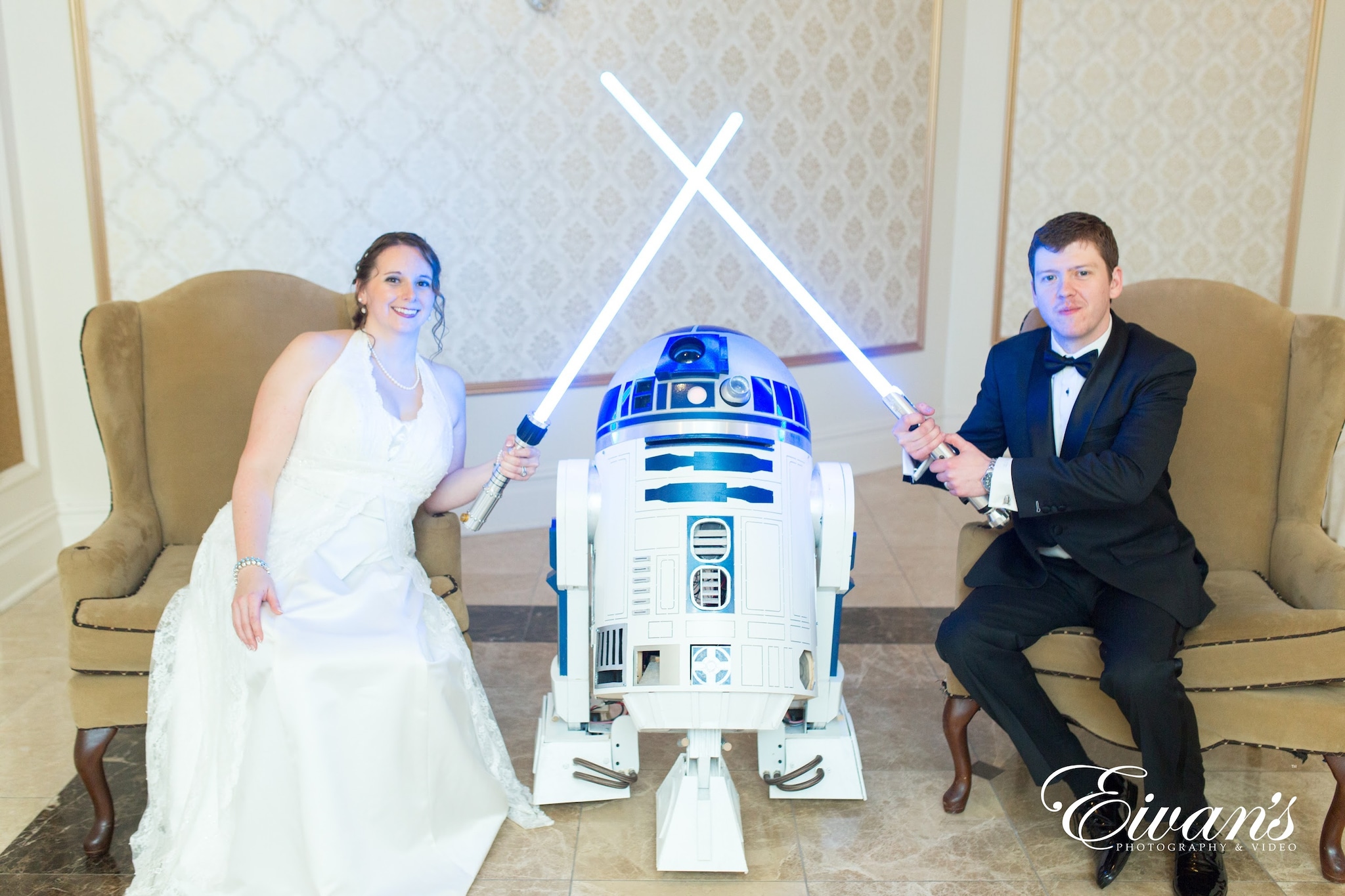 Examples of Geeky Wedding Ideas
There are several ways to include a nerdy theme for your wedding day without breaking the bank. To begin with, you'll both need to decide what kind of nerdy theme you'll want to have. Are you considering a Star Wars theme? Or perhaps you want a magical Harry Potter wedding? Most nerdy couples prefer to create a chic wedding where they mix their different fandom interests.
Invitations
One of the easiest ways to add a nerdy touch to your wedding is on the wedding invitations. It will give your guests an idea of what to expect at the wedding ceremony and reception, and they can get in tune with it. You'll also create excitement and build up anticipation with a themed invitation card, and set the general tone of the wedding.
Etsy and Amazon are an excellent resource for customized save the date and wedding invitation cards. From calligraphed cards for a Game of Thrones wedding, monogrammed cards for a Lord of the Rings wedding to TARDIS cards for a Doctor Who wedding theme, the options are as wide as they are creative.
If you're are both gamers, you can opt for gamified wedding invitations. It allows your guests to play a simple Super Mario themed video game that features the groom proposing the bride at the end of the game. You can have the game customized with mazes and other obstacles that the groom has to go through to get to the Bride. Not only is it a unique idea, but it's also fun and exciting to play.
Bridal Bouquets and Boutonnieres
Another neat way to add nerdy details to your wedding is to get a custom made bridal bouquet. These bouquets are made with faux flowers that fit in with your wedding theme. These flowers and lightsaber bouquets on Etsy are great for a Star Wars wedding and so are these Lego bouquets for a Legos themed wedding. Fantasy book themes and comic book-themed bouquets are made of paper highlighting pages of your favorite book or comic.
Apart from being more affordable than real flowers, these bouquets make wonderful keepsakes to remember your big day.
Nerdy boutonnieres with custom designs are also widely available on Etsy. They are an excellent alternative and can be worn with suits by the groomsmen. Check out these laser engraved wood boutonnieres for your superhero wedding. If you're a tech nerd, you can check out these circuit board boutonnieres made from salvaged electronics on Etsy.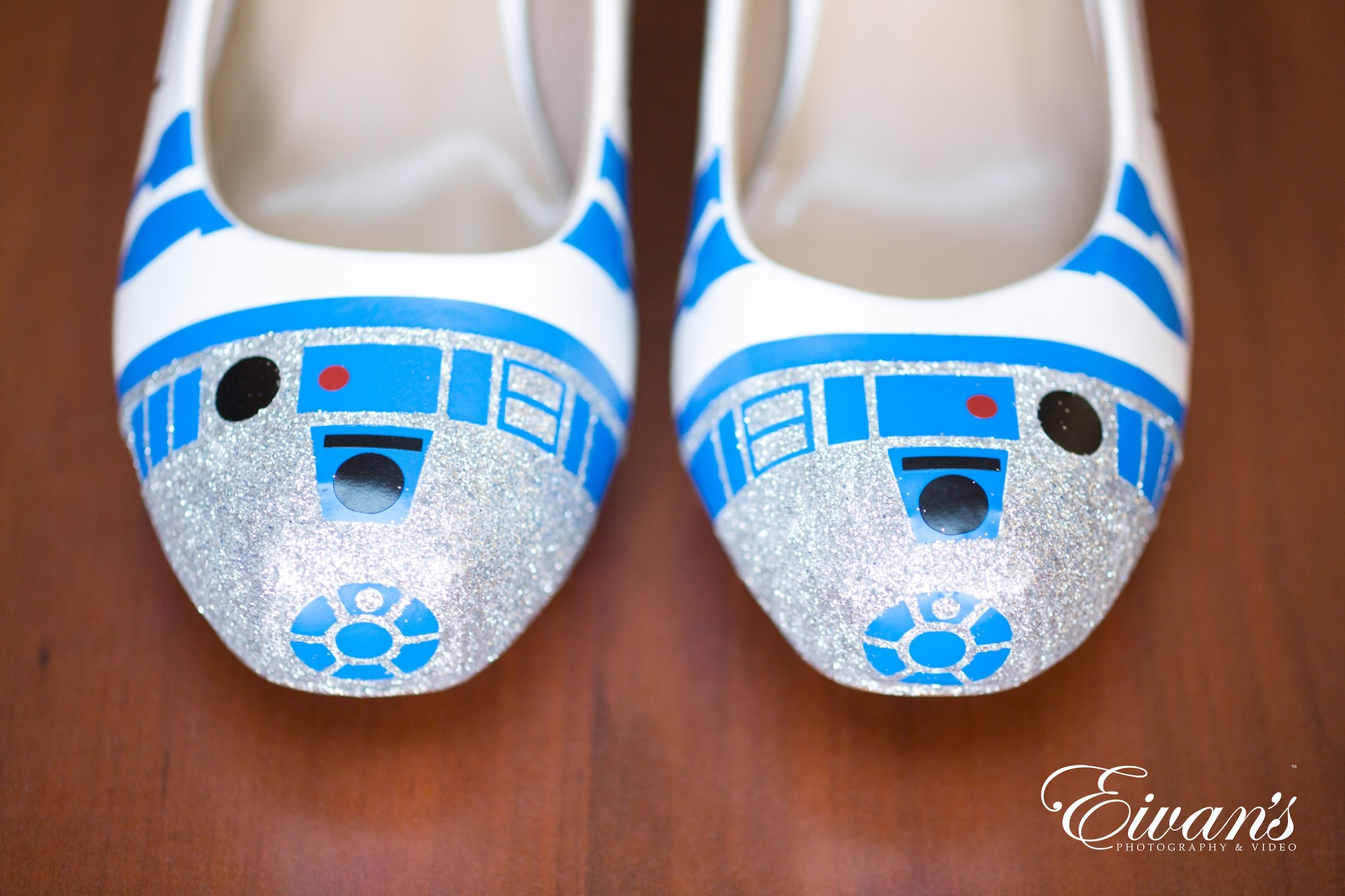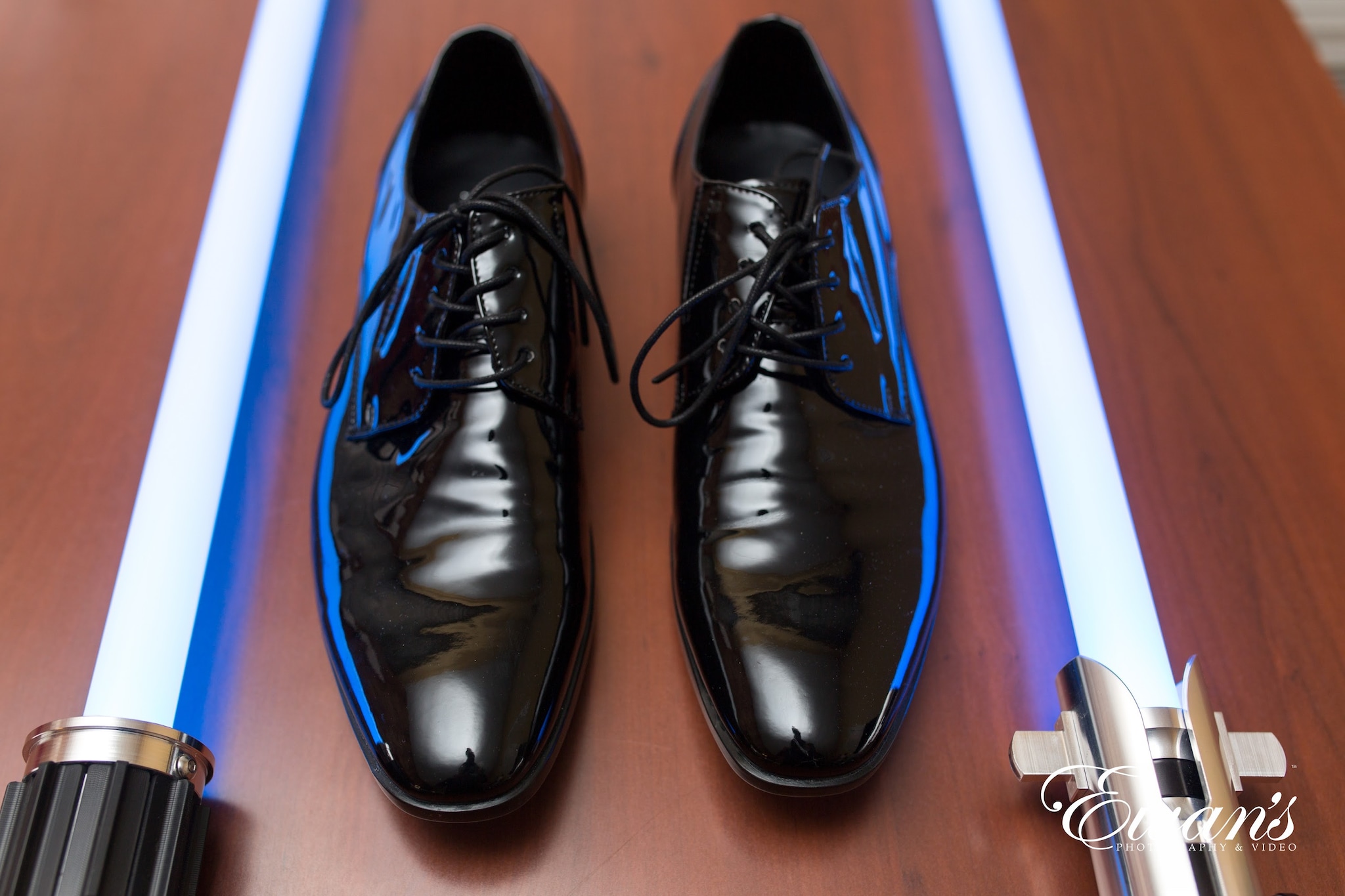 Clothing and Accessories
Clothes are a big part of the wedding, and most people use their wedding clothes to showcase their colors and wedding theme. It is also a great opportunity for everyone to enjoy wearing costumes at your wedding.
KMK Designs on Etsy have several fairytale themed wedding dresses featuring mermaids, princess wedding gowns, and medieval-themed gowns. If you're thinking of dressing up as Princess Leia, DressArtMystery on Etsy makes historical themed gowns inspired by fantasy movies and books.
If you are considering cosplay instead of the traditional wedding clothes, GSTQ Fashions can design for the bridal party costume replicas from your favorite show or video game. Alternatively, you can have a fandom inspired dress that isn't a replica but draws references from your theme while including touches of your own. For GOT fans, Hidylle on Etsy makes beautiful handmade costume replicas from the Game of Thrones series.
You don't have to go over the top with cosplay if it's not your thing. Some couples prefer having subtle additions to their wedding clothes that reflect their fandom. One cool way to pull this off is by having geeky accessories like cufflinks, rings, and shoes that resonate with the theme.
Blue Dream Crafts offers a wide range of handcrafted nerdtastic cufflinks that feature characters from Star Wars, Game of Thrones, and Superhero comics like Batman. Besides geeky cufflinks, some wedding parties opt to rhyme with superhero socks and t-shirts for the groomsmen and shoes for the bridesmaids.
Wedding rings are an awesome way to keep your nerdiness visible after the wedding. Wistful Woods have beautiful handmade Lord of The Rings tungsten replicas for men. All Things Geek Chic make affordable comic book and video game cosplay rings for Legend of Zelda, Star Wars, and Disney fandom.
Wedding decorations are necessary to provide the desired atmosphere of your chosen theme at the wedding reception. In decorating for a geek wedding, you can choose to have a strong theme that runs through every element of the wedding ceremony.
Decor plays a key role in defining the theme of your wedding day as much as the clothes and the wedding venue. This Offbeat Bride couple used different decoration styles to accentuate the different fandom themes. Working with a mix of Star Wars, The Walking Dead, and Game of Thrones, the couple's wedding planner uses the generous space of the venue to create a harmonized nerdtastic experience on their special day.
Apart from draping, colors, lighting, and furniture, small decoration items such as table placements and centerpieces, cutlery, and wedding cake toppers will add on to the nerdy atmosphere.
One Game of Thrones wedding had a Red Wedding themed cake while another Lord of the Rings wedding had a hobbit house for their cake. For a subtle touch, you could just add a cake topper of Legos, your favorite Marvel or Avengers character, or maybe a TARDIS topper for a Doctor Who fandom.
There are plenty of geeky centerpiece ideas on google, and most of them are pretty easy to pull off DIY style. This Hogwarts mason jar centerpiece is excellent for a Harry Potter wedding theme. The couple I mentioned earlier used greenery instead of table cloths for their Game of Thrones theme. They also made it eclectic by having vintage vinyl records for table centerpieces, which had the table numbers and lyrics of their favorite songs. Each guest received an escort CD with a table number on it, which helped to direct them to their seats.
Another couple creatively used legos for escort cards while another math geek couple used standard escort cards with a math problem written on them, which the guests had to solve to discover their table. You really have to know your guests to use that last one.
One way to include geeky wedding ideas into the ceremony is with the aisle and altar decorations. For example, you could use lots of candles in your wedding ceremony decor to create a magical Harry Potter Wedding. One couple used Harry Potter book pages for their wedding aisle with a book arch decor at the altar. Another couple used flowing white drapery along the aisles to create a Winterfell setting for their Game of Thrones wedding theme.
Wedding signs at the entrance and wedding guest books are also excellent ways to highlight your theme. Instead of rice and confetti, why not use these Harry Potter magic wands and lightsabers for a Star Wars Wedding? Another great idea is to include poems and quotes from your favorite authors into your wedding vows. Here are some nerdy wedding vow examples from Offbeat Bride that you can use to inspire your own geeky vows.
For your wedding reception, you can include your nerdy ideas into the wedding menu, the guest book, centerpieces, and wedding photos. The music you dance to can be geek inspired as well as the reception activities to keep your wedding guests entertained. One couple used their love for puzzles to create a highly entertaining puzzle game with prizes while another had gaming hubs for their guests to play their favorite video games.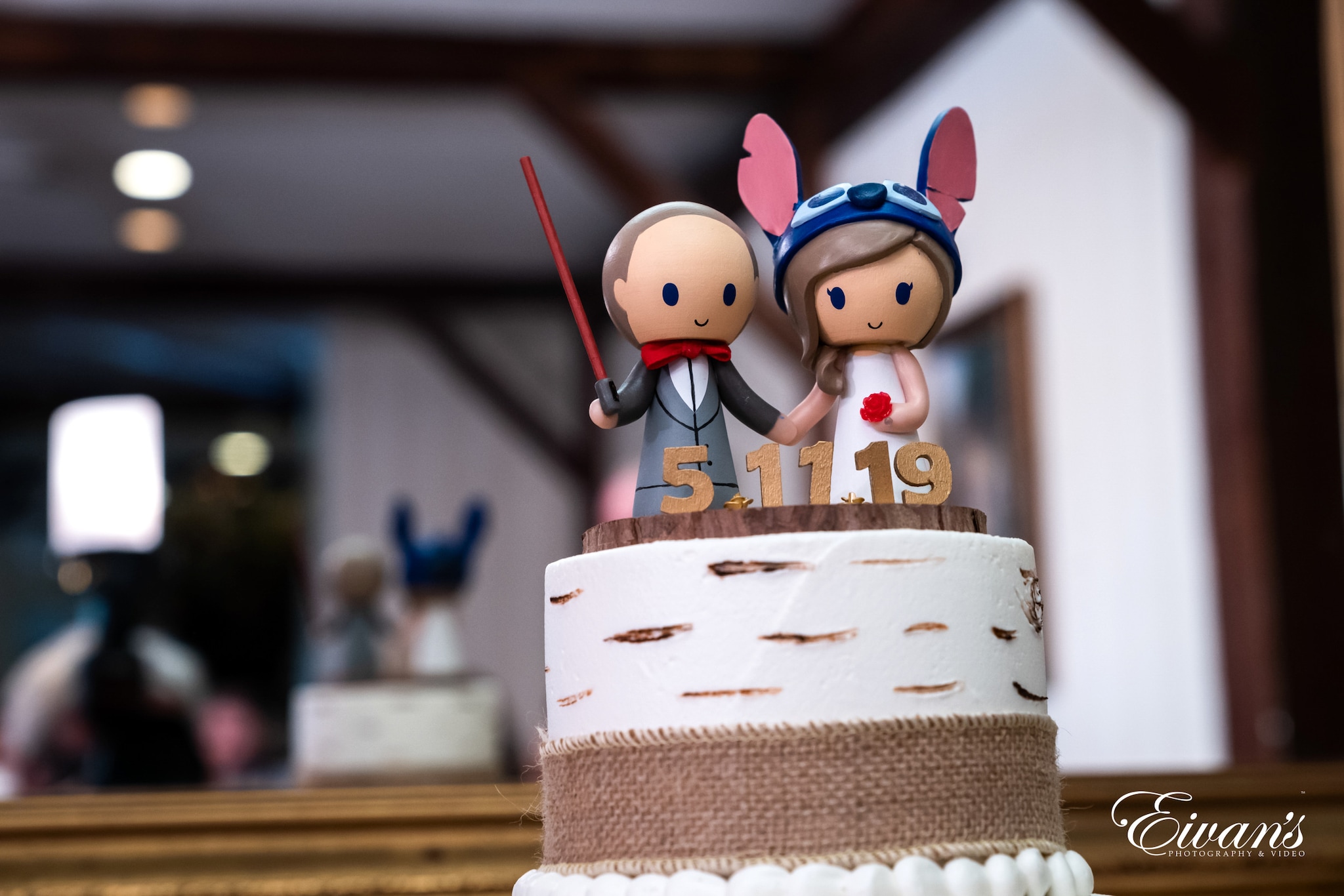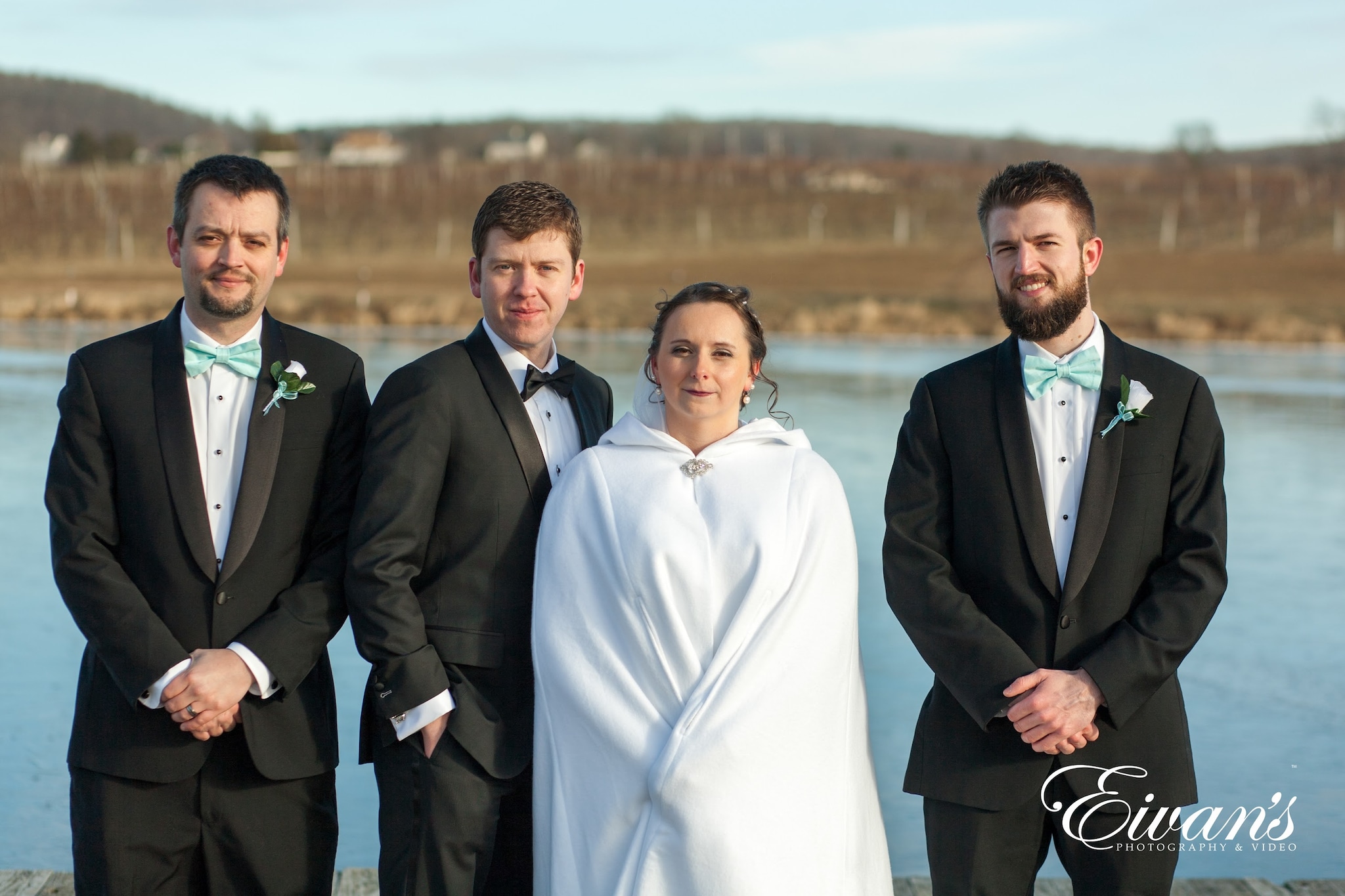 Final Thoughts
How do you incorporate the geek pop culture into your wedding without alienating your other wedding guests? As a nerd, you'll be intensely passionate about your nerdy wedding theme, however, some of your guests may end up feeling left out because they won't get your wedding.
So how do you balance it so that everyone, feels included? Some nerdy couples pulled it off by having a small wedding with the people closest to them. It was then easy for them to go heavy on their nerdy wedding theme and get everybody on board. If you're having a bigger wedding, you could opt to use obvious references in your decor that most people will get. The Harry Potter book page aisle is a great example. For those guests who've never read Harry Potter will appreciate the elegant decor and atmosphere of the wedding.
Another idea is to offer resources that your guests can refer to for understanding. For example, one couple who choose to have table names instead of numbers, and used their table centerpieces to explain what the table name means to them. Other couples used the wedding programs and place cards as a resource the guests could google for meaning if they wanted.
In the end, your wedding should be about you and what you are passionate about. And with great wedding planning, your wedding will be a celebration of your love and the shared interests that gel you together.