7 Ways to Alternate the Garter Toss Tradition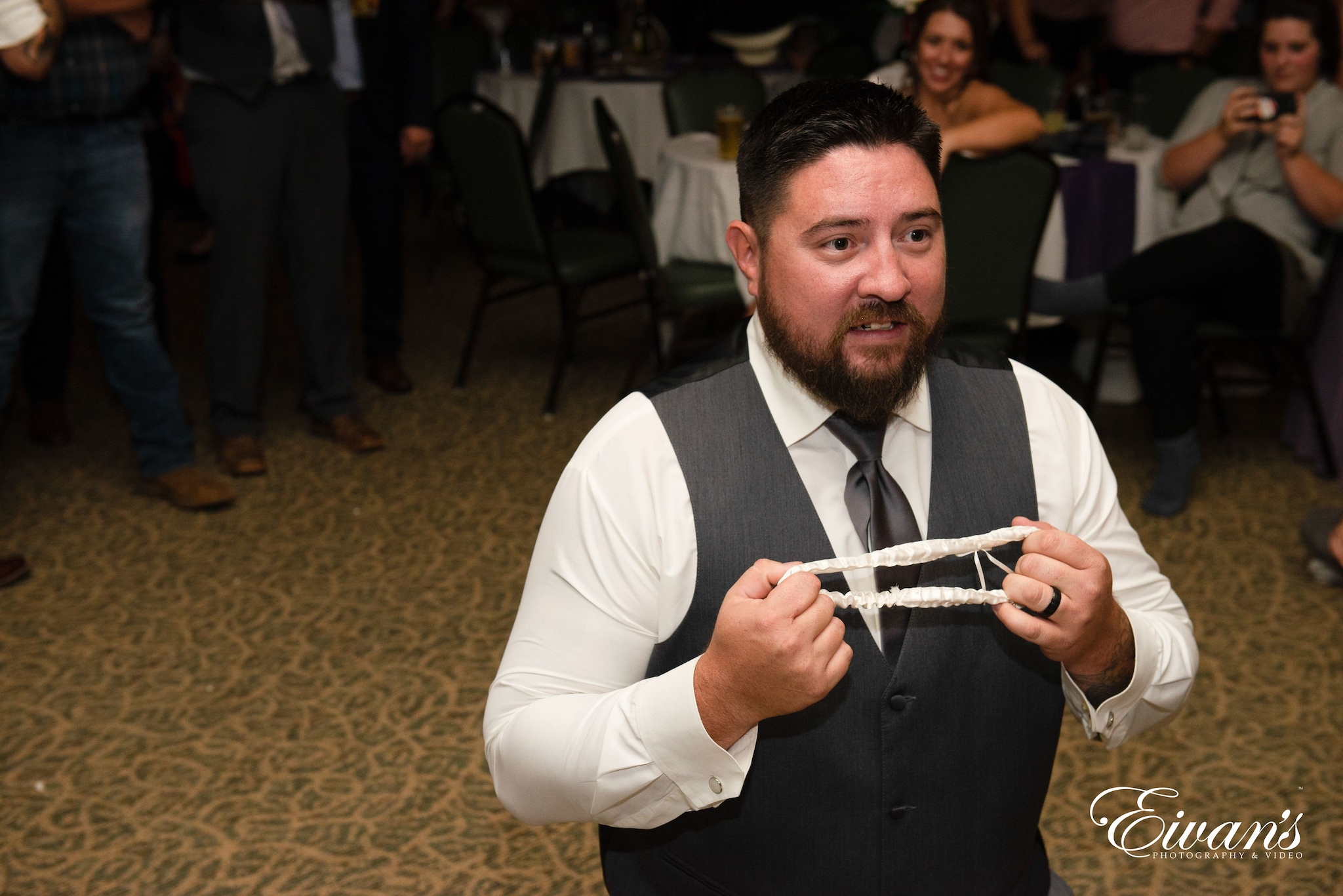 Breakaway From
Wedding Tradition
With These Creative Ideas
Have you ever wondered how some wedding traditions came to be? You've probably heard of the garter toss or even maybe seen it happen at a wedding that you've attended. It is the groom's alternative to the wedding bouquet toss, and it gets done after the bride has performed her toss.
The groom removes the garter from his bride's leg using his hands or his teeth. He then tosses it to a group of his single friends who are gathered together for the toss. For some people, this is an opportunity to have some naughty fun.
But for others, it is an uncomfortable wedding tradition that has lost relevance in the modern world. Many couples now prefer to include alternative ideas in their wedding planning that are more comfortable for everyone to enjoy.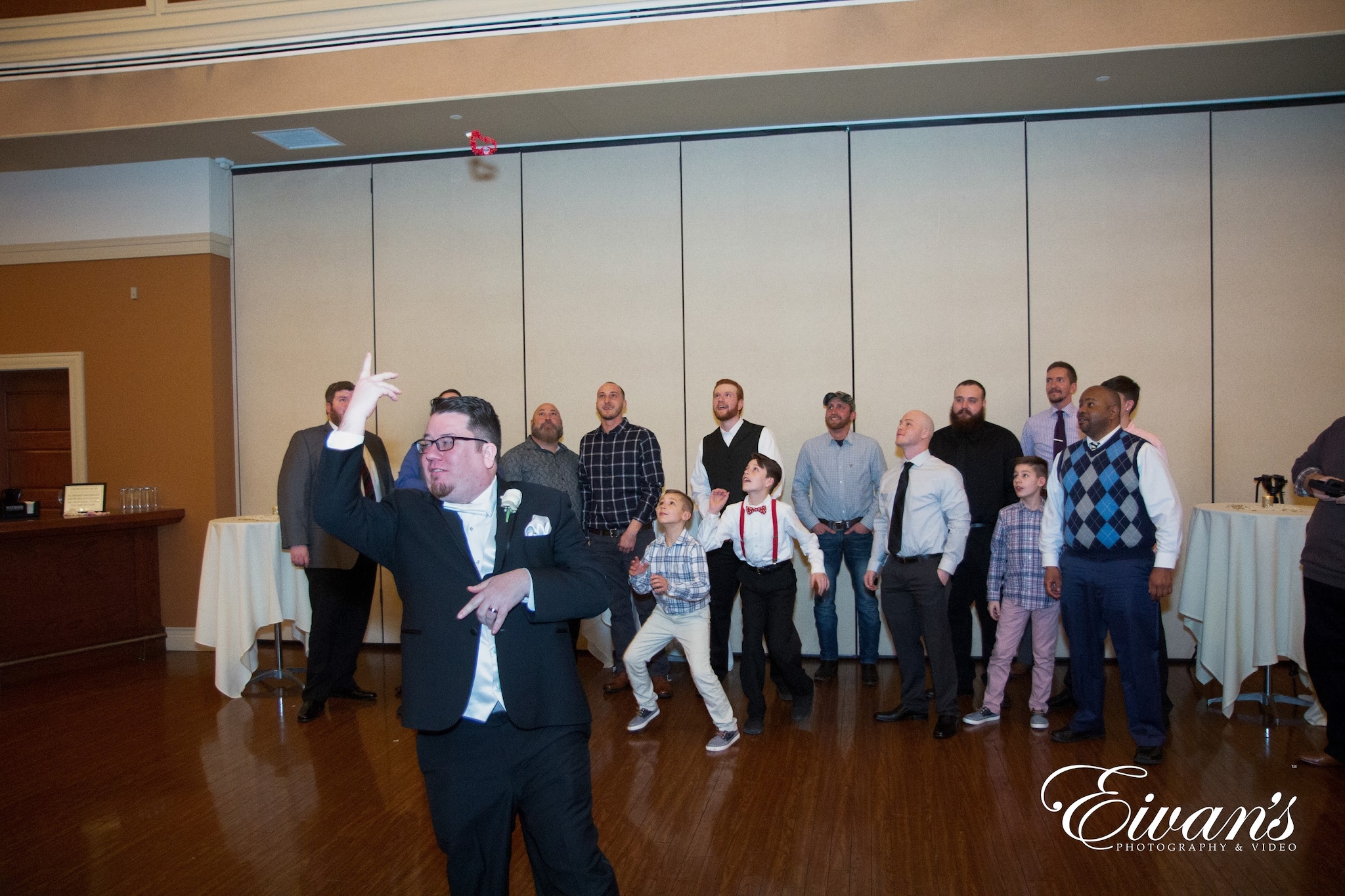 What Does the
Garter Toss
Symbolize?
This wedding tradition dates back to the Middle Ages when after the wedding, the groomsmen would scramble to get a piece of the bride's wedding dress as a token of good luck. Over time, it evolved to the bride wearing a garter on her wedding day to be tossed at the guests because the scrambling would sometimes get rough.
Another tradition has it that removing the garter symbolizes the act of deflowering the bride. You see, in those days, the newly married couple usually consummated their marriage immediately after the wedding. The wedding guests would even follow them to the honeymoon chamber to witness the deed getting done. Thankfully, this too became irrelevant, and the custom moved on to having the groom toss a garter to the wedding guests waiting outside the room as proof that the marriage was complete.
Creative Alternatives to the
Garter Toss
The modern wedding has carried on this tradition, only now it is done at the reception. It is more organized and still the lucky guy who catches it gets to be next in line to get married, hopefully. The tradition works a lot like the bridal bouquet toss with the single ladies. At some weddings, the man gets to put the garter on the bouquet toss winner, or sometimes they get to share a dance with the bridal couple.
So, what garter toss alternatives can you include to keep your guests entertained at your wedding reception? Well, there are some non-traditional and creative wedding ideas that you can incorporate, and here are some of my favorite.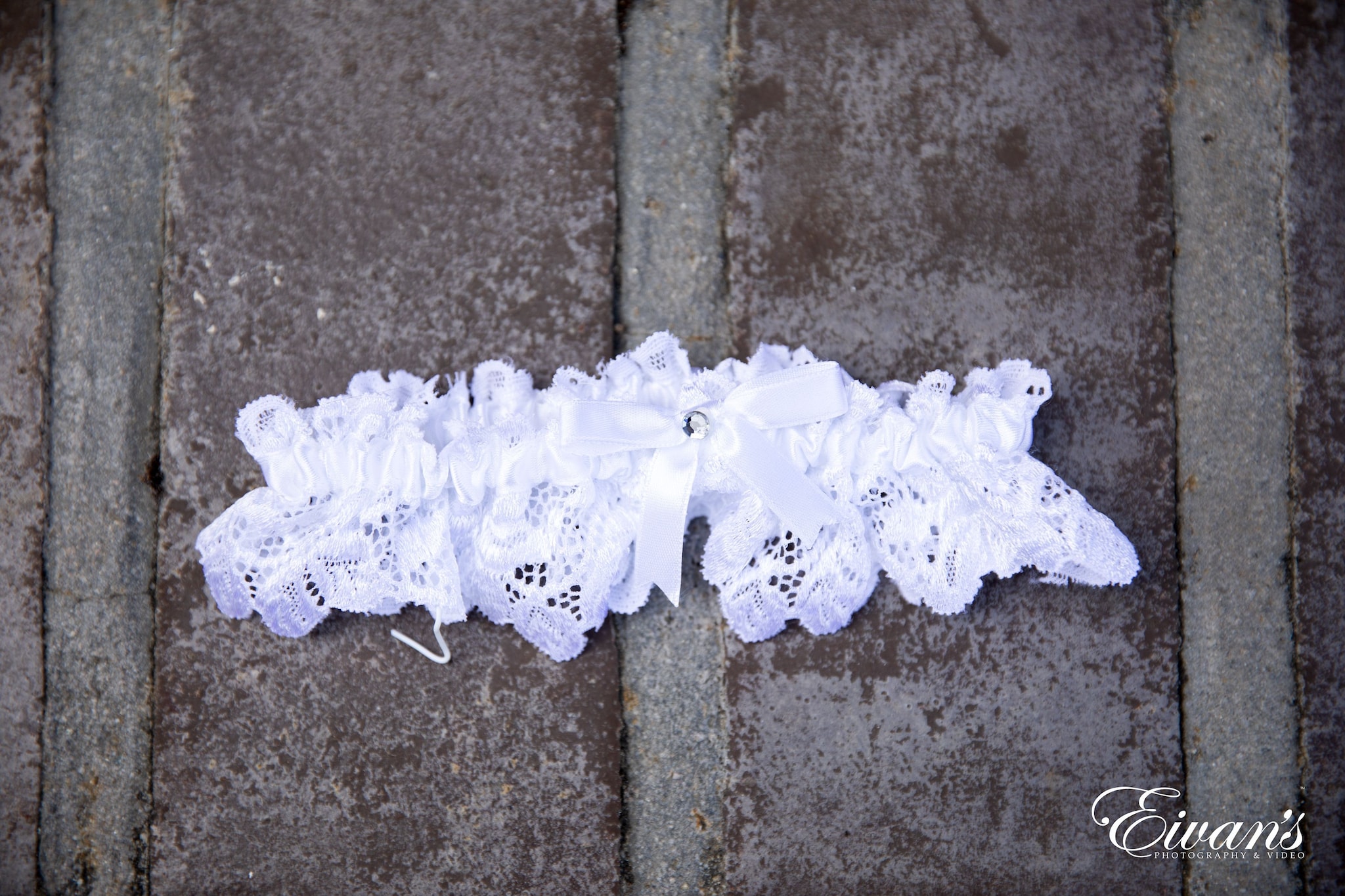 Have a

Themed

Toss
Your wedding will most likely have a theme, and you can substitute the garter item for an object that reflects your theme. If you can't get any ideas from your wedding theme, you can try something else that you enjoy. For example, tossing a football that you've both signed or a stuffed animal with a $20 note.
Another creative idea is for the groom to toss his boutonniere, which represents love and beauty, to the single guys. I have a friend who wore a custom made bracelet on her big day, which the groom removed and tossed it in place of the garter.
2. Balloon Surprise
What you need for this idea are opaque ballons of the same color. You put the garter in one ballon, then release the balloons and watch your guests have fun popping them looking for the hidden prize. I love this DIY idea because you can do so much with it. Use Google to figure out the kind of things you can stuff balloons with.
For instance, you can decide to fill the other balloons with personal notes to your guests thanking them for coming, which they can keep as keepsakes. Little gift cards, candies, and fortune cookie notes will also work. Go big with it and have an unforgettable event.
3.
Wedding Reception
Games
Another fun idea would be to have an exciting wedding game such as the limbo stick dance where the single guys can compete for the garter. The limbo stick is a fun dancing game where several participants go under a horizontal stick. The stick gets lowered every time a round is complete. The winner is the person who goes down the lowest without touching the stick or the floor.
Musical Chairs is a lot of fun and is sure to keep the guests laughing and entertained. This time the single men dance around a group of chairs that are fewer by one seat than the guests playing. When the music stops abruptly, the players have to sit on the chairs. Whoever misses a chair gets eliminated, and the game goes on until there is a winner.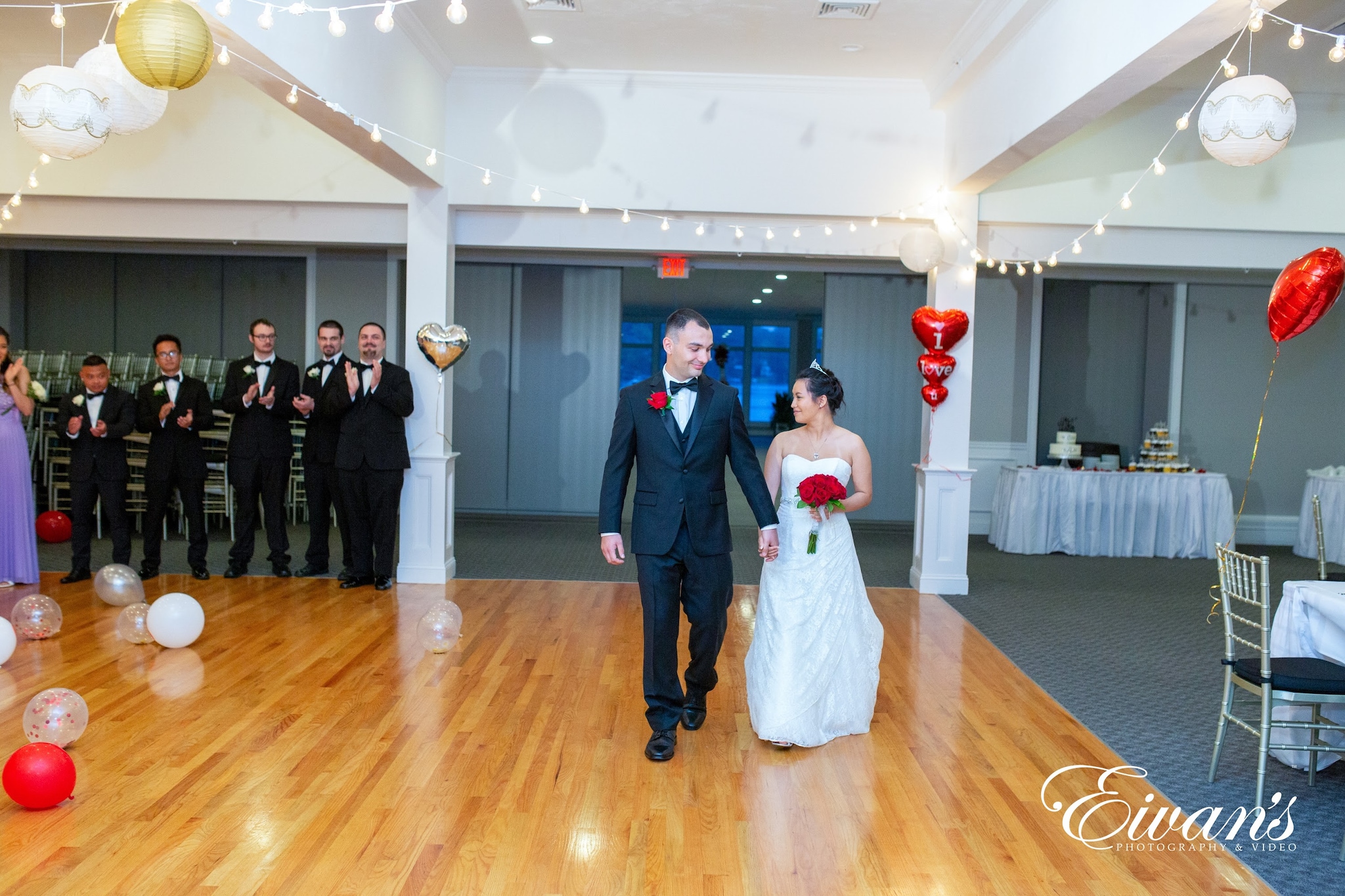 4.
Breakaway Bouquet
The breakaway bouquet is an entertaining activity in which everyone is a winner. The bridal bouquet is separated into several smaller bouquets or single stems to allow more people to get a piece of it. The groom can use this same idea with his boutonniere to toss several boutonnieres in place of the traditional garter toss.
He can expand this fantastic idea to make it sentimental by attaching good luck notes on the stem of each boutonniere. That way, several guests can have good luck keepsakes from the wedding. Alternatively, you can both forgo the bouquet/garter toss and instead toss some candy, chocolates, or wedding flowers to the guests. All the guests get to participate in this wedding celebration, and they also get a piece of the prize.
5. Toss It Anyway
Did you know that you don't have to wear the garter to toss it? You can have a garter kept ready with your bridesmaids for the event without having to go through with the garter removal scene. It allows you to participate in this wedding tradition, if this is important for you, without going through the awkwardness.
For this, you can get a garter that reflects your style or theme. You could also have your names embroidered on the garter ribbon to make it even more personal. The bridal garter set comes as a pair that allows you to keep one as a token while you use the other one for the toss.
6. Pass It, Forward
Instead of having your single friends compete in a garter toss, you can opt to gift it to your best man or one of your single friends that's getting married soon. You can also keep it to pass it along to your sister or close friend for her big day. Also, you could just keep it as a token to remember and one day you could give to your daughter on her wedding day.
7.
Anniversary Dance
The anniversary dance is a good option if you decide to do away with the bouquet and garter toss. The dance begins with all married couples on the dance floor. Every so often, as they dance, the emcee calls out the couples according to long they've been married. Eventually, the longest-married couple is left, and they get to win the bouquet or even share the first dance with the newlyweds.
If you decide to go along with this idea, the groom can present his boutonniere as the bride gives her bouquet. The anniversary dance is a special way to honor the people who you admire as newlyweds.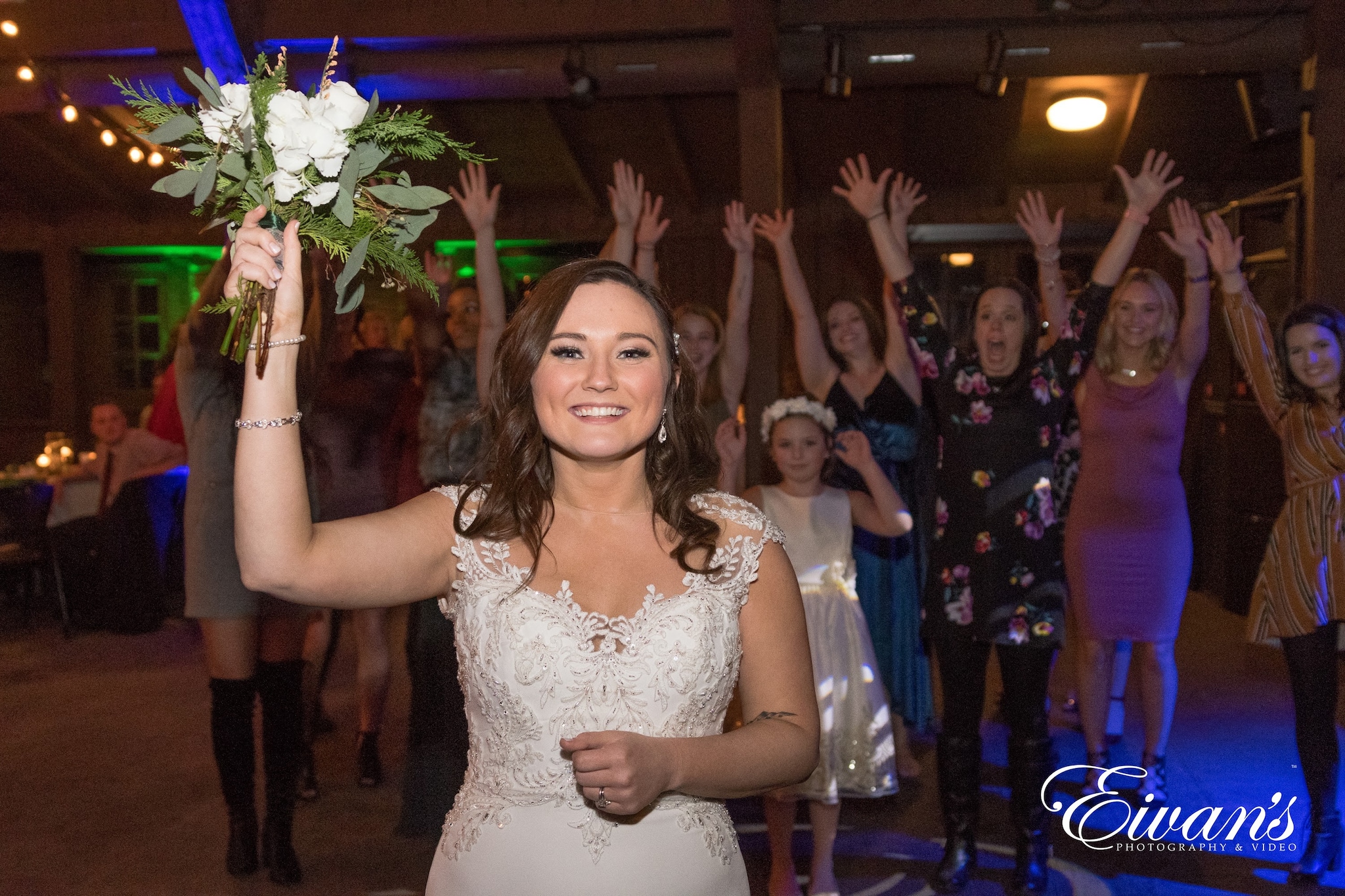 How Does The
Garter Toss
Work?
Perhaps you've decided that you want a wedding garter toss ceremony anyway. That is completely okay and in fact, it can liven up a formal reception and loosen up the seriousness for the evening party. You'll also shine a spotlight on all the singles and perhaps they can mingle in the after-party. Here are some tips to help you perform the best garter toss.
You get to wear the garter as the bride. There is no set rule on which leg you should wear it, only that it should be above the knee so that it doesn't slip off but low enough so that it doesn't chaff. Also note that you don't have to wear it all day, or even wear it at all. You can slip it on for the ceremony or have it on hand for the toss. It's all up to you.
Traditionally, it is the groom who removes the garter and tosses it. So that it doesn't get too uncomfortable, you can wear it just above the knee. That way the groom won't have to reach too far inside to get it. He can use his hands but if you're both bold enough, he can use his teeth.
If you want to buy it yourself, there are several stores where you can buy your garter, and most bridal stores have them. Stores like Etsy have customized ones that you can match with your wedding theme. Alternatively, your bridesmaids can buy it as a gift. It can be passed on to you by your mom or an older sister, there are no rules about it either.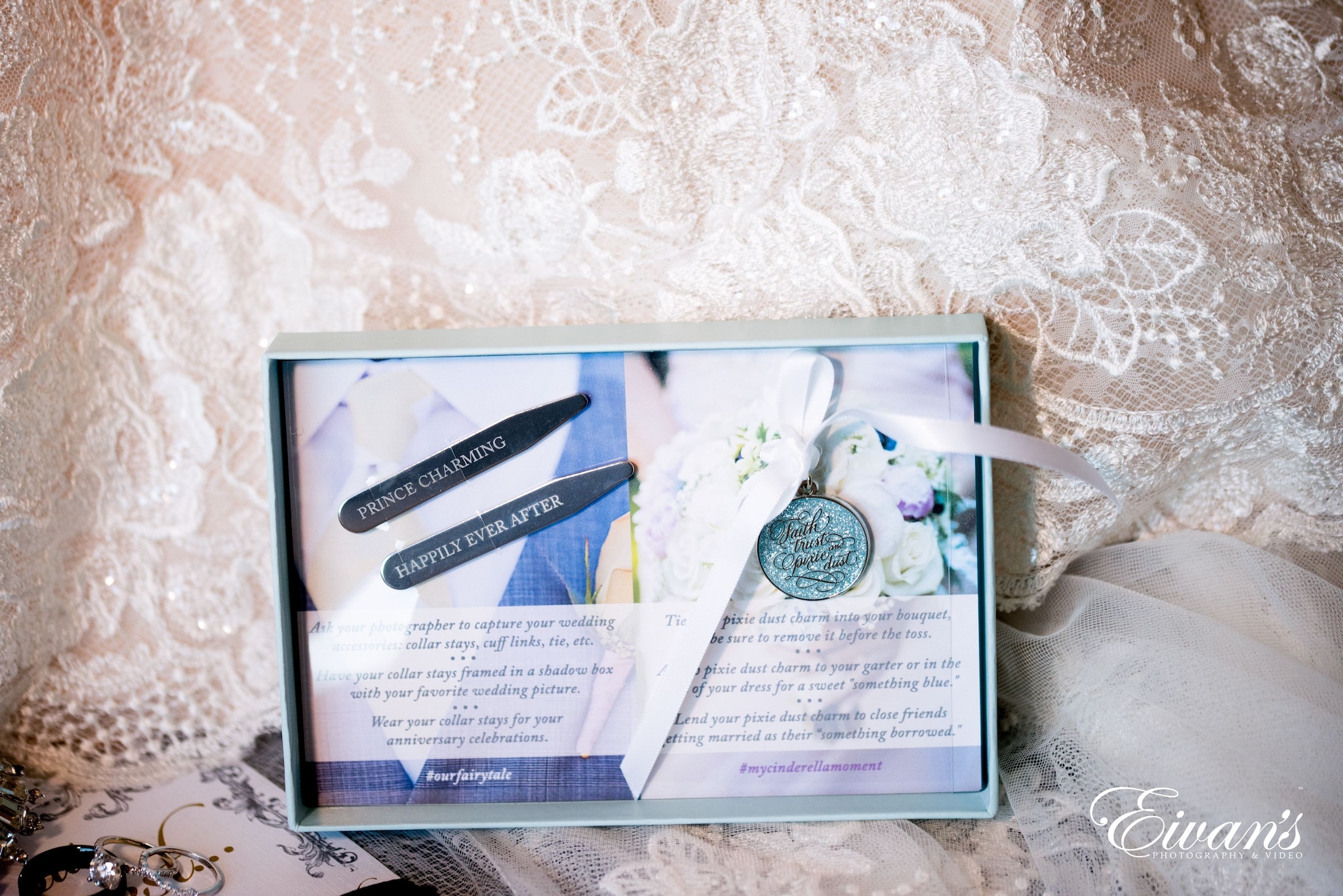 Pop It up With a Sexy Tune
Here are the top garter toss songs you can choose from:
"You Sexy Thing" by Hot Chocolate

"I'm Too Sexy" by Right Said Fred

"James Bond Theme" by John Barry and the London Symphony Orchestra

"Bootylicious" by Destiny's Child

"Baby Got Back" by Sir Mix-A-Lot

"The Way You Move" by Outkast Featuring Sleepy Brown

"Yeah" by Usher featuring Lil Jon and Ludacris

"She's a Lady" by Tom Jones

" Foxy Lady" Jimi Hendrix

"Brick House" by The Commodores
Whether you decide to go with the garter toss tradition or to make your wedding reception interesting with alternative ideas, make sure that it's something you and your fiance have agreed upon during the wedding planning.
Also, gauge the reaction of your wedding guests in advance so that it doesn't fail. Your single guests may not appreciate being called out like that, or you end up hitting a guest with it.
On the other hand, it could turn out to be the highlight of the wedding reception. Whichever you decide on, the most important thing is that you have fun on your wedding day.