11 Dazzling Engagement Picture Ideas
By Eivan's Photo & Video Editors
Many couples wonder what are the best engagement picture ideas. After all, it can be tough to find what suits you and your partner's taste.
Should you go for cheesy ones? Perhaps, you'd like funny photos? When it comes to engagement photos, you can choose from so many different options. But, of course, you want them to be special and unique. This is why we've put together these 11 dazzling engagement picture ideas you can consider.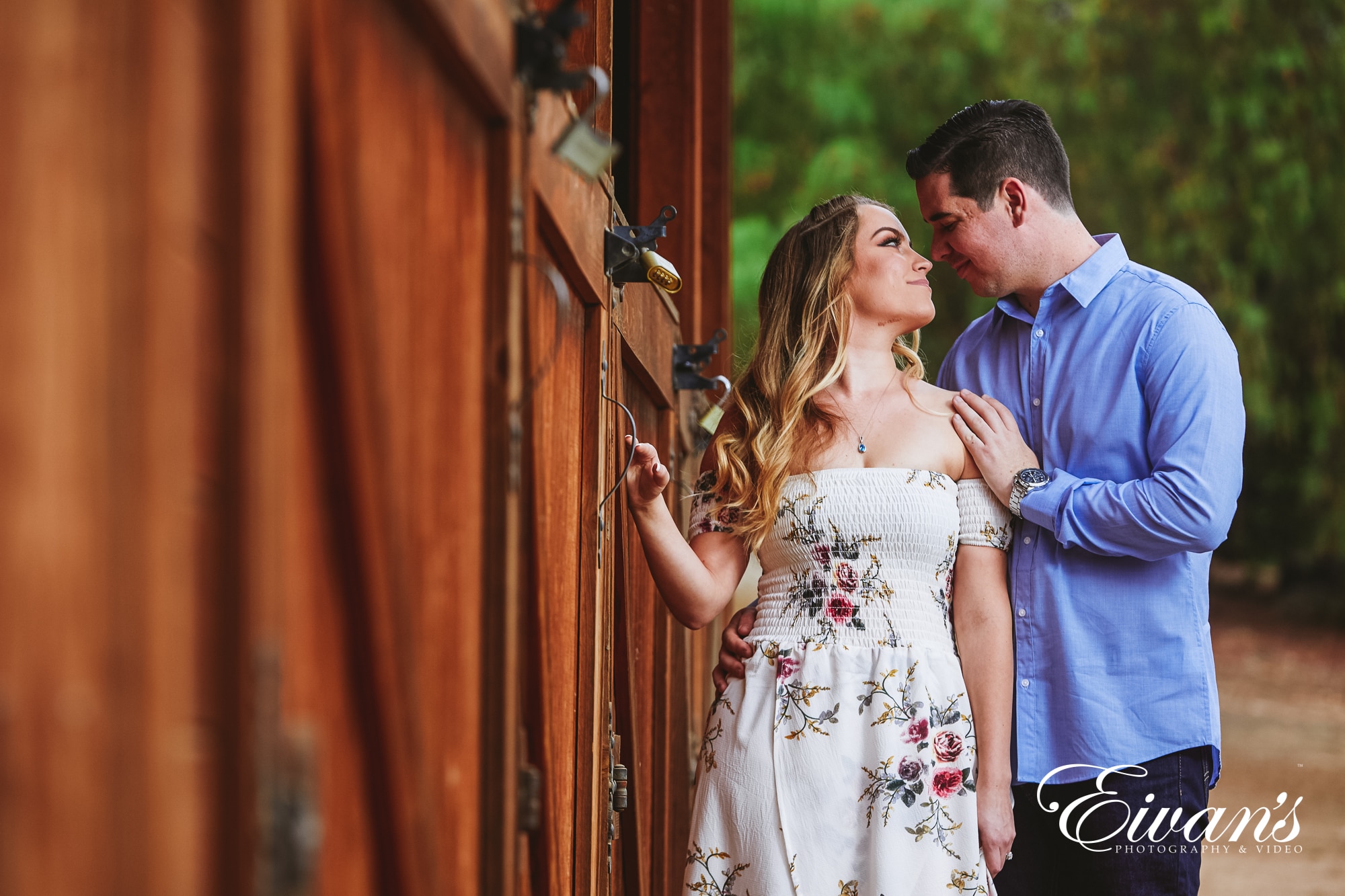 Picture Ideas That Can Dazzle Your Day
Before you head off to your photo session, we think it would be good for you to know more about engagement photoshoots. You could look up our website about locations, timing, colors, and poses that will make incredible formal engagement photos. There are also plenty of technicalities, but we won't bore you with that here, though.
Most importantly, you should make sure that you and your partner discuss with each other the kind of feel and look you want when we are done capturing your photos. This will help us to narrow down the choices for what will make the best engagement picture for you. To assist with that, we've included some of the best engagement picture ideas below.
A Nature Walk by the Water
Nature walks are great ideas for engagement pictures, simply because there are so many amazing coastal areas in the US alone. Even if you have a waterpark or lake nearby your home, that will still work just as great. With what our team can do, we can practically make anything look good in the photo with just a touch of props here and a perfect pose there.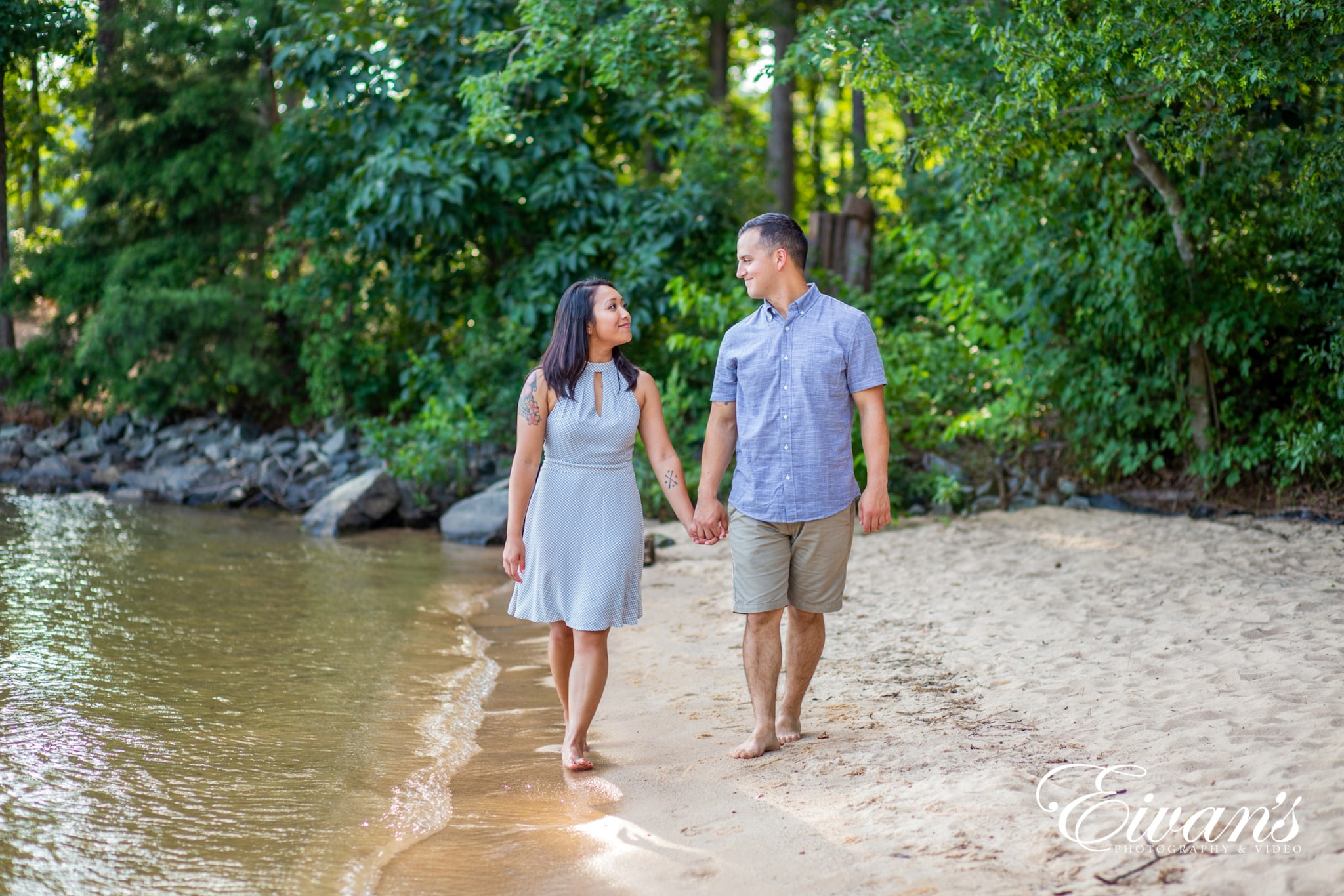 An Elegant Sunset Session
When the sun's about to sink, there's something naturally beautiful about it that we just want to capture. It truly casts an incredible scene that makes a perfect engagement photo. What's more, we can capture a sunset engagement session virtually anywhere, so we don't have to go to a far away or special place. Under the amber haze of the sky, we can capture the magic touch that makes your engagement picture ideas truly dazzling.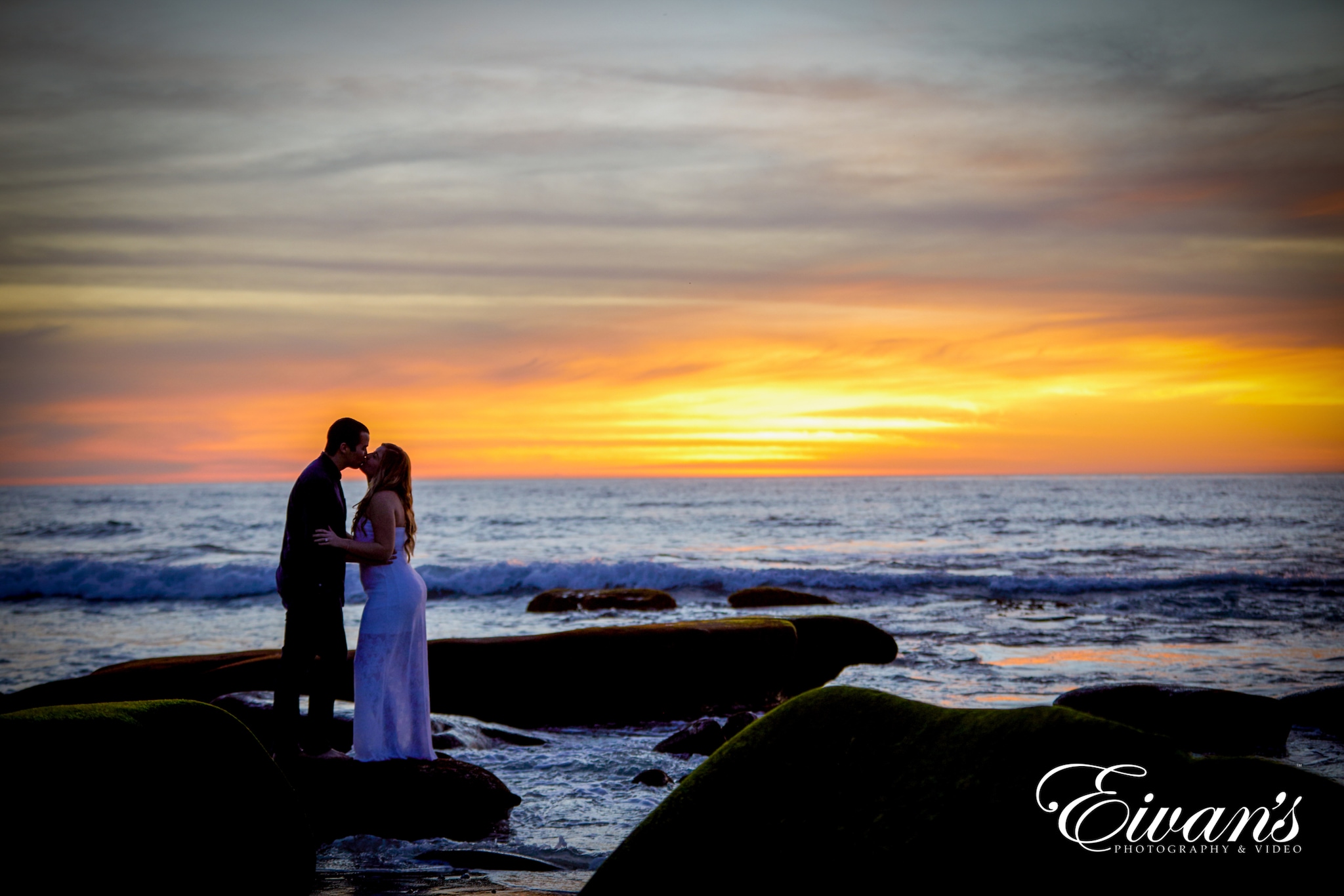 A Dip in a Refreshing Waterfall
Going on a drip in a waterfall for your engagement photo is a both dreamy and refreshing for engagement picture ideas. Couples who like nature, outdoors, and adventure will find waterfall engagement photos to be truly dazzling. The US has some of the most iconic waterfalls in the world, which means you have many options without stepping out of the country.
It's not just the falling water itself and the river below that makes the natural attraction a site to see, but also the dramatic landscape around the area, not to mention the occasional rainbow or two. These all make an arresting beauty that will make any engagement photo breathtaking.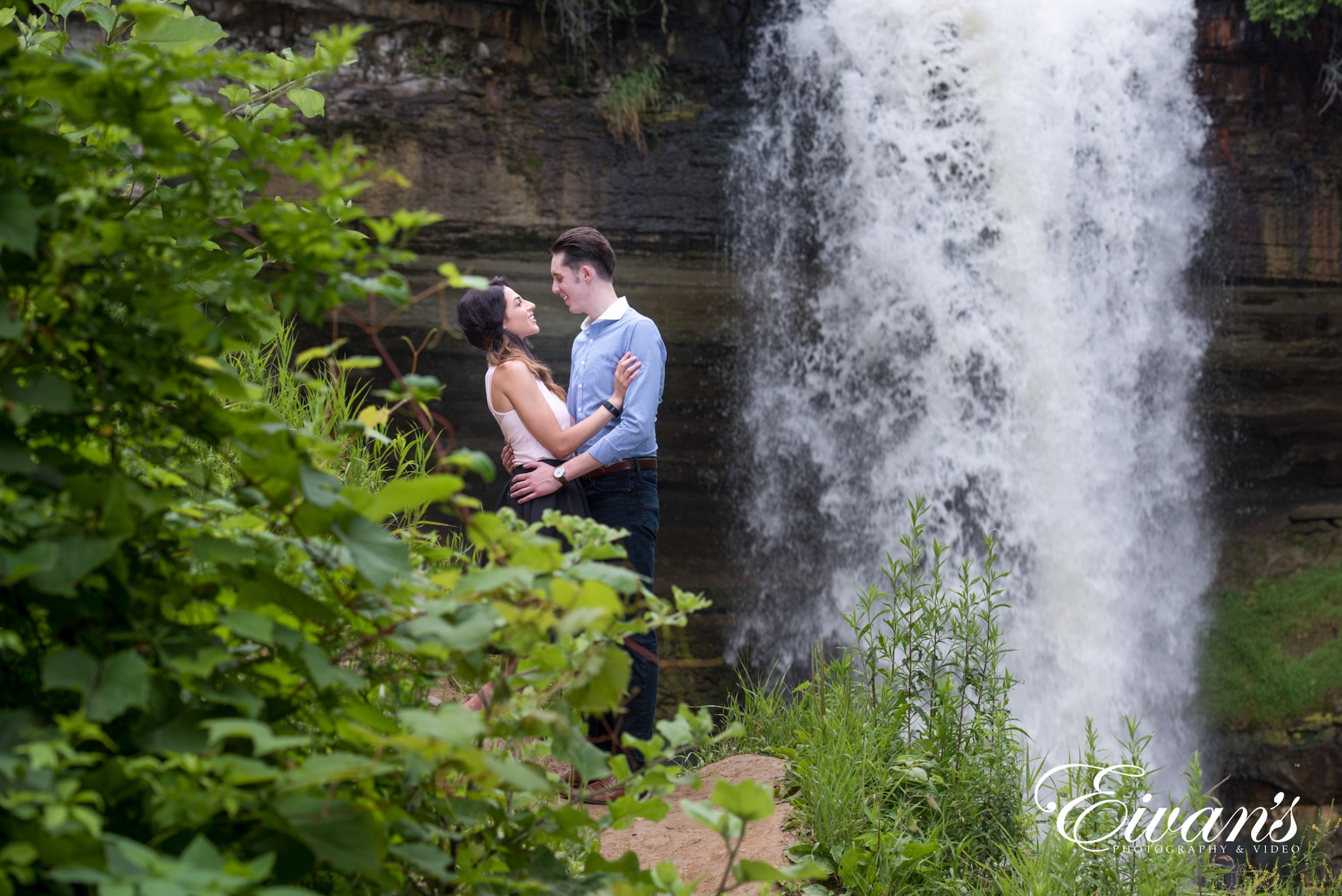 Under the Romantic Stellar Sky
If it's a romantic, truly dazzling engagement photo ideas you want, then a starry night engagement is absolutely perfect. So, the luminaries are out to make this special day extraordinary for you and your loved one. Night pictures have always been alluring and popular with the stars seeming to double the lights in your eyes.
Also, a photoshoot under a romantic stellar sky is magical and enchanting. Now, it's not easy to capture this magic but rest assured that we can. For your bride, we'll make sure that the elegant combo of blue shades and gold stars sets a uniquely attractive engagement photo.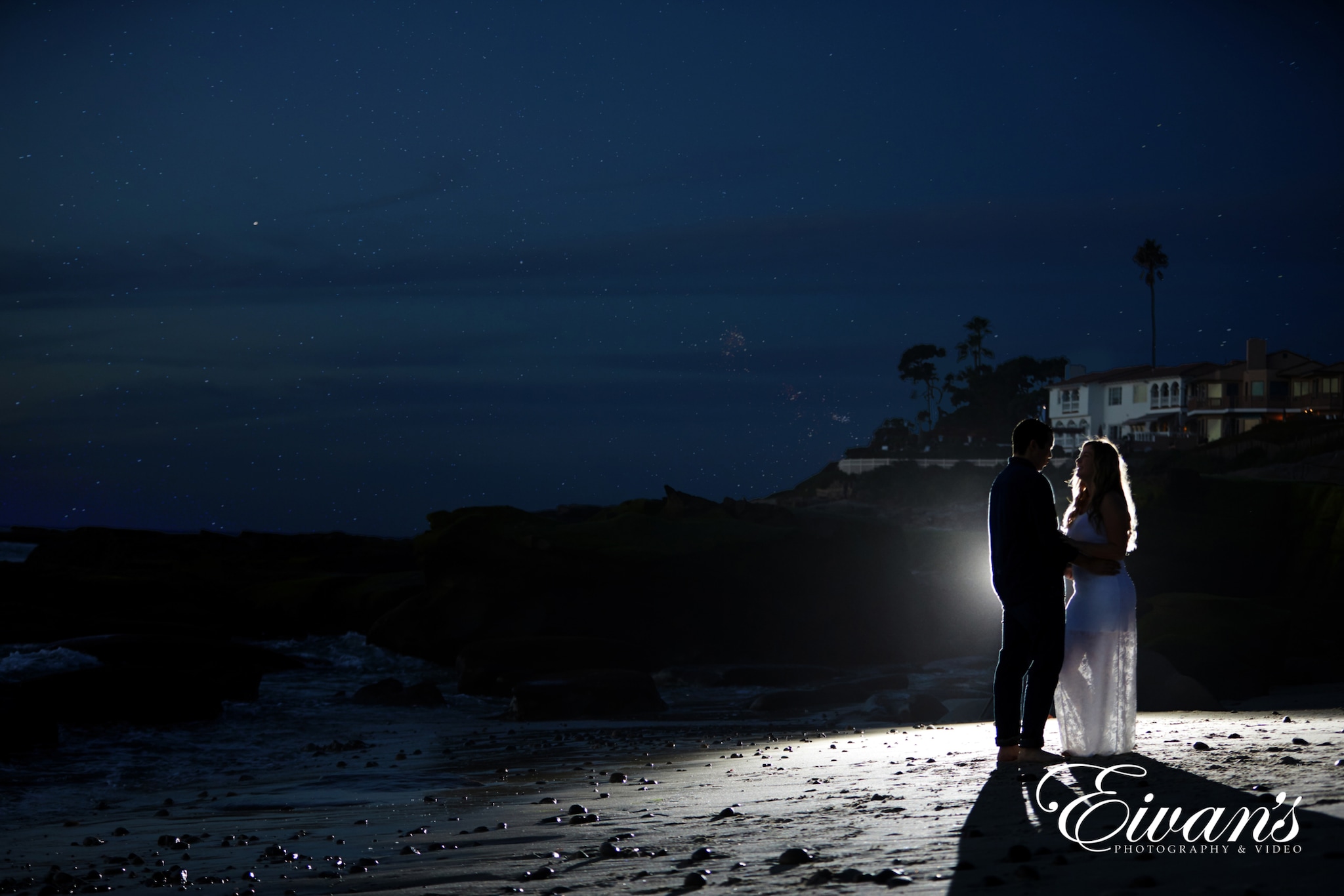 Beauty in the Rain
Rainy days can offer fun engagement photo ideas too. There is beauty in the rain and we can capture that for you. Although it may seem gloomy at first, but through our skill with the camera and some creativity, it could be an amazing feat.
Inclement weather isn't always a couple's worst nightmare. Instead, it could be an opportunity to capture dreamy engagement photos that only highlights your romance. A typical shower can be just what you need for a romantic backdrop to dazzling snapshots.
Let's Go Old School
Another stunning style for a photoshoot would be to go old school. Vintage can even bring great engagement ring photo ideas. What's old is often new again and that makes classic engagement themes a new trend. If this is your style, we can help recreate and capture the 20's glamour, the 50's rock n' roll energy, or the 70's free-spirited feel in your pictures. With lace gowns, retro-inspired dresses, and antiques in the background, your engagement photos will be quite striking.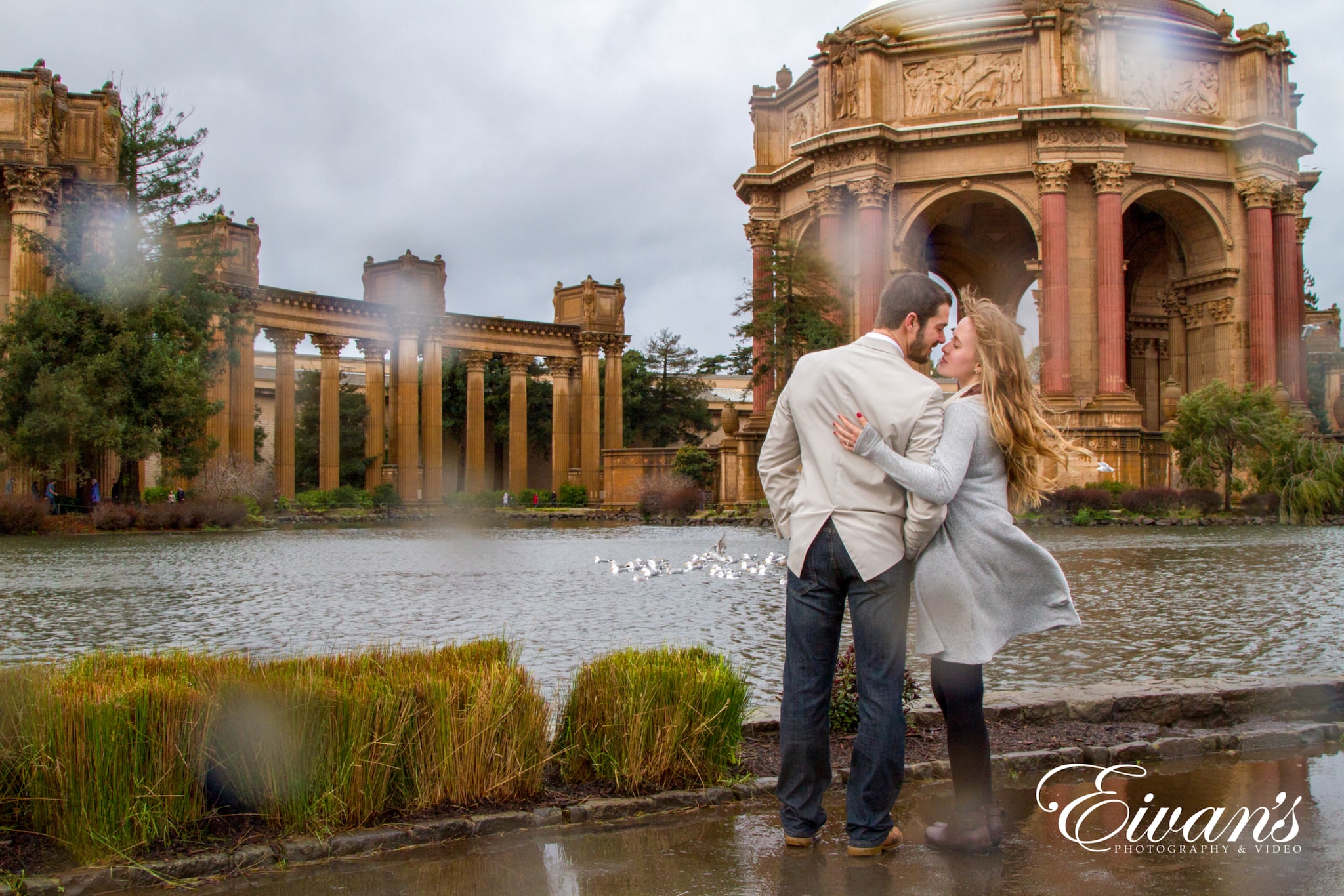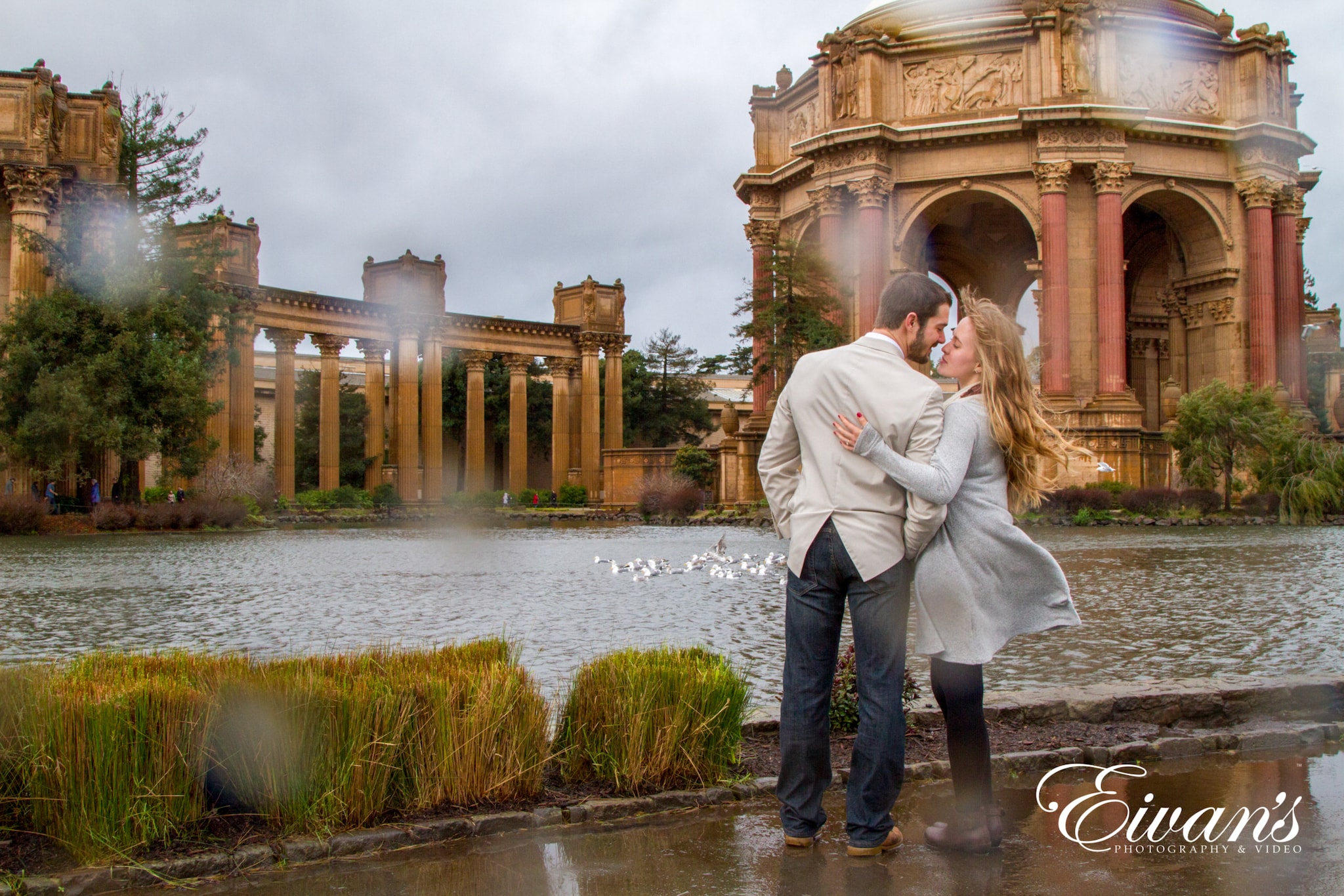 A Private Paddleboat Ride
Who said boating can't be romantic? It is and we know how to make a private paddleboat ride be perfect for your engagement photo session. A couple's romantic boat ride is a beautiful and natural backdrop that can make an engagement photoshoot completely heart-melting.
A rowboat for two, the shining water underneath, plus the gorgeous green hues all make a stunning composition for a private affair. Besides an engagement photo, you can make it a weekend getaway or a vacation keepsake at the same time. Isn't a boat ride in sunset such an attractive picture that takes your breath away?
Classic Close-Up Kisses
If you're crazy in love, we're not against showing it in your photos. We can go with the classic close-up kisses for your engagement photoshoot or we can keep it light with a whimsical touch – whatever you want.
It is true that kissing engagement photos are not for everyone. But some couples don't feel shy about it and that might be you. If you want, we can make it a little more light-hearted by making the poses fun. We can even use fun props to hide your faces. This way, it is both a fun and passionate photoshoot.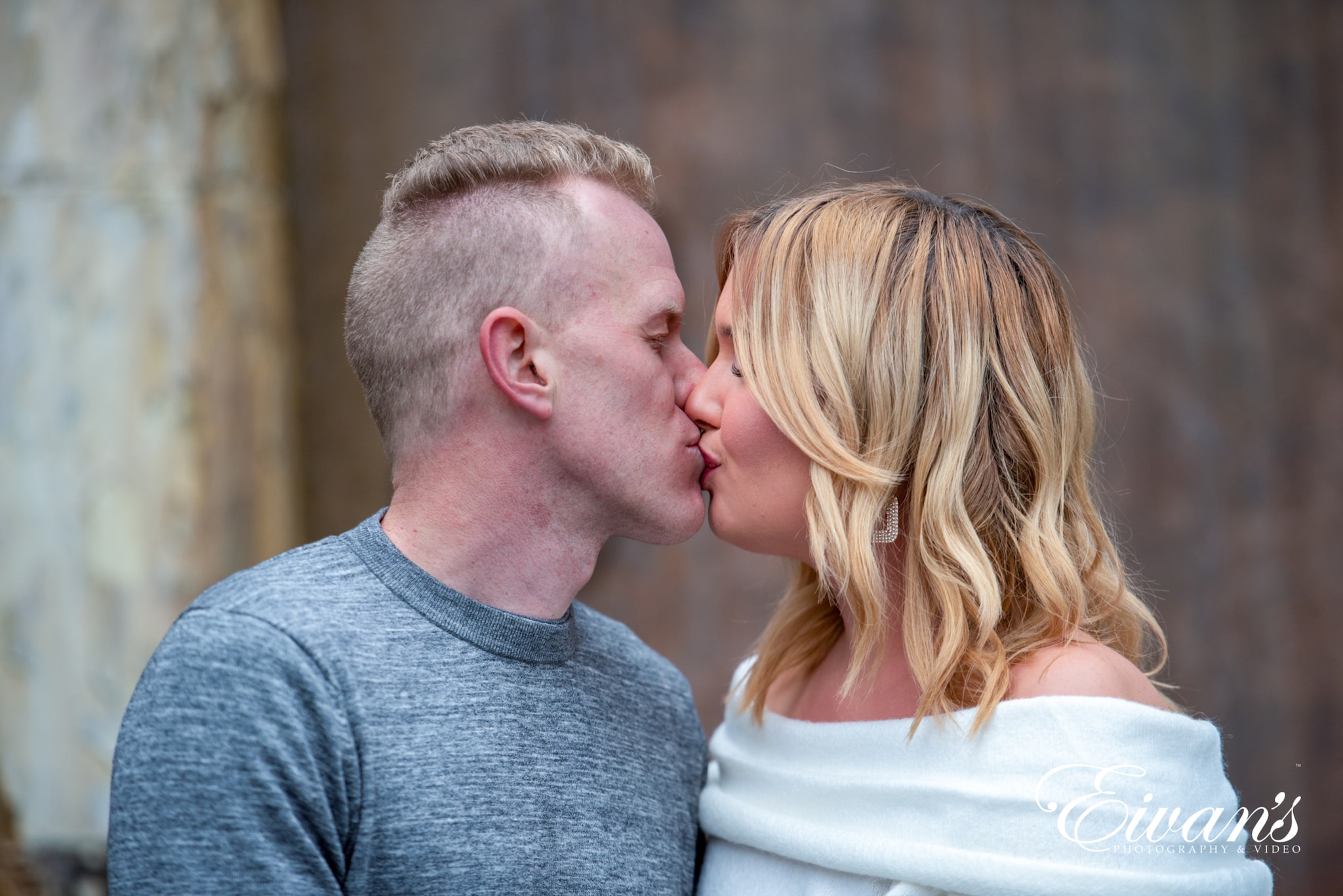 Amid the Crashing Waves
The sea and the ocean are both dazzling locations perfect for dreamy engagement photography ideas. Just like with a boat riding photoshoot, this can be an engagement session/vacation that serves as a precursor to your wedding. It will be quite a wistful scene to see you and your partner amid the crashing waves.
If your idea for the best engagement picture is one with Mother Nature as a background, we say go for it! If you love the beach and the sea, we can gear up to making picture-perfect engagement photos that capture the very best of you. Whether it's romantic, playful, or dramatic, we got you covered.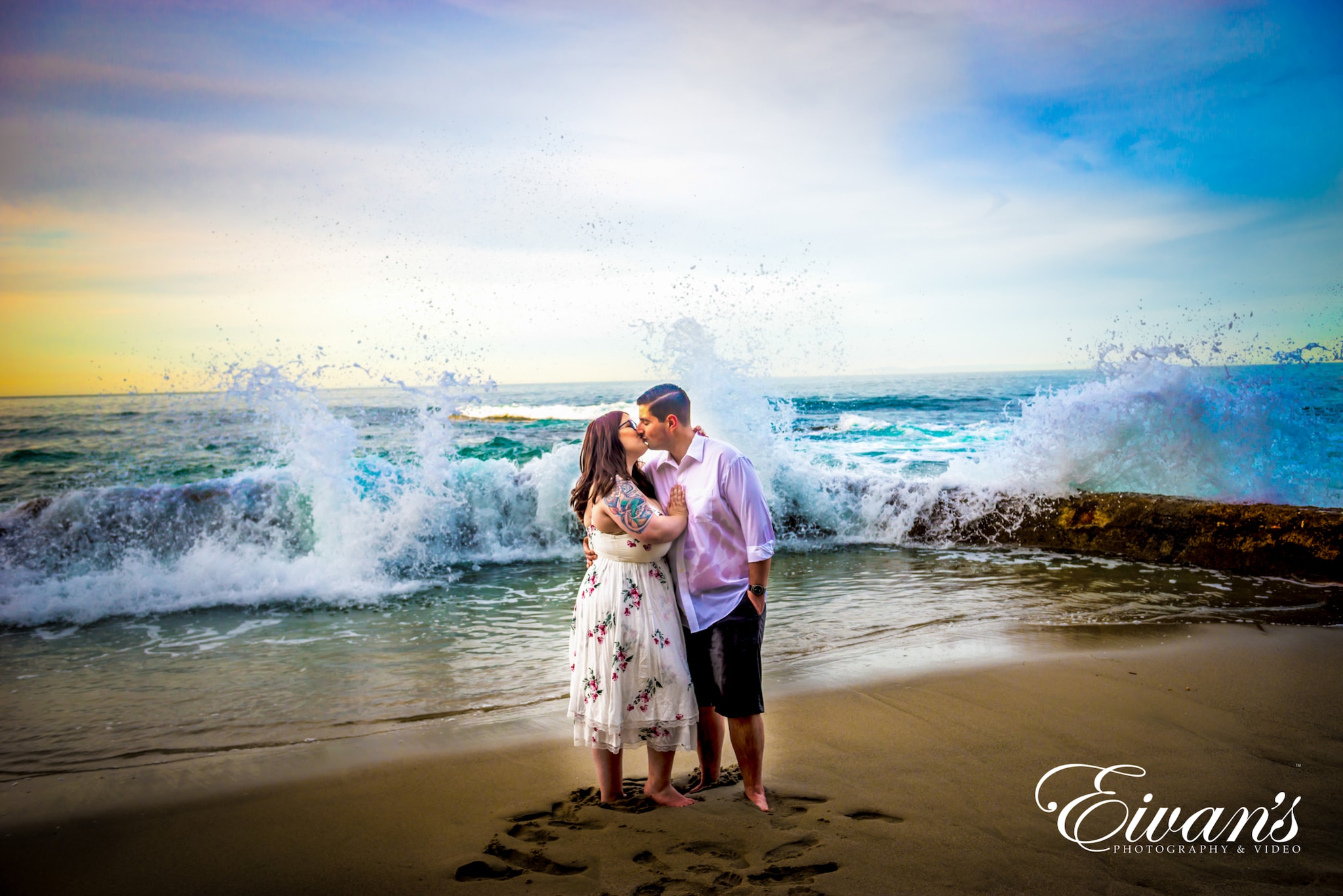 A Winter Wonderland
Winter may be harsh, but it's also magical and romantic. No wonder it is one of the most popular engagement photoshoot themes. It has this mystical fairytale vibe, which is nothing but gorgeous. All that white snow is dazzling to the eyes, simply a pure perfection that will make any picture striking and memorable.
The good thing is that a winter wonderland theme doesn't mean you need to brave the elements. Of course, we can even achieve your ideal winter engagement shoot indoors. With faux snows and white petals, there's nothing that we can't help you with.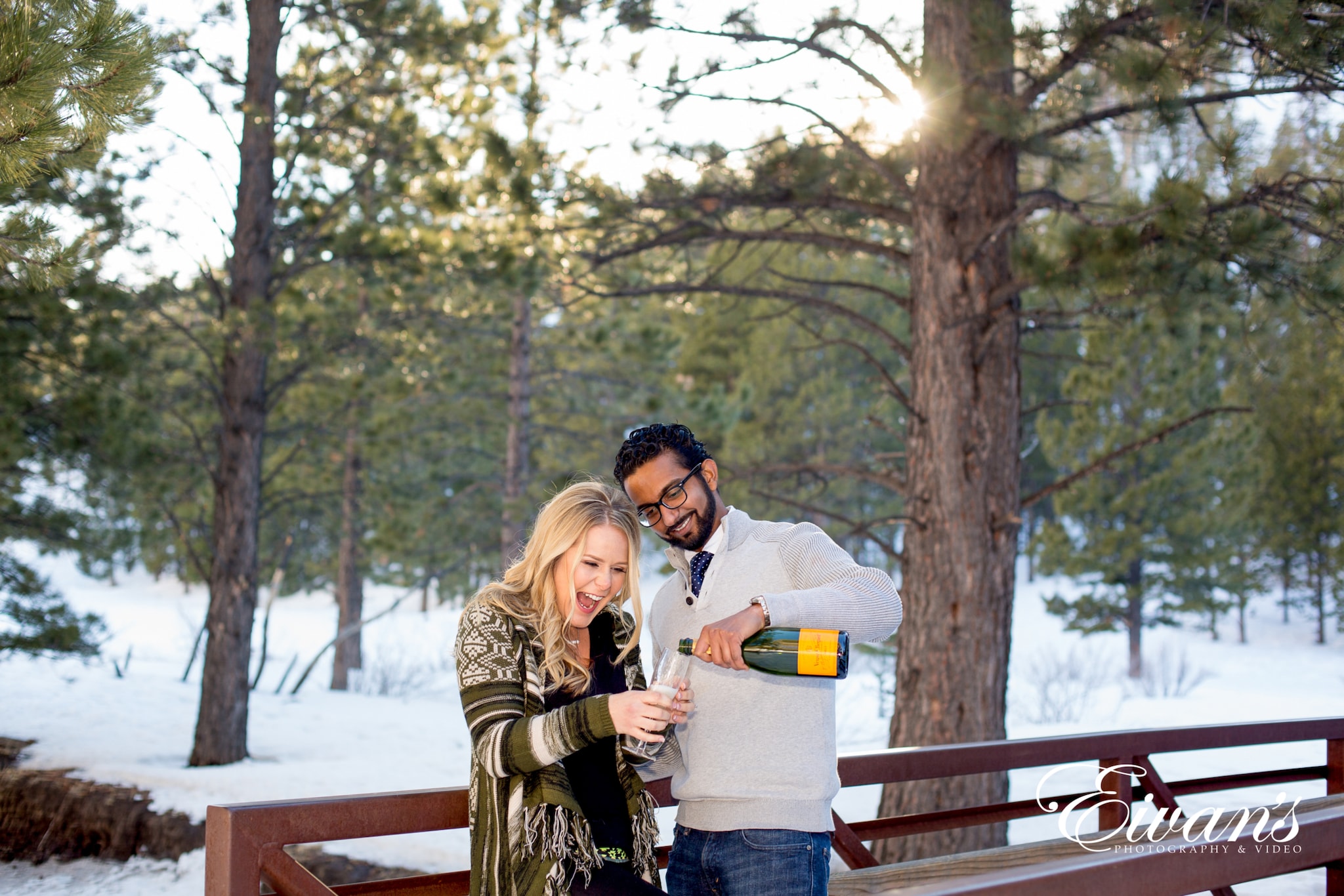 Within a Meadow of Flowers
We can assure you that it's a lovely sight to see you carry your fiancée through all these flowers. When you see such lovely blooms, you can't help but be swept away. The fresh air and the blooming flowers are truly a natural backdrop perfect for shooting.
If your engagement photoshoot is scheduled this spring, we strongly suggest that the meadow be the location where we capture this special moment. It isn't just the background, but the fact that the temperature allows you to have more costume choices. Won't that just be adorable?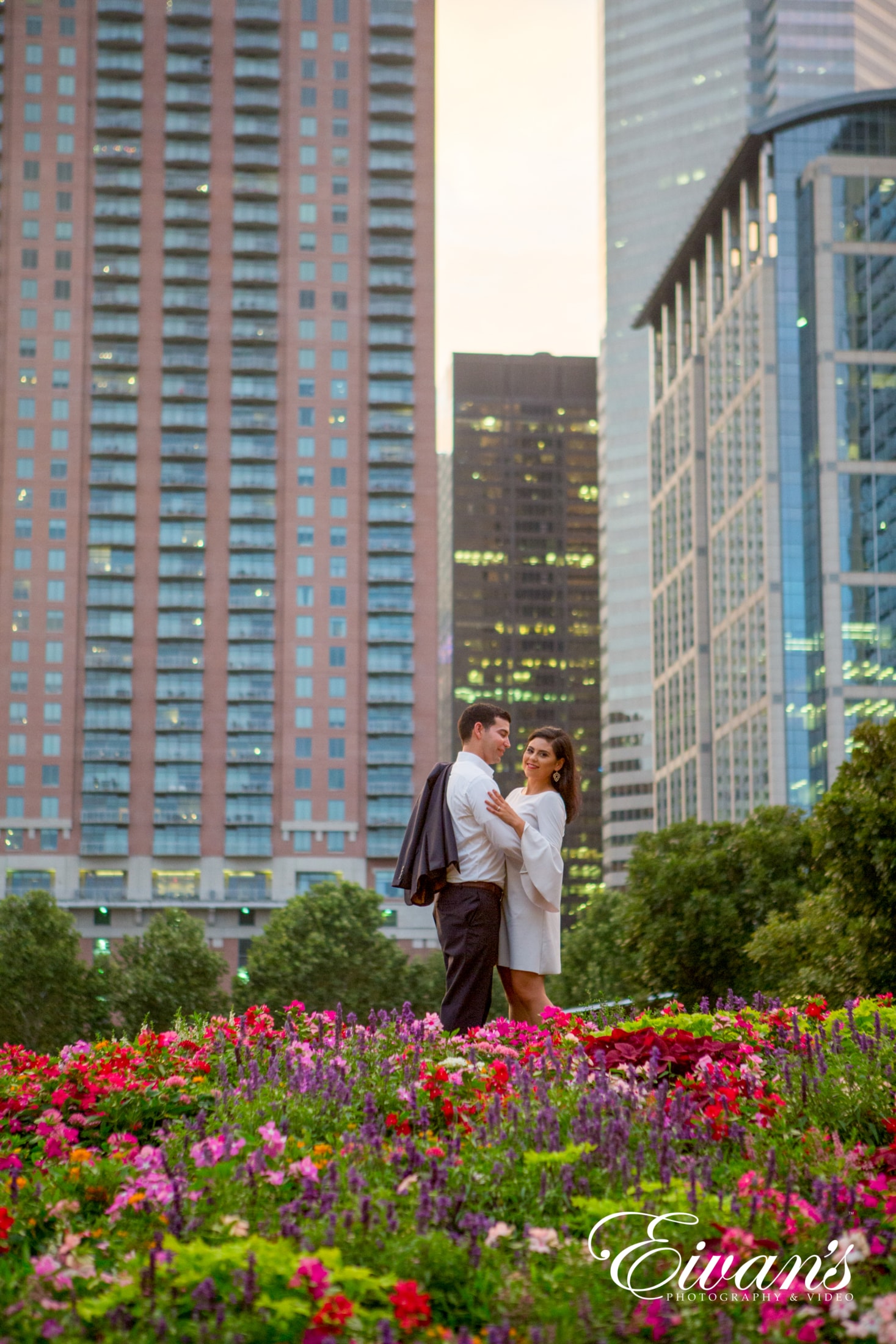 Engagements are kind of a new beginning. It marks the start of a big change in your life. So, it makes sense that you want to commemorate it with stunning pictures that capture your best moments. Also, it is a chance for you to practice ahead of the wedding photoshoot so you can ease your nerves. On that note, we made sure to include here 11 dazzling engagement picture ideas to inspire you. Whether you are looking for traditional, romantic, creative, or fun photoshoot, we have something here for you.