The Ultimate Wedding Photo Ideas List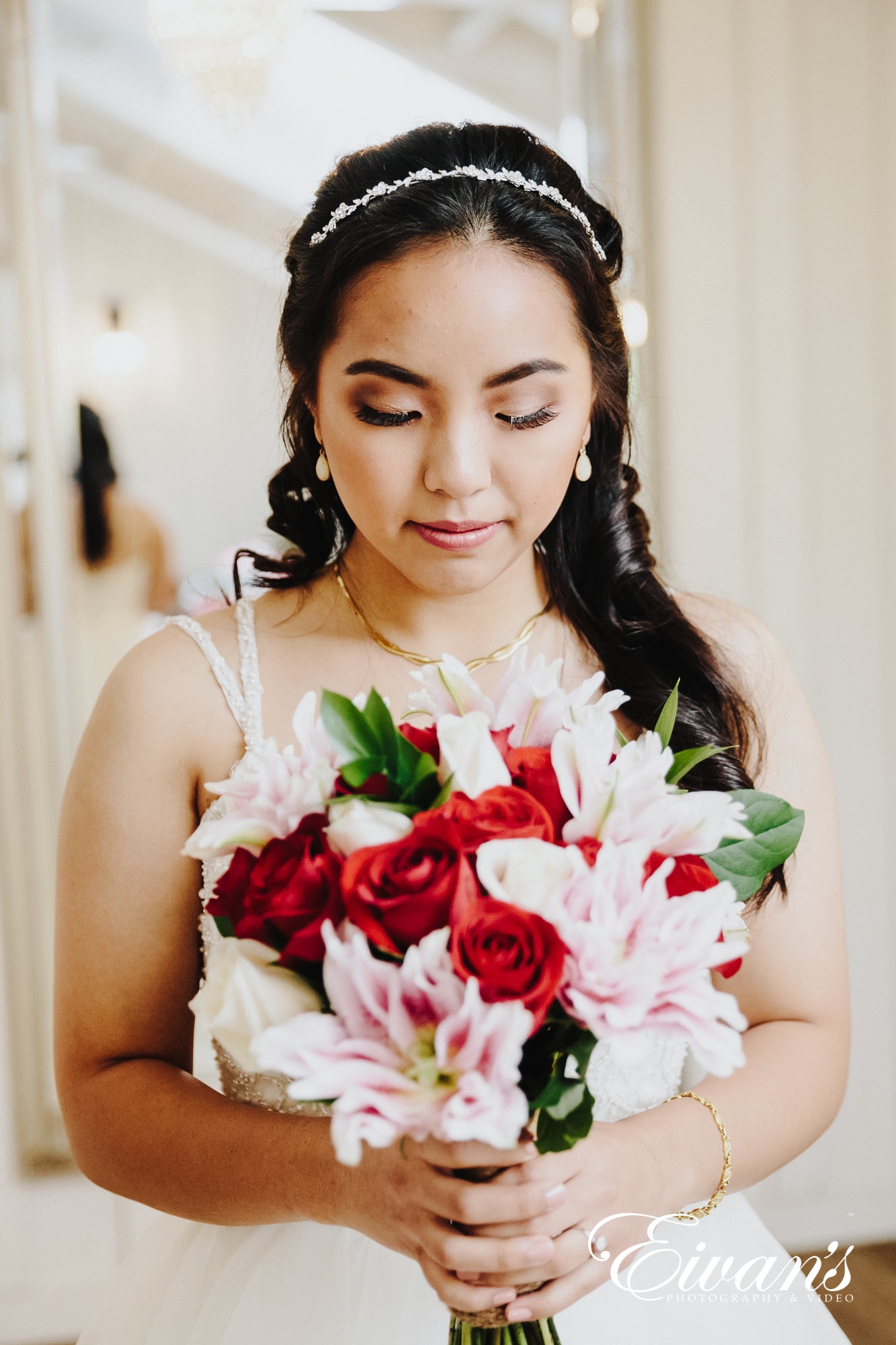 It's your wedding day, and you want a photographer to document the whole event. If you're like me, you'd want the pictures to be unique and captivating, whoever looks at your wedding album should get lost in the beautiful images, they should be mesmerized by it, and when they are finished, they should feel like they went on a spiritual journey of sorts. To achieve that, hire a photographer who is well known for that, we suggest Eivan's, nation-wide, award-winning wedding photography and videography service, well known for capturing mesmerizing photos by customizing wedding photo ideas list according to the customer.
If you've already hired a photographer and want to have a unique photo album, to inspire you we've created this wedding photo ideas list. Just give it to your photographer and they'll do the rest.
Pre-Wedding Photographs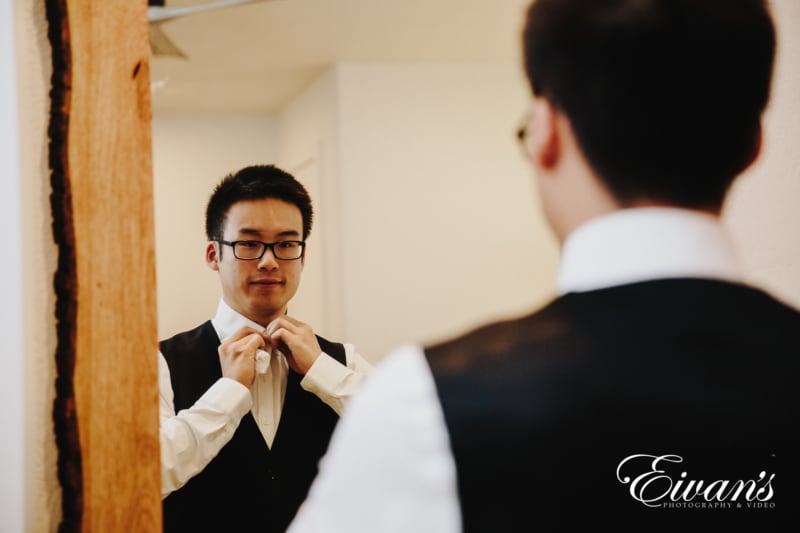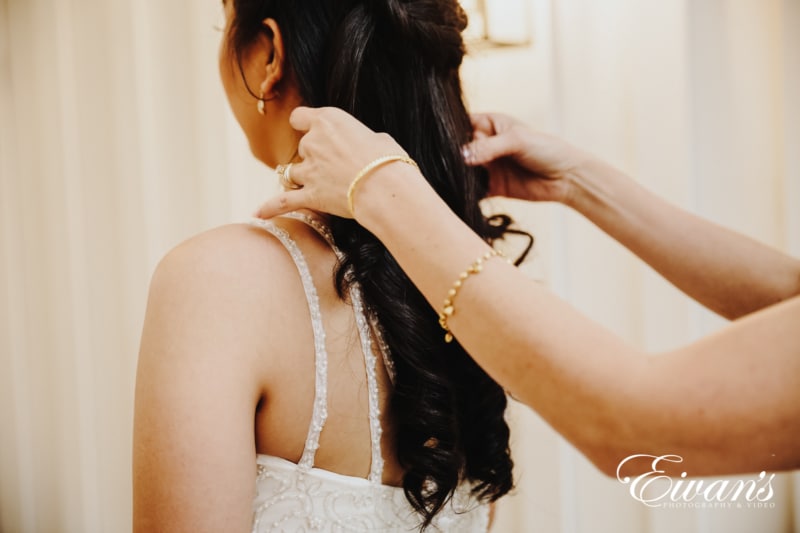 Pre-wedding ceremony and reception photographs are usually traditional, but it's not a hard and fast rule that you have to follow; after all, it's your wedding day, and you deserve to have fun, so don't shy away from getting creative to make your wedding more memorable.
Morning Gifts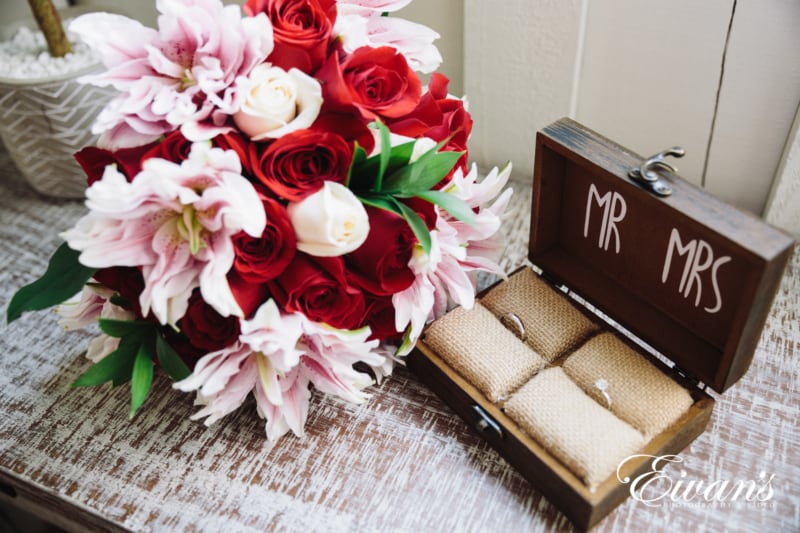 On your wedding day, if you and your other half have decided to do gifts, then you should get the reaction photographed! It will make a beautiful picture and must be added to your wedding photo ideas list.
The Attire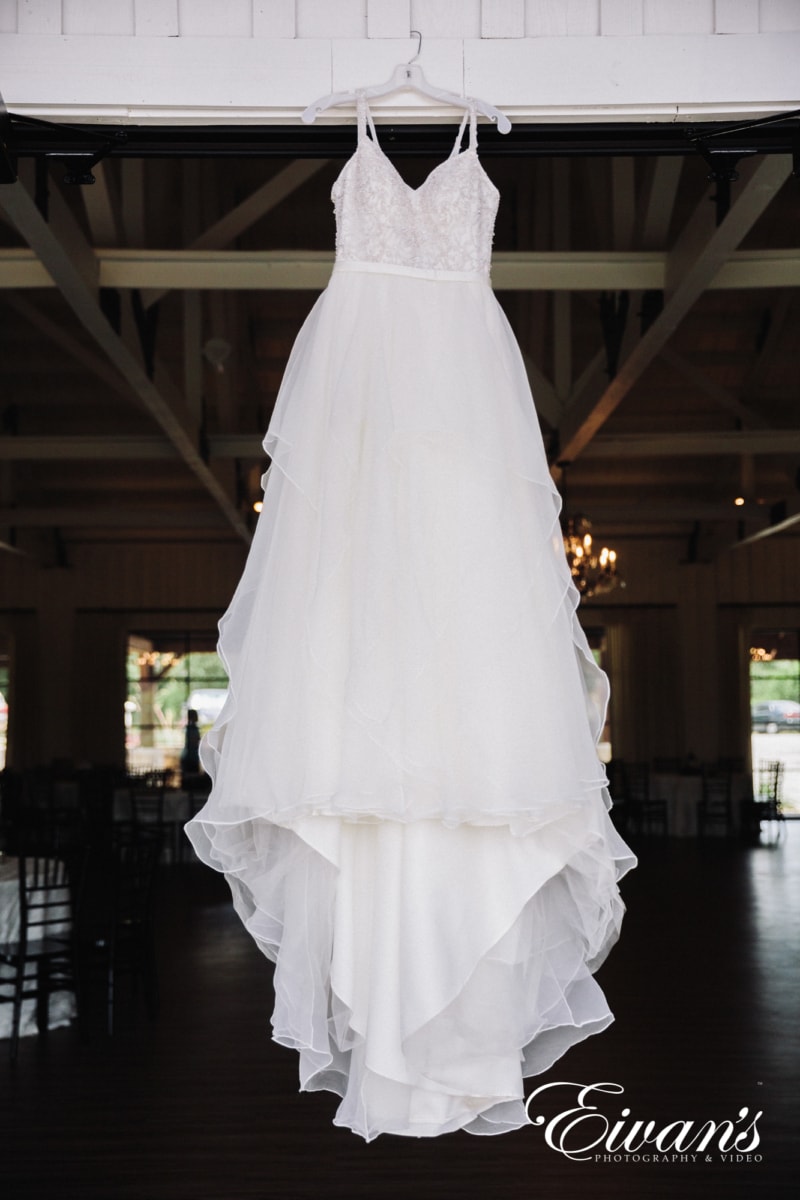 Pictures of the bride's and the groom's clothes and accessories make a good picture; most photographers hang the bride's dress and then photograph it. You can change it a bit and get it photographed when it's being brought to you. Accessories such as shoes, watches, rings, belts, tie, etc. can also be snapped from different angles to get the pattern and design.
Getting Ready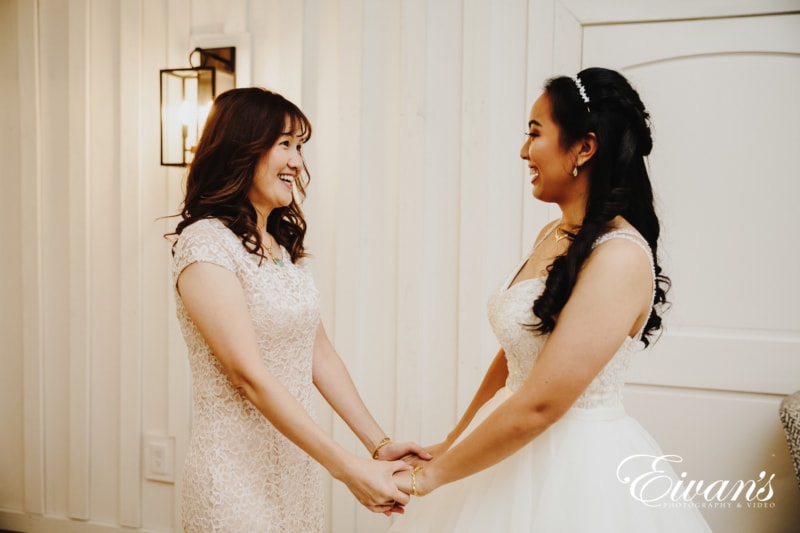 Preparation shots are a valuable addition to your wedding photo ideas list. Get a picture of you and your other half getting ready. When the bride's getting her hair and makeup is done, the random laughs make great photos. Add a picture of the bouquet with and without the bride. Bride putting on her dress with the help of her mother or bridesmaids, groom putting his tuxedo on, etc.

For the bride; You've put on the dress, your hair and makeup are on point, but you're feeling a bit nervous, and you want to take a moment alone outside, get that photographed as well, the natural expressions make the pictures look good. For the groom; After getting ready, you decide to go outside and take a look at your vows; this moment will make a great picture, so add this on your wedding photo ideas list. Another thing you can do is take photos with your parents and bridesmaids or groomsmen; the laughter and happiness will add life to your pictures.
First Look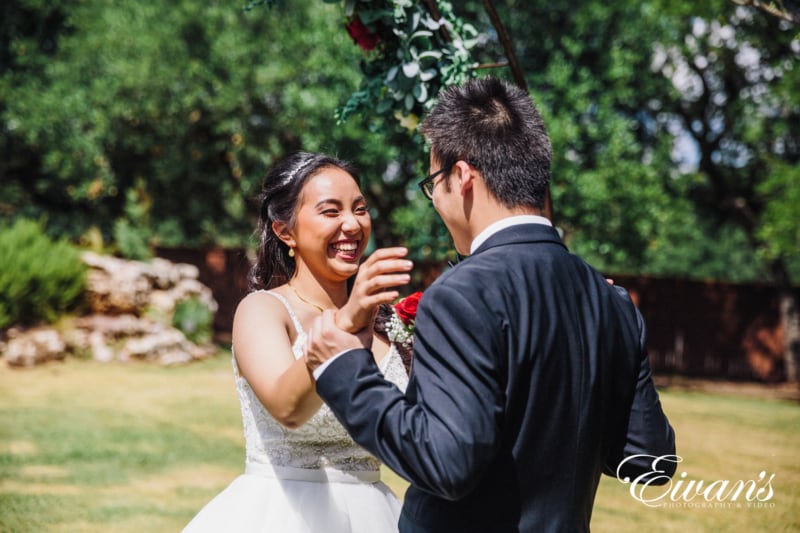 First-look photos are becoming widely popular these days, so if you are not following traditions, then this one should be added on your wedding photo ideas list. Let's suppose you and your other half went outside after getting ready and found each other; those expressions would be priceless, so let's hope that your bridesmaids and groomsmen conspire to make this happen*fingers crossed*.
The Venue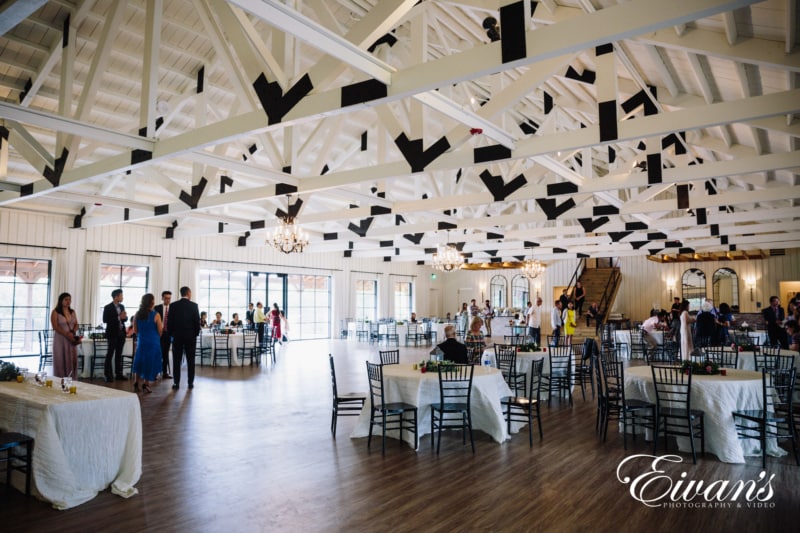 You spend a lot of time to decide the venue for the ceremony and all the other details such as flowers, table cloths, etc., so it's a good idea to get it photographed when it's empty.
The Wedding Ceremony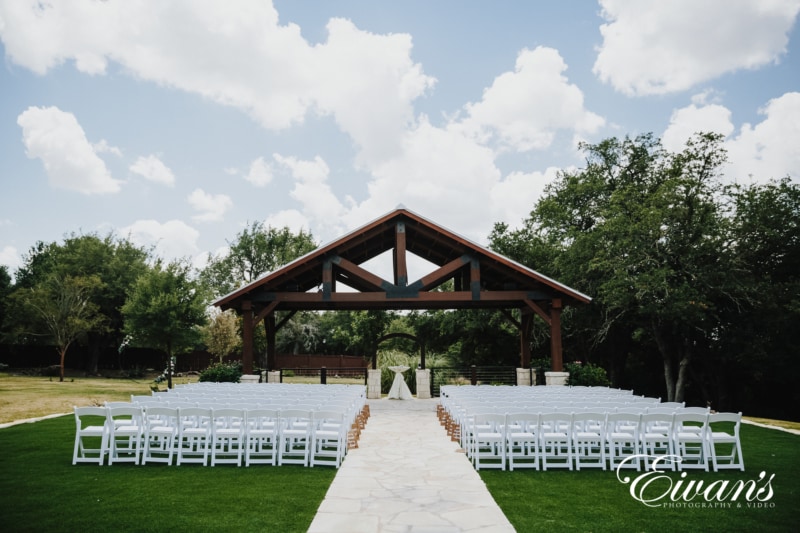 Arriving at the Venue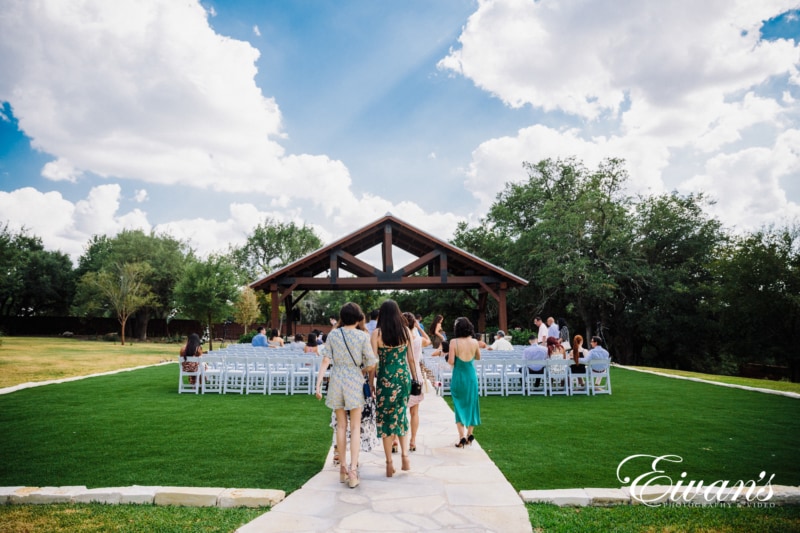 Get your photographer to take pictures when you arrive at the venue; to make your photo album better, you can add an outdoor element to the photographs.
Groom Waiting for the Bride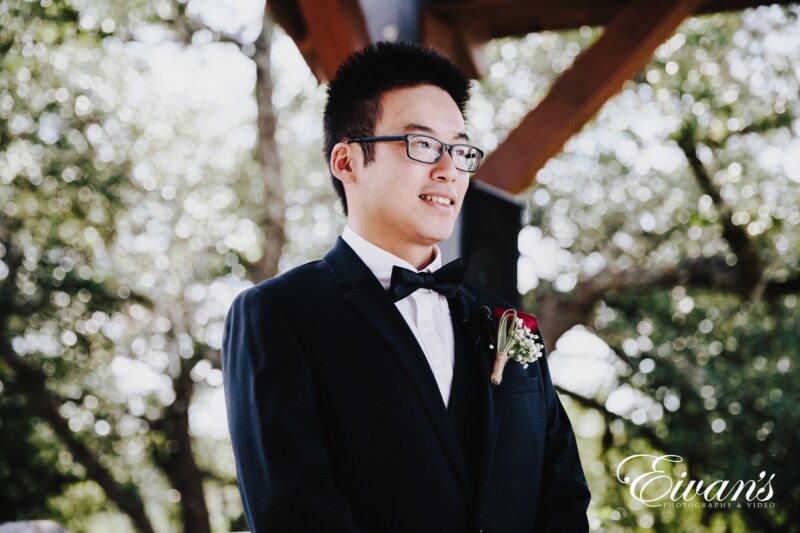 Ask your photographer to capture the moment when your significant other is waiting for you to walk down the aisle, these make great photos!
Walking Down the Aisle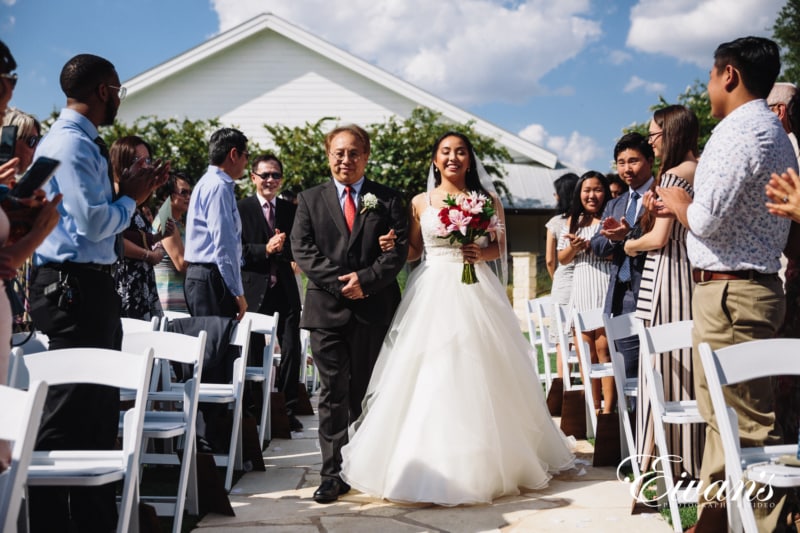 Your photographer is going to take this picture even if you don't have it on your wedding photo ideas list, but if you want it taken from a different angle, then you can guide your photographer about it. Choose an angle that shows you walking down the aisle and captures guests' expressions as well.
The Ceremony
Without a doubt, your photographer will have this one on their list, but if you have any ideas that you'd like your photographer to incorporate, such as a picture of the ceremony with the guests during the wedding, etc., then add it to your wedding photo ideas list. Sometimes couples choose to stand in a romantic stance, which makes these pictures incredible, so don't miss the opportunity to get a pretty picture.
First Kiss
The first kiss is another necessary shot that your photographer is going to take. You can enhance it further by choosing a romantic background, like a sunset, etc.
After the Wedding Ceremony
This part of the wedding is when you cut loose and enjoy because the stress of the wedding ceremony has lifted off. It's time to chill with your family and friends, and this is the time when you can get creative and pose for fun photos.
Bride and Groom Together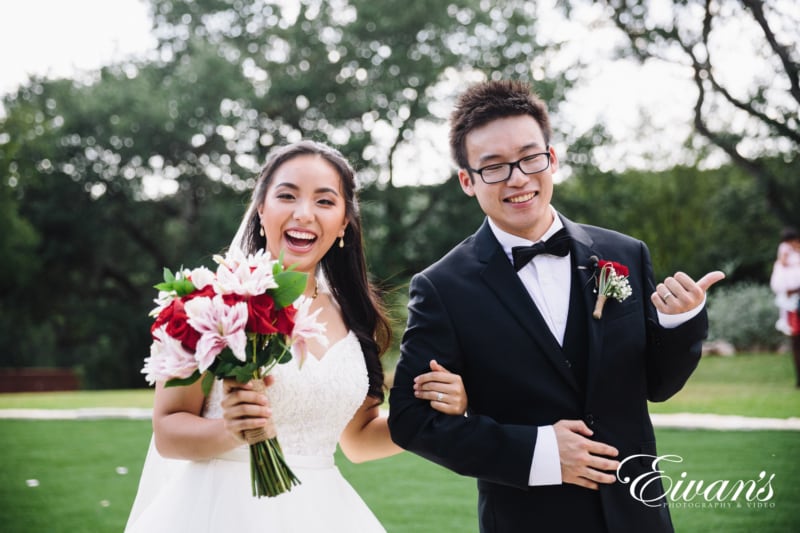 You're a married couple now! it's a moment worth capturing, so add this to your wedding photo ideas list. You can pose for traditional photos or show your fun side as a couple.
Bride & Groom with Bridesmaids & Groomsmen
After you've tied the knot and you're having fun with your closest friends or your family, get your photographer to capture it! They make lovely photos that you'll cherish for the rest of your life.
Your Pet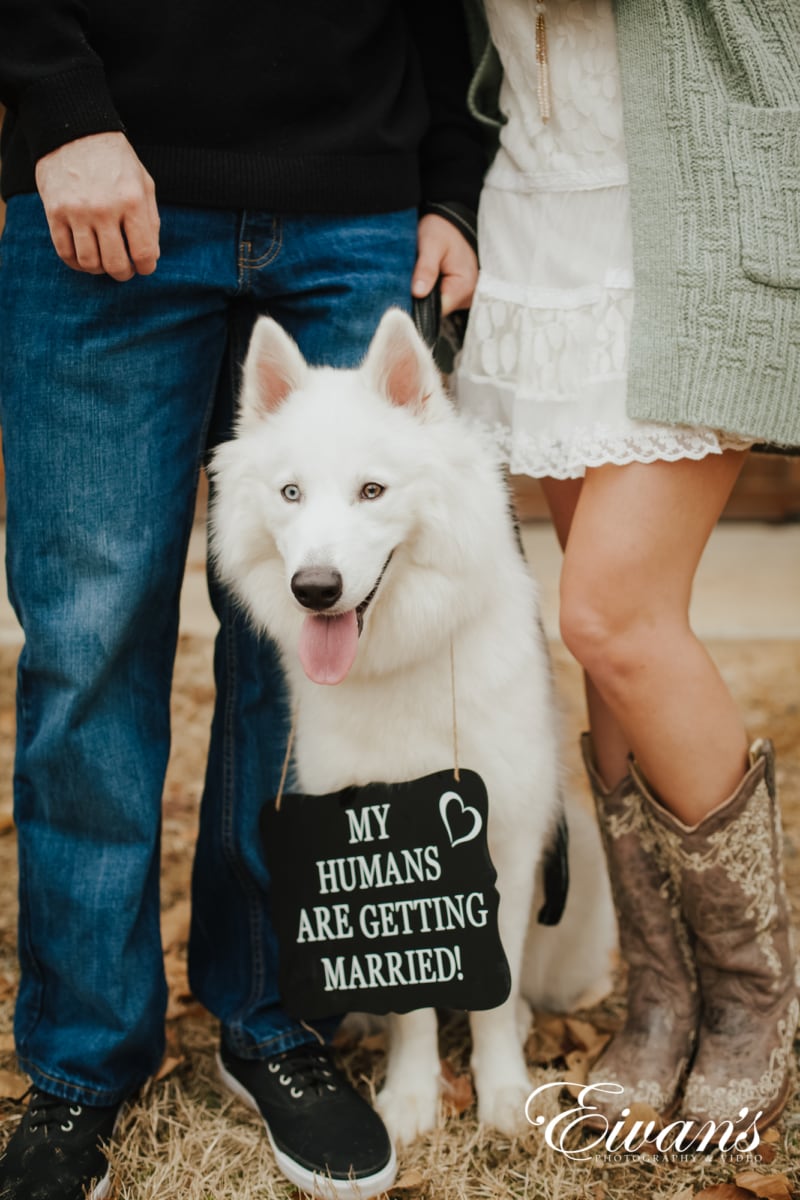 Your pet is the VIP at your wedding. So, it's always a good idea to have a picture with your furry friend. If they are included in the wedding party, then that's even better!
Me and The Gang
Take a group photo with your bridesmaids or your groomsmen after the ceremony, when you are all having fun.
Toasts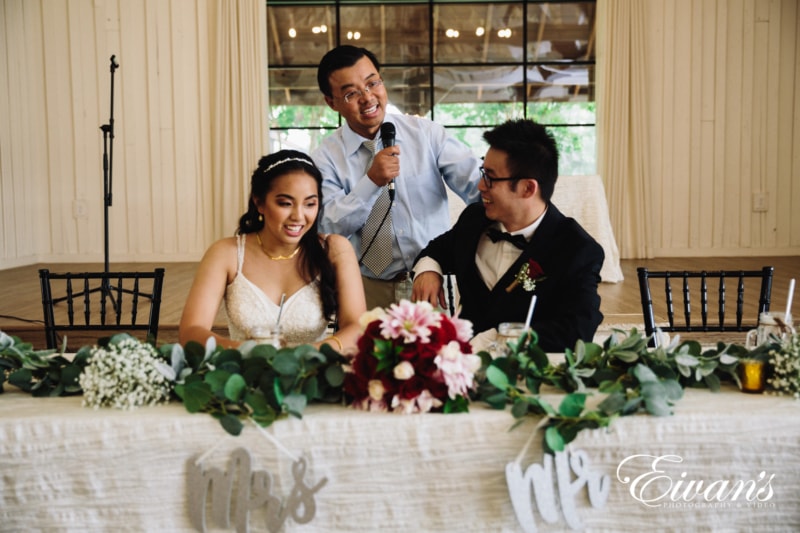 Friends and family create heartfelt yet comedic toasts for your wedding. It's the moment when you'll cry and laugh at the same time. Your photographer should capture the genuine emotional responses.
First Dance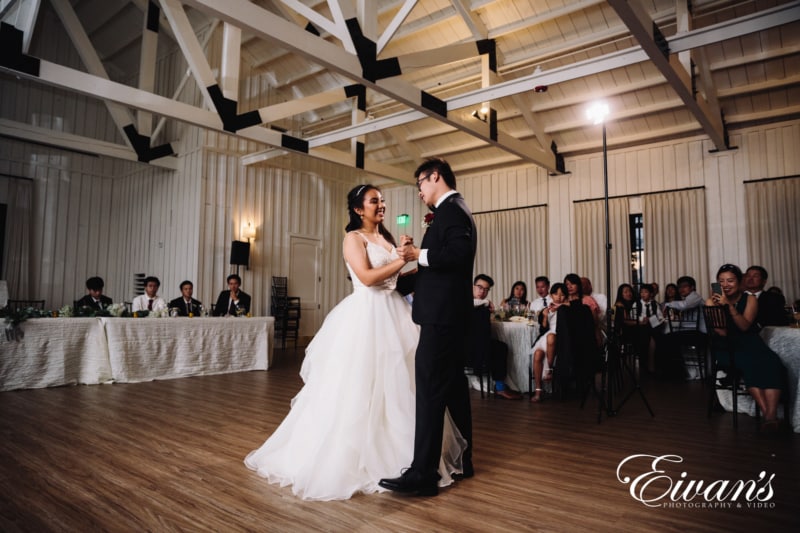 The first dance is something that you'll start to prepare for months before the wedding and will repeat it several times after the marriage to bring back happy memories of your wedding day. So, you must add it to your wedding photo ideas list!
Wedding Cake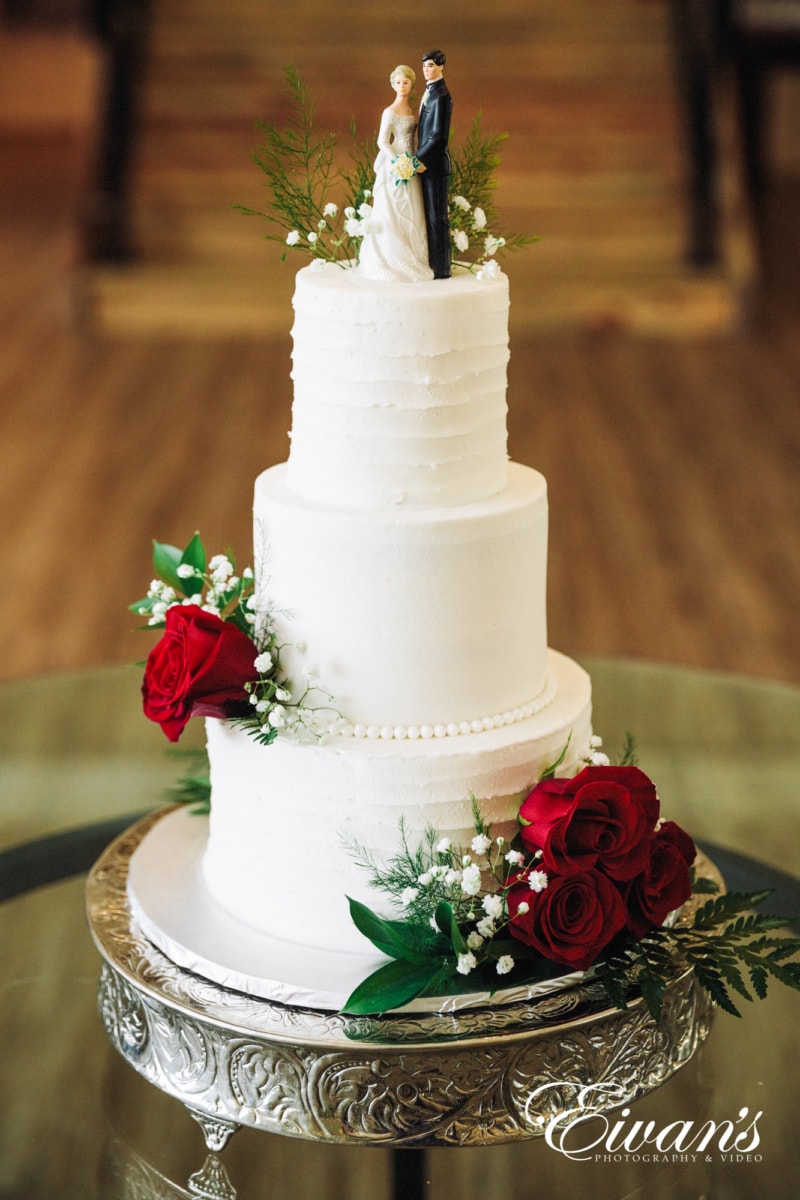 The tradition of wedding cakes dates back to the 16th century. Over time, we've perfected the art of making wedding cakes. Many couples choose to customize their cake according to their choice and if you have a unique cake at your wedding, how can you not photograph that! So add it to your wedding photo ideas list.
Newlywed shot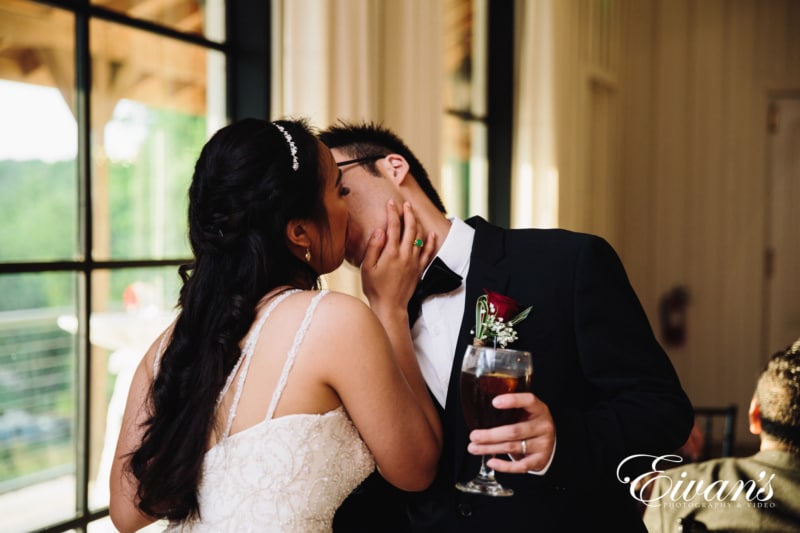 Just married! This is another must-have category on your wedding photos ideas list. Couples usually use different kinds of props to make their pictures unique.
Couple Leaving the Venue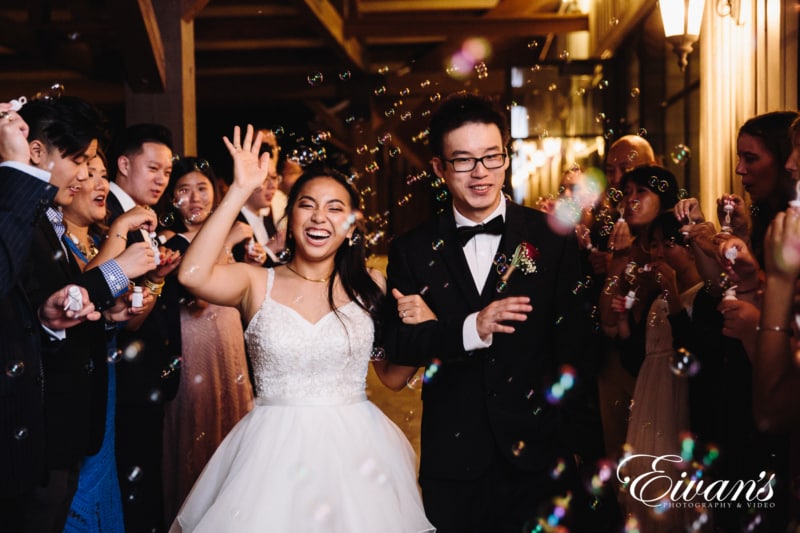 After the ceremony is over and it is time for the newlywed couple to depart, the guests usually throw confetti; this moment makes excellent photographs, so it's a good idea to add this on your list.
Couple with the Wedding Car
The wedding car is usually stylish or antique and will add a unique vibe to your photos, so make sure you include it to your wedding photo ideas list. Think of creative ways to enhance your photograph, like this one.
Couple in the Back Seat of Wedding Car
The interior of an exotic car is something that you should incorporate in your pictures, so ask your photographer to capture you with your significant other in the back seat of the wedding car.
Additional Couple's Pictures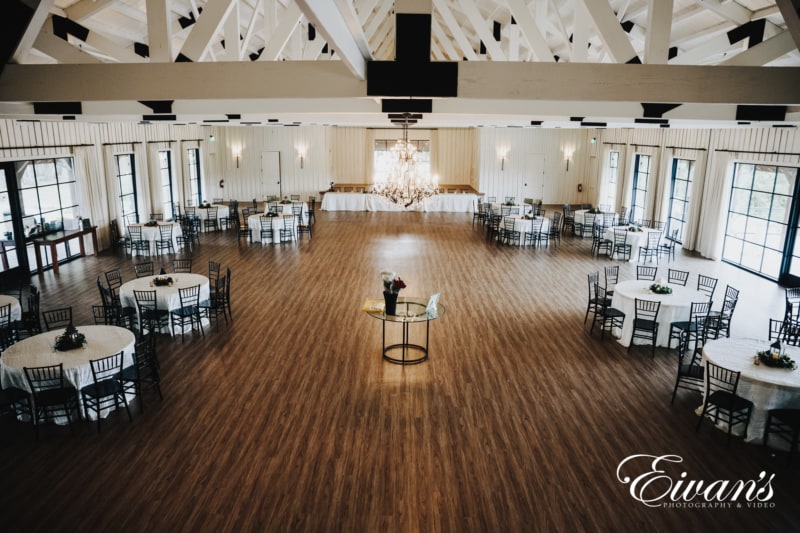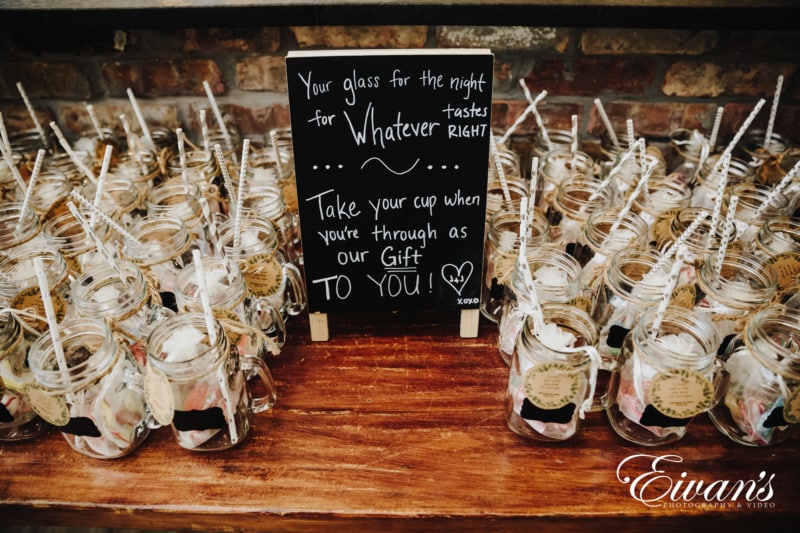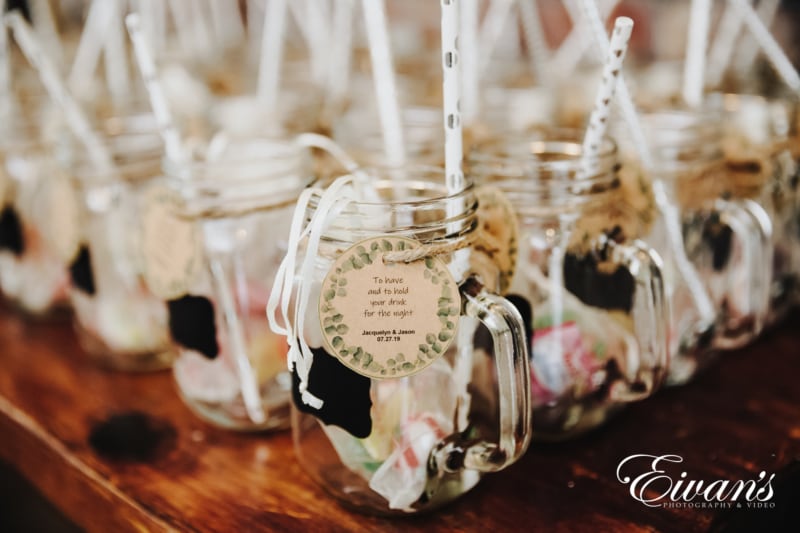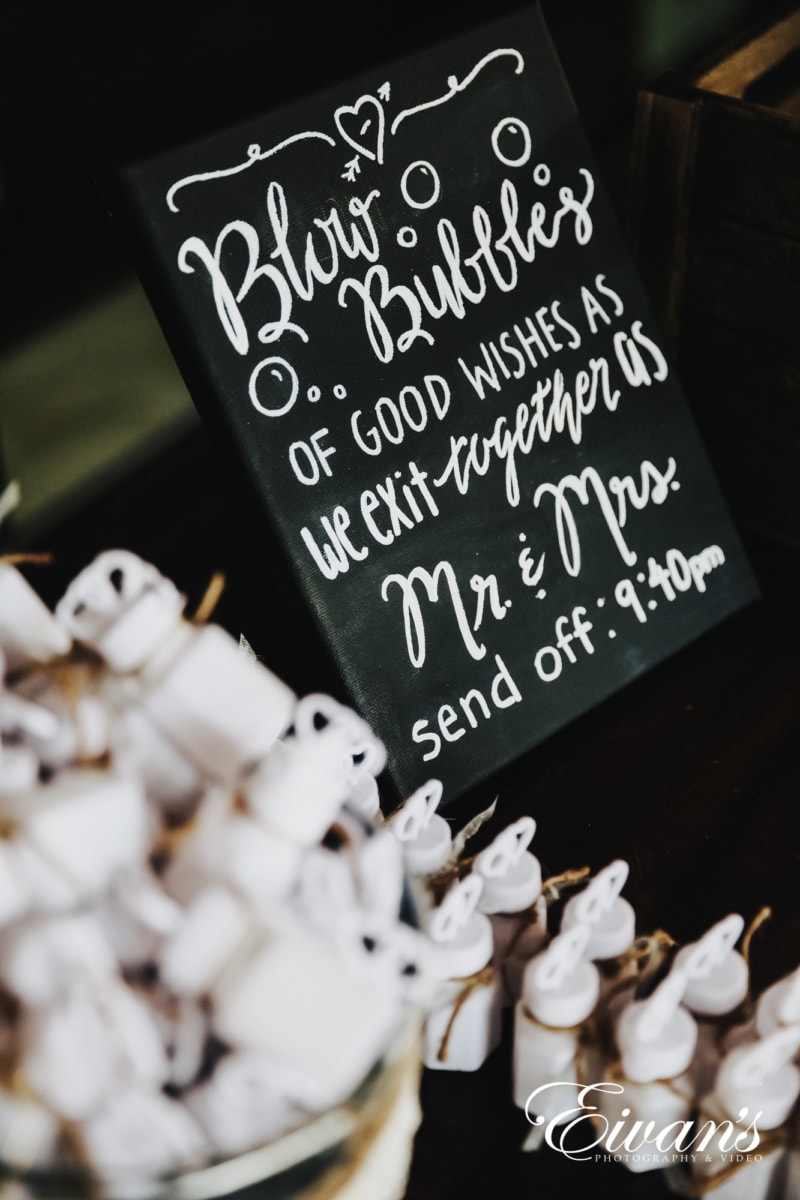 Many photographers make a separate album for the bride and groom, so they are going to take many shots of both of you together; you can have it customized according to your requirements. Let's say you want to be photographed at your favorite pub, or the place where you met, it could be a shopping mall or a bookstore or anywhere else, these will bring out so many memories for both of you that it would be a great idea to add it on your wedding photo ideas list.
Photography and Videography are crucial aspects of your wedding day, you watch the pictures and video over and over for the rest of your life, so risking it by hiring an inexperienced photographer on your wedding day isn't a good idea, Eivans has years of experience of wedding photography and videography so book their services for a unique and personal documentation of your wedding. All the pictures used were taken by Eivans' photographers, to view their complete portfolio, click here. To check the availability, click here.