Brianna and David's Elegant Washington, DC Wedding Ceremony and Reception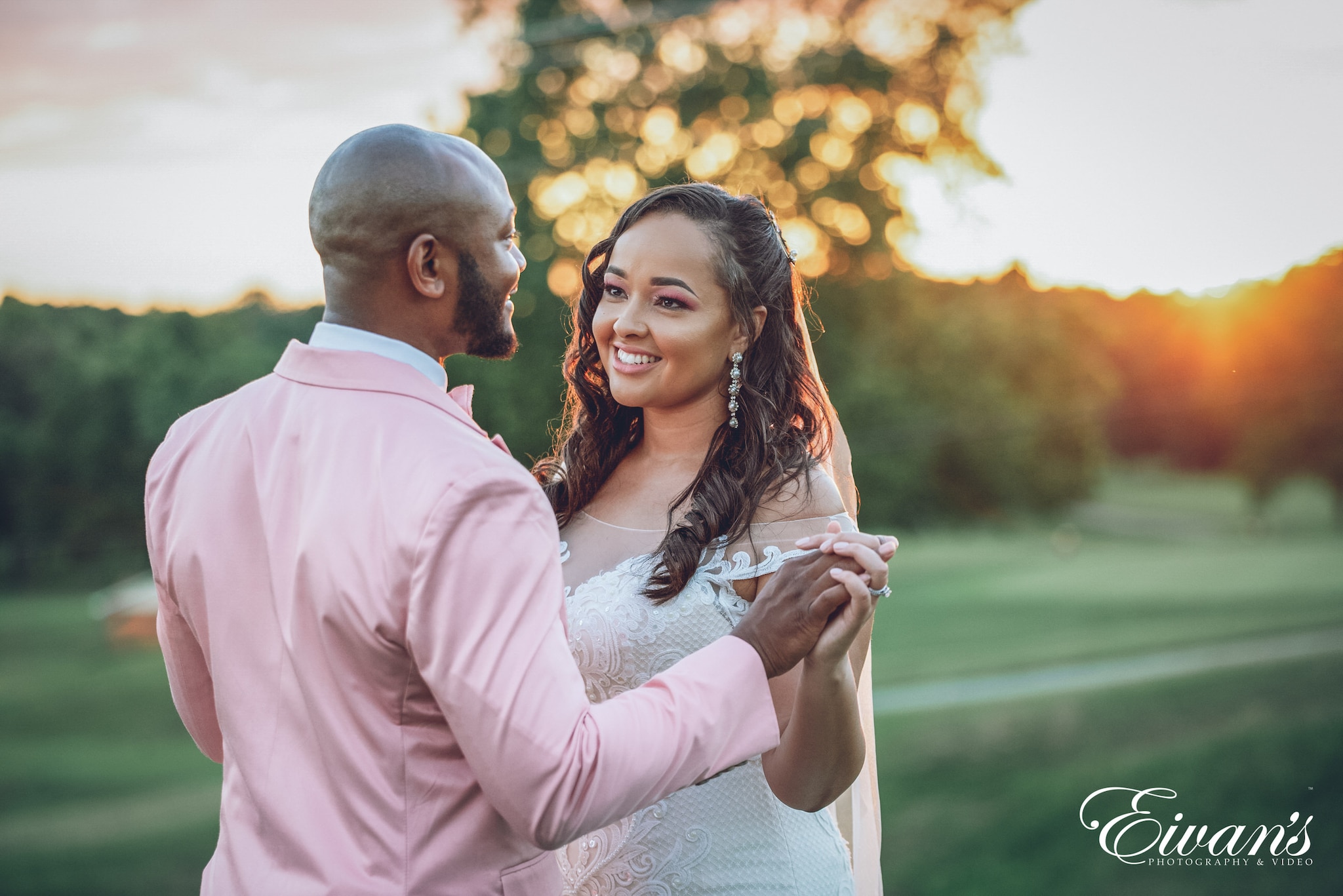 On July 7th, 2018, Brianna and David said "I do" at the beautiful DC Breton Bay Golf & Country Club in Washington, DC. The peaceful countryside wedding was both relaxing and exciting at the same time and made an impression on everyone who attended it.
Wedding Theme
On the day of a wedding, all of the attention should be on the bride and groom. Together, Brianna and David ensured that was exactly what happened with their eye-catching and playful attire.
Brianna's bright white bouquet and off-the-shoulder mermaid-style dress showed off her glowing caramel skin. She wore her long, dark hair in loose curls around her shoulders and back, with the side swept up into a gold clip. Her dangling pearl earrings were the perfect accent to her elegant wedding ceremony ensemble.
David made just as much of a statement with his outfit by wearing a white dress shirt, bubblegum pink bow tie and suit jacket, tan pants, and brown shoes. He even accessorized vividly with a white boutonniere and silver dress watch.
The bridesmaids wore full-length loose-fitting dresses that were a very light tan color. This light color helped to accentuate the dark tones of their skin, providing the perfect contrast to the wedding party.
The groomsmen wore similar outfits to David, but they decided to skip the suit jackets and instead wore tan vests to match their tan pants.
Elegant wedding ideas on a budget
Brianna and David decided to get out of the hustle and bustle of the big city to celebrate their marriage, and it gave them endless views of green fields and other rural beauty.
When you are in nature, it is important to take full advantage of the lighting because nothing beats natural light. It's the best kind of light in the world. Luckily, Brianna and David were able to pose for some of their photos just as the gorgeous Washington sun began to set. This cast a warm glow over the couple and turned their sky background from a standard blue into a burnt orange that made everything in the photo stand out so much more.
Before the sun had fully set, the nearby towering trees provided a bit more texture to their photos. They settled on an ancient one with deep brown bark and mossy green leaves. The branches also managed to twist and turn in various unusual directions, which made it distinct and striking just as much as Brianna's and David's outfits did.
Breathing the Country Air
The ceremony occurred in front of the towering gazebo which overlooks extended fields of greenery. The guests took their seats on the luscious lawn and waited for Brianna and David to take their rightful spots in front of the gazebo.
The two young flower girls walked down the aisle first, carrying their wicker baskets full of brightly colored flowers while the young boy acting as the ring bearer followed them closely behind. Then it was Brianna's turn to walk down the aisle with her father. They arrived at the front steps of the gazebo where David was already waiting, and the bride and groom exchanged vows and wedding rings in front of the emotional audience.
Simple wedding decoration ideas for reception
Once the ceremony had ended, everyone moved inside the country club building and sat at the many tables covered in sparkling tablecloths while Brianna and David stepped out onto the hardwood dance floor and had their first dance as a married couple.
There's nothing greater than seeing the looks of joy on your loved ones' faces as they witness you and your significant other make a lifelong commitment to each other. When you have Eivan's to capture all of the precious moments of your wedding, you'll be able to look back on every part of your big day for years to come!