Megan and William's Romantic Scottish Wedding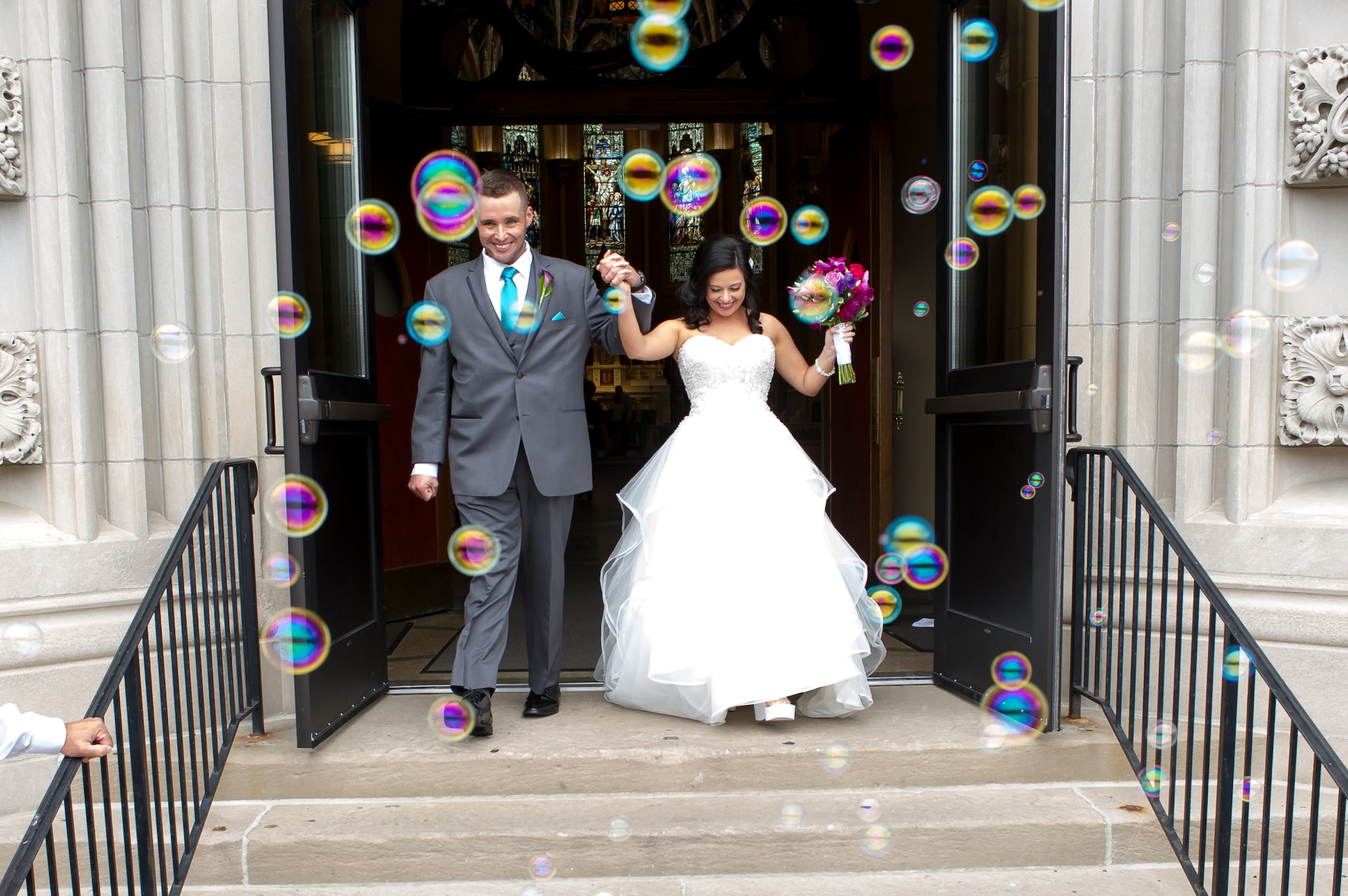 The sparkling smiles upon this couple's face while they finally wholly capture and now can forever hold onto their love. Megan and William's radiating love was only enhanced by the halls of St. Peter and Paul Catholic Church in Naperville Illinois. The beautiful intricate stain glass windows, high arches, stunning mosaics, and decorative white columns with gold accents. The bride's classic and elegant gown entirely and entirely fit in the theme of the traditional ceremonial affair. Megan's dress had a strapless sweetheart neckline with a detailed beaded top and layered bottom with a long train. This dress was classic yet modern; bringing a unique touch to this wedding because they had used other very modern aspects that other couple's do not do. One being the bouquets and boutonnieres contained extraordinarily vibrant and tropical flowers with the color theme of purple, red, baby pink, bluish purple, and teal. This color theme continued with the help of the looks worn by both the groom, groomsmen, and bridesmaids, but also with iridescent bubbles that were used as Megan and William were exiting the chapel. The bridesmaids wore long teal dresses with v-necklines that were accompanied with very bright bouquets, yet they also matched with the groom and groomsmen that were in battleship grey suits with teal ties and pocket squares. There was a distinct difference between them was that the groom had a darker purple boutonniere while the groomsmen had single pinkish-red rose boutonnieres.
     On this tremendous day, the couple walked together down the Naperville Riverwalk their true love entirely demonstrated by their dazzling smiles and passionate eyes. The look in each of their eyes as they gaze at one another realizing how they are finally husband and wife. This happiness only continued at Megan and William's reception where they had bagpipers play before they shared their first dance as a married couple. Isn't this just the cutest?