Inspiration for Creating an Irresistible Dessert Table for Your Wedding Cake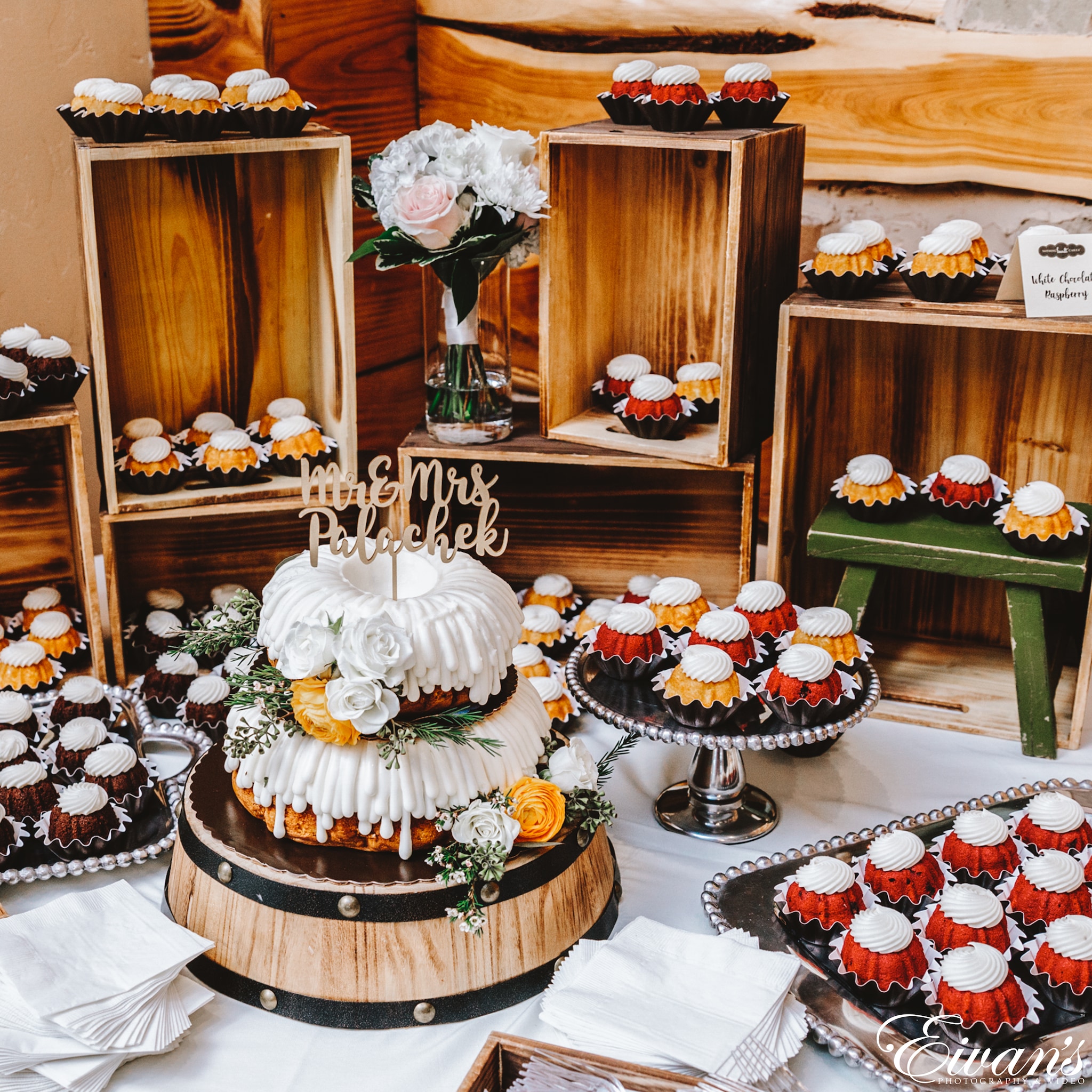 As you plan your dream wedding, it's easy to get caught up in all the little details—from finding the perfect gown to deciding on a venue. But among the most important pieces of your nuptials? The dessert table! After all, nothing brings people together like a delectable selection of sweet treats to enjoy with family and friends. And whether you opt for chocolatey delights or light-as-air confections, an irresistible dessert table will make any wedding irresistibly delicious. So if you're looking for ideas for crafting an unforgettable feast of goodies at your reception, we have plenty of inspiration (and recipes!) so that guests can indulge in something special on what ought to be one of the best days ever!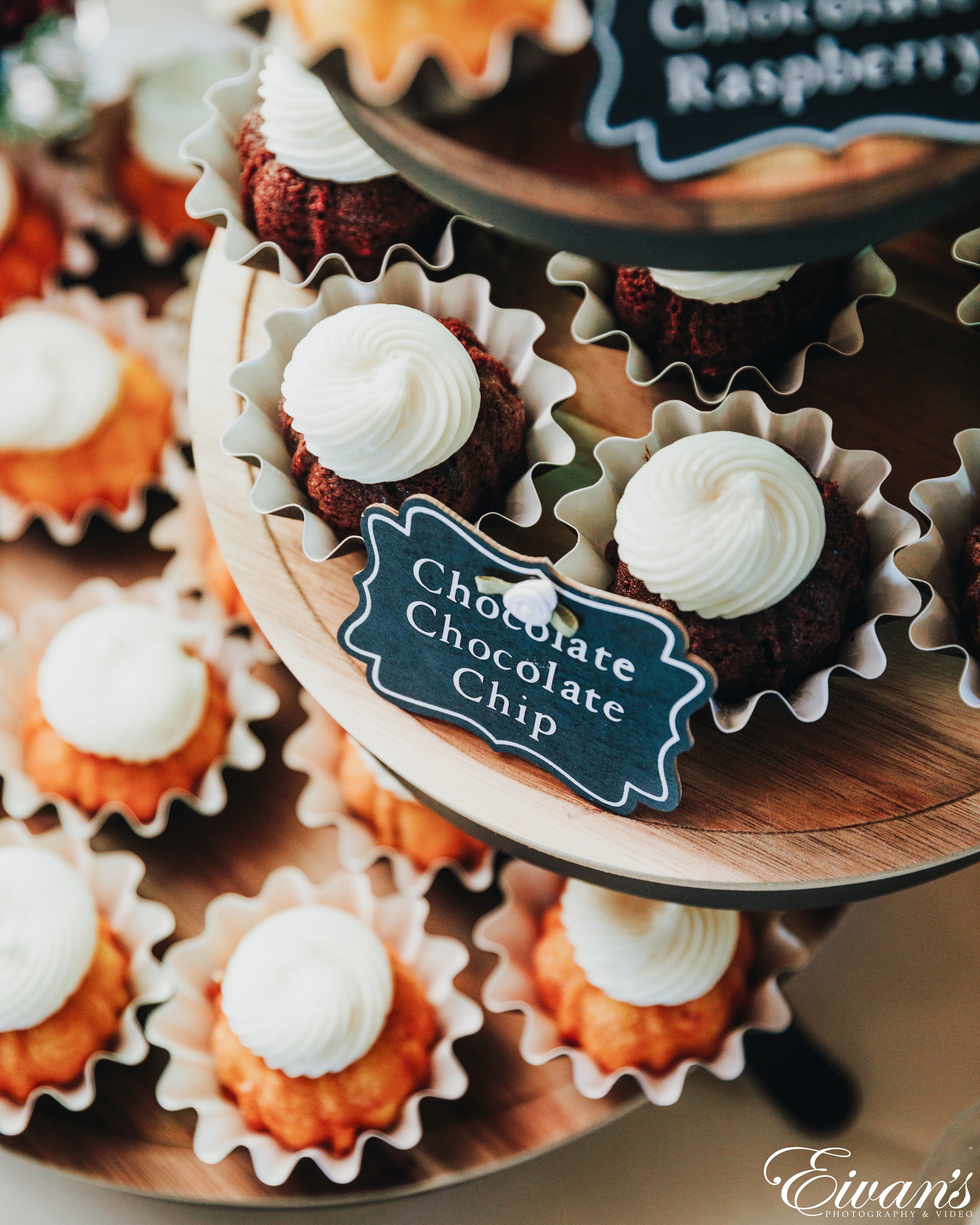 Start by selecting a color palette and theme for the dessert table
Your dessert table is a blank canvas waiting to be transformed into a fun, memorable feature at your big day. Why not start by selecting a color palette and theme? This year's trending color combinations include blush and metallics, or even bold pops of jewel tones. For a DIY feel, consider featuring a dessert bar with cupcakes and donuts as the stars of the show. This sweet treat display is the perfect place to showcase your personality and wedding ideas. With a little creativity and imagination, your dessert table can be just as memorable as your wedding day itself.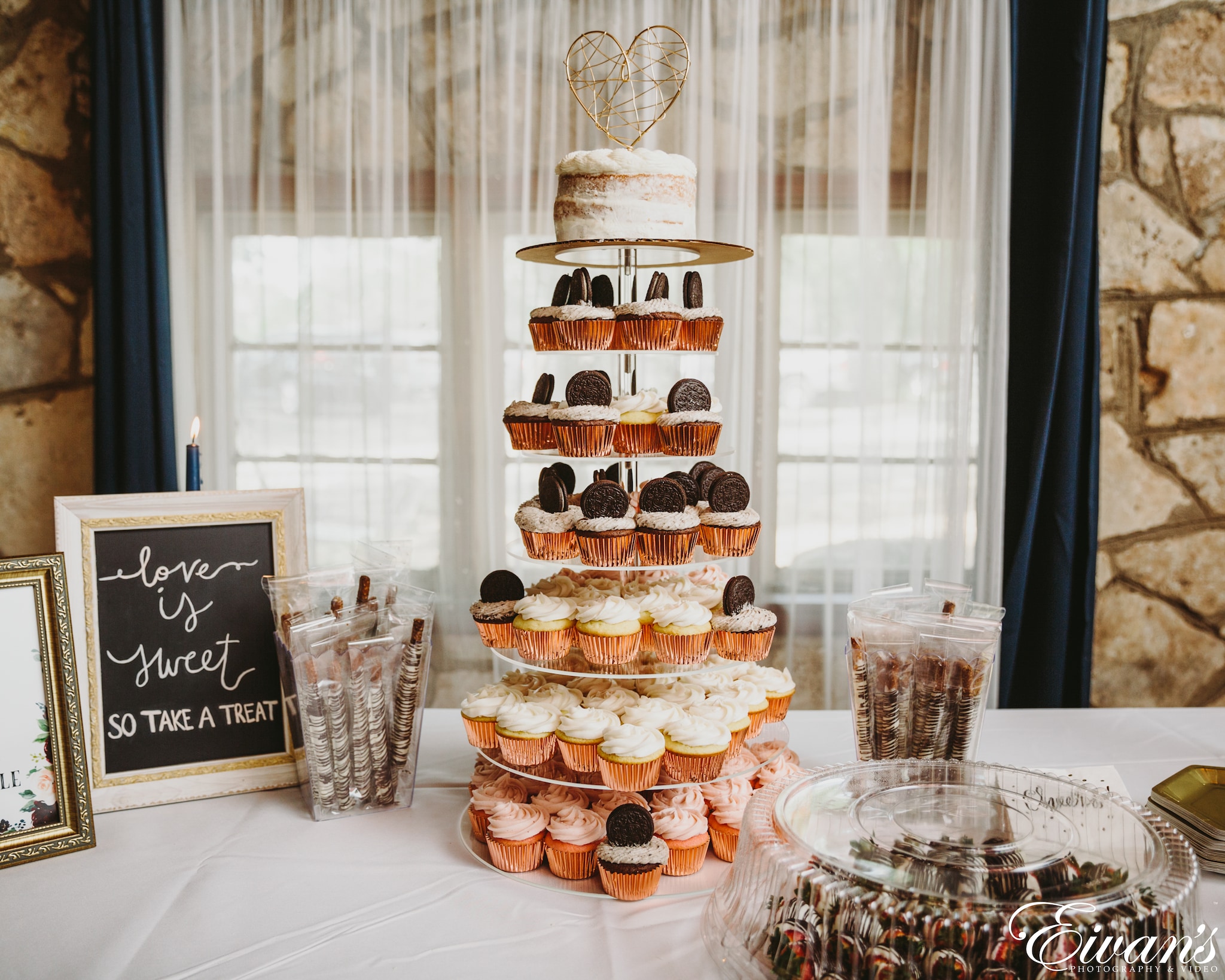 Choose the perfect backdrop to set the tone such as a tablecloth, wall hangings, or lush greenery
Hosting a bridal shower is all about the details, and setting the perfect tone is no different. With the right backdrop, your guests will feel transported to a magical wonderland filled with delectable treats and girly flair. A tablecloth in a soft pastel hue paired with wall hangings featuring whimsical designs will instantly create an atmosphere of elegance and charm. Pops of greenery, whether in the form of lush vines or budding flowers, will add a touch of natural beauty to your table decor. Now, onto the star of the show: dessert. Display brownies, doughnuts, macarons, and sprinkle-covered treats on a chic cake stand for an Instagram-worthy presentation. With a backdrop like this, your bridal shower will be the talk of the town.
Incorporate creative vessels to display your desserts like tiered cake stands and trays with unique shapes
When it comes to dessert presentations, there are so many ways to get creative and add some extra flair to your wedding day. Tiered cake stands are always a classic choice, but don't be afraid to mix it up with some trays in unique shapes and sizes. Think outside the box and consider incorporating trendy Boho elements into your wedding theme. Stylish tarts and other miniature desserts can really pop when displayed on unconventional vessels. With so many options for dessert display, let your imagination run wild as you plan your wedding day.
Decorate the table with personalized touches, such as your initials or a monogram
There's nothing quite like the feeling of throwing a brunch for your closest friends and family. To make the occasion even more special, take the extra step to personalize the table decor. One idea is to incorporate your initials or a monogram into the centerpiece, such as with a beautifully arranged bouquet. Another great touch is to include a focal point dessert, like a stunning cheesecake or creative cake pops, adorned with a personalized message. These small details make a big impact and show your guests how much thought and care you put into the event.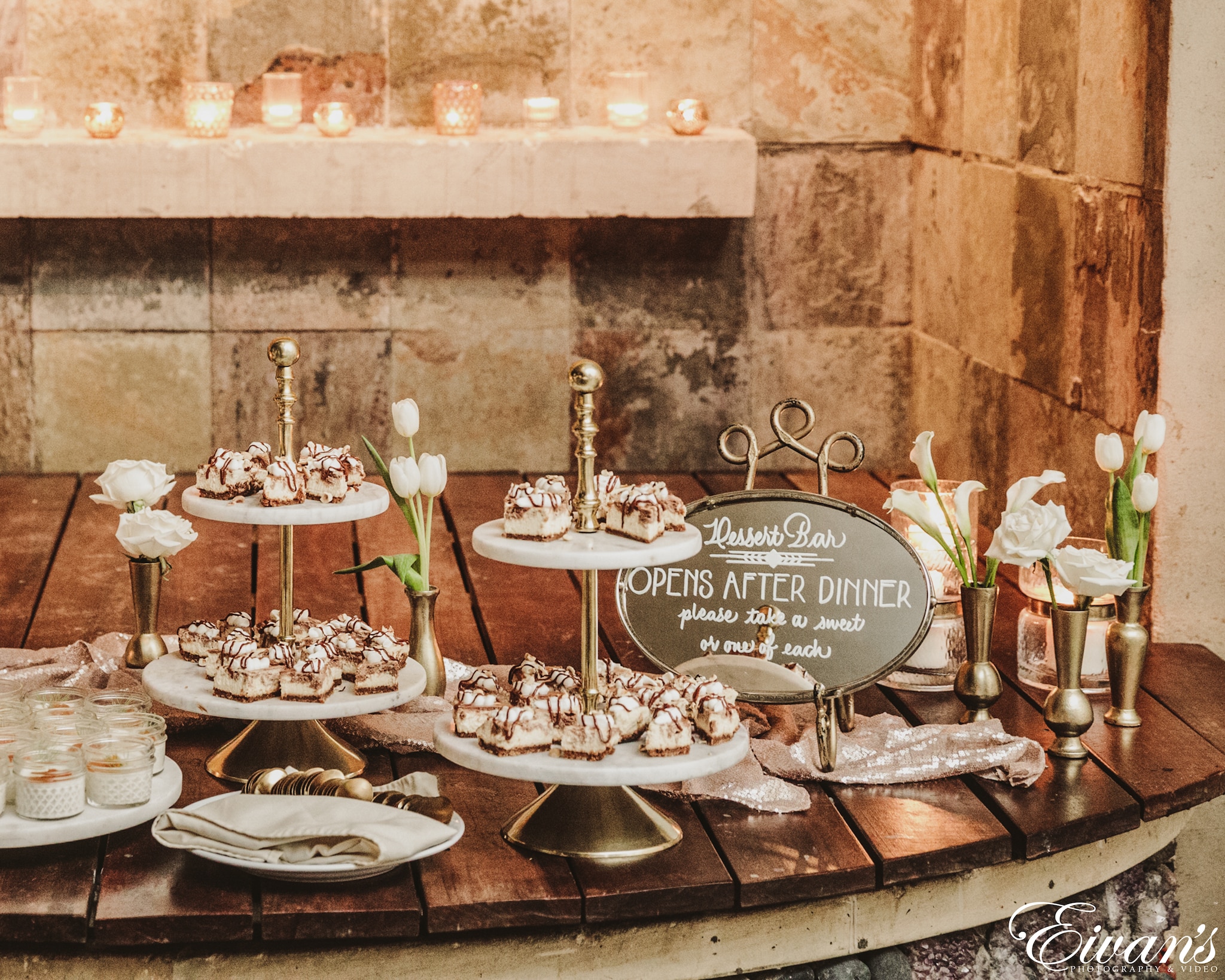 Select an assortment of sweet treats that are visually appealing and tasty
A sweet treats table is a perfect addition to your glam wedding. With the right combination of visually appealing and delicious treats, you'll make your guests' taste buds dance. Get creative and make it your own by incorporating pastel hues that complement your wedding colors. Use signage to highlight the different sweets available, from cupcakes to macarons, and everything in between. And why not offer your guests a sweet wedding favor to enjoy later on? With the right selection of confections, your sweets table will be a standout feature of your special day.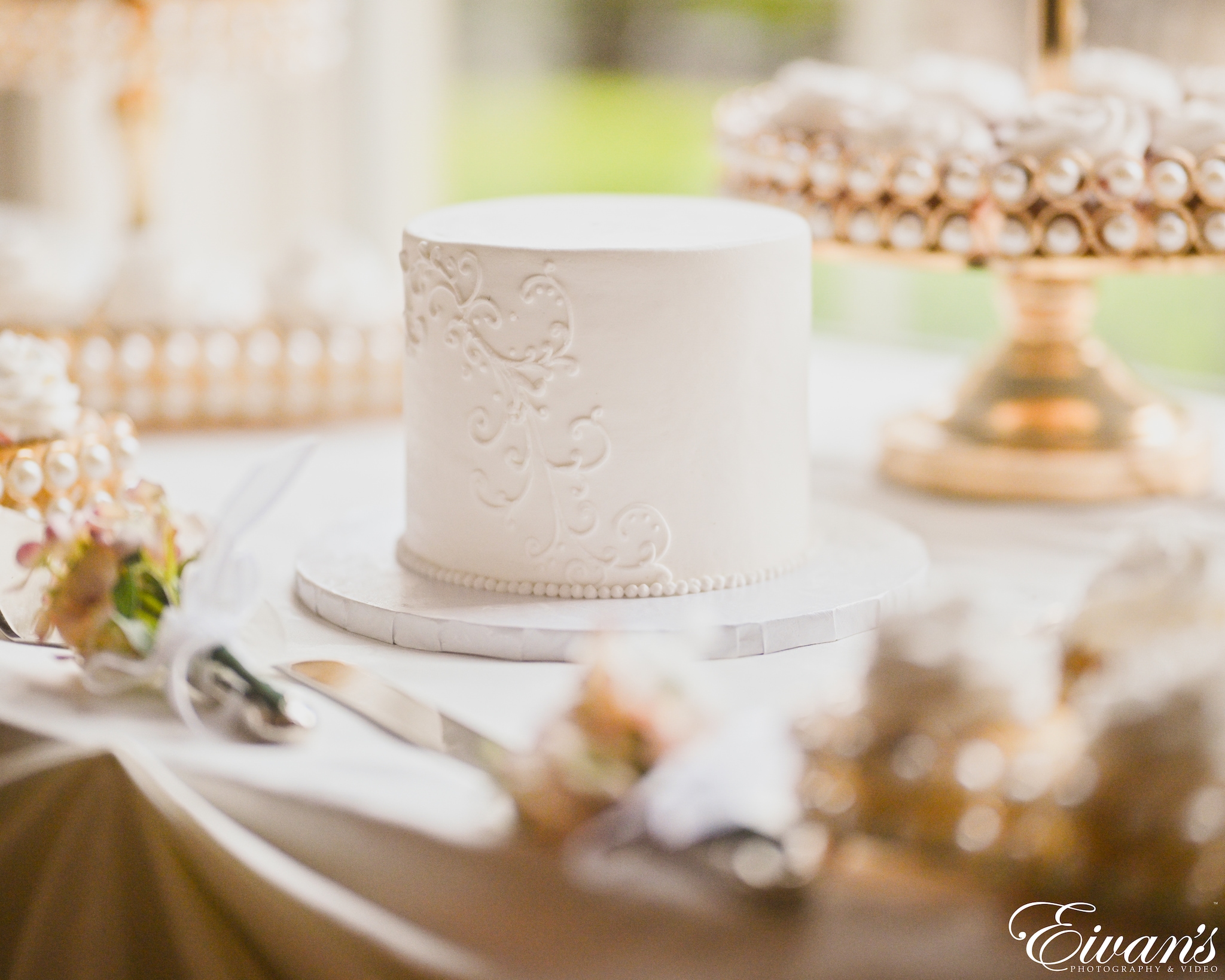 Display signs or tags to show what each dish contains
Creating beautiful wedding decor involves paying attention to every detail, including the wedding dessert table. With more people having dietary restrictions or preferring to eat clean, it is essential to display signs or tags for each dish to show what they contain. This way, guests can easily identify what they can or cannot eat, and they will appreciate the thoughtfulness. This is particularly important for outdoor weddings where guests may not have easy access to a list of ingredients. Plus, who wouldn't want to know what their s'mores are made of? By providing clear information through tags or signs, the wedding party can ensure that everyone enjoys the sweet treats without any worries.
Crafting the perfect dessert table for any occasion can be a daunting and time-consuming task. However, organizing your setup in an organized manner can make the process much smoother. Start with a color palette and theme to work off of, then choose a backdrop that will set the tone. Furthermore, unique vessels like tiered cake stands and trays with creative shapes will help add personality. Don't forget to add personalized decorations to give it a personal touch! When selecting sweet treats, consider an assortment of visually attractive desserts as well as tasty treats that will be