Emma and Ryan's Rustic Countryside Marriage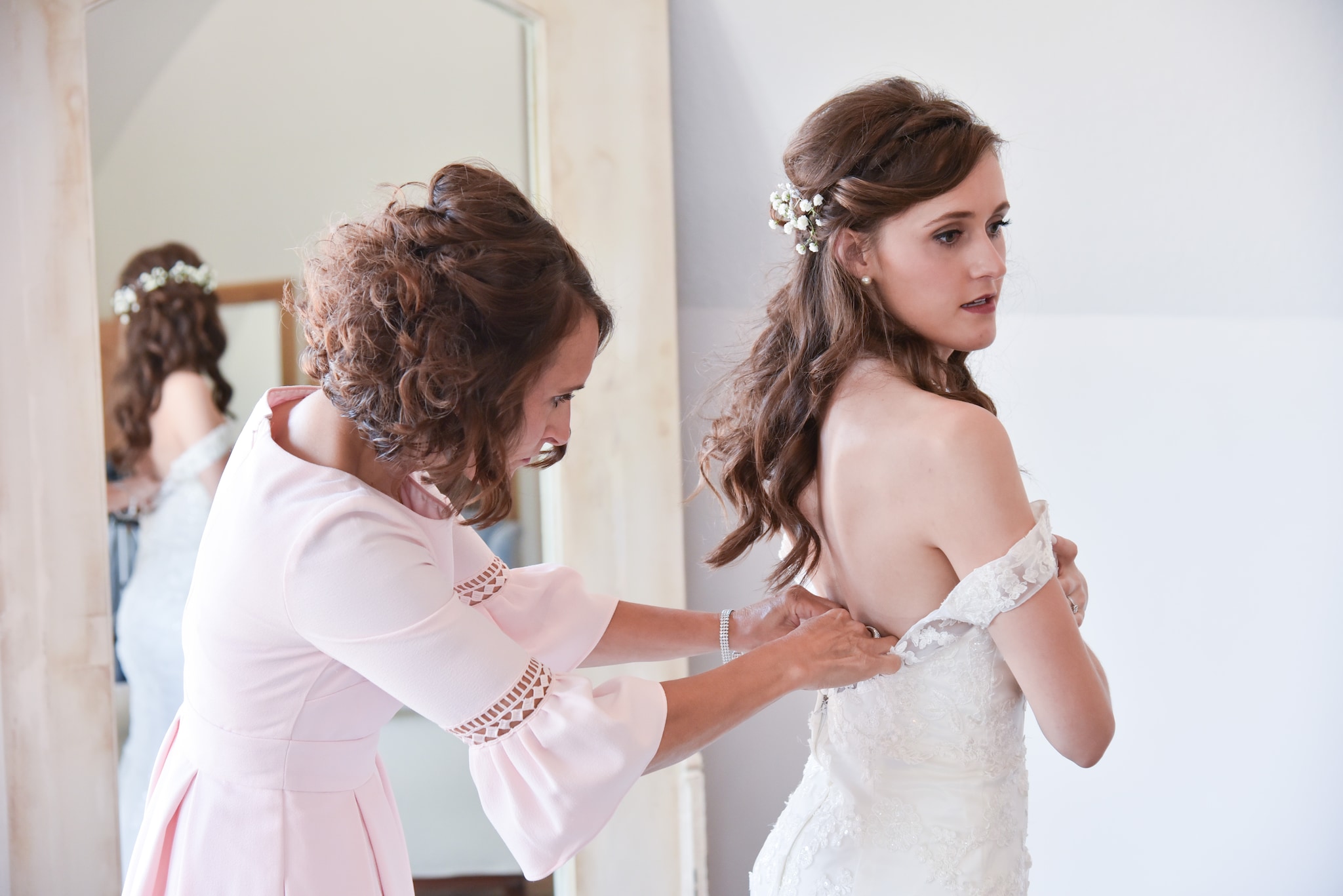 Are you looking for a home away from home feeling for your special day? Come and see as Emma and Ryan created a wedding that is beyond compare. Filled with many countrified aspects so that everyone can feel very at home and in a friendly setting while attending their undeniably festive day.
    Having a venue with so much original and uncommon exposed natural wood plus having the ruggedness of a genuine barn is a challenge within itself, but the John P. Furber farm hits every mark perfectly. How lucky! The rustic feel is only helped and exaggerated by the stunning decor that made with lots of fairy string lights, the American flag, fluid greens, bright yellow sunflowers, classic chandeliers, and full-length wooden benches. The couple was able to find the perfect balance between modern and agrestic.
    The bride's dress was a fitted lace off the shoulder gown that has a tremendous train following behind. Emma accompanied the unique dress with an exquisite half-up-half-down hairstyle that also incorporated small white flowers to continue to tie the cozy mood to the fantabulous affair. One aspect that the bride didn't pass upon was her and her bridesmaids' accessories. The bride herself wore small open toed gold shimmering rhinestoned heels, Champagne glazed pearl necklace, and earrings, and lastly, three bracelets that are milky white with one being all gleaming in crystals. Emma's stunning bridesmaids wore knee-length navy blue dresses that encompassed a v-shaped neckline with scallop shapes for the trim. For their accessories, they wore chunky white circular glistening necklaces and matching nude colored heels. As for the beloved groom and groomsmen, Ryan wore a grey assemble that paired with a slate grey tie, frosted boutonniere, sterling silver cufflinks, and tan leather dress shoes. As for his counterparts, they wore similar battleship grey suits, pearl flowers, and astonishing shoes, yet they complemented the bridesmaids' shoes by wearing blonde ties.
    Some particularly exceptional directions this wedding took was that Emma and Ryan hopped onto the up and coming trend of the bride and groom seeing each other separately from and before the ceremony and spending that very memorable moment together. One can truly see how much they love one another as Ryan embraces the love of his life after seeing her radiating out for her exclusive look. This Minneapolis photographer not only captured the essence of the bride and groom but also helped to bring you, the viewer, into the experience with them. From the fabulous bridesmaids writing on the balloon for the bride or the live acoustic guitars at the ceremony playing, you can understand where and how this day was so rare and uncorrelated to others.