Brighten up your Big Day with this Sunflower Wedding Inspiration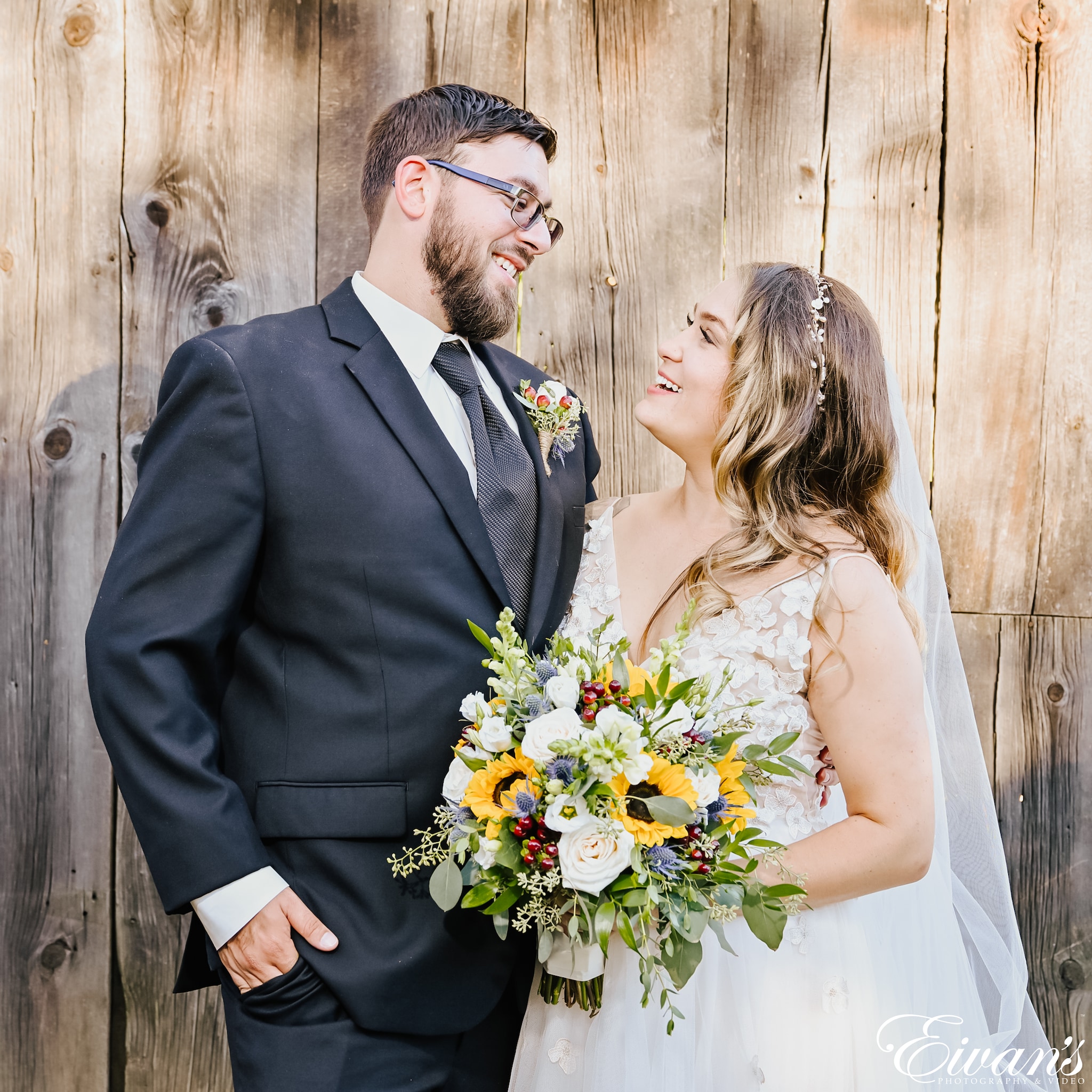 For those brides-to-be dreaming of a warm and elegant summer wedding, what could be more perfect than sunflower decorations? Sunflowers represent life, joy, and positivity – all things that make for an unforgettable special day. From bouquets to centerpieces to reception decor, these vibrant blooms can give your celebration an extra special touch. Let us inspire you with our favorite creative ideas for incorporating sunflowers into every part of your big day!
Decorate the aisle with sunflower bouquets for a whimsical and elegant look
Create an elegant and whimsical wedding atmosphere with sunflower wedding decor adding touches of vibrant yellow throughout the wedding venue, and wedding flowers, you can bring your dream sunflower wedding to life! A sunflower wedding is sure to bring an elegant and breathtaking feel to the into the wedding attire, tables decorated with beautiful sunflower arrangements, a stunning sunflower themed card are just a few creative ideas that make a sunflower-inspired wedding a truly beautiful choice. The mix of yellow petals, splashes of green stalks, and delicate pale centers create an atmosphere of joyous wonder that simply cannot be replicated.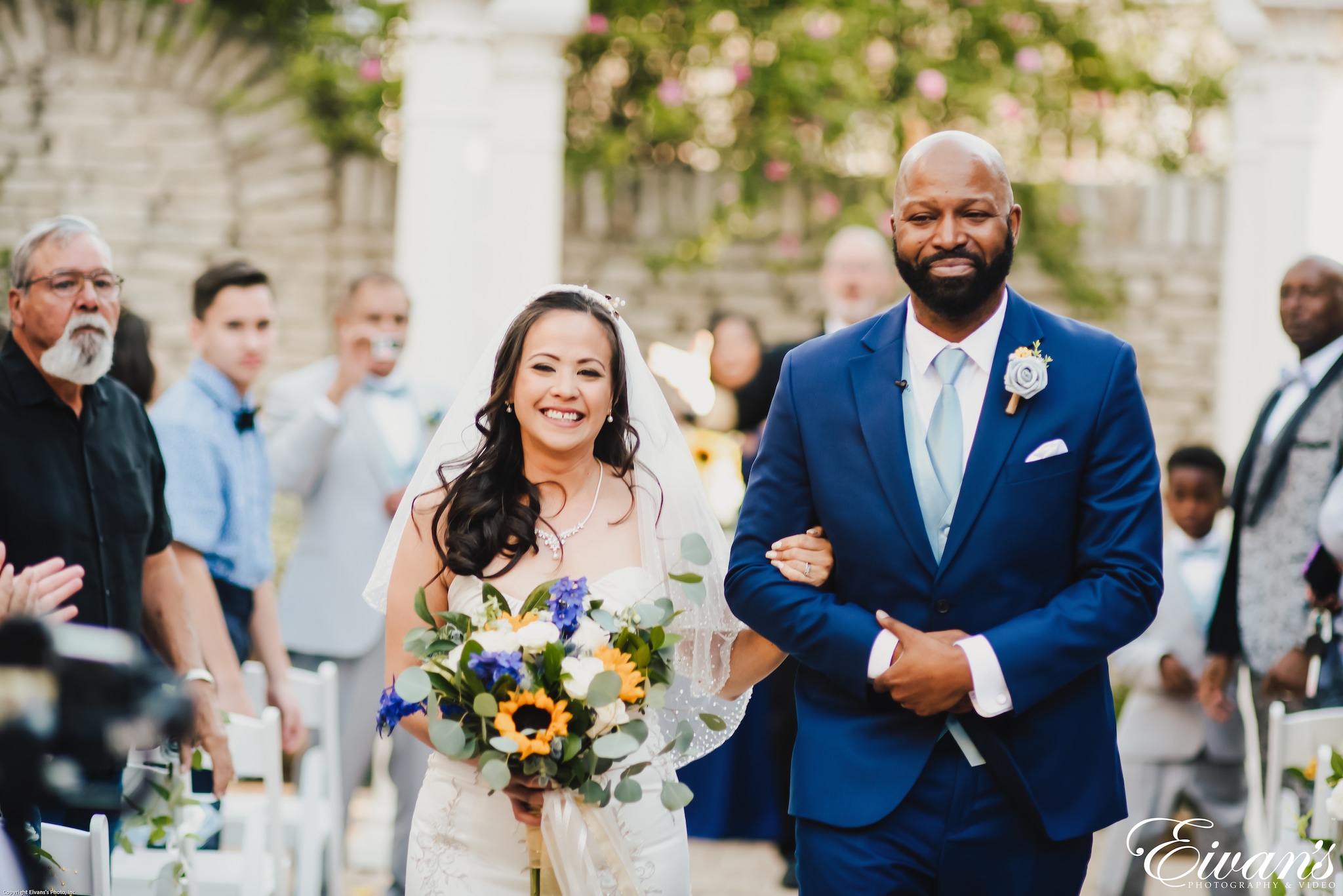 Hang pastel-colored paper lanterns from the ceiling for added decoration
Create a dreamy wedding setting with beautiful pastel-colored paper lanterns! Whether you are planning a rustic wedding, a country wedding, outdoor wedding or something a bit more modern and elegant, these twinkling decorations will bring the perfect atmosphere to your sunflower wedding theme. Hang them from the ceiling to add an extra layer of chic sunflower wedding decor- the greenery and natural light won't be overshadowed thanks to their muted pastels. Showcase these delicate hanging decorations in your special wedding day photos and admire how they bring just the right amount of romance and beauty! A sunflower wedding is the perfect choice for a late summer nuptial, as the vivid yellow petals add an elegant, cheerful touch to wedding dresses and floral arrangements. To create lasting memories of your special day, think about crafting a simple, yet beautiful bouquet of sunflowers in different shades; navy blue would be an ideal accent color. Adorn the bridesmaids' dresses with intricate corsages crafted from delicate pieces of greenery and delicately organized sunflowers – this will be sure to captivate guests while adding an eye-catching visual element to the wedding party. Together, all these elements can help create a wedding day full of poise and loveliness!
Incorporate your favorite sunflower colors into your table centerpieces
A sunflower wedding centerpieces is a beautiful way to addition to your special day! Incorporating your favorite sunflower colors into the table centerpieces is an elegant and impactful way to bring this theme together. You can also complete the look by choosing a beautiful bouquet, adorning a wedding arch, giving out wedding favors inspired by sunflowers, and even including them on your invitation. Sunflowers make a timeless and cheerful addition to your wedding day festivities! Transform the wedding reception into an enchanting garden with beautiful adornments that will create an inviting and elegant atmosphere for the special day. Consider using cupcakes decorated with wildflowers or sunflower wedding invitations as sweet additions to the decor. Sunflower centerpieces can add a striking pop of color that will make guests feel they are in a magical place while bringing life to each reception table. Creative ideas like these provide perfect inspiration for a timeless and beautiful sunflower wedding.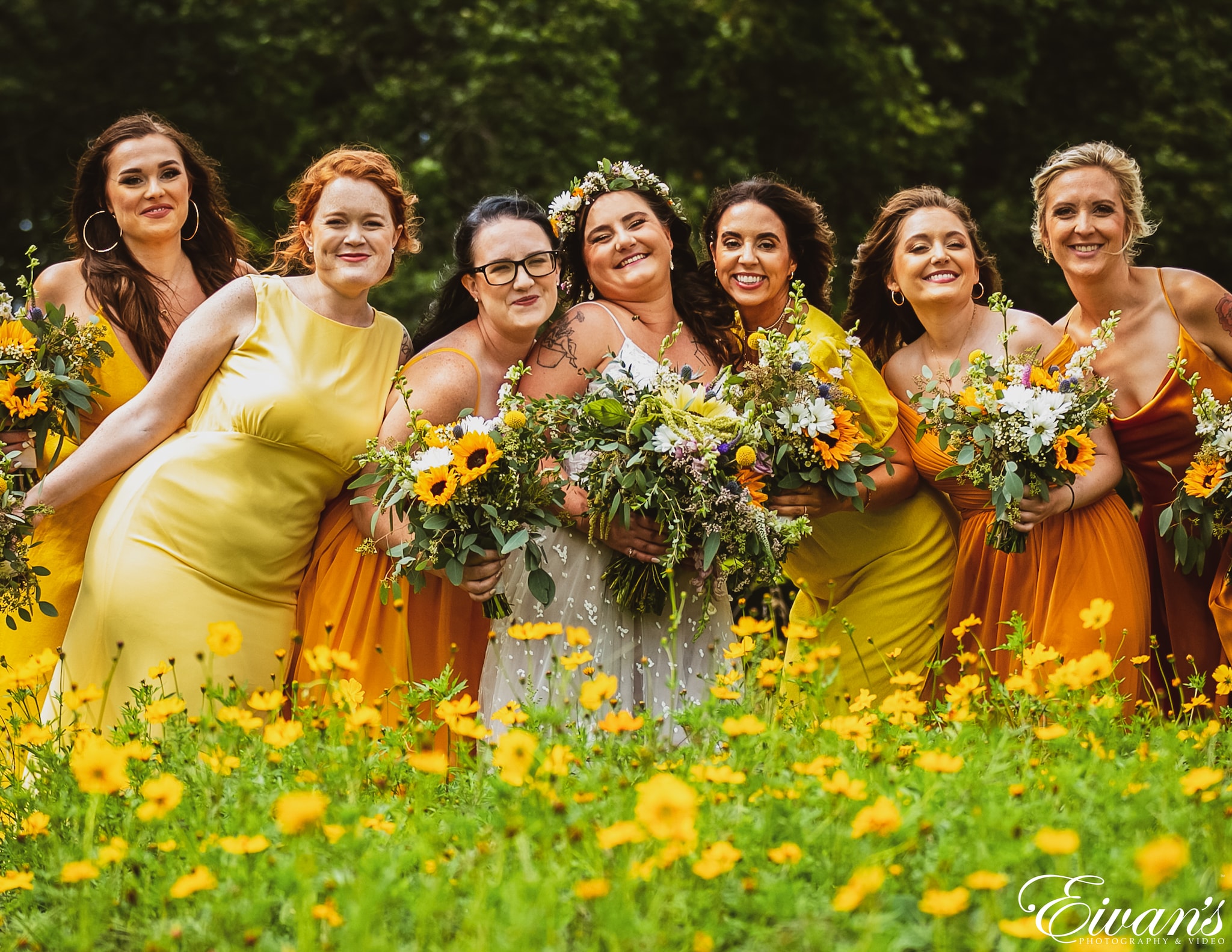 Give guests small potted sunflowers as favors
On your big day, make a big impression on your guests by giving them small potted sunflowers as favors. This is a great way to show your appreciation for all the love and support during this momentous occasion. It's also an easy sunflower themed decor idea for your bridal shower or wedding reception. These daisy-like blooms will add a simple elegance to your big day while making each guest feel special with a truly unique gift. Sunflower themed weddings are perfect for the sunny summer season when these bright yellow flowers are in full bloom, making it an ideal time to pull off this memorable favor idea!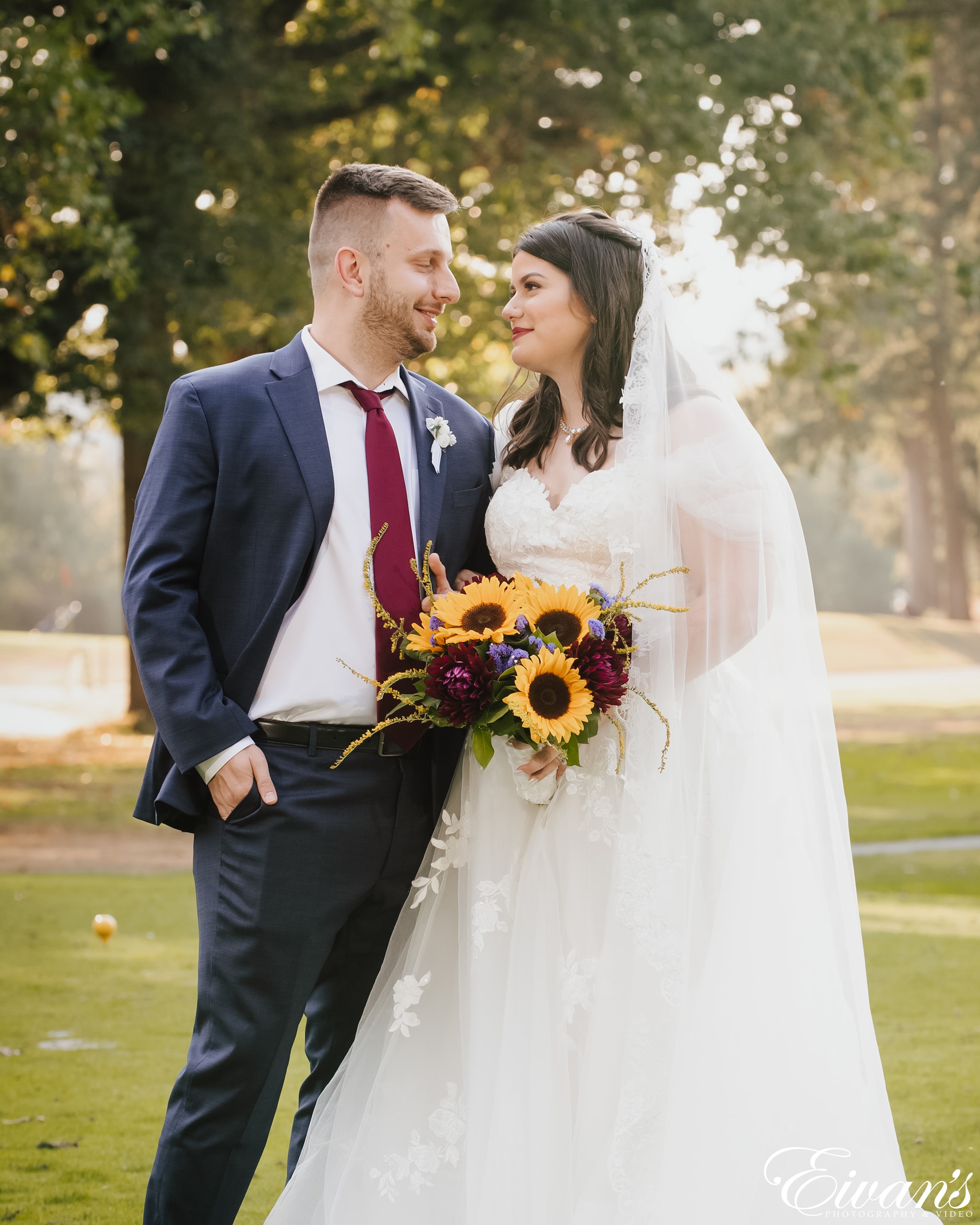 Have your bridesmaids carry bouquets of sunflowers down the aisle
Sunflowers are the perfect wedding flower for a wedding party with boho vibes! On your special day, have your wedding party walk down the aisle carrying bridesmaid bouquets of sunflowers alongside bridal bouquets. The vibrant petals, accompanied by other colour themes, will bring a natural, effortless beauty to the wedding reception and barn wedding. Adding this touch of elegance will result in beautiful photographs and memories that will last forever! Transform your wedding aisle into a romantic, breathtaking experience with sunflower decorations. A sunflower wedding bouquet is a classic choice for any fall wedding, but you can take it to the next level by adorning your wedding aisle with the same flower. Place a sunflower garland or sprinkle petals along the carpet and bring warmth and light to your wedding. Let the unforgettable bloom of the sunflower guide you to your wedding day as you walk down the aisle in a beautiful wedding dress and hairstyle. Capture the true essence of love with an elegant sunflower wedding bouquet and decorations that embody romance.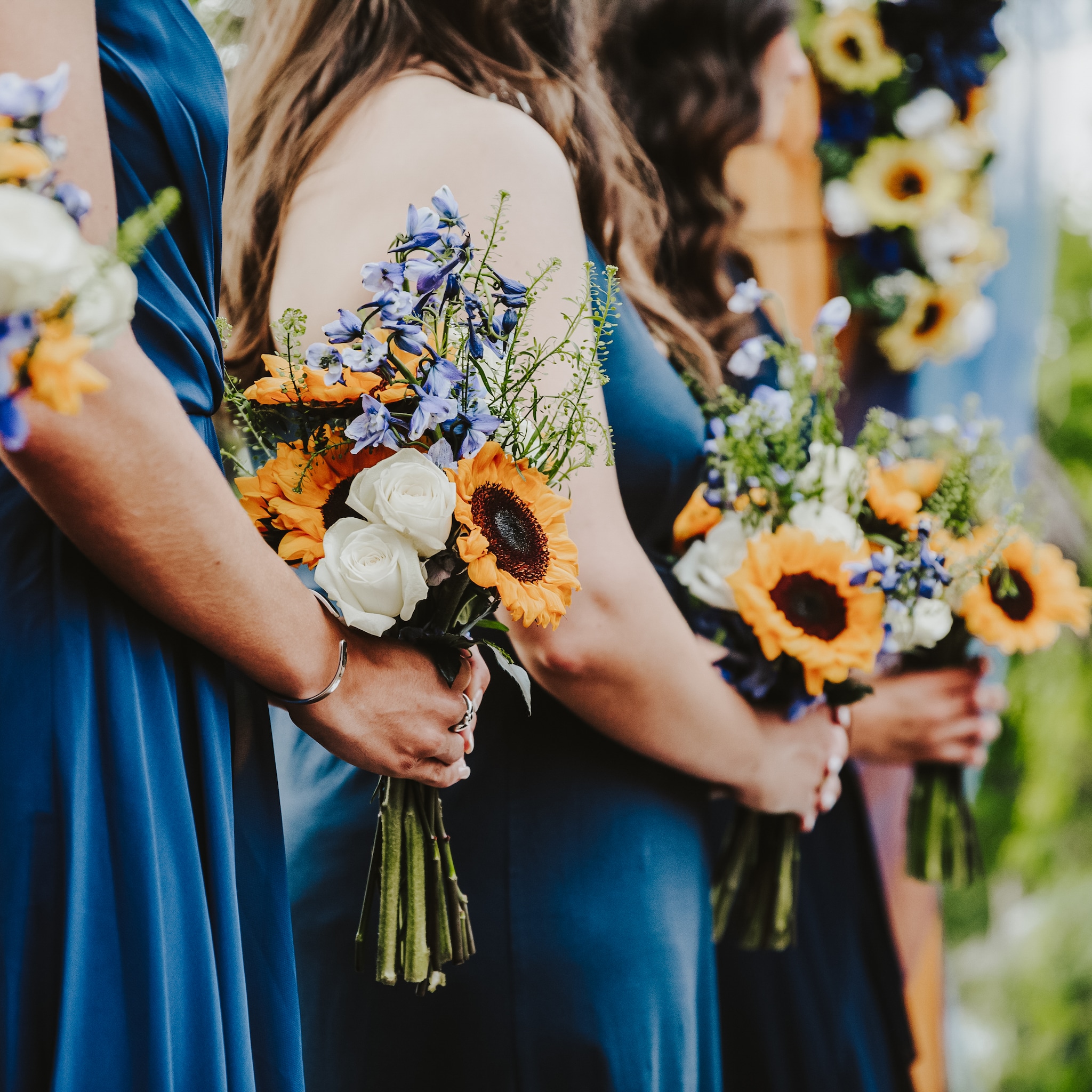 Have a delicious cake decorated with sunflowers and petals as a centerpiece at the reception
Let your outdoor sunflower wedding become the talk of town by having a delicious eucalyptus-decorated wedding cake as the centerpiece at your reception. The tiered sunflower cake with sunflowers, petals and eucalyptus branches will be the perfect addition to your table decor and cake topper creating an elegant ambience for all to enjoy. And for a little extra charm, sprinkle some sunflower seeds on top of your masterpiece. Transform your wedding into something special with this beautiful sunflower wedding cake! A charming addition to your wedding reception table decorations is mason jars filled with wildflowers of the wedding colors. These breathtaking floral arrangements evoke a feeling of rustic elegance and offer an inviting, yet sophisticated atmosphere for your wedding guests to enjoy throughout the ceremony. Complement them with a simple white lace table runner and vintage crockery for added charm. With this styling, you can also place a guestbook at each table, so your wedding party has the opportunity to leave words of congratulations, love and laughter that will be cherished forever.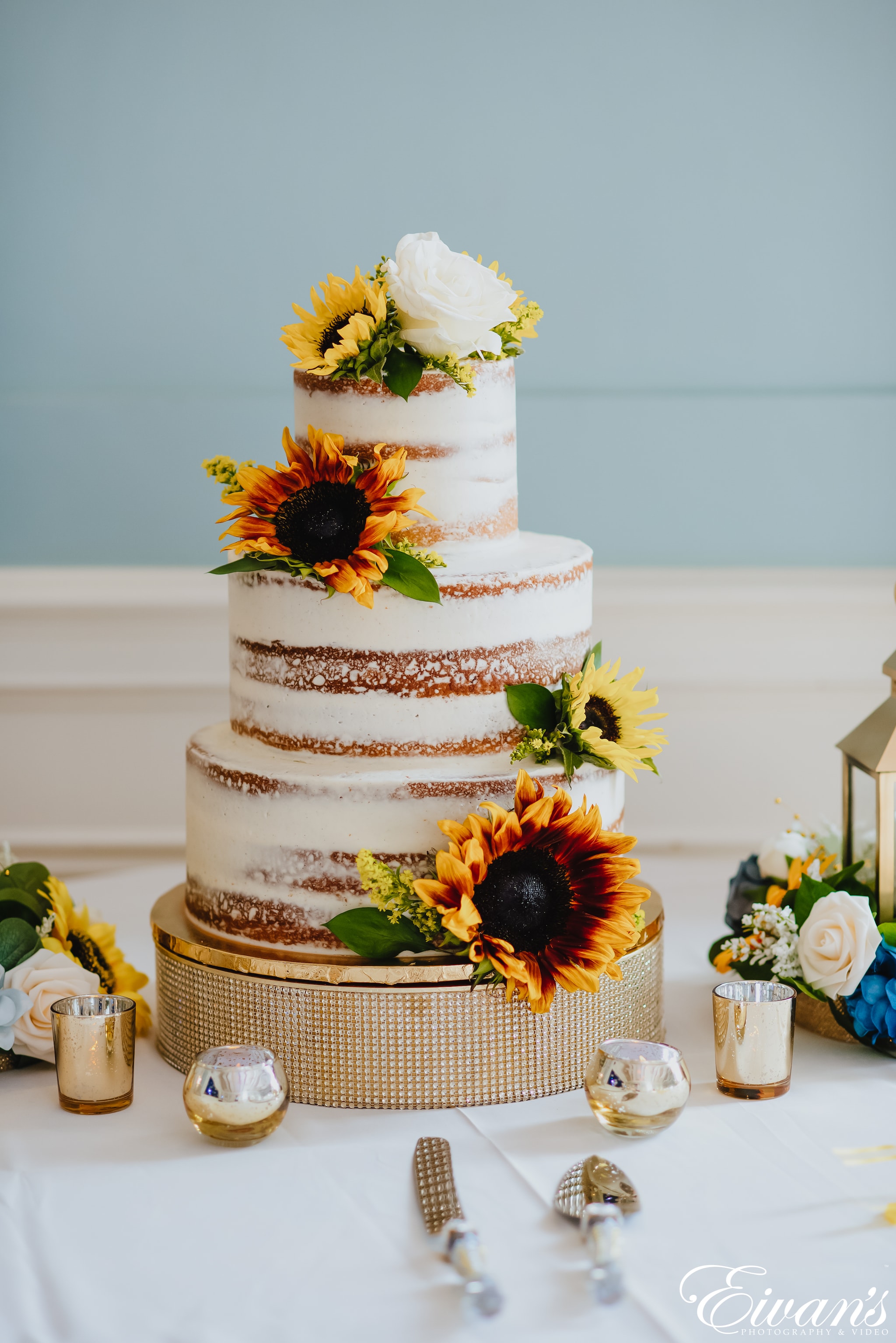 With some careful planning and these great ideas, your wedding can be the picture of romance and elegance. From decorating the aisles with sunflower bouquets for a whimsical and elegant look to hanging pastel-colored paper lanterns from the ceiling for added decoration, everything will be done up in such a beautiful way that you won't want to forget it. Incorporate your favorite sunflower colors into your table centerpieces, give guests small potted sunflowers as favors, have your bridesmaids carry bouquets of sunflowers down the aisle, and finish it off with a delicious cake decorated with sunflowers and petals as the centerpiece at the reception. Your beautiful day will last forever if you capture it – make sure to have us capture your sunflower wedding!